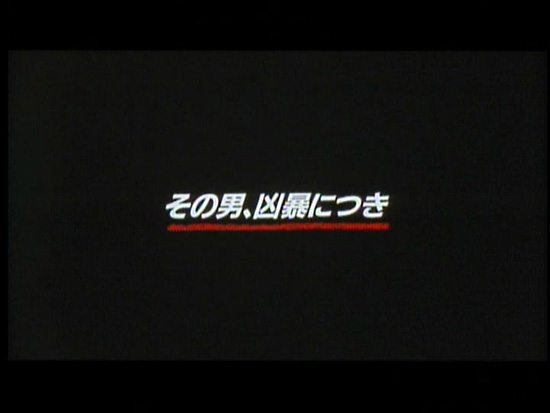 (aka "Violent Cop" or "Sono otoko, kyobo ni tsuki" )
What should have been a comic Dirty Harry-ish farce, became an gritty, dark and violent tale, when director Kinji Fukasaku walked out of the project and Kitano was offered the chance to direct. Kitano virtually rewrote the entire script, removed all comedy and made himself a platform, from which he could show his serious side. Originally a stand-up comic, Kitano followed the advice from friend and director Nagisa Oshima and played criminals in order to express not only his darker side but also his dramatic talent. Having done this quiet successfully on TV and in Oshima's "Merry Christmas, Mr. Lawrence", Kitano felt let down, when all he was offered was comic roles: Now he had the chance to control what he wanted.

The story is pretty straight forward. Azuma (Kitano) is a rogue homicide detective, a loner without respect or care for neither his superiors nor police procedures, using violence and other unethical methods to get results. When his best friend gets killed by the yakuza, he goes after the killer, but instead of getting support, Azuma is charged with wrongful arrest, planting of evidence and attempting to kill a prisoner. He is fired. Having lost everything and feeling betrayed, he buys a gun and goes on a personal vendetta, seeking justice in the only way he knows: By killing everyone in his way.

Extraordinary simple in both story and visual style, Kitano may not have had a clue how to direct, but his passion and vision sat aside any lacking of experience. An extraordinary strong directorial debut by any standard.

The original title, "Sono otoko, kyobo ni tsuki", means "Watch out, this man is dangerous" and is far more fitting for the story that the rather generic American title, "Violent Cop".
Henrik Sylow (Kitanotakeshi.com)
Poster
Theatrical Release: August 12, 1989 (Japan)
Reviews More Reviews DVD Reviews
DVD Review: AV Channel (Takeshi Kitano Collection) - Region 4 - PAL
Big thanks to Henrik Sylow for the Review!
DVD Box Cover

CLICK to order from:

Distribution

AV Channel

Region 4 - PAL

Runtime
1:38:21 (4% PAL speedup)
Video

1.85:1 Original Aspect Ratio

16X9 enhanced
Average Bitrate: 7.65 mb/s
PAL 720x576 25.00 f/s

NOTE: The Vertical axis represents the bits transferred per second. The Horizontal is the time in minutes.

Bitrate

Audio
5.1 Dolby Digital Japanese
Subtitles
English, None
Features
Release Information:
Studio: AV Channel

Aspect Ratio:
Widescreen anamorphic - 1.85:1

Edition Details:
• Theatrical Trailer (2:11 / 4x3)

DVD Release Date: March 16, 2005
Amarey

Chapters 13
Comments
What is left to say than, Finally an anamorphic transfer of "Violent Cop" with English subtitles. And it simply looks damn good.

Based upon the Shochiku masters, the frame is slightly overscanned compared to the Fox Lorber frame, but here in correct ratio of 1.85, where the Fox Lorber was stretched 5% vertically to fill out the 16x9 ratio.

There are some compression artifacts, mainly edge enhancements and color banding, but only in some scenes and only very minute. The central issue with the AV transfer is its light / darkness in relation to its contrast, making white bloom and shadows go towards black, and "Violent Cop" is a bit too dark for my taste.

Overall, this is a near perfect transfer. The best this film ever has looked on DVD. Colors are strong, deep and saturated, details are sharp, and for once no ghosting or "echo".
---



DVD Menus

---
Screen Captures
subtitle sample
Captures resized to 800px from 1016px native resolution
---
(AV Channel - Region 4- PAL TOP vs. Fox / Lorber - Region 1 - NTSC - BOTTOM)





Takeshi Kitano's - Violent Cop - Sono otoko, kyobo ni tsuki DVD Review Takeshi Kitano Violent Cop Sono otoko, kyobo ni tsuki DVD Review Takeshi Kitano Violent Cop Sono otoko, kyobo ni tsuki DVD Review Takeshi Kitano Violent Cop Sono otoko, kyobo ni tsuki DVD Review Takeshi Kitano Violent Cop Sono otoko, kyobo ni tsuki DVD Review Takeshi Kitano Violent Cop Sono otoko, kyobo ni tsuki DVD Review Takeshi Kitano Violent Cop Sono otoko, kyobo ni tsuki DVD Review Takeshi Kitano Violent Cop Sono otoko, kyobo ni tsuki DVD Review Takeshi Kitano Violent Cop Sono otoko, kyobo ni tsuki DVD Review Takeshi Kitano Violent Cop Sono otoko, kyobo ni tsuki DVD Review Takeshi Kitano Violent Cop Sono otoko, kyobo ni tsuki DVD Review Takeshi Kitano's - Violent Cop - Sono otoko, kyobo ni tsuki DVD Review Takeshi Kitano Violent Cop Sono otoko, kyobo ni tsuki DVD Review Takeshi Kitano Violent Cop Sono otoko, kyobo ni tsuki DVD Review Takeshi Kitano Violent Cop Sono otoko, kyobo ni tsuki DVD Review Takeshi Kitano Violent Cop Sono otoko, kyobo ni tsuki DVD Review Takeshi Kitano Violent Cop Sono otoko, kyobo ni tsuki DVD Review Takeshi Kitano Violent Cop Sono otoko, kyobo ni tsuki DVD Review Takeshi Kitano Violent Cop Sono otoko, kyobo ni tsuki DVD Review Takeshi Kitano Violent Cop Sono otoko, kyobo ni tsuki DVD Review Takeshi Kitano Violent Cop Sono otoko, kyobo ni tsuki DVD Review Takeshi Kitano Violent Cop Sono otoko, kyobo ni tsuki DVD Review Takeshi Kitano's - Violent Cop - Sono otoko, kyobo ni tsuki DVD Review Takeshi Kitano Violent Cop Sono otoko, kyobo ni tsuki DVD Review Takeshi Kitano Violent Cop Sono otoko, kyobo ni tsuki DVD Review Takeshi Kitano Violent Cop Sono otoko, kyobo ni tsuki DVD Review Takeshi Kitano Violent Cop Sono otoko, kyobo ni tsuki DVD Review Takeshi Kitano Violent Cop Sono otoko, kyobo ni tsuki DVD Review Takeshi Kitano Violent Cop Sono otoko, kyobo ni tsuki DVD Review Takeshi Kitano Violent Cop Sono otoko, kyobo ni tsuki DVD Review Takeshi Kitano Violent Cop Sono otoko, kyobo ni tsuki DVD Review Takeshi Kitano Violent Cop Sono otoko, kyobo ni tsuki DVD Review Takeshi Kitano Violent Cop Sono otoko, kyobo ni tsuki DVD Review Takeshi Kitano's - Violent Cop - Sono otoko, kyobo ni tsuki DVD Review Takeshi Kitano Violent Cop Sono otoko, kyobo ni tsuki DVD Review Takeshi Kitano Violent Cop Sono otoko, kyobo ni tsuki DVD Review Takeshi Kitano Violent Cop Sono otoko, kyobo ni tsuki DVD Review Takeshi Kitano Violent Cop Sono otoko, kyobo ni tsuki DVD Review Takeshi Kitano Violent Cop Sono otoko, kyobo ni tsuki DVD Review Takeshi Kitano Violent Cop Sono otoko, kyobo ni tsuki DVD Review Takeshi Kitano Violent Cop Sono otoko, kyobo ni tsuki DVD Review Takeshi Kitano Violent Cop Sono otoko, kyobo ni tsuki DVD Review Takeshi Kitano Violent Cop Sono otoko, kyobo ni tsuki DVD Review Takeshi Kitano Violent Cop Sono otoko, kyobo ni tsuki DVD Review Takeshi Kitano's - Violent Cop - Sono otoko, kyobo ni tsuki DVD Review Takeshi Kitano Violent Cop Sono otoko, kyobo ni tsuki DVD Review Takeshi Kitano Violent Cop Sono otoko, kyobo ni tsuki DVD Review Takeshi Kitano Violent Cop Sono otoko, kyobo ni tsuki DVD Review Takeshi Kitano Violent Cop Sono otoko, kyobo ni tsuki DVD Review Takeshi Kitano Violent Cop Sono otoko, kyobo ni tsuki DVD Review Takeshi Kitano Violent Cop Sono otoko, kyobo ni tsuki DVD Review Takeshi Kitano Violent Cop Sono otoko, kyobo ni tsuki DVD Review Takeshi Kitano Violent Cop Sono otoko, kyobo ni tsuki DVD Review Takeshi Kitano Violent Cop Sono otoko, kyobo ni tsuki DVD Review Takeshi Kitano Violent Cop Sono otoko, kyobo ni tsuki DVD Review Takeshi Kitano's - Violent Cop - Sono otoko, kyobo ni tsuki DVD Review Takeshi Kitano Violent Cop Sono otoko, kyobo ni tsuki DVD Review Takeshi Kitano Violent Cop Sono otoko, kyobo ni tsuki DVD Review Takeshi Kitano Violent Cop Sono otoko, kyobo ni tsuki DVD Review Takeshi Kitano Violent Cop Sono otoko, kyobo ni tsuki DVD Review Takeshi Kitano Violent Cop Sono otoko, kyobo ni tsuki DVD Review Takeshi Kitano Violent Cop Sono otoko, kyobo ni tsuki DVD Review Takeshi Kitano Violent Cop Sono otoko, kyobo ni tsuki DVD Review Takeshi Kitano Violent Cop Sono otoko, kyobo ni tsuki DVD Review Takeshi Kitano Violent Cop Sono otoko, kyobo ni tsuki DVD Review Takeshi Kitano Violent Cop Sono otoko, kyobo ni tsuki DVD Review Takeshi Kitano's - Violent Cop - Sono otoko, kyobo ni tsuki DVD Review Takeshi Kitano Violent Cop Sono otoko, kyobo ni tsuki DVD Review Takeshi Kitano Violent Cop Sono otoko, kyobo ni tsuki DVD Review Takeshi Kitano Violent Cop Sono otoko, kyobo ni tsuki DVD Review Takeshi Kitano Violent Cop Sono otoko, kyobo ni tsuki DVD Review Takeshi Kitano Violent Cop Sono otoko, kyobo ni tsuki DVD Review Takeshi Kitano Violent Cop Sono otoko, kyobo ni tsuki DVD Review Takeshi Kitano Violent Cop Sono otoko, kyobo ni tsuki DVD Review Takeshi Kitano Violent Cop Sono otoko, kyobo ni tsuki DVD Review Takeshi Kitano Violent Cop Sono otoko, kyobo ni tsuki DVD Review Takeshi Kitano Violent Cop Sono otoko, kyobo ni tsuki DVD Review Takeshi Kitano's - Violent Cop - Sono otoko, kyobo ni tsuki DVD Review Takeshi Kitano Violent Cop Sono otoko, kyobo ni tsuki DVD Review Takeshi Kitano Violent Cop Sono otoko, kyobo ni tsuki DVD Review Takeshi Kitano Violent Cop Sono otoko, kyobo ni tsuki DVD Review Takeshi Kitano Violent Cop Sono otoko, kyobo ni tsuki DVD Review Takeshi Kitano Violent Cop Sono otoko, kyobo ni tsuki DVD Review Takeshi Kitano Violent Cop Sono otoko, kyobo ni tsuki DVD Review Takeshi Kitano Violent Cop Sono otoko, kyobo ni tsuki DVD Review Takeshi Kitano Violent Cop Sono otoko, kyobo ni tsuki DVD Review Takeshi Kitano Violent Cop Sono otoko, kyobo ni tsuki DVD Review Takeshi Kitano Violent Cop Sono otoko, kyobo ni tsuki DVD Review Takeshi Kitano's - Violent Cop - Sono otoko, kyobo ni tsuki DVD Review Takeshi Kitano Violent Cop Sono otoko, kyobo ni tsuki DVD Review Takeshi Kitano Violent Cop Sono otoko, kyobo ni tsuki DVD Review Takeshi Kitano Violent Cop Sono otoko, kyobo ni tsuki DVD Review Takeshi Kitano Violent Cop Sono otoko, kyobo ni tsuki DVD Review Takeshi Kitano Violent Cop Sono otoko, kyobo ni tsuki DVD Review Takeshi Kitano Violent Cop Sono otoko, kyobo ni tsuki DVD Review Takeshi Kitano Violent Cop Sono otoko, kyobo ni tsuki DVD Review Takeshi Kitano Violent Cop Sono otoko, kyobo ni tsuki DVD Review Takeshi Kitano Violent Cop Sono otoko, kyobo ni tsuki DVD Review Takeshi Kitano Violent Cop Sono otoko, kyobo ni tsuki DVD Review Takeshi Kitano's - Violent Cop - Sono otoko, kyobo ni tsuki DVD Review Takeshi Kitano Violent Cop Sono otoko, kyobo ni tsuki DVD Review Takeshi Kitano Violent Cop Sono otoko, kyobo ni tsuki DVD Review Takeshi Kitano Violent Cop Sono otoko, kyobo ni tsuki DVD Review Takeshi Kitano Violent Cop Sono otoko, kyobo ni tsuki DVD Review Takeshi Kitano Violent Cop Sono otoko, kyobo ni tsuki DVD Review Takeshi Kitano Violent Cop Sono otoko, kyobo ni tsuki DVD Review Takeshi Kitano Violent Cop Sono otoko, kyobo ni tsuki DVD Review Takeshi Kitano Violent Cop Sono otoko, kyobo ni tsuki DVD Review Takeshi Kitano Violent Cop Sono otoko, kyobo ni tsuki DVD Review Takeshi Kitano Violent Cop Sono otoko, kyobo ni tsuki DVD Review Takeshi Kitano's - Violent Cop - Sono otoko, kyobo ni tsuki DVD Review Takeshi Kitano Violent Cop Sono otoko, kyobo ni tsuki DVD Review Takeshi Kitano Violent Cop Sono otoko, kyobo ni tsuki DVD Review Takeshi Kitano Violent Cop Sono otoko, kyobo ni tsuki DVD Review Takeshi Kitano Violent Cop Sono otoko, kyobo ni tsuki DVD Review Takeshi Kitano Violent Cop Sono otoko, kyobo ni tsuki DVD Review Takeshi Kitano Violent Cop Sono otoko, kyobo ni tsuki DVD Review Takeshi Kitano Violent Cop Sono otoko, kyobo ni tsuki DVD Review Takeshi Kitano Violent Cop Sono otoko, kyobo ni tsuki DVD Review Takeshi Kitano Violent Cop Sono otoko, kyobo ni tsuki DVD Review Takeshi Kitano Violent Cop Sono otoko, kyobo ni tsuki DVD Review Takeshi Kitano's - Violent Cop - Sono otoko, kyobo ni tsuki DVD Review Takeshi Kitano Violent Cop Sono otoko, kyobo ni tsuki DVD Review Takeshi Kitano Violent Cop Sono otoko, kyobo ni tsuki DVD Review Takeshi Kitano Violent Cop Sono otoko, kyobo ni tsuki DVD Review Takeshi Kitano Violent Cop Sono otoko, kyobo ni tsuki DVD Review Takeshi Kitano Violent Cop Sono otoko, kyobo ni tsuki DVD Review Takeshi Kitano Violent Cop Sono otoko, kyobo ni tsuki DVD Review Takeshi Kitano Violent Cop Sono otoko, kyobo ni tsuki DVD Review Takeshi Kitano Violent Cop Sono otoko, kyobo ni tsuki DVD Review Takeshi Kitano Violent Cop Sono otoko, kyobo ni tsuki DVD Review Takeshi Kitano Violent Cop Sono otoko, kyobo ni tsuki DVD Review Takeshi Kitano's - Violent Cop - Sono otoko, kyobo ni tsuki DVD Review Takeshi Kitano Violent Cop Sono otoko, kyobo ni tsuki DVD Review Takeshi Kitano Violent Cop Sono otoko, kyobo ni tsuki DVD Review Takeshi Kitano Violent Cop Sono otoko, kyobo ni tsuki DVD Review Takeshi Kitano Violent Cop Sono otoko, kyobo ni tsuki DVD Review Takeshi Kitano Violent Cop Sono otoko, kyobo ni tsuki DVD Review Takeshi Kitano Violent Cop Sono otoko, kyobo ni tsuki DVD Review Takeshi Kitano Violent Cop Sono otoko, kyobo ni tsuki DVD Review Takeshi Kitano Violent Cop Sono otoko, kyobo ni tsuki DVD Review Takeshi Kitano Violent Cop Sono otoko, kyobo ni tsuki DVD Review Takeshi Kitano Violent Cop Sono otoko, kyobo ni tsuki DVD Review