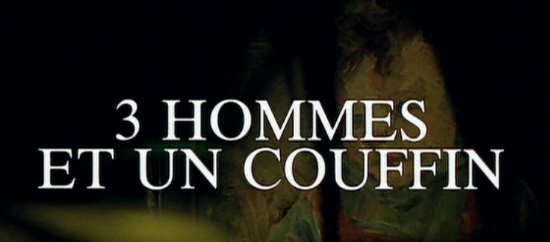 (aka 'Three Men and a Cradle' or 'Trois hommes et un couffin')
directed by Coline Serreau
France 1985
Spirited role-reversal comedy in which three bachelor boys (Giraud, Boujenah, Dussollier) are left in charge of a baby by a former girlfriend (Beaulieu), with amusing - if entirely predictable - results. Much superior to the ironed-out American version, if only for foreign audiences who might find it funnier to see a trio of stereotypical womanizing Frenchmen attending to the needs of a mewling baby (especially as there was something irremediably queeny about Selleck, Gutenberg and Danson). The director, Serreau, was wise to turn down Touchstone's invitation to oversee the English-language remake. Although it's no masterpiece, this original doesn't resort to crude sentimental blackmail to achieve.
Excerpt from the Channel 4 Film capsule located HERE
Posters
Theatrical Release: September 18th, 1985
Reviews More Reviews DVD Reviews
DVD Review: Home Vision - Region 1 - NTSC
DVD Box Cover

CLICK to order from:

Distribution
Home Vision Entertainment - Region 1 - NTSC
Runtime
1:54:48
Video
1.73:1 Aspect Ratio
Average Bitrate: 4.90 mb/s
NTSC 720x480 29.97 f/s

NOTE: The Vertical axis represents the bits transferred per second. The Horizontal is the time in minutes.

Bitrate:

Audio
French (Dolby Digital 2.0)
Subtitles
English, None
Features

Release Information:
Studio: Home Vision Entertainment

Aspect Ratio:
Aspect Ratio 1.73:1

Edition Details:

• Interview with director Coline Serreau
• Au Clair de la Lune: video lullaby
• Original French trailer
• Toy giraffe: a brief homage

DVD Release Date: August 9th, 2005
Keep Case
Chapters: 20
| | |
| --- | --- |
| Comments: | I expect that this film looks as good as the theatrical presentation. Perhaps a shade dull but no artificial digital manipulations could be detected. Progressive and anamorphic, the image looks fine although I question the ratio (supposed to be 1.66:1?) and it could very well be slightly cropped. Subtitles are excellent. Extras are quite unique with the video lullaby filler, but the Serreau interview is top notch, if short. This is a great family film for those in the circumstance of baby rearing times and certainly miles ahead of the Hollywood pandering remake. out of |
---
---
Subtitle Sample
Screen Captures
---
DONATIONS Keep DVDBeaver alive and advertisement free:
Mail cheques, money orders, cash to: or CLICK PayPal logo to donate!
Gary Tooze

Mississauga, Ontario,

CANADA
Thank You!
Coline Serreau's - Three Men and a Cradle - 3 hommes et un couffin - DVD Review Three Men and a Cradle 3 hommes et un couffin DVD Review Three Men and a Cradle 3 hommes et un couffin DVD Review Three Men and a Cradle 3 hommes et un couffin DVD Review Three Men and a Cradle 3 hommes et un couffin DVD Review Three Men and a Cradle 3 hommes et un couffin DVD Review Three Men and a Cradle 3 hommes et un couffin DVD Review Three Men and a Cradle 3 hommes et un couffin DVD Review Three Men and a Cradle 3 hommes et un couffin DVD Review Three Men and a Cradle 3 hommes et un couffin DVD Review Coline Serreau's - Three Men and a Cradle - 3 hommes et un couffin - DVD Review Three Men and a Cradle 3 hommes et un couffin DVD Review Three Men and a Cradle 3 hommes et un couffin DVD Review Three Men and a Cradle 3 hommes et un couffin DVD Review Three Men and a Cradle 3 hommes et un couffin DVD Review Three Men and a Cradle 3 hommes et un couffin DVD Review Three Men and a Cradle 3 hommes et un couffin DVD Review Three Men and a Cradle 3 hommes et un couffin DVD Review Three Men and a Cradle 3 hommes et un couffin DVD Review Three Men and a Cradle 3 hommes et un couffin DVD Review Coline Serreau's - Three Men and a Cradle - 3 hommes et un couffin - DVD Review Three Men and a Cradle 3 hommes et un couffin DVD Review Three Men and a Cradle 3 hommes et un couffin DVD Review Three Men and a Cradle 3 hommes et un couffin DVD Review Three Men and a Cradle 3 hommes et un couffin DVD Review Three Men and a Cradle 3 hommes et un couffin DVD Review Three Men and a Cradle 3 hommes et un couffin DVD Review Three Men and a Cradle 3 hommes et un couffin DVD Review Three Men and a Cradle 3 hommes et un couffin DVD Review Three Men and a Cradle 3 hommes et un couffin DVD Review Coline Serreau's - Three Men and a Cradle - 3 hommes et un couffin - DVD Review Three Men and a Cradle 3 hommes et un couffin DVD Review Three Men and a Cradle 3 hommes et un couffin DVD Review Three Men and a Cradle 3 hommes et un couffin DVD Review Three Men and a Cradle 3 hommes et un couffin DVD Review Three Men and a Cradle 3 hommes et un couffin DVD Review Three Men and a Cradle 3 hommes et un couffin DVD Review Three Men and a Cradle 3 hommes et un couffin DVD Review Three Men and a Cradle 3 hommes et un couffin DVD Review Three Men and a Cradle 3 hommes et un couffin DVD Review Coline Serreau's - Three Men and a Cradle - 3 hommes et un couffin - DVD Review Three Men and a Cradle 3 hommes et un couffin DVD Review Three Men and a Cradle 3 hommes et un couffin DVD Review Three Men and a Cradle 3 hommes et un couffin DVD Review Three Men and a Cradle 3 hommes et un couffin DVD Review Three Men and a Cradle 3 hommes et un couffin DVD Review Three Men and a Cradle 3 hommes et un couffin DVD Review Three Men and a Cradle 3 hommes et un couffin DVD Review Three Men and a Cradle 3 hommes et un couffin DVD Review Three Men and a Cradle 3 hommes et un couffin DVD Review Coline Serreau's - Three Men and a Cradle - 3 hommes et un couffin - DVD Review Three Men and a Cradle 3 hommes et un couffin DVD Review Three Men and a Cradle 3 hommes et un couffin DVD Review Three Men and a Cradle 3 hommes et un couffin DVD Review Three Men and a Cradle 3 hommes et un couffin DVD Review Three Men and a Cradle 3 hommes et un couffin DVD Review Three Men and a Cradle 3 hommes et un couffin DVD Review Three Men and a Cradle 3 hommes et un couffin DVD Review Three Men and a Cradle 3 hommes et un couffin DVD Review Three Men and a Cradle 3 hommes et un couffin DVD Review Coline Serreau's - Three Men and a Cradle - 3 hommes et un couffin - DVD Review Three Men and a Cradle 3 hommes et un couffin DVD Review Three Men and a Cradle 3 hommes et un couffin DVD Review Three Men and a Cradle 3 hommes et un couffin DVD Review Three Men and a Cradle 3 hommes et un couffin DVD Review Three Men and a Cradle 3 hommes et un couffin DVD Review Three Men and a Cradle 3 hommes et un couffin DVD Review Three Men and a Cradle 3 hommes et un couffin DVD Review Three Men and a Cradle 3 hommes et un couffin DVD Review Three Men and a Cradle 3 hommes et un couffin DVD Review Coline Serreau's - Three Men and a Cradle - 3 hommes et un couffin - DVD Review Three Men and a Cradle 3 hommes et un couffin DVD Review Three Men and a Cradle 3 hommes et un couffin DVD Review Three Men and a Cradle 3 hommes et un couffin DVD Review Three Men and a Cradle 3 hommes et un couffin DVD Review Three Men and a Cradle 3 hommes et un couffin DVD Review Three Men and a Cradle 3 hommes et un couffin DVD Review Three Men and a Cradle 3 hommes et un couffin DVD Review Three Men and a Cradle 3 hommes et un couffin DVD Review Three Men and a Cradle 3 hommes et un couffin DVD Review Coline Serreau's - Three Men and a Cradle - 3 hommes et un couffin - DVD Review Three Men and a Cradle 3 hommes et un couffin DVD Review Three Men and a Cradle 3 hommes et un couffin DVD Review Three Men and a Cradle 3 hommes et un couffin DVD Review Three Men and a Cradle 3 hommes et un couffin DVD Review Three Men and a Cradle 3 hommes et un couffin DVD Review Three Men and a Cradle 3 hommes et un couffin DVD Review Three Men and a Cradle 3 hommes et un couffin DVD Review Three Men and a Cradle 3 hommes et un couffin DVD Review Three Men and a Cradle 3 hommes et un couffin DVD Review