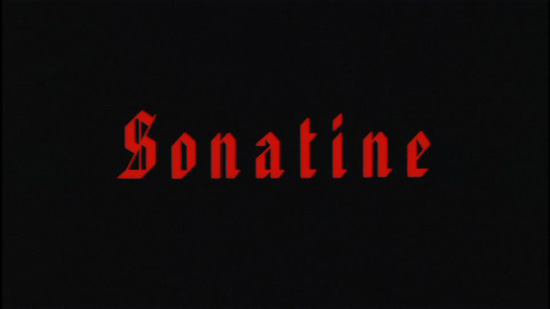 (aka "Sonachine" )
With "Sonatine", Kitano hit the international scene. Already world famous, at least five times over in Japan, the rest of the world knew next to nothing about him. Here came a film, so fresh and inventive, that some already began talking about a possible new master.

"Sonatine" opens with a shock, precisely 1 minute 27 seconds into the film. A 38 second shot begins, as a static Close Up of a boy sorting mah-jong pieces, suddenly, after 14 seconds, the camera pulls back in a tracking shot for 11 seconds, allowing Kitano and Terajima to enter and leave the frame, leaving us with a 13 second static Medium Long Shot of the boy, still sorting pieces. Considering Kitano's persistent use of static frame compositions in his previous three films, this 38 second shot, especially the 11 seconds of backward tracking, hits one in the face, as if a mute person suddenly utters a word.

It is also the first film where composer Jo Hisaishi's minimalist score really carries the images. It is the first of many things, all showing a mature and confident Kitano; Thus, "Sonatine" is rightfully the first real Kitano film. Kitano himself agrees upon this, when he says: "...it is with Sonatine that I had the feeling to achieved the first stage as a director."

Aniki (Kitano) is an underboss in the Yakuza. Becoming increasingly bored with the daily routines and having run out of steam, he considers retirement. When another yakuza underboss, who is envious of his success, plots and causes Aniki to lose his territory and family, and forcing him to hide, he sees it as an opportunity to start fresh. But can he?

The title derives from a musical term meaning little sonata, which amongst other is used for simple educational pieces; Kitano elaborates: "When learning to play the piano, one studies various types of pieces. When one acquires the basic knowledge of these pieces, one has reached sonatine. Its not really control, but it marks the end of first stage of training."
Henrik Sylow (Kitanotakeshi.com)
Poster
Theatrical Release: June 5, 1993
Reviews More Reviews DVD Reviews
DVD Review: AV Channel (Takeshi Kitano Collection) - Region 4 - PAL
Big thanks to Henrik Sylow for the Review!
DVD Box Cover

CLICK to order from:

Distribution

AV Channel

Region 4 - PAL

Runtime
1:29:50 (4% PAL speedup)
Video

1.85:1 Original Aspect Ratio

16X9 enhanced
Average Bitrate: 8.12 mb/s
PAL 720x576 25.00 f/s

NOTE: The Vertical axis represents the bits transferred per second. The Horizontal is the time in minutes.

Bitrate

Audio
5.1 Dolby Digital Japanese
Subtitles
English, None
Features
Release Information:
Studio: AV Channel

Aspect Ratio:
Widescreen anamorphic - 1.85:1

Edition Details:
• Theatrical Trailer (0:52 / 4x3)
• Violent Cop Trailer (2:11 / 4x3)
• Boiling Point Trailer (2:08 / 4x3)
• Hana-bi trailer (1:56 / 4x3)

DVD Release Date: August 1, 2005
Amarey

Chapters 13
Comments
Miramax beat them to it, by releasing a 16x9 transfer with English subtitles alongside "Zatoichi", but then this is the first stand alone DVD with English subtitles.

This is the worst looking of the three recent transfers, but take "worst" in the lightest sense, as it really looks great. The problem is, sadly again, the central issue is the light / darkness in relation to the contrast, and where its only slightly overdone on "Violent Cop" and "Boiling Point", it is too much here. Notice Image #3, how the background is very white, while shadows go towards black. Compared to the Miramax transfer, there simply is too much contrast in the AV transfer, making details disappear, either by too much light towards white or too much darkness towards black.

Apart from that, the transfer is as perfect as Miramax's. Basically no artifacts, really fast saturated colors (the night sequences looks breathtaking). Thus it really is a shame with the contrast issue.
---



DVD Menus

---
Screen Captures
subtitle sample
Captures resized to 800px from 1016px native resolution
---
(AV Channel - Region 4 - PAL TOP vs. Miramax - Region 1- NTSC BOTTOM)
---
(AV Channel - Region 4 - PAL TOP vs. Miramax - Region 1- NTSC BOTTOM)