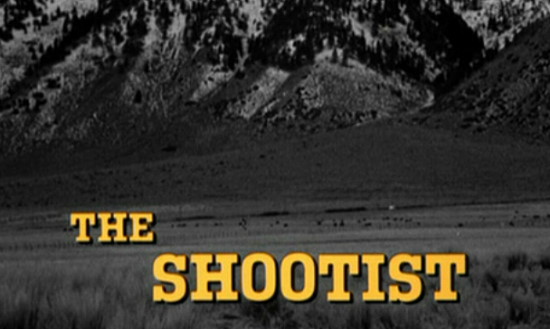 directed by Don Siegel
USA 1976
J.B. Books, a 60ish gunfighter, finds that he has stomach cancer and two months to live. He takes a room with Bond Rogers and her son, Gillom to wait until death comes. Of course, his very presence starts off events in the town. The Marshal comes, prepared to die in a shootout, Gillom tries to idolize him, Bond first is disgusted and then pities him. Then, realizing that he will die in great pain, he comes up with an idea to go out with a bang.
Posters
Theatrical Release: August 11th, 1976
Reviews More Reviews DVD Reviews
DVD Review: Paramount - Region 1 - NTSC
DVD Box Cover

CLICK to order from:

Also available (very reasonably) in the John Wayne DVD Gift Set (The Shootist / The Sons of Katie Elder/ True Grit/ El Dorado/ The Man Who Shot Liberty Valance)
Also available (cheap!) in the John Wayne DVD Collection - Amazon.com Exclusive (10-Disc Set) (1965) El Dorado, Hatari!, In Harm's Way, Rio Lobo, The Sons of Katie Elder, The Shootist, Donovan's Reef, Big Jake, The Man Who Shot Liberty Valance, True Grit)

Distribution
Paramount Home Video - Region 1 - NTSC
Runtime
1:38:51
Video
1.78:1 Original Aspect Ratio
Average Bitrate: 7.7 mb/s
NTSC 720x480 29.97 f/s

NOTE: The Vertical axis represents the bits transferred per second. The Horizontal is the time in minutes.

Bitrate:

Audio
English (Dolby Digital 2.0), DUB: French (Dolby Digital 2.0)
Subtitles
English, French, None
Features

Release Information:
Studio: Paramount Home Video

Aspect Ratio:
Original aspect Ratio 1.78:1

Edition Details:

• Featurette: The Shootist: The Legend Lives On (19:22)

• Theatrical Trailer

DVD Release Date: July 24, 2001 (Repackaged - August 2005)
Keep Case
Chapters: 16
| | |
| --- | --- |
| Comments: | Again, this is the same transfer of the original Paramount release - exact same disc in fact. The DVD has simply been reissued and repackaged to be included in a few Boxset options (of which we recommend the 10-disc'er, exclusive to Amazon, if you don't own any part of these or just one or two already). The image may be the best in this recently re-released crop. I really respect Paramount for not falling into the trap of digital manipulations to improve brightness levels - this is dark at times because it was meant to be dark. Original audio - those awful yellow subtitles and a nice featurette with interviews and a trailer are the supplements. The price again is good as is the film. Great to see Jimmy Stewart teamed again with Wayne... if only briefly. We recommend ! |
---



DVD Menus

---
Subtitle Sample
Screen Captures
---
---
---
Recommended Reading for Western Genre Fans (CLICK COVERS or TITLES for more information)
Check out more in "The Library"
---
DVD Box Cover

CLICK to order from:

Also available (very reasonably) in the John Wayne DVD Gift Set (The Shootist / The Sons of Katie Elder/ True Grit/ El Dorado/ The Man Who Shot Liberty Valance)
Also available (cheap!) in the John Wayne DVD Collection - Amazon.com Exclusive (10-Disc Set) (1965) El Dorado, Hatari!, In Harm's Way, Rio Lobo, The Sons of Katie Elder, The Shootist, Donovan's Reef, Big Jake, The Man Who Shot Liberty Valance, True Grit)

Distribution
Paramount Home Video - Region 1 - NTSC
---






Don Siegel's - The Shootist - John Wayne DVD Review Don Siegel The Shootist John Wayne DVD Review Don Siegel The Shootist John Wayne DVD Review Don Siegel The Shootist John Wayne DVD Review Don Siegel The Shootist John Wayne DVD Review Don Siegel The Shootist John Wayne DVD Review Don Siegel The Shootist John Wayne DVD Review Don Siegel The Shootist John Wayne DVD Review Don Siegel's - The Shootist - John Wayne DVD Review Don Siegel The Shootist John Wayne DVD Review Don Siegel The Shootist John Wayne DVD Review Don Siegel The Shootist John Wayne DVD Review Don Siegel The Shootist John Wayne DVD Review Don Siegel The Shootist John Wayne DVD Review Don Siegel The Shootist John Wayne DVD Review Don Siegel The Shootist John Wayne DVD Review Don Siegel's - The Shootist - John Wayne DVD Review Don Siegel The Shootist John Wayne DVD Review Don Siegel The Shootist John Wayne DVD Review Don Siegel The Shootist John Wayne DVD Review Don Siegel The Shootist John Wayne DVD Review Don Siegel The Shootist John Wayne DVD Review Don Siegel The Shootist John Wayne DVD Review Don Siegel The Shootist John Wayne DVD Review Don Siegel's - The Shootist - John Wayne DVD Review Don Siegel The Shootist John Wayne DVD Review Don Siegel The Shootist John Wayne DVD Review Don Siegel The Shootist John Wayne DVD Review Don Siegel The Shootist John Wayne DVD Review Don Siegel The Shootist John Wayne DVD Review Don Siegel The Shootist John Wayne DVD Review Don Siegel The Shootist John Wayne DVD Review Don Siegel's - The Shootist - John Wayne DVD Review Don Siegel The Shootist John Wayne DVD Review Don Siegel The Shootist John Wayne DVD Review Don Siegel The Shootist John Wayne DVD Review Don Siegel The Shootist John Wayne DVD Review Don Siegel The Shootist John Wayne DVD Review Don Siegel The Shootist John Wayne DVD Review Don Siegel The Shootist John Wayne DVD Review Don Siegel's - The Shootist - John Wayne DVD Review Don Siegel The Shootist John Wayne DVD Review Don Siegel The Shootist John Wayne DVD Review Don Siegel The Shootist John Wayne DVD Review Don Siegel The Shootist John Wayne DVD Review Don Siegel The Shootist John Wayne DVD Review Don Siegel The Shootist John Wayne DVD Review Don Siegel The Shootist John Wayne DVD Review Don Siegel's - The Shootist - John Wayne DVD Review Don Siegel The Shootist John Wayne DVD Review Don Siegel The Shootist John Wayne DVD Review Don Siegel The Shootist John Wayne DVD Review Don Siegel The Shootist John Wayne DVD Review Don Siegel The Shootist John Wayne DVD Review Don Siegel The Shootist John Wayne DVD Review Don Siegel The Shootist John Wayne DVD Review Don Siegel's - The Shootist - John Wayne DVD Review Don Siegel The Shootist John Wayne DVD Review Don Siegel The Shootist John Wayne DVD Review Don Siegel The Shootist John Wayne DVD Review Don Siegel The Shootist John Wayne DVD Review Don Siegel The Shootist John Wayne DVD Review Don Siegel The Shootist John Wayne DVD Review Don Siegel The Shootist John Wayne DVD Review Don Siegel's - The Shootist - John Wayne DVD Review Don Siegel The Shootist John Wayne DVD Review Don Siegel The Shootist John Wayne DVD Review Don Siegel The Shootist John Wayne DVD Review Don Siegel The Shootist John Wayne DVD Review Don Siegel The Shootist John Wayne DVD Review Don Siegel The Shootist John Wayne DVD Review Don Siegel The Shootist John Wayne DVD Review Don Siegel's - The Shootist - John Wayne DVD Review Don Siegel The Shootist John Wayne DVD Review Don Siegel The Shootist John Wayne DVD Review Don Siegel The Shootist John Wayne DVD Review Don Siegel The Shootist John Wayne DVD Review Don Siegel The Shootist John Wayne DVD Review Don Siegel The Shootist John Wayne DVD Review Don Siegel The Shootist John Wayne DVD Review Don Siegel's - The Shootist - John Wayne DVD Review Don Siegel The Shootist John Wayne DVD Review Don Siegel The Shootist John Wayne DVD Review Don Siegel The Shootist John Wayne DVD Review Don Siegel The Shootist John Wayne DVD Review Don Siegel The Shootist John Wayne DVD Review Don Siegel The Shootist John Wayne DVD Review Don Siegel The Shootist John Wayne DVD Review Don Siegel's - The Shootist - John Wayne DVD Review Don Siegel The Shootist John Wayne DVD Review Don Siegel The Shootist John Wayne DVD Review Don Siegel The Shootist John Wayne DVD Review Don Siegel The Shootist John Wayne DVD Review Don Siegel The Shootist John Wayne DVD Review Don Siegel The Shootist John Wayne DVD Review Don Siegel The Shootist John Wayne DVD Review Don Siegel's - The Shootist - John Wayne DVD Review Don Siegel The Shootist John Wayne DVD Review Don Siegel The Shootist John Wayne DVD Review Don Siegel The Shootist John Wayne DVD Review Don Siegel The Shootist John Wayne DVD Review Don Siegel The Shootist John Wayne DVD Review Don Siegel The Shootist John Wayne DVD Review Don Siegel The Shootist John Wayne DVD Review Don Siegel's - The Shootist - John Wayne DVD Review Don Siegel The Shootist John Wayne DVD Review Don Siegel The Shootist John Wayne DVD Review Don Siegel The Shootist John Wayne DVD Review Don Siegel The Shootist John Wayne DVD Review Don Siegel The Shootist John Wayne DVD Review Don Siegel The Shootist John Wayne DVD Review Don Siegel The Shootist John Wayne DVD Review Don Siegel's - The Shootist - John Wayne DVD Review Don Siegel The Shootist John Wayne DVD Review Don Siegel The Shootist John Wayne DVD Review Don Siegel The Shootist John Wayne DVD Review Don Siegel The Shootist John Wayne DVD Review Don Siegel The Shootist John Wayne DVD Review Don Siegel The Shootist John Wayne DVD Review Don Siegel The Shootist John Wayne DVD Review Don Siegel's - The Shootist - John Wayne DVD Review Don Siegel The Shootist John Wayne DVD Review Don Siegel The Shootist John Wayne DVD Review Don Siegel The Shootist John Wayne DVD Review Don Siegel The Shootist John Wayne DVD Review Don Siegel The Shootist John Wayne DVD Review Don Siegel The Shootist John Wayne DVD Review Don Siegel The Shootist John Wayne DVD Review Don Siegel's - The Shootist - John Wayne DVD Review Don Siegel The Shootist John Wayne DVD Review Don Siegel The Shootist John Wayne DVD Review Don Siegel The Shootist John Wayne DVD Review Don Siegel The Shootist John Wayne DVD Review Don Siegel The Shootist John Wayne DVD Review Don Siegel The Shootist John Wayne DVD Review Don Siegel The Shootist John Wayne DVD Review Don Siegel's - The Shootist - John Wayne DVD Review Don Siegel The Shootist John Wayne DVD Review Don Siegel The Shootist John Wayne DVD Review Don Siegel The Shootist John Wayne DVD Review Don Siegel The Shootist John Wayne DVD Review Don Siegel The Shootist John Wayne DVD Review Don Siegel The Shootist John Wayne DVD Review Don Siegel The Shootist John Wayne DVD Review Don Siegel's - The Shootist - John Wayne DVD Review Don Siegel The Shootist John Wayne DVD Review Don Siegel The Shootist John Wayne DVD Review Don Siegel The Shootist John Wayne DVD Review Don Siegel The Shootist John Wayne DVD Review Don Siegel The Shootist John Wayne DVD Review Don Siegel The Shootist John Wayne DVD Review Don Siegel The Shootist John Wayne DVD Review Don Siegel's - The Shootist - John Wayne DVD Review Don Siegel The Shootist John Wayne DVD Review Don Siegel The Shootist John Wayne DVD Review Don Siegel The Shootist John Wayne DVD Review Don Siegel The Shootist John Wayne DVD Review Don Siegel The Shootist John Wayne DVD Review Don Siegel The Shootist John Wayne DVD Review Don Siegel The Shootist John Wayne DVD Review