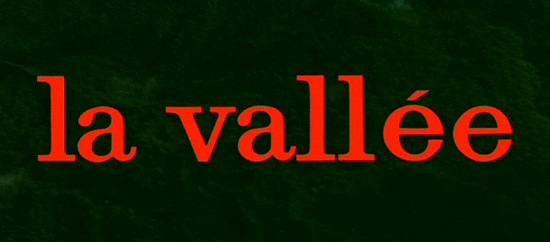 (aka 'The Valley' or 'The Valley (Obscured by Clouds)
directed by Barbet Schroeder
France 1972
Lush, sensual, and aurally hypnotic, this renowned cult classic from Barbet Schroeder (Barfly, Reversal of Fortune, More, Maitresse) was shot by the legendary Nestor Almendros, and scored by Pink Floyd. Set in the rainforest of New Guinea, a restless diplomat's wife, played by Bulle Ogier (Discreet Charm of the Bourgeoisie, Maitresse), goes in search of a rare bird's priceless feathers. In the process she meets up with a group of hippies seeking spiritual and sexual enlightenment. Together they are transformed when they encounter the indigenous Mapuga tribesman and the secret "valley of the gods.
Posters
Theatrical Release: July 6th, 1972
Reviews More Reviews DVD Reviews
DVD Review: Home Vision - Region 1 - NTSC
DVD Box Cover

CLICK to order from:

Distribution
Home Vision Entertainment - Region 1 - NTSC
Runtime
1:45:15
Video
2.28:1 Original Aspect Ratio
Average Bitrate: 5.3 mb/s
NTSC 720x480 29.97 f/s

NOTE: The Vertical axis represents the bits transferred per second. The Horizontal is the time in minutes.

Bitrate:

Audio
French (Dolby Digital 2.0)
Subtitles
English, None
Features

Release Information:
Studio: Home Vision Entertainment

Aspect Ratio:
Original aspect Ratio 2.28:1

Edition Details:

• Liner notes essay by Andrei Codrescu

DVD Release Date: February 25th, 2003
Keep Case
Chapters: 14
| | |
| --- | --- |
| Comments: | Beautiful lavish greens on this anamorphic DVD from HVE, but unfortunately it suffers from some severe 'combing' in horizontal pans as it was not progressively transferred (each frame individually). Bare extras especially considering HVE/Criterion standards with nothing but some liner notes. Original audio and excellent subtitles. An interesting film and probably the best you may see it with English subtitles. out of |
---



DVD Menus
---
Subtitle Sample
Screen Captures
---
---
Combing...
DVD Box Cover

CLICK to order from:

Distribution
Home Vision Entertainment - Region 1 - NTSC
---





Barbet Schroeder's - La Vallee - DVD Review La Vallee Barbet Schroeder DVD Review La Vallee Barbet Schroeder DVD Review La Vallee Barbet Schroeder DVD Review La Vallee Barbet Schroeder DVD Review La Vallee Barbet Schroeder DVD Review La Vallee Barbet Schroeder DVD Review La Vallee Barbet Schroeder DVD Review La Vallee Barbet Schroeder DVD Review La Vallee Barbet Schroeder DVD Review La Vallee Barbet Schroeder DVD Review La Vallee Barbet Schroeder DVD Review Barbet Schroeder's - La Vallee - DVD Review La Vallee Barbet Schroeder DVD Review La Vallee Barbet Schroeder DVD Review La Vallee Barbet Schroeder DVD Review La Vallee Barbet Schroeder DVD Review La Vallee Barbet Schroeder DVD Review La Vallee Barbet Schroeder DVD Review La Vallee Barbet Schroeder DVD Review La Vallee Barbet Schroeder DVD Review La Vallee Barbet Schroeder DVD Review La Vallee Barbet Schroeder DVD Review La Vallee Barbet Schroeder DVD Review Barbet Schroeder's - La Vallee - DVD Review La Vallee Barbet Schroeder DVD Review La Vallee Barbet Schroeder DVD Review La Vallee Barbet Schroeder DVD Review La Vallee Barbet Schroeder DVD Review La Vallee Barbet Schroeder DVD Review La Vallee Barbet Schroeder DVD Review La Vallee Barbet Schroeder DVD Review La Vallee Barbet Schroeder DVD Review La Vallee Barbet Schroeder DVD Review La Vallee Barbet Schroeder DVD Review La Vallee Barbet Schroeder DVD Review Barbet Schroeder's - La Vallee - DVD Review La Vallee Barbet Schroeder DVD Review La Vallee Barbet Schroeder DVD Review La Vallee Barbet Schroeder DVD Review La Vallee Barbet Schroeder DVD Review La Vallee Barbet Schroeder DVD Review La Vallee Barbet Schroeder DVD Review La Vallee Barbet Schroeder DVD Review La Vallee Barbet Schroeder DVD Review La Vallee Barbet Schroeder DVD Review La Vallee Barbet Schroeder DVD Review La Vallee Barbet Schroeder DVD Review Barbet Schroeder's - La Vallee - DVD Review La Vallee Barbet Schroeder DVD Review La Vallee Barbet Schroeder DVD Review La Vallee Barbet Schroeder DVD Review La Vallee Barbet Schroeder DVD Review La Vallee Barbet Schroeder DVD Review La Vallee Barbet Schroeder DVD Review La Vallee Barbet Schroeder DVD Review La Vallee Barbet Schroeder DVD Review La Vallee Barbet Schroeder DVD Review La Vallee Barbet Schroeder DVD Review La Vallee Barbet Schroeder DVD Review Barbet Schroeder's - La Vallee - DVD Review La Vallee Barbet Schroeder DVD Review La Vallee Barbet Schroeder DVD Review La Vallee Barbet Schroeder DVD Review La Vallee Barbet Schroeder DVD Review La Vallee Barbet Schroeder DVD Review La Vallee Barbet Schroeder DVD Review La Vallee Barbet Schroeder DVD Review La Vallee Barbet Schroeder DVD Review La Vallee Barbet Schroeder DVD Review La Vallee Barbet Schroeder DVD Review La Vallee Barbet Schroeder DVD Review Barbet Schroeder's - La Vallee - DVD Review La Vallee Barbet Schroeder DVD Review La Vallee Barbet Schroeder DVD Review La Vallee Barbet Schroeder DVD Review La Vallee Barbet Schroeder DVD Review La Vallee Barbet Schroeder DVD Review La Vallee Barbet Schroeder DVD Review La Vallee Barbet Schroeder DVD Review La Vallee Barbet Schroeder DVD Review La Vallee Barbet Schroeder DVD Review La Vallee Barbet Schroeder DVD Review La Vallee Barbet Schroeder DVD Review Barbet Schroeder's - La Vallee - DVD Review La Vallee Barbet Schroeder DVD Review La Vallee Barbet Schroeder DVD Review La Vallee Barbet Schroeder DVD Review La Vallee Barbet Schroeder DVD Review La Vallee Barbet Schroeder DVD Review La Vallee Barbet Schroeder DVD Review La Vallee Barbet Schroeder DVD Review La Vallee Barbet Schroeder DVD Review La Vallee Barbet Schroeder DVD Review La Vallee Barbet Schroeder DVD Review La Vallee Barbet Schroeder DVD Review Barbet Schroeder's - La Vallee - DVD Review La Vallee Barbet Schroeder DVD Review La Vallee Barbet Schroeder DVD Review La Vallee Barbet Schroeder DVD Review La Vallee Barbet Schroeder DVD Review La Vallee Barbet Schroeder DVD Review La Vallee Barbet Schroeder DVD Review La Vallee Barbet Schroeder DVD Review La Vallee Barbet Schroeder DVD Review La Vallee Barbet Schroeder DVD Review La Vallee Barbet Schroeder DVD Review La Vallee Barbet Schroeder DVD Review