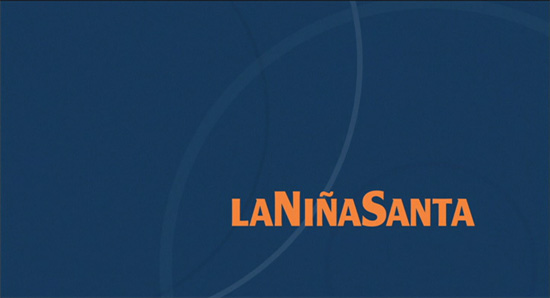 (aka "The Holy Girl" )
directed by Lucrecia Martel
Argentina / Italy / Netherlands / Spain 2004
Much of the most interesting cinema today is coming from Spain and Latin America, and we're seeing again the transatlantic exchanges that took place in the first half of the twentieth century when Brazilian Alberto Cavalcanti came over to enliven the European cinema and Spaniard Luis Buñuel left France and settled in Mexico. Pedro Almodóvar and his brother, Agustín, are the executive producers of La Niña Santa (The Holy Girl), the second feature film by Argentinian Lucrecia Martel, which shows the strong influence of both Almodóvar and Buñuel. The setting, like that of her first film, La Ciénaga (which I've yet to see but have heard good things of), is a town in northern Argentina, and much of the action is seen through the eyes of the brooding 16-year-old Amalia (María Alche).
Excerpt from Philip French's review located HERE
Posters
Theatrical Release: Argentina 6 May 2004, France 16 May 2004 (Cannes Film Festival)
Reviews More Reviews DVD Reviews
DVD Review: Artificial Eye - Region 2 - PAL
Big thanks to Per-Olof Strandberg for the Review!
DVD Box Cover

CLICK to order from:

Distribution

Artificial Eye

Region 2 - PAL

Runtime
99:42 (4% PAL speedup)
Video

1:1.85 Original Aspect Ratio

16X9 enhanced
Average Bitrate: ? mb/s
PAL 720x576 25.00 f/s

Audio
DD 5.1 and DD 2.0 Spanish
Subtitles
English and None
Features
Release Information:
Studio: Artificial Eye

Aspect Ratio:
Widescreen anamorphic - 1:1.85

Edition Details:
• Interview with Lucrecia Martel (4:3 / 28:47)
• Making of documentary (4:3 / 22:46)
• Trailer 2:09
• Biographies

DVD Release Date: July 25, 2005
Keep Case

Chapters 15
Comments
Shot mostly indoors in muted colors, the DVD looks just great. I suppose this is exactly how it looked in the cinema.

I have only one question about these transfer, and it's probably depending on the equipment you view it;

The film is shot very "artistically", almost as every single picture composition was a piece of art. Many picture compositions are made as looked camera positions, where the actor comes into the frame. Sometimes we only see the arm or hip, sometimes we see the face. Every picture has a very thigh framing, and many times it's cut just above the eyes. So everything should look just fine ....

Now the problem. My projector shows these DVD with immense over-scanning, I think approx. 10 % off the frame. It makes even the "normal" shots look odd, shots where on the computer everything seems OK, are projected so that we see only a half head on the both sides of the picture composition. Example screen cap number 3, was cut on my projector so that the nose of the man was not in the picture. If the owner of these DVD has an option to see the film without over-scan, please use it with these transfer, it helps a lot!

The film has a lot of dialog, and it's very clean and well made. I want also to thank the sound department, they have made an excellent job of creating atmosphere in the scenes. One of the best 5.1 tracks on drama films for a long time. It's just excellent and very skillfully made.

On the extras we have an 30 minute long interview with the director.

out of
---




DVD Menus
---
Screen Captures