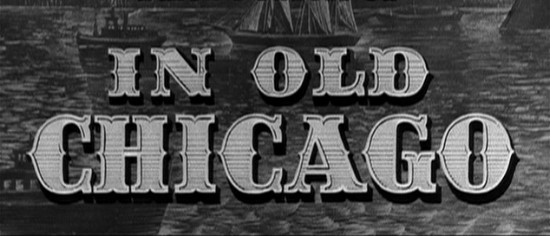 directed by Henry King
USA 1937
A lavish period piece set around the Chicago fire of 1871. Brady is Mrs O'Leary, mother of two rival brothers, the good-hearted rogue Dion (Power), and the good-hearted lawyer Jack (Ameche), who are off having romantic adventures in the Windy City while a cow owned by their mother starts the fire. Recreation of the event caused the film to be one of the most expensive of its time, and the film won an Oscar for its effects (Brady bagged a Best Supporting Actress one, too). Nothing extraordinary in retrospect, but it is genial enough.
Excerpt from Channel 4's review located HERE.
Poster
Theatrical Release: January 6th, 1938
Reviews More Reviews DVD Reviews
DVD Review: 20th Century Fox - Region 1 - NTSC
DVD Box Cover

CLICK to order from:

Distribution
20th Century Fox (Studio Classics spine #33)- Region 1 - NTSC
Runtime
Theatrical - 1:35:18 - Road Show - 1:50:48
Video
1.33:1 Original Aspect Ratio
Average Bitrate: Theatrical - 5.75 mb/s - Road Show 6.29 mb/s
NTSC 720x480 29.97 f/s

NOTE: The Vertical axis represents the bits transferred per second. The Horizontal is the time in minutes.

Bitrate:

Theatrical

Bitrate:

Road Show

Audio
English (Dolby Digital 2.0 mono)
Subtitles
English, Spanish, None
Features

Release Information:
Studio: 20th Century Fox Home Video

Aspect Ratio:
Original aspect Ratio 1.33:1

Edition Details:

• A&E Biography's "Don Ameche: Hollywood's Class Act" (44:00)
• Movietone news footage (film premieres, Hollywood spotlights)

DVD Release Date: August 9th, 2005
Keep Case
Chapters: 24 (in both editions)
| | |
| --- | --- |
| Comments: | We are given both the theatrical and extended "Road Show" versions of this film on opposite sides of a dual layered DVD. Both sides appear to have similar image qualities - a bit worn and hazy with lots of film grain showing through. Overall the image looks quite good with usual expectations in consideration of the age of the film. Black levels are very good and gray scales aren't far behind. The extras include an A+E Ameche bio and another MovieTone news reel. It's nice to see Fox make the effort with this probable poor seller and supply both editions. out of |
---



DVD Menus
Theatrical - LEFT - Road Show RIGHT
---
Subtitle Sample
Screen Captures
---
DVD Box Cover

CLICK to order from:

Distribution
20th Century Fox (Studio Classics spine #33)- Region 1 - NTSC
---





DONATIONS Keep DVDBeaver alive and advertisement free:
Mail cheques, money orders, cash to: or CLICK PayPal logo to donate!
Gary Tooze

Mississauga, Ontario,

CANADA
Thank You!
Henry King's - In Old Chicago - DVD Review Henry King In Old Chicago DVD Review Henry King In Old Chicago DVD Review Henry King In Old Chicago DVD Review Henry King In Old Chicago DVD Review Henry King In Old Chicago DVD Review Henry King In Old Chicago DVD Review Henry King In Old Chicago DVD Review Henry King In Old Chicago DVD Review Henry King In Old Chicago DVD Review Henry King's - In Old Chicago - DVD Review Henry King In Old Chicago DVD Review Henry King In Old Chicago DVD Review Henry King In Old Chicago DVD Review Henry King In Old Chicago DVD Review Henry King In Old Chicago DVD Review Henry King In Old Chicago DVD Review Henry King In Old Chicago DVD Review Henry King In Old Chicago DVD Review Henry King In Old Chicago DVD Review Henry King's - In Old Chicago - DVD Review Henry King In Old Chicago DVD Review Henry King In Old Chicago DVD Review Henry King In Old Chicago DVD Review Henry King In Old Chicago DVD Review Henry King In Old Chicago DVD Review Henry King In Old Chicago DVD Review Henry King In Old Chicago DVD Review Henry King In Old Chicago DVD Review Henry King In Old Chicago DVD Review Henry King's - In Old Chicago - DVD Review Henry King In Old Chicago DVD Review Henry King In Old Chicago DVD Review Henry King In Old Chicago DVD Review Henry King In Old Chicago DVD Review Henry King In Old Chicago DVD Review Henry King In Old Chicago DVD Review Henry King In Old Chicago DVD Review Henry King In Old Chicago DVD Review Henry King In Old Chicago DVD Review Henry King's - In Old Chicago - DVD Review Henry King In Old Chicago DVD Review Henry King In Old Chicago DVD Review Henry King In Old Chicago DVD Review Henry King In Old Chicago DVD Review Henry King In Old Chicago DVD Review Henry King In Old Chicago DVD Review Henry King In Old Chicago DVD Review Henry King In Old Chicago DVD Review Henry King In Old Chicago DVD Review Henry King's - In Old Chicago - DVD Review Henry King In Old Chicago DVD Review Henry King In Old Chicago DVD Review Henry King In Old Chicago DVD Review Henry King In Old Chicago DVD Review Henry King In Old Chicago DVD Review Henry King In Old Chicago DVD Review Henry King In Old Chicago DVD Review Henry King In Old Chicago DVD Review Henry King In Old Chicago DVD Review Henry King's - In Old Chicago - DVD Review Henry King In Old Chicago DVD Review Henry King In Old Chicago DVD Review Henry King In Old Chicago DVD Review Henry King In Old Chicago DVD Review Henry King In Old Chicago DVD Review Henry King In Old Chicago DVD Review Henry King In Old Chicago DVD Review Henry King In Old Chicago DVD Review Henry King In Old Chicago DVD Review Henry King's - In Old Chicago - DVD Review Henry King In Old Chicago DVD Review Henry King In Old Chicago DVD Review Henry King In Old Chicago DVD Review Henry King In Old Chicago DVD Review Henry King In Old Chicago DVD Review Henry King In Old Chicago DVD Review Henry King In Old Chicago DVD Review Henry King In Old Chicago DVD Review Henry King In Old Chicago DVD Review Henry King's - In Old Chicago - DVD Review Henry King In Old Chicago DVD Review Henry King In Old Chicago DVD Review Henry King In Old Chicago DVD Review Henry King In Old Chicago DVD Review Henry King In Old Chicago DVD Review Henry King In Old Chicago DVD Review Henry King In Old Chicago DVD Review Henry King In Old Chicago DVD Review Henry King In Old Chicago DVD Review Henry King's - In Old Chicago - DVD Review Henry King In Old Chicago DVD Review Henry King In Old Chicago DVD Review Henry King In Old Chicago DVD Review Henry King In Old Chicago DVD Review Henry King In Old Chicago DVD Review Henry King In Old Chicago DVD Review Henry King In Old Chicago DVD Review Henry King In Old Chicago DVD Review Henry King In Old Chicago DVD Review Henry King's - In Old Chicago - DVD Review Henry King In Old Chicago DVD Review Henry King In Old Chicago DVD Review Henry King In Old Chicago DVD Review Henry King In Old Chicago DVD Review Henry King In Old Chicago DVD Review Henry King In Old Chicago DVD Review Henry King In Old Chicago DVD Review Henry King In Old Chicago DVD Review Henry King In Old Chicago DVD Review Henry King's - In Old Chicago - DVD Review Henry King In Old Chicago DVD Review Henry King In Old Chicago DVD Review Henry King In Old Chicago DVD Review Henry King In Old Chicago DVD Review Henry King In Old Chicago DVD Review Henry King In Old Chicago DVD Review Henry King In Old Chicago DVD Review Henry King In Old Chicago DVD Review Henry King In Old Chicago DVD Review Henry King's - In Old Chicago - DVD Review Henry King In Old Chicago DVD Review Henry King In Old Chicago DVD Review Henry King In Old Chicago DVD Review Henry King In Old Chicago DVD Review Henry King In Old Chicago DVD Review Henry King In Old Chicago DVD Review Henry King In Old Chicago DVD Review Henry King In Old Chicago DVD Review Henry King In Old Chicago DVD Review Henry King's - In Old Chicago - DVD Review Henry King In Old Chicago DVD Review Henry King In Old Chicago DVD Review Henry King In Old Chicago DVD Review Henry King In Old Chicago DVD Review Henry King In Old Chicago DVD Review Henry King In Old Chicago DVD Review Henry King In Old Chicago DVD Review Henry King In Old Chicago DVD Review Henry King In Old Chicago DVD Review Henry King's - In Old Chicago - DVD Review Henry King In Old Chicago DVD Review Henry King In Old Chicago DVD Review Henry King In Old Chicago DVD Review Henry King In Old Chicago DVD Review Henry King In Old Chicago DVD Review Henry King In Old Chicago DVD Review Henry King In Old Chicago DVD Review Henry King In Old Chicago DVD Review Henry King In Old Chicago DVD Review Henry King's - In Old Chicago - DVD Review Henry King In Old Chicago DVD Review Henry King In Old Chicago DVD Review Henry King In Old Chicago DVD Review Henry King In Old Chicago DVD Review Henry King In Old Chicago DVD Review Henry King In Old Chicago DVD Review Henry King In Old Chicago DVD Review Henry King In Old Chicago DVD Review Henry King In Old Chicago DVD Review Henry King's - In Old Chicago - DVD Review Henry King In Old Chicago DVD Review Henry King In Old Chicago DVD Review Henry King In Old Chicago DVD Review Henry King In Old Chicago DVD Review Henry King In Old Chicago DVD Review Henry King In Old Chicago DVD Review Henry King In Old Chicago DVD Review Henry King In Old Chicago DVD Review Henry King In Old Chicago DVD Review Henry King's - In Old Chicago - DVD Review Henry King In Old Chicago DVD Review Henry King In Old Chicago DVD Review Henry King In Old Chicago DVD Review Henry King In Old Chicago DVD Review Henry King In Old Chicago DVD Review Henry King In Old Chicago DVD Review Henry King In Old Chicago DVD Review Henry King In Old Chicago DVD Review Henry King In Old Chicago DVD Review Henry King's - In Old Chicago - DVD Review Henry King In Old Chicago DVD Review Henry King In Old Chicago DVD Review Henry King In Old Chicago DVD Review Henry King In Old Chicago DVD Review Henry King In Old Chicago DVD Review Henry King In Old Chicago DVD Review Henry King In Old Chicago DVD Review Henry King In Old Chicago DVD Review Henry King In Old Chicago DVD Review Henry King's - In Old Chicago - DVD Review Henry King In Old Chicago DVD Review Henry King In Old Chicago DVD Review Henry King In Old Chicago DVD Review Henry King In Old Chicago DVD Review Henry King In Old Chicago DVD Review Henry King In Old Chicago DVD Review Henry King In Old Chicago DVD Review Henry King In Old Chicago DVD Review Henry King In Old Chicago DVD Review Henry King's - In Old Chicago - DVD Review Henry King In Old Chicago DVD Review Henry King In Old Chicago DVD Review Henry King In Old Chicago DVD Review Henry King In Old Chicago DVD Review Henry King In Old Chicago DVD Review Henry King In Old Chicago DVD Review Henry King In Old Chicago DVD Review Henry King In Old Chicago DVD Review Henry King In Old Chicago DVD Review Henry King's - In Old Chicago - DVD Review Henry King In Old Chicago DVD Review Henry King In Old Chicago DVD Review Henry King In Old Chicago DVD Review Henry King In Old Chicago DVD Review Henry King In Old Chicago DVD Review Henry King In Old Chicago DVD Review Henry King In Old Chicago DVD Review Henry King In Old Chicago DVD Review Henry King In Old Chicago DVD Review Henry King's - In Old Chicago - DVD Review Henry King In Old Chicago DVD Review Henry King In Old Chicago DVD Review Henry King In Old Chicago DVD Review Henry King In Old Chicago DVD Review Henry King In Old Chicago DVD Review Henry King In Old Chicago DVD Review Henry King In Old Chicago DVD Review Henry King In Old Chicago DVD Review Henry King In Old Chicago DVD Review Henry King's - In Old Chicago - DVD Review Henry King In Old Chicago DVD Review Henry King In Old Chicago DVD Review Henry King In Old Chicago DVD Review Henry King In Old Chicago DVD Review Henry King In Old Chicago DVD Review Henry King In Old Chicago DVD Review Henry King In Old Chicago DVD Review Henry King In Old Chicago DVD Review Henry King In Old Chicago DVD Review