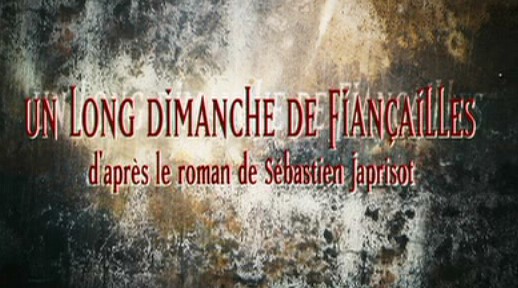 (aka 'A Very Long Engagement')
directed by Jean-Pierre Jeunet
France
2004
Both epic and intimate, A Very Long Engagement reunites Audrey Tautou and Jean-Pierre Jeunet, the star and director of the hugely popular Amelie. A young woman named Mathilde (Tautou) separated from her lover by World War I refuses to believe he's been killed and launches an investigation into his fate--an investigation that spins in all directions, creating dozens of miniature stories (including that of an Italian prostitute avenging the death of her own lover by elaborate means) that shift to and fro in time. The dazzling curlicues of narrative put brutality and tenderness back to back, shifting between crushing inevitabilities and miraculous rescues with deft storytelling skill and the lush visual style of the director of Delicatessen and The City of Lost Children. Through it all, Tautou--fierce and luminous--anchors the movie effortlessly. She's among the most emotionally engaging actresses in cinema, with the kind of expressive beauty that transcends language. A gorgeous, far-reaching film; the huge cast also includes Jodie Foster (The Silence of the Lambs), Gaspard Ulliel (Strayed), and Dominique Pinon (Alien: Resurrection).
Excerpt of Bret Fetzer's review on movie-pages.com located HERE
Posters
Theatrical Release: October 27th, 2004
Reviews More Reviews DVD Reviews
DVD Review: Warner (2-disc) - Region 1 - NTSC
DVD Box Cover

CLICK to order from:

Distribution
Warner Home Video - Region 1 - NTSC
Runtime
2:13:08
Video
2.35:1 Original Aspect Ratio
Average Bitrate: 6.12 mb/s
NTSC 720x480 29.97 f/s

NOTE: The Vertical axis represents the bits transferred per second. The Horizontal is the time in minutes.

Bitrate:

Audio
French (Dolby Digital 5.1)
Subtitles
English, French, Spanish, None
Features

Release Information:
Studio: Warner Home Video

Aspect Ratio:
Original aspect Ratio 2.35:1

Edition Details:

• Audio Commentary by Director Jean-Pierre Jeunet
• The Making of "A Very Long Engagement"
Paris in the 20's
• Before the Explosion: a documentary about the Zeppelin explosion
• Deleted Scenes

DVD Release Date: July 12th, 2005
Double Slim Keep Case
Chapters: 39
| | |
| --- | --- |
| Comments: | Certainly a most beautifully shot film. I could have taken several more screen captures. We hope to compare this to the alternate DVD versions at some point. There is an intentional orange haze over much of the film and it is translated well to this Region 1 DVD package. Again a very thick, heavy appearance to the image becomes a function of style and seems appropriate considering the time period of the film. Subtitles are excellent as is the 5.1 original audio track, the motion menus look marvelous but my only complaint might be the extensive time it takes for their animations to enact - very slow. Commentary by the director - that I have not yet completed but the 2nd disc extras are top notch - in fact the whole DVD is a wonderful package by Warner - doing their utmost to stay astride with Criterion. We recommend! out of |
---
---
Subtitle Sample
Screen Captures
---
---





DONATIONS Keep DVDBeaver alive and advertisement free:
Mail cheques, money orders, cash to: or CLICK PayPal logo to donate!
Gary Tooze

Mississauga, Ontario,

CANADA
Thank You!
Jean-Pierre Jeunet's A Very Long Engagement DVD Review Jean-Pierre Jeunet A Very Long Engagement DVD Review Jean-Pierre Jeunet A Very Long Engagement DVD Review Jean-Pierre Jeunet A Very Long Engagement DVD Review Jean-Pierre Jeunet A Very Long Engagement DVD Review Jean-Pierre Jeunet A Very Long Engagement DVD Review Jean-Pierre Jeunet A Very Long Engagement DVD Review Jean-Pierre Jeunet A Very Long Engagement DVD Review Jean-Pierre Jeunet A Very Long Engagement DVD Review Jean-Pierre Jeunet A Very Long Engagement DVD Review Jean-Pierre Jeunet A Very Long Engagement DVD Review Jean-Pierre Jeunet's A Very Long Engagement DVD Review Jean-Pierre Jeunet A Very Long Engagement DVD Review Jean-Pierre Jeunet A Very Long Engagement DVD Review Jean-Pierre Jeunet A Very Long Engagement DVD Review Jean-Pierre Jeunet A Very Long Engagement DVD Review Jean-Pierre Jeunet A Very Long Engagement DVD Review Jean-Pierre Jeunet A Very Long Engagement DVD Review Jean-Pierre Jeunet A Very Long Engagement DVD Review Jean-Pierre Jeunet A Very Long Engagement DVD Review Jean-Pierre Jeunet A Very Long Engagement DVD Review Jean-Pierre Jeunet A Very Long Engagement DVD ReviewJean-Pierre Jeunet's A Very Long Engagement DVD Review Jean-Pierre Jeunet A Very Long Engagement DVD Review Jean-Pierre Jeunet A Very Long Engagement DVD Review Jean-Pierre Jeunet A Very Long Engagement DVD Review Jean-Pierre Jeunet A Very Long Engagement DVD Review Jean-Pierre Jeunet A Very Long Engagement DVD Review Jean-Pierre Jeunet A Very Long Engagement DVD Review Jean-Pierre Jeunet A Very Long Engagement DVD Review Jean-Pierre Jeunet A Very Long Engagement DVD Review Jean-Pierre Jeunet A Very Long Engagement DVD Review Jean-Pierre Jeunet A Very Long Engagement DVD ReviewJean-Pierre Jeunet's A Very Long Engagement DVD Review Jean-Pierre Jeunet A Very Long Engagement DVD Review Jean-Pierre Jeunet A Very Long Engagement DVD Review Jean-Pierre Jeunet A Very Long Engagement DVD Review Jean-Pierre Jeunet A Very Long Engagement DVD Review Jean-Pierre Jeunet A Very Long Engagement DVD Review Jean-Pierre Jeunet A Very Long Engagement DVD Review Jean-Pierre Jeunet A Very Long Engagement DVD Review Jean-Pierre Jeunet A Very Long Engagement DVD Review Jean-Pierre Jeunet A Very Long Engagement DVD Review Jean-Pierre Jeunet A Very Long Engagement DVD ReviewJean-Pierre Jeunet's A Very Long Engagement DVD Review Jean-Pierre Jeunet A Very Long Engagement DVD Review Jean-Pierre Jeunet A Very Long Engagement DVD Review Jean-Pierre Jeunet A Very Long Engagement DVD Review Jean-Pierre Jeunet A Very Long Engagement DVD Review Jean-Pierre Jeunet A Very Long Engagement DVD Review Jean-Pierre Jeunet A Very Long Engagement DVD Review Jean-Pierre Jeunet A Very Long Engagement DVD Review Jean-Pierre Jeunet A Very Long Engagement DVD Review Jean-Pierre Jeunet A Very Long Engagement DVD Review Jean-Pierre Jeunet A Very Long Engagement DVD ReviewJean-Pierre Jeunet's A Very Long Engagement DVD Review Jean-Pierre Jeunet A Very Long Engagement DVD Review Jean-Pierre Jeunet A Very Long Engagement DVD Review Jean-Pierre Jeunet A Very Long Engagement DVD Review Jean-Pierre Jeunet A Very Long Engagement DVD Review Jean-Pierre Jeunet A Very Long Engagement DVD Review Jean-Pierre Jeunet A Very Long Engagement DVD Review Jean-Pierre Jeunet A Very Long Engagement DVD Review Jean-Pierre Jeunet A Very Long Engagement DVD Review Jean-Pierre Jeunet A Very Long Engagement DVD Review Jean-Pierre Jeunet A Very Long Engagement DVD ReviewJean-Pierre Jeunet's A Very Long Engagement DVD Review Jean-Pierre Jeunet A Very Long Engagement DVD Review Jean-Pierre Jeunet A Very Long Engagement DVD Review Jean-Pierre Jeunet A Very Long Engagement DVD Review Jean-Pierre Jeunet A Very Long Engagement DVD Review Jean-Pierre Jeunet A Very Long Engagement DVD Review Jean-Pierre Jeunet A Very Long Engagement DVD Review Jean-Pierre Jeunet A Very Long Engagement DVD Review Jean-Pierre Jeunet A Very Long Engagement DVD Review Jean-Pierre Jeunet A Very Long Engagement DVD Review Jean-Pierre Jeunet A Very Long Engagement DVD ReviewJean-Pierre Jeunet's A Very Long Engagement DVD Review Jean-Pierre Jeunet A Very Long Engagement DVD Review Jean-Pierre Jeunet A Very Long Engagement DVD Review Jean-Pierre Jeunet A Very Long Engagement DVD Review Jean-Pierre Jeunet A Very Long Engagement DVD Review Jean-Pierre Jeunet A Very Long Engagement DVD Review Jean-Pierre Jeunet A Very Long Engagement DVD Review Jean-Pierre Jeunet A Very Long Engagement DVD Review Jean-Pierre Jeunet A Very Long Engagement DVD Review Jean-Pierre Jeunet A Very Long Engagement DVD Review Jean-Pierre Jeunet A Very Long Engagement DVD ReviewJean-Pierre Jeunet's A Very Long Engagement DVD Review Jean-Pierre Jeunet A Very Long Engagement DVD Review Jean-Pierre Jeunet A Very Long Engagement DVD Review Jean-Pierre Jeunet A Very Long Engagement DVD Review Jean-Pierre Jeunet A Very Long Engagement DVD Review Jean-Pierre Jeunet A Very Long Engagement DVD Review Jean-Pierre Jeunet A Very Long Engagement DVD Review Jean-Pierre Jeunet A Very Long Engagement DVD Review Jean-Pierre Jeunet A Very Long Engagement DVD Review Jean-Pierre Jeunet A Very Long Engagement DVD Review Jean-Pierre Jeunet A Very Long Engagement DVD ReviewJean-Pierre Jeunet's A Very Long Engagement DVD Review Jean-Pierre Jeunet A Very Long Engagement DVD Review Jean-Pierre Jeunet A Very Long Engagement DVD Review Jean-Pierre Jeunet A Very Long Engagement DVD Review Jean-Pierre Jeunet A Very Long Engagement DVD Review Jean-Pierre Jeunet A Very Long Engagement DVD Review Jean-Pierre Jeunet A Very Long Engagement DVD Review Jean-Pierre Jeunet A Very Long Engagement DVD Review Jean-Pierre Jeunet A Very Long Engagement DVD Review Jean-Pierre Jeunet A Very Long Engagement DVD Review Jean-Pierre Jeunet A Very Long Engagement DVD Review