WE NEED YOUR HELP!
We have started a Patreon page with the hopes that some of our followers would be willing to donate to keep DVDBeaver alive. We are a small niche, so your generosity is vital to our existence.

To those that are unfamiliar, Patreon is a secure/verified third-party service where users can agree to a monthly donation via credit card or PayPal by clicking the button below.






| | |
| --- | --- |
| | S E A R C H D V D B e a v e r |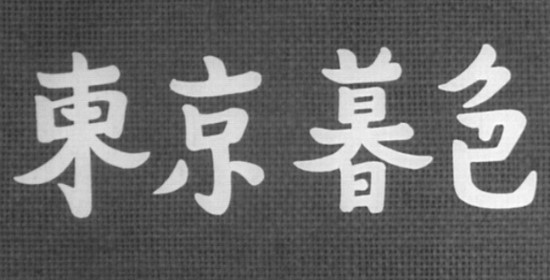 (aka 'Tokyo boshoku" or "Tokyo Twilight' or "Twilight in Tokyo")
Possibly after "Late Spring" and "Tokyo Story" this may be my favorite Ozu film. Many will instantly notice the obvious sameness Ozu's classics have (Twilight Tokyo being his last before moving to color) with similar parent/child communication themes, cast, locales, even titles in many his sublime minimalist melodramas.
The opening scenes of the twilight scenery completes the précised expression of the narrative involving the disintegration of the family unit - another typical conservative middle-class Japanese family. Abandoned by his wife many years hence, a father (Chishu Ryu) is coping with two daughters, one (Setsuko Hara) has separated from her husband with child in tow, the other (Ineko Arima) refuses to communicate her pregnancy and ultimate decision of abortion. Possibly Ozu's darkest film, it still maintains an extremely high level of personal awareness and family love.
Theatrical Release: April 30th, 1957 - Tokyo
Reviews More Reviews DVD Reviews
DVD Review: Panorama - Region 3 - NTSC
DVD Box Cover

CLICK to order from:

Thinking of buying from YesAsia? CLICK HERE and use THIS UPDATED BEAVER PAGE to source their very best...

Distribution
Panorama (Hong Kong) - Region 3 - NTSC
Runtime
2:20:00
Video
1.33:1 Original Aspect Ratio
Average Bitrate: 6.51 mb/s
NTSC 720x480 29.97 f/s

NOTE: The Vertical axis represents the bits transferred per second. The Horizontal is the time in minutes.

Bitrate:

Audio
Japanese (Dolby Digital 2.0)
Subtitles
English, Traditional Chinese, None
Features

Release Information:
Studio: Panorama

Aspect Ratio:
Original aspect Ratio 1.33:1

Edition Details:

• Ozu Biography (text screen)
• Ozu Filmography (text screen)

DVD Release Date: May 13th, 2005
Keep Case
Chapters: 12

Comments:

Aside from the standard Panorama non-HD transfer, which, although weak, is mostly adequate - the big failing of this Hong Kong DVD production company has been their subtitles - usually fraught with occasional spelling, grammar and absentee dialogue translation. I am happy to report that the subtitles are a definite improvement over previous Panorama Ozu editions. Not 100% perfect but certainly the errors are far fewer than I have noticed in the past. There are still, however dialogue strings that appear to be ignored or précised rather than directly translated.

The image is dark, but appears free of digital manipulation. Sharpness and shadow detail are quite acceptable, audio had a few fluctuations, but overall I believe this to be the only edition of this masterful film available on DVD with English subtitles. I was very pleased while viewing and recommend this until a superior replacement is produced.
---
DVD Menus
---
Subtitle Sample
Screen Captures
---
---
---
DVD Box Cover

CLICK to order from:

Thinking of buying from YesAsia? CLICK HERE and use THIS UPDATED BEAVER PAGE to source their very best...

Distribution
Panorama (Hong Kong) - Region 3 - NTSC
---






Yasujiro Ozu's Tokyo boshoku Tokyo Twilight DVD Review Yasujiro Ozu Tokyo boshoku Tokyo Twilight DVD Review Yasujiro Ozu Tokyo boshoku Tokyo Twilight DVD Review Yasujiro Ozu Tokyo boshoku Tokyo Twilight DVD Review Yasujiro Ozu Tokyo boshoku Tokyo Twilight DVD Review Yasujiro Ozu Tokyo boshoku Tokyo Twilight DVD Review Yasujiro Ozu Tokyo boshoku Tokyo Twilight DVD Review Yasujiro Ozu Tokyo boshoku Tokyo Twilight DVD Review Yasujiro Ozu Tokyo boshoku Tokyo Twilight DVD Review Yasujiro Ozu Tokyo boshoku Tokyo Twilight DVD Review Yasujiro Ozu's Tokyo boshoku Tokyo Twilight DVD Review Yasujiro Ozu Tokyo boshoku Tokyo Twilight DVD Review Yasujiro Ozu Tokyo boshoku Tokyo Twilight DVD Review Yasujiro Ozu Tokyo boshoku Tokyo Twilight DVD Review Yasujiro Ozu Tokyo boshoku Tokyo Twilight DVD Review Yasujiro Ozu Tokyo boshoku Tokyo Twilight DVD Review Yasujiro Ozu Tokyo boshoku Tokyo Twilight DVD Review Yasujiro Ozu Tokyo boshoku Tokyo Twilight DVD Review Yasujiro Ozu Tokyo boshoku Tokyo Twilight DVD Review Yasujiro Ozu Tokyo boshoku Tokyo Twilight DVD Review Yasujiro Ozu's Tokyo boshoku Tokyo Twilight DVD Review Yasujiro Ozu Tokyo boshoku Tokyo Twilight DVD Review Yasujiro Ozu Tokyo boshoku Tokyo Twilight DVD Review Yasujiro Ozu Tokyo boshoku Tokyo Twilight DVD Review Yasujiro Ozu Tokyo boshoku Tokyo Twilight DVD Review Yasujiro Ozu Tokyo boshoku Tokyo Twilight DVD Review Yasujiro Ozu Tokyo boshoku Tokyo Twilight DVD Review Yasujiro Ozu Tokyo boshoku Tokyo Twilight DVD Review Yasujiro Ozu Tokyo boshoku Tokyo Twilight DVD Review Yasujiro Ozu Tokyo boshoku Tokyo Twilight DVD Review Yasujiro Ozu's Tokyo boshoku Tokyo Twilight DVD Review Yasujiro Ozu Tokyo boshoku Tokyo Twilight DVD Review Yasujiro Ozu Tokyo boshoku Tokyo Twilight DVD Review Yasujiro Ozu Tokyo boshoku Tokyo Twilight DVD Review Yasujiro Ozu Tokyo boshoku Tokyo Twilight DVD Review Yasujiro Ozu Tokyo boshoku Tokyo Twilight DVD Review Yasujiro Ozu Tokyo boshoku Tokyo Twilight DVD Review Yasujiro Ozu Tokyo boshoku Tokyo Twilight DVD Review Yasujiro Ozu Tokyo boshoku Tokyo Twilight DVD Review Yasujiro Ozu Tokyo boshoku Tokyo Twilight DVD Review Yasujiro Ozu's Tokyo boshoku Tokyo Twilight DVD Review Yasujiro Ozu Tokyo boshoku Tokyo Twilight DVD Review Yasujiro Ozu Tokyo boshoku Tokyo Twilight DVD Review Yasujiro Ozu Tokyo boshoku Tokyo Twilight DVD Review Yasujiro Ozu Tokyo boshoku Tokyo Twilight DVD Review Yasujiro Ozu Tokyo boshoku Tokyo Twilight DVD Review Yasujiro Ozu Tokyo boshoku Tokyo Twilight DVD Review Yasujiro Ozu Tokyo boshoku Tokyo Twilight DVD Review Yasujiro Ozu Tokyo boshoku Tokyo Twilight DVD Review Yasujiro Ozu Tokyo boshoku Tokyo Twilight DVD Review Yasujiro Ozu's Tokyo boshoku Tokyo Twilight DVD Review Yasujiro Ozu Tokyo boshoku Tokyo Twilight DVD Review Yasujiro Ozu Tokyo boshoku Tokyo Twilight DVD Review Yasujiro Ozu Tokyo boshoku Tokyo Twilight DVD Review Yasujiro Ozu Tokyo boshoku Tokyo Twilight DVD Review Yasujiro Ozu Tokyo boshoku Tokyo Twilight DVD Review Yasujiro Ozu Tokyo boshoku Tokyo Twilight DVD Review Yasujiro Ozu Tokyo boshoku Tokyo Twilight DVD Review Yasujiro Ozu Tokyo boshoku Tokyo Twilight DVD Review Yasujiro Ozu Tokyo boshoku Tokyo Twilight DVD Review Yasujiro Ozu's Tokyo boshoku Tokyo Twilight DVD Review Yasujiro Ozu Tokyo boshoku Tokyo Twilight DVD Review Yasujiro Ozu Tokyo boshoku Tokyo Twilight DVD Review Yasujiro Ozu Tokyo boshoku Tokyo Twilight DVD Review Yasujiro Ozu Tokyo boshoku Tokyo Twilight DVD Review Yasujiro Ozu Tokyo boshoku Tokyo Twilight DVD Review Yasujiro Ozu Tokyo boshoku Tokyo Twilight DVD Review Yasujiro Ozu Tokyo boshoku Tokyo Twilight DVD Review Yasujiro Ozu Tokyo boshoku Tokyo Twilight DVD Review Yasujiro Ozu Tokyo boshoku Tokyo Twilight DVD Review Yasujiro Ozu's Tokyo boshoku Tokyo Twilight DVD Review Yasujiro Ozu Tokyo boshoku Tokyo Twilight DVD Review Yasujiro Ozu Tokyo boshoku Tokyo Twilight DVD Review Yasujiro Ozu Tokyo boshoku Tokyo Twilight DVD Review Yasujiro Ozu Tokyo boshoku Tokyo Twilight DVD Review Yasujiro Ozu Tokyo boshoku Tokyo Twilight DVD Review Yasujiro Ozu Tokyo boshoku Tokyo Twilight DVD Review Yasujiro Ozu Tokyo boshoku Tokyo Twilight DVD Review Yasujiro Ozu Tokyo boshoku Tokyo Twilight DVD Review Yasujiro Ozu Tokyo boshoku Tokyo Twilight DVD Review Yasujiro Ozu's Tokyo boshoku Tokyo Twilight DVD Review Yasujiro Ozu Tokyo boshoku Tokyo Twilight DVD Review Yasujiro Ozu Tokyo boshoku Tokyo Twilight DVD Review Yasujiro Ozu Tokyo boshoku Tokyo Twilight DVD Review Yasujiro Ozu Tokyo boshoku Tokyo Twilight DVD Review Yasujiro Ozu Tokyo boshoku Tokyo Twilight DVD Review Yasujiro Ozu Tokyo boshoku Tokyo Twilight DVD Review Yasujiro Ozu Tokyo boshoku Tokyo Twilight DVD Review Yasujiro Ozu Tokyo boshoku Tokyo Twilight DVD Review Yasujiro Ozu Tokyo boshoku Tokyo Twilight DVD Review