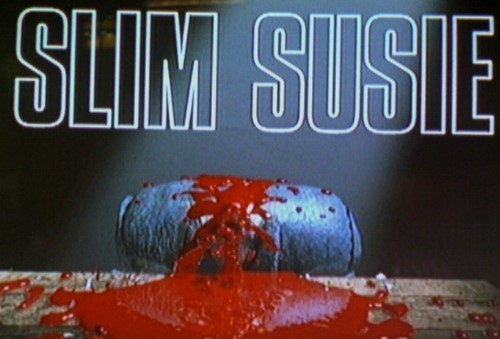 (aka 'Slim Susie')
directed by Ulf Malmros

Sweden 2003
Slim Susie is not your typical Swedish sex, drugs, and crime comedy. In a quaint rural village filled with small town madness, former beauty queen Susie (Tuva Novotny) is missing. Her brother, Erik (Jonas Rimeika) returns from Stockholm to find out what happened to her, and is shocked to discover his sweet and innocent sister was anything but! Award-winning director Ulf Malmros's bold visual style, breakneck pacing, and a pulse-pounding soundtrack make Slim Susie a viscerally exhilarating black comedy in the tradition of Pulp Fiction and Trainspotting.
Posters
Theatrical Release: October 3rd, 2003 - Sweden
DVD Review: Home Vision Entertainment - Region 1 - NTSC
DVD Box Cover

CLICK to order from:

Distribution
Home Vision Entertainment - Region 1 - NTSC
Runtime
1:40:51
Video
1.85:1 Original Aspect Ratio
Average Bitrate: 7.63 mb/s
NTSC 720x480 29.97 f/s

NOTE: The Vertical axis represents the bits transferred per second. The Horizontal is the time in minutes.

Bitrate:

Audio
Swedish (Dolby Digital 2.0), Swedish (Dolby Digital 5.1)
Subtitles
English, None
Features

Release Information:
Studio: Home Vision Entertainment

Aspect Ratio:
Original aspect Ratio 1.85:1

Edition Details:

• "Making Of" Featurette

• Deleted scenes
• Liner notes essay by Jan Goransson of The Swedish Film Institute
• Theatrical trailer

DVD Release Date: July 19th, 2005
Keep Case
Chapters: 21
| | |
| --- | --- |
| Comments: | Very strong progressive image on this delightful blurry paced crossover from many Hollywood-ish films. Tight anamorphic picture with good colors and good contrast. Two audio options ands HVE's usual excellent subs plus some decent extra features. Overall a good package and a super fun film! out of |
---
---
Subtitle Sample
Screen Captures
---
DONATIONS Keep DVDBeaver alive and advertisement free:
Mail cheques, money orders, cash to: or CLICK PayPal logo to donate!
Gary Tooze

Mississauga, Ontario,

CANADA
Thank You!
Ulf Malmros; Slim Susie Smala Sussie DVD Review Ulf Malmros Slim Susie Smala Sussie DVD Review Ulf Malmros Slim Susie Smala Sussie DVD Review Ulf Malmros Slim Susie Smala Sussie DVD Review Ulf Malmros Slim Susie Smala Sussie DVD Review Ulf Malmros Slim Susie Smala Sussie DVD Review Ulf Malmros Slim Susie Smala Sussie DVD Review Ulf Malmros Slim Susie Smala Sussie DVD Review Ulf Malmros Slim Susie Smala Sussie DVD Review Ulf Malmros Slim Susie Smala Sussie DVD Review Ulf Malmros Slim Susie Smala Sussie DVD Review Ulf Malmros Slim Susie Smala Sussie DVD Review Ulf Malmros; Slim Susie Smala Sussie DVD Review Ulf Malmros Slim Susie Smala Sussie DVD Review Ulf Malmros Slim Susie Smala Sussie DVD Review Ulf Malmros Slim Susie Smala Sussie DVD Review Ulf Malmros Slim Susie Smala Sussie DVD Review Ulf Malmros Slim Susie Smala Sussie DVD Review Ulf Malmros Slim Susie Smala Sussie DVD Review Ulf Malmros Slim Susie Smala Sussie DVD Review Ulf Malmros Slim Susie Smala Sussie DVD Review Ulf Malmros Slim Susie Smala Sussie DVD Review Ulf Malmros Slim Susie Smala Sussie DVD Review Ulf Malmros Slim Susie Smala Sussie DVD Review Ulf Malmros; Slim Susie Smala Sussie DVD Review Ulf Malmros Slim Susie Smala Sussie DVD Review Ulf Malmros Slim Susie Smala Sussie DVD Review Ulf Malmros Slim Susie Smala Sussie DVD Review Ulf Malmros Slim Susie Smala Sussie DVD Review Ulf Malmros Slim Susie Smala Sussie DVD Review Ulf Malmros Slim Susie Smala Sussie DVD Review Ulf Malmros Slim Susie Smala Sussie DVD Review Ulf Malmros Slim Susie Smala Sussie DVD Review Ulf Malmros Slim Susie Smala Sussie DVD Review Ulf Malmros Slim Susie Smala Sussie DVD Review Ulf Malmros Slim Susie Smala Sussie DVD Review Ulf Malmros; Slim Susie Smala Sussie DVD Review Ulf Malmros Slim Susie Smala Sussie DVD Review Ulf Malmros Slim Susie Smala Sussie DVD Review Ulf Malmros Slim Susie Smala Sussie DVD Review Ulf Malmros Slim Susie Smala Sussie DVD Review Ulf Malmros Slim Susie Smala Sussie DVD Review Ulf Malmros Slim Susie Smala Sussie DVD Review Ulf Malmros Slim Susie Smala Sussie DVD Review Ulf Malmros Slim Susie Smala Sussie DVD Review Ulf Malmros Slim Susie Smala Sussie DVD Review Ulf Malmros Slim Susie Smala Sussie DVD Review Ulf Malmros Slim Susie Smala Sussie DVD Review Ulf Malmros; Slim Susie Smala Sussie DVD Review Ulf Malmros Slim Susie Smala Sussie DVD Review Ulf Malmros Slim Susie Smala Sussie DVD Review Ulf Malmros Slim Susie Smala Sussie DVD Review Ulf Malmros Slim Susie Smala Sussie DVD Review Ulf Malmros Slim Susie Smala Sussie DVD Review Ulf Malmros Slim Susie Smala Sussie DVD Review Ulf Malmros Slim Susie Smala Sussie DVD Review Ulf Malmros Slim Susie Smala Sussie DVD Review Ulf Malmros Slim Susie Smala Sussie DVD Review Ulf Malmros Slim Susie Smala Sussie DVD Review Ulf Malmros Slim Susie Smala Sussie DVD Review Ulf Malmros; Slim Susie Smala Sussie DVD Review Ulf Malmros Slim Susie Smala Sussie DVD Review Ulf Malmros Slim Susie Smala Sussie DVD Review Ulf Malmros Slim Susie Smala Sussie DVD Review Ulf Malmros Slim Susie Smala Sussie DVD Review Ulf Malmros Slim Susie Smala Sussie DVD Review Ulf Malmros Slim Susie Smala Sussie DVD Review Ulf Malmros Slim Susie Smala Sussie DVD Review Ulf Malmros Slim Susie Smala Sussie DVD Review Ulf Malmros Slim Susie Smala Sussie DVD Review Ulf Malmros Slim Susie Smala Sussie DVD Review Ulf Malmros Slim Susie Smala Sussie DVD Review Ulf Malmros; Slim Susie Smala Sussie DVD Review Ulf Malmros Slim Susie Smala Sussie DVD Review Ulf Malmros Slim Susie Smala Sussie DVD Review Ulf Malmros Slim Susie Smala Sussie DVD Review Ulf Malmros Slim Susie Smala Sussie DVD Review Ulf Malmros Slim Susie Smala Sussie DVD Review Ulf Malmros Slim Susie Smala Sussie DVD Review Ulf Malmros Slim Susie Smala Sussie DVD Review Ulf Malmros Slim Susie Smala Sussie DVD Review Ulf Malmros Slim Susie Smala Sussie DVD Review Ulf Malmros Slim Susie Smala Sussie DVD Review Ulf Malmros Slim Susie Smala Sussie DVD Review Ulf Malmros; Slim Susie Smala Sussie DVD Review Ulf Malmros Slim Susie Smala Sussie DVD Review Ulf Malmros Slim Susie Smala Sussie DVD Review Ulf Malmros Slim Susie Smala Sussie DVD Review Ulf Malmros Slim Susie Smala Sussie DVD Review Ulf Malmros Slim Susie Smala Sussie DVD Review Ulf Malmros Slim Susie Smala Sussie DVD Review Ulf Malmros Slim Susie Smala Sussie DVD Review Ulf Malmros Slim Susie Smala Sussie DVD Review Ulf Malmros Slim Susie Smala Sussie DVD Review Ulf Malmros Slim Susie Smala Sussie DVD Review Ulf Malmros Slim Susie Smala Sussie DVD Review Ulf Malmros; Slim Susie Smala Sussie DVD Review Ulf Malmros Slim Susie Smala Sussie DVD Review Ulf Malmros Slim Susie Smala Sussie DVD Review Ulf Malmros Slim Susie Smala Sussie DVD Review Ulf Malmros Slim Susie Smala Sussie DVD Review Ulf Malmros Slim Susie Smala Sussie DVD Review Ulf Malmros Slim Susie Smala Sussie DVD Review Ulf Malmros Slim Susie Smala Sussie DVD Review Ulf Malmros Slim Susie Smala Sussie DVD Review Ulf Malmros Slim Susie Smala Sussie DVD Review Ulf Malmros Slim Susie Smala Sussie DVD Review Ulf Malmros Slim Susie Smala Sussie DVD Review Ulf Malmros; Slim Susie Smala Sussie DVD Review Ulf Malmros Slim Susie Smala Sussie DVD Review Ulf Malmros Slim Susie Smala Sussie DVD Review Ulf Malmros Slim Susie Smala Sussie DVD Review Ulf Malmros Slim Susie Smala Sussie DVD Review Ulf Malmros Slim Susie Smala Sussie DVD Review Ulf Malmros Slim Susie Smala Sussie DVD Review Ulf Malmros Slim Susie Smala Sussie DVD Review Ulf Malmros Slim Susie Smala Sussie DVD Review Ulf Malmros Slim Susie Smala Sussie DVD Review Ulf Malmros Slim Susie Smala Sussie DVD Review Ulf Malmros Slim Susie Smala Sussie DVD Review Ulf Malmros; Slim Susie Smala Sussie DVD Review Ulf Malmros Slim Susie Smala Sussie DVD Review Ulf Malmros Slim Susie Smala Sussie DVD Review Ulf Malmros Slim Susie Smala Sussie DVD Review Ulf Malmros Slim Susie Smala Sussie DVD Review Ulf Malmros Slim Susie Smala Sussie DVD Review Ulf Malmros Slim Susie Smala Sussie DVD Review Ulf Malmros Slim Susie Smala Sussie DVD Review Ulf Malmros Slim Susie Smala Sussie DVD Review Ulf Malmros Slim Susie Smala Sussie DVD Review Ulf Malmros Slim Susie Smala Sussie DVD Review Ulf Malmros Slim Susie Smala Sussie DVD Review Ulf Malmros; Slim Susie Smala Sussie DVD Review Ulf Malmros Slim Susie Smala Sussie DVD Review Ulf Malmros Slim Susie Smala Sussie DVD Review Ulf Malmros Slim Susie Smala Sussie DVD Review Ulf Malmros Slim Susie Smala Sussie DVD Review Ulf Malmros Slim Susie Smala Sussie DVD Review Ulf Malmros Slim Susie Smala Sussie DVD Review Ulf Malmros Slim Susie Smala Sussie DVD Review Ulf Malmros Slim Susie Smala Sussie DVD Review Ulf Malmros Slim Susie Smala Sussie DVD Review Ulf Malmros Slim Susie Smala Sussie DVD Review Ulf Malmros Slim Susie Smala Sussie DVD Review Ulf Malmros; Slim Susie Smala Sussie DVD Review Ulf Malmros Slim Susie Smala Sussie DVD Review Ulf Malmros Slim Susie Smala Sussie DVD Review Ulf Malmros Slim Susie Smala Sussie DVD Review Ulf Malmros Slim Susie Smala Sussie DVD Review Ulf Malmros Slim Susie Smala Sussie DVD Review Ulf Malmros Slim Susie Smala Sussie DVD Review Ulf Malmros Slim Susie Smala Sussie DVD Review Ulf Malmros Slim Susie Smala Sussie DVD Review Ulf Malmros Slim Susie Smala Sussie DVD Review Ulf Malmros Slim Susie Smala Sussie DVD Review Ulf Malmros Slim Susie Smala Sussie DVD Review