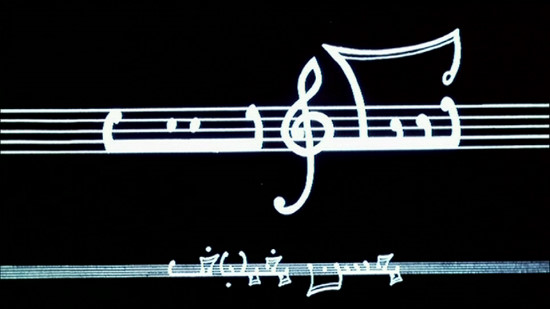 (aka 'Sokout')
directed by Mohsen Makhmalbaf

Iran 1998
From one of Iran's most celebrated filmmakers, comes The Silence, a hypnotic symphony of visual and aural rhythms. The Silence follows the life of Khorshid, a blind 10-year- old boy who experiences the world through sound. Living with his mother in a small village in Tajikistan, Khorshid earns money tuning musical instruments.

Nadereh, the beautiful young protégée of the instrument maker for whom Khorshid works, acts as his eyes, fetching him every day at the bus stop and leading him through the streets to his destination. Sometimes on the way, a conversation or melody attracts Khorshid's attention and he loses himself in the compelling harmonies of the city and everyday life.

About to lose his job and his home, Khorshid creates a world where he can be happy; where hypnotic sounds and the music of the world shows him how to experience life.
Poster
Theatrical Release: September 7th, 1998 - Montréal Film Festival
Reviews More Reviews DVD Reviews
DVD Review: New Yorker - Region 1 - NTSC
DVD Box Cover

CLICK to order from:

Distribution
New Yorker Video - Region 1 - NTSC
Runtime
1:12:39
Video
1.80:1 Original Aspect Ratio
Average Bitrate: 7.7 mb/s
NTSC 720x480 29.97 f/s

NOTE: The Vertical axis represents the bits transferred per second. The Horizontal is the time in minutes.

Bitrate:

Audio
Farsi (Persian) (Dolby Digital 2.0)
Subtitles
English, None
Features

Release Information:
Studio: New Yorker Video

Aspect Ratio:
Original aspect Ratio 1.80:1

Edition Details:

• Liner notes essay by Armond White

DVD Release Date: July 19th, 2005
Keep Case
Chapters: 16
| | |
| --- | --- |
| Comments: | This analog transfer can look very colorful and sharp at times, but also suffers from some bad 'combing' indicating a non-progressive transfer (each frame not transferred separately). It looks very good on a normal tube system but projecting may bring out some of the combing in horizontal pans. Black levels look fairly good and I suspect that the color palette is fairly accurate as NY'er don't have a real history of intense digital manipulation. No digital extras but the liner notes inclusion s in recent NY'er DVDs are very welcome and this is no exception. Audio and optional subtitles are very good, so the only complaint is the combing which may only apply to a few viewers. Another great film from Iran - we strongly recommend! |
---
---
Subtitle Sample
Screen Captures
---
DONATIONS Keep DVDBeaver alive and advertisement free:
Mail cheques, money orders, cash to: or CLICK PayPal logo to donate!
Gary Tooze

Mississauga, Ontario,

CANADA
Thank You!
Mohsen Makhmalbaf's The Silence - Sokout - DVD Review Mohsen Makhmalbaf The Silence - Sokout - DVD Review Mohsen Makhmalbaf The Silence - Sokout - DVD Review Mohsen Makhmalbaf The Silence - Sokout - DVD Review Mohsen Makhmalbaf The Silence - Sokout - DVD Review Mohsen Makhmalbaf The Silence - Sokout - DVD Review Mohsen Makhmalbaf The Silence - Sokout - DVD Review Mohsen Makhmalbaf The Silence - Sokout - DVD Review Mohsen Makhmalbaf The Silence - Sokout - DVD Review Mohsen Makhmalbaf The Silence - Sokout - DVD Review Mohsen Makhmalbaf The Silence - Sokout - DVD Review Mohsen Makhmalbaf The Silence - Sokout - DVD Review Mohsen Makhmalbaf's The Silence - Sokout - DVD Review Mohsen Makhmalbaf The Silence - Sokout - DVD Review Mohsen Makhmalbaf The Silence - Sokout - DVD Review Mohsen Makhmalbaf The Silence - Sokout - DVD Review Mohsen Makhmalbaf The Silence - Sokout - DVD Review Mohsen Makhmalbaf The Silence - Sokout - DVD Review Mohsen Makhmalbaf The Silence - Sokout - DVD Review Mohsen Makhmalbaf The Silence - Sokout - DVD Review Mohsen Makhmalbaf The Silence - Sokout - DVD Review Mohsen Makhmalbaf The Silence - Sokout - DVD Review Mohsen Makhmalbaf The Silence - Sokout - DVD Review Mohsen Makhmalbaf The Silence - Sokout - DVD Review Mohsen Makhmalbaf's The Silence - Sokout - DVD Review Mohsen Makhmalbaf The Silence - Sokout - DVD Review Mohsen Makhmalbaf The Silence - Sokout - DVD Review Mohsen Makhmalbaf The Silence - Sokout - DVD Review Mohsen Makhmalbaf The Silence - Sokout - DVD Review Mohsen Makhmalbaf The Silence - Sokout - DVD Review Mohsen Makhmalbaf The Silence - Sokout - DVD Review Mohsen Makhmalbaf The Silence - Sokout - DVD Review Mohsen Makhmalbaf The Silence - Sokout - DVD Review Mohsen Makhmalbaf The Silence - Sokout - DVD Review Mohsen Makhmalbaf The Silence - Sokout - DVD Review Mohsen Makhmalbaf The Silence - Sokout - DVD Review Mohsen Makhmalbaf's The Silence - Sokout - DVD Review Mohsen Makhmalbaf The Silence - Sokout - DVD Review Mohsen Makhmalbaf The Silence - Sokout - DVD Review Mohsen Makhmalbaf The Silence - Sokout - DVD Review Mohsen Makhmalbaf The Silence - Sokout - DVD Review Mohsen Makhmalbaf The Silence - Sokout - DVD Review Mohsen Makhmalbaf The Silence - Sokout - DVD Review Mohsen Makhmalbaf The Silence - Sokout - DVD Review Mohsen Makhmalbaf The Silence - Sokout - DVD Review Mohsen Makhmalbaf The Silence - Sokout - DVD Review Mohsen Makhmalbaf The Silence - Sokout - DVD Review Mohsen Makhmalbaf The Silence - Sokout - DVD Review Mohsen Makhmalbaf's The Silence - Sokout - DVD Review Mohsen Makhmalbaf The Silence - Sokout - DVD Review Mohsen Makhmalbaf The Silence - Sokout - DVD Review Mohsen Makhmalbaf The Silence - Sokout - DVD Review Mohsen Makhmalbaf The Silence - Sokout - DVD Review Mohsen Makhmalbaf The Silence - Sokout - DVD Review Mohsen Makhmalbaf The Silence - Sokout - DVD Review Mohsen Makhmalbaf The Silence - Sokout - DVD Review Mohsen Makhmalbaf The Silence - Sokout - DVD Review Mohsen Makhmalbaf The Silence - Sokout - DVD Review Mohsen Makhmalbaf The Silence - Sokout - DVD Review Mohsen Makhmalbaf The Silence - Sokout - DVD Review Mohsen Makhmalbaf's The Silence - Sokout - DVD Review Mohsen Makhmalbaf The Silence - Sokout - DVD Review Mohsen Makhmalbaf The Silence - Sokout - DVD Review Mohsen Makhmalbaf The Silence - Sokout - DVD Review Mohsen Makhmalbaf The Silence - Sokout - DVD Review Mohsen Makhmalbaf The Silence - Sokout - DVD Review Mohsen Makhmalbaf The Silence - Sokout - DVD Review Mohsen Makhmalbaf The Silence - Sokout - DVD Review Mohsen Makhmalbaf The Silence - Sokout - DVD Review Mohsen Makhmalbaf The Silence - Sokout - DVD Review Mohsen Makhmalbaf The Silence - Sokout - DVD Review Mohsen Makhmalbaf The Silence - Sokout - DVD Review Mohsen Makhmalbaf's The Silence - Sokout - DVD Review Mohsen Makhmalbaf The Silence - Sokout - DVD Review Mohsen Makhmalbaf The Silence - Sokout - DVD Review Mohsen Makhmalbaf The Silence - Sokout - DVD Review Mohsen Makhmalbaf The Silence - Sokout - DVD Review Mohsen Makhmalbaf The Silence - Sokout - DVD Review Mohsen Makhmalbaf The Silence - Sokout - DVD Review Mohsen Makhmalbaf The Silence - Sokout - DVD Review Mohsen Makhmalbaf The Silence - Sokout - DVD Review Mohsen Makhmalbaf The Silence - Sokout - DVD Review Mohsen Makhmalbaf The Silence - Sokout - DVD Review Mohsen Makhmalbaf The Silence - Sokout - DVD Review Mohsen Makhmalbaf's The Silence - Sokout - DVD Review Mohsen Makhmalbaf The Silence - Sokout - DVD Review Mohsen Makhmalbaf The Silence - Sokout - DVD Review Mohsen Makhmalbaf The Silence - Sokout - DVD Review Mohsen Makhmalbaf The Silence - Sokout - DVD Review Mohsen Makhmalbaf The Silence - Sokout - DVD Review Mohsen Makhmalbaf The Silence - Sokout - DVD Review Mohsen Makhmalbaf The Silence - Sokout - DVD Review Mohsen Makhmalbaf The Silence - Sokout - DVD Review Mohsen Makhmalbaf The Silence - Sokout - DVD Review Mohsen Makhmalbaf The Silence - Sokout - DVD Review Mohsen Makhmalbaf The Silence - Sokout - DVD Review Mohsen Makhmalbaf's The Silence - Sokout - DVD Review Mohsen Makhmalbaf The Silence - Sokout - DVD Review Mohsen Makhmalbaf The Silence - Sokout - DVD Review Mohsen Makhmalbaf The Silence - Sokout - DVD Review Mohsen Makhmalbaf The Silence - Sokout - DVD Review Mohsen Makhmalbaf The Silence - Sokout - DVD Review Mohsen Makhmalbaf The Silence - Sokout - DVD Review Mohsen Makhmalbaf The Silence - Sokout - DVD Review Mohsen Makhmalbaf The Silence - Sokout - DVD Review Mohsen Makhmalbaf The Silence - Sokout - DVD Review Mohsen Makhmalbaf The Silence - Sokout - DVD Review Mohsen Makhmalbaf The Silence - Sokout - DVD Review Mohsen Makhmalbaf's The Silence - Sokout - DVD Review Mohsen Makhmalbaf The Silence - Sokout - DVD Review Mohsen Makhmalbaf The Silence - Sokout - DVD Review Mohsen Makhmalbaf The Silence - Sokout - DVD Review Mohsen Makhmalbaf The Silence - Sokout - DVD Review Mohsen Makhmalbaf The Silence - Sokout - DVD Review Mohsen Makhmalbaf The Silence - Sokout - DVD Review Mohsen Makhmalbaf The Silence - Sokout - DVD Review Mohsen Makhmalbaf The Silence - Sokout - DVD Review Mohsen Makhmalbaf The Silence - Sokout - DVD Review Mohsen Makhmalbaf The Silence - Sokout - DVD Review Mohsen Makhmalbaf The Silence - Sokout - DVD Review Mohsen Makhmalbaf's The Silence - Sokout - DVD Review Mohsen Makhmalbaf The Silence - Sokout - DVD Review Mohsen Makhmalbaf The Silence - Sokout - DVD Review Mohsen Makhmalbaf The Silence - Sokout - DVD Review Mohsen Makhmalbaf The Silence - Sokout - DVD Review Mohsen Makhmalbaf The Silence - Sokout - DVD Review Mohsen Makhmalbaf The Silence - Sokout - DVD Review Mohsen Makhmalbaf The Silence - Sokout - DVD Review Mohsen Makhmalbaf The Silence - Sokout - DVD Review Mohsen Makhmalbaf The Silence - Sokout - DVD Review Mohsen Makhmalbaf The Silence - Sokout - DVD Review Mohsen Makhmalbaf The Silence - Sokout - DVD Review