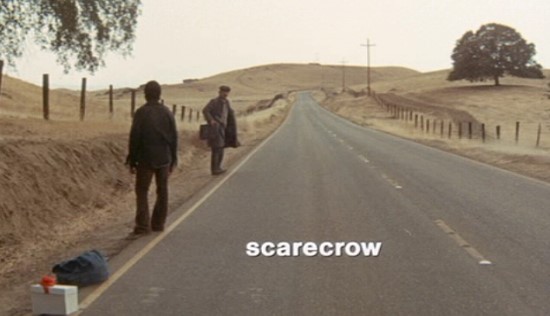 directed by Jerry Schatzberg
USA 19
73
Low-key, melancholy buddy movie starring Al Pacino and Gene Hackman.

Despite being made during the glory days of the early 1970s New Hollywood, and starring men of the moment Al Pacino and Gene Hackman, Scarecrow slipped pretty quickly into semi-obscurity. It's certainly very much of its time: Max (Hackman) and Lion (Pacino) are losers of the type that the movies only embraced for a very short period of time. Lion is obsessed with the kid he abandoned, Max's big dream is owning a carwash. They meet, they skirmish, they learn to get along in an awkward but oddly tender way - and then they end up in jail together.

What the film has going for it is Hackman and Pacino. Hackman is one of the great screen actors, a man who knows how to let his world-weary face (and he was hardly fresh-faced even in 1973) do the talking. And Pacino was nearly his match back then, when he was still softly spoken and surprisingly subtle, before he became the (still enjoyable) shouter of later years. Vilmos Zsigmond, the cinematographer, whose work defined the era almost as much as the actors and directors, does terrific work too, in what isn't an obviously showy film.
Excerpt from Channel4.com located HERE.
Poster
Theatrical Release: April 11th, 1973
Reviews More Reviews DVD Reviews
DVD Review: Warner - Region 1 - NTSC
DVD Box Cover

CLICK to order from:

Distribution
Warner Home Video - Region 1 - NTSC
Runtime
1:52:08
Video
2.39:1 Original Aspect Ratio
Average Bitrate: 5.73 mb/s
NTSC 720x480 29.97 f/s

NOTE: The Vertical axis represents the bits transferred per second. The Horizontal is the time in minutes.

Bitrate:

Audio
English (Dolby Digital 2.0), DUB: French (Dolby Digital 2.0)
Subtitles
English, French, Spanish, None
Features

Release Information:
Studio: Warner Home Video

Aspect Ratio:
Original aspect Ratio 2.39:1

Edition Details:

• On the Road With Scarecrow Featurette (3:48)
• Theatrical trailer

DVD Release Date: July 12th, 2005
Keep Case
Chapters: 28
| | |
| --- | --- |
| Comments: | Solid, tight anamorphic image here from Warner. No digital manipulation. It looks as good as when it was shown theatrically. Strong colors, good contrast, excellent subtitles. The very short featurette is a bit of a waste but value for the dollar is quite good. Interesting performances by both Hackman and Pacino make this worth owning. out of |
---



DVD Menus
---
Subtitle Sample
Screen Captures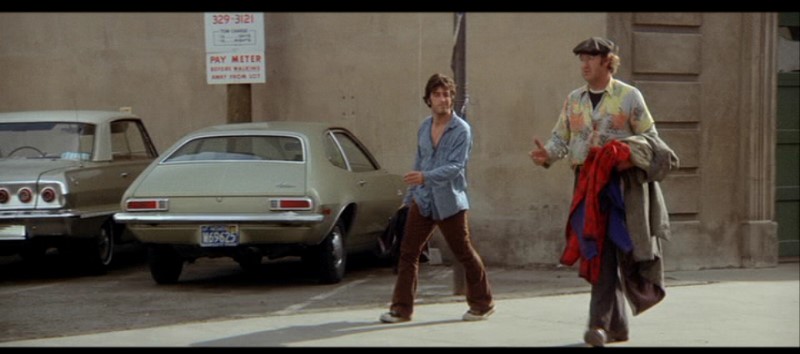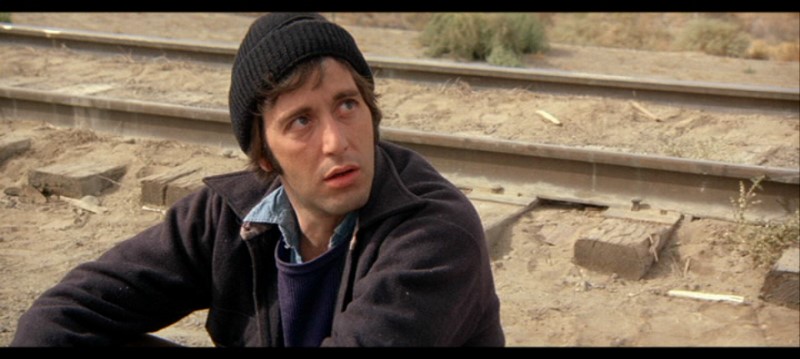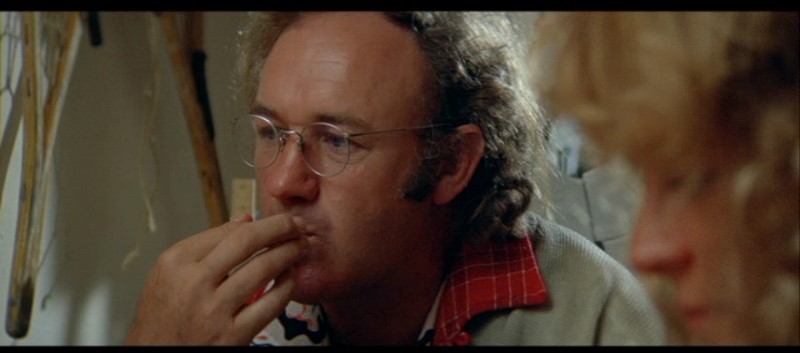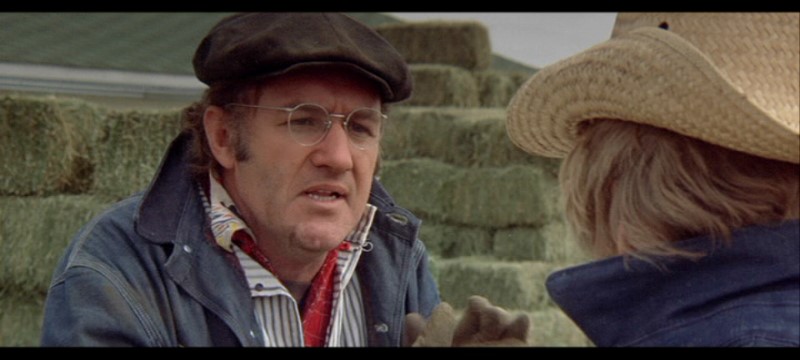 ---
---






Gene Hackman Al Pacino Scarecrow DVD Review Gene Hackman Al Pacino Scarecrow DVD Review Gene Hackman Al Pacino Scarecrow DVD Review Gene Hackman Al Pacino Scarecrow DVD Review Gene Hackman Al Pacino Scarecrow DVD Review Gene Hackman Al Pacino Scarecrow DVD Review Gene Hackman Al Pacino Scarecrow DVD Review Gene Hackman Al Pacino Scarecrow DVD Review Gene Hackman Al Pacino Scarecrow DVD Review Gene Hackman Al Pacino Scarecrow DVD Review Gene Hackman Al Pacino Scarecrow DVD Review Gene Hackman Al Pacino Scarecrow DVD Review Gene Hackman Al Pacino Scarecrow DVD Review Gene Hackman Al Pacino Scarecrow DVD Review Gene Hackman Al Pacino Scarecrow DVD Review Gene Hackman Al Pacino Scarecrow DVD Review Gene Hackman Al Pacino Scarecrow DVD Review Gene Hackman Al Pacino Scarecrow DVD Review Gene Hackman Al Pacino Scarecrow DVD Review Gene Hackman Al Pacino Scarecrow DVD Review Gene Hackman Al Pacino Scarecrow DVD Review Gene Hackman Al Pacino Scarecrow DVD Review Gene Hackman Al Pacino Scarecrow DVD Review Gene Hackman Al Pacino Scarecrow DVD Review Gene Hackman Al Pacino Scarecrow DVD Review Gene Hackman Al Pacino Scarecrow DVD Review Gene Hackman Al Pacino Scarecrow DVD Review Gene Hackman Al Pacino Scarecrow DVD Review Gene Hackman Al Pacino Scarecrow DVD Review Gene Hackman Al Pacino Scarecrow DVD Review Gene Hackman Al Pacino Scarecrow DVD Review Gene Hackman Al Pacino Scarecrow DVD Review Gene Hackman Al Pacino Scarecrow DVD Review Gene Hackman Al Pacino Scarecrow DVD Review Gene Hackman Al Pacino Scarecrow DVD Review Gene Hackman Al Pacino Scarecrow DVD Review Gene Hackman Al Pacino Scarecrow DVD Review Gene Hackman Al Pacino Scarecrow DVD Review Gene Hackman Al Pacino Scarecrow DVD Review Gene Hackman Al Pacino Scarecrow DVD Review Gene Hackman Al Pacino Scarecrow DVD Review Gene Hackman Al Pacino Scarecrow DVD Review Gene Hackman Al Pacino Scarecrow DVD Review Gene Hackman Al Pacino Scarecrow DVD Review Gene Hackman Al Pacino Scarecrow DVD Review Gene Hackman Al Pacino Scarecrow DVD Review Gene Hackman Al Pacino Scarecrow DVD Review Gene Hackman Al Pacino Scarecrow DVD Review Gene Hackman Al Pacino Scarecrow DVD Review Gene Hackman Al Pacino Scarecrow DVD Review Gene Hackman Al Pacino Scarecrow DVD Review Gene Hackman Al Pacino Scarecrow DVD Review Gene Hackman Al Pacino Scarecrow DVD Review Gene Hackman Al Pacino Scarecrow DVD Review Gene Hackman Al Pacino Scarecrow DVD Review Gene Hackman Al Pacino Scarecrow DVD Review Gene Hackman Al Pacino Scarecrow DVD Review Gene Hackman Al Pacino Scarecrow DVD Review Gene Hackman Al Pacino Scarecrow DVD Review Gene Hackman Al Pacino Scarecrow DVD Review Gene Hackman Al Pacino Scarecrow DVD Review Gene Hackman Al Pacino Scarecrow DVD Review Gene Hackman Al Pacino Scarecrow DVD Review Gene Hackman Al Pacino Scarecrow DVD Review Gene Hackman Al Pacino Scarecrow DVD Review Gene Hackman Al Pacino Scarecrow DVD Review Gene Hackman Al Pacino Scarecrow DVD Review Gene Hackman Al Pacino Scarecrow DVD Review Gene Hackman Al Pacino Scarecrow DVD Review Gene Hackman Al Pacino Scarecrow DVD Review Gene Hackman Al Pacino Scarecrow DVD Review Gene Hackman Al Pacino Scarecrow DVD Review Gene Hackman Al Pacino Scarecrow DVD Review Gene Hackman Al Pacino Scarecrow DVD Review Gene Hackman Al Pacino Scarecrow DVD Review Gene Hackman Al Pacino Scarecrow DVD Review Gene Hackman Al Pacino Scarecrow DVD Review Gene Hackman Al Pacino Scarecrow DVD Review Gene Hackman Al Pacino Scarecrow DVD Review Gene Hackman Al Pacino Scarecrow DVD Review Gene Hackman Al Pacino Scarecrow DVD Review Gene Hackman Al Pacino Scarecrow DVD Review Gene Hackman Al Pacino Scarecrow DVD Review Gene Hackman Al Pacino Scarecrow DVD Review Gene Hackman Al Pacino Scarecrow DVD Review Gene Hackman Al Pacino Scarecrow DVD Review Gene Hackman Al Pacino Scarecrow DVD Review Gene Hackman Al Pacino Scarecrow DVD Review Gene Hackman Al Pacino Scarecrow DVD Review Gene Hackman Al Pacino Scarecrow DVD Review Gene Hackman Al Pacino Scarecrow DVD Review Gene Hackman Al Pacino Scarecrow DVD Review Gene Hackman Al Pacino Scarecrow DVD Review Gene Hackman Al Pacino Scarecrow DVD Review Gene Hackman Al Pacino Scarecrow DVD Review Gene Hackman Al Pacino Scarecrow DVD Review Gene Hackman Al Pacino Scarecrow DVD Review Gene Hackman Al Pacino Scarecrow DVD Review Gene Hackman Al Pacino Scarecrow DVD Review Gene Hackman Al Pacino Scarecrow DVD Review Gene Hackman Al Pacino Scarecrow DVD Review Gene Hackman Al Pacino Scarecrow DVD Review Gene Hackman Al Pacino Scarecrow DVD Review Gene Hackman Al Pacino Scarecrow DVD Review Gene Hackman Al Pacino Scarecrow DVD Review Gene Hackman Al Pacino Scarecrow DVD Review Gene Hackman Al Pacino Scarecrow DVD Review Gene Hackman Al Pacino Scarecrow DVD Review Gene Hackman Al Pacino Scarecrow DVD Review Gene Hackman Al Pacino Scarecrow DVD Review Gene Hackman Al Pacino Scarecrow DVD Review Gene Hackman Al Pacino Scarecrow DVD Review Gene Hackman Al Pacino Scarecrow DVD Review Gene Hackman Al Pacino Scarecrow DVD Review Gene Hackman Al Pacino Scarecrow DVD Review Gene Hackman Al Pacino Scarecrow DVD Review Gene Hackman Al Pacino Scarecrow DVD Review Gene Hackman Al Pacino Scarecrow DVD Review Gene Hackman Al Pacino Scarecrow DVD Review Gene Hackman Al Pacino Scarecrow DVD Review Gene Hackman Al Pacino Scarecrow DVD Review Gene Hackman Al Pacino Scarecrow DVD Review Gene Hackman Al Pacino Scarecrow DVD Review Gene Hackman Al Pacino Scarecrow DVD Review Gene Hackman Al Pacino Scarecrow DVD Review Gene Hackman Al Pacino Scarecrow DVD Review Gene Hackman Al Pacino Scarecrow DVD Review Gene Hackman Al Pacino Scarecrow DVD Review Gene Hackman Al Pacino Scarecrow DVD Review Gene Hackman Al Pacino Scarecrow DVD Review Gene Hackman Al Pacino Scarecrow DVD Review Gene Hackman Al Pacino Scarecrow DVD Review Gene Hackman Al Pacino Scarecrow DVD Review Gene Hackman Al Pacino Scarecrow DVD Review Gene Hackman Al Pacino Scarecrow DVD Review Gene Hackman Al Pacino Scarecrow DVD Review Gene Hackman Al Pacino Scarecrow DVD Review Gene Hackman Al Pacino Scarecrow DVD Review Gene Hackman Al Pacino Scarecrow DVD Review Gene Hackman Al Pacino Scarecrow DVD Review Gene Hackman Al Pacino Scarecrow DVD Review Gene Hackman Al Pacino Scarecrow DVD Review Gene Hackman Al Pacino Scarecrow DVD Review Gene Hackman Al Pacino Scarecrow DVD Review Gene Hackman Al Pacino Scarecrow DVD Review Gene Hackman Al Pacino Scarecrow DVD Review Gene Hackman Al Pacino Scarecrow DVD Review Gene Hackman Al Pacino Scarecrow DVD Review Gene Hackman Al Pacino Scarecrow DVD Review Gene Hackman Al Pacino Scarecrow DVD Review