On And Off The Rails - The British Transport Films Collection - Vol. 1 [1951]
Following the nationalization of transport in 1948, the British Transport Commission set up its own in-house film production and distribution system to cater for all the requirements of the various undertakings, such as British Railways, London Transport, Docks and Inland Waterways, British Transport Hotels, and certain bus and road haulage companies.

Launched on 1st May, 1949, and led for 25 years by Edgar Anstey OBE (one of the pioneers of the British Documentary Film), it became one of the largest industrial film units in Britain. The range and quality of the films produced between 1950 and 1980 was enormous, and may gained top awards at the various film festivals. This, the first in a series of double DVD sets, contains such classics as "Blue Pullman", "Elizabeth Express", "Snowdrifts at Bleath Gil" and "John Beteman goes by Train", as well as lesser known gems , including "Under the River- This is York" and "This Year- London".

Many of these films are now held in the National Film and Television Archive, and a selection of them has been digitally mastered by the British Film Institute for release on DVD.
Theatrical Release: Various
DVD Review: BFI (2-disc) - Region 2 - PAL
DVD Box Cover

CLICK to order from:

Distribution
BFI Home Video - Region 2 - PAL
Runtime
2:02:04 + 2:05:16 = 4:07:20
Video
1.33:1 Original Aspect Ratio
Average Bitrate: 5.80 mb/s
PAL 720x576 25.00 f/s

NOTE: The Vertical axis represents the bits transferred per second. The Horizontal is the time in minutes.

Bitrate: Disc1

Bitrate: Disc2

Audio
English (Dolby Digital 1.0)
Subtitles
None
Features

Release Information:
Studio: BFI Home Video

Aspect Ratio:
Original aspect Ratio 1.33:1

Edition Details:

• On and Off the Rails Booklet
• Acknowledgements

DVD Release Date: June 27th, 2005
4-tier digipak
Chapters: 14 shorts films
Comments:

To be honest I kind of snickered at the first glance at this DVD package. I was curious though and after a full viewing I admit that I really loved watching these shorts. Each runs usually about 20 minutes. They are GREAT mini-documentaries and were born in such an usual fashion. I never thought of myself as a train fanatic, but I sure feel like one now.

The image quality is fabulous, progressive, non-manipulated, super color in the colors shorts and stellar grays and contrast in most of the black and white footage. Yes, there is some minor damage showing in the form of scratches and dirt, but overall they are all very clean and smooth. After all they are preserved by the BFI National Film and Television Archive. Audio is the original mono, but is consistent throughout. No subtitles and a nice booklet and boxset package. I agree completely with the digipak summation: "This is a 'must' not just for the transport enthusiast, but also the documentary aficionado who will recognize traits and innovations in British non-fiction filmmaking".
---



DVD Menus
---
Screen Captures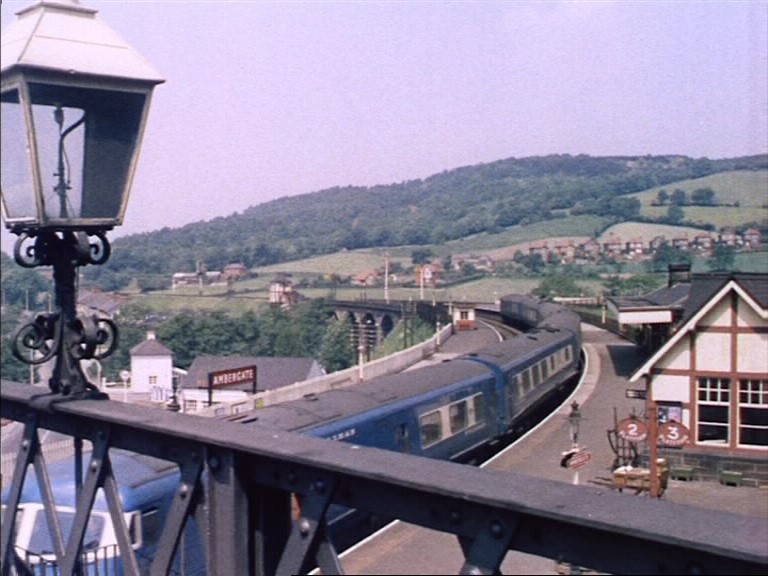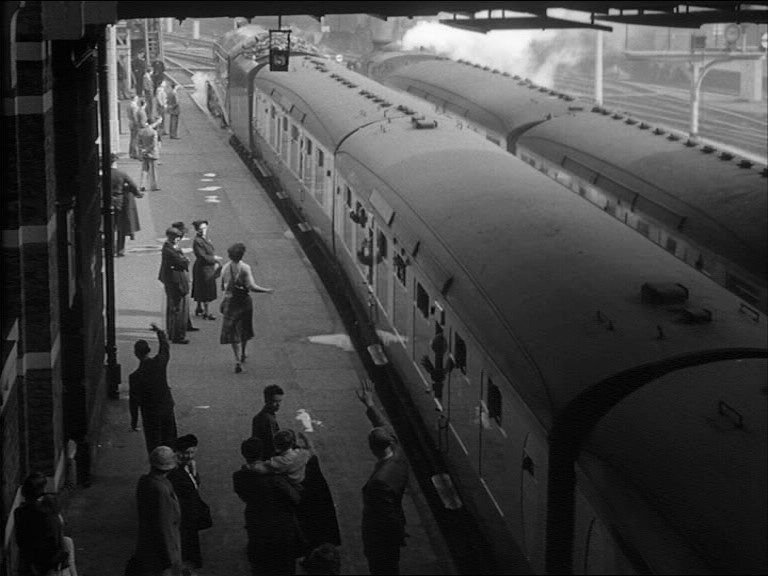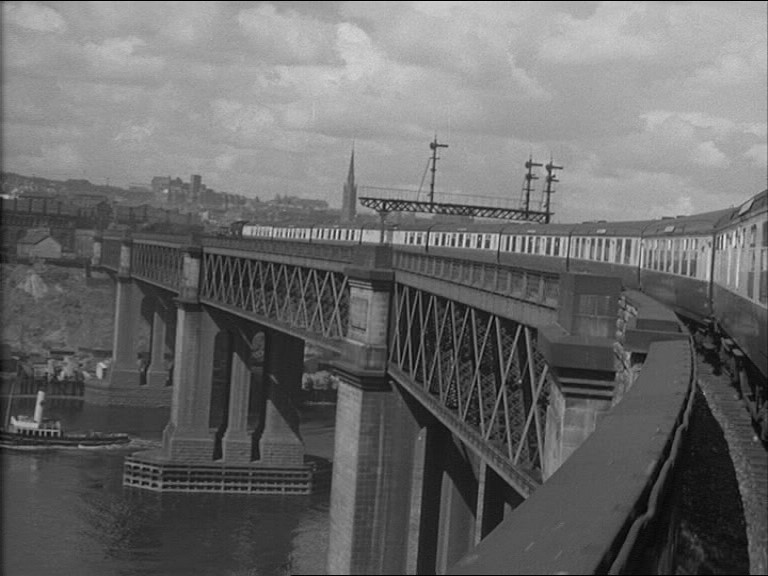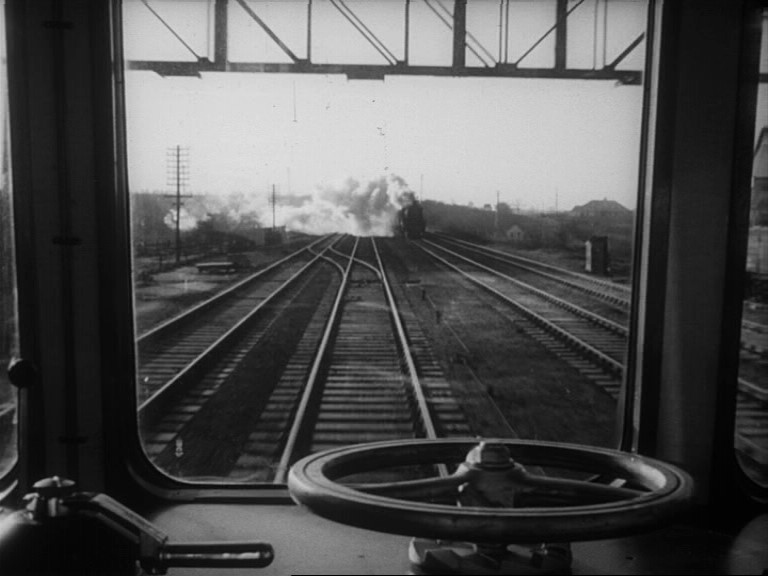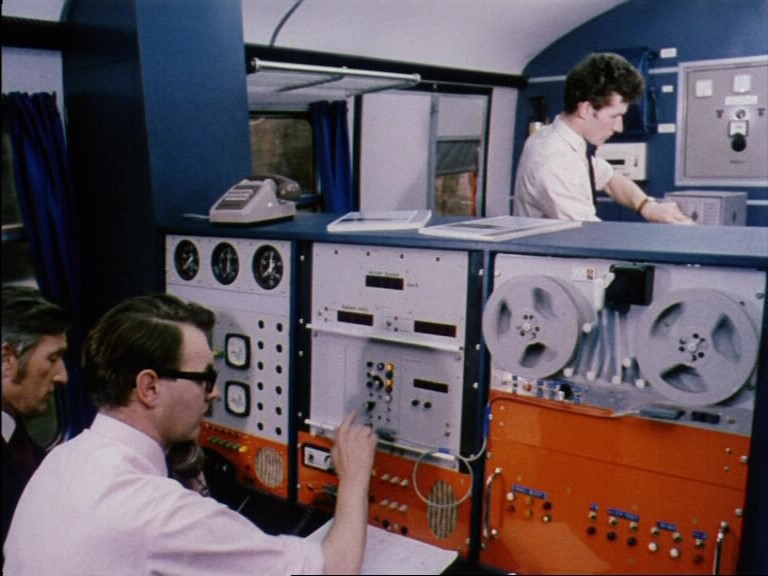 ---
---
---






On And Off The Rails DVD Review Trains The British Transport Films Collection On And Off The Rails DVD Review Trains The British Transport Films Collection On And Off The Rails DVD Review Trains The British Transport Films Collection On And Off The Rails DVD Review Trains The British Transport Films Collection On And Off The Rails DVD Review Trains The British Transport Films Collection On And Off The Rails DVD Review Trains The British Transport Films Collection On And Off The Rails DVD Review Trains The British Transport Films Collection On And Off The Rails DVD Review Trains The British Transport Films Collection On And Off The Rails DVD Review Trains The British Transport Films Collection On And Off The Rails DVD Review Trains The British Transport Films Collection On And Off The Rails DVD Review Trains The British Transport Films Collection On And Off The Rails DVD Review Trains The British Transport Films Collection On And Off The Rails DVD Review Trains The British Transport Films Collection On And Off The Rails DVD Review Trains The British Transport Films Collection On And Off The Rails DVD Review Trains The British Transport Films Collection On And Off The Rails DVD Review Trains The British Transport Films Collection On And Off The Rails DVD Review Trains The British Transport Films Collection On And Off The Rails DVD Review Trains The British Transport Films Collection On And Off The Rails DVD Review Trains The British Transport Films Collection On And Off The Rails DVD Review Trains The British Transport Films Collection On And Off The Rails DVD Review Trains The British Transport Films Collection On And Off The Rails DVD Review Trains The British Transport Films Collection On And Off The Rails DVD Review Trains The British Transport Films Collection On And Off The Rails DVD Review Trains The British Transport Films Collection On And Off The Rails DVD Review Trains The British Transport Films Collection On And Off The Rails DVD Review Trains The British Transport Films Collection On And Off The Rails DVD Review Trains The British Transport Films Collection On And Off The Rails DVD Review Trains The British Transport Films Collection On And Off The Rails DVD Review Trains The British Transport Films Collection On And Off The Rails DVD Review Trains The British Transport Films Collection On And Off The Rails DVD Review Trains The British Transport Films Collection On And Off The Rails DVD Review Trains The British Transport Films Collection On And Off The Rails DVD Review Trains The British Transport Films Collection On And Off The Rails DVD Review Trains The British Transport Films Collection On And Off The Rails DVD Review Trains The British Transport Films Collection On And Off The Rails DVD Review Trains The British Transport Films Collection On And Off The Rails DVD Review Trains The British Transport Films Collection On And Off The Rails DVD Review Trains The British Transport Films Collection On And Off The Rails DVD Review Trains The British Transport Films Collection On And Off The Rails DVD Review Trains The British Transport Films Collection On And Off The Rails DVD Review Trains The British Transport Films Collection On And Off The Rails DVD Review Trains The British Transport Films Collection On And Off The Rails DVD Review Trains The British Transport Films Collection On And Off The Rails DVD Review Trains The British Transport Films Collection On And Off The Rails DVD Review Trains The British Transport Films Collection On And Off The Rails DVD Review Trains The British Transport Films Collection On And Off The Rails DVD Review Trains The British Transport Films Collection On And Off The Rails DVD Review Trains The British Transport Films Collection On And Off The Rails DVD Review Trains The British Transport Films Collection On And Off The Rails DVD Review Trains The British Transport Films Collection On And Off The Rails DVD Review Trains The British Transport Films Collection On And Off The Rails DVD Review Trains The British Transport Films Collection On And Off The Rails DVD Review Trains The British Transport Films Collection On And Off The Rails DVD Review Trains The British Transport Films Collection On And Off The Rails DVD Review Trains The British Transport Films Collection On And Off The Rails DVD Review Trains The British Transport Films Collection On And Off The Rails DVD Review Trains The British Transport Films Collection On And Off The Rails DVD Review Trains The British Transport Films Collection On And Off The Rails DVD Review Trains The British Transport Films Collection On And Off The Rails DVD Review Trains The British Transport Films Collection On And Off The Rails DVD Review Trains The British Transport Films Collection On And Off The Rails DVD Review Trains The British Transport Films Collection On And Off The Rails DVD Review Trains The British Transport Films Collection On And Off The Rails DVD Review Trains The British Transport Films Collection On And Off The Rails DVD Review Trains The British Transport Films Collection On And Off The Rails DVD Review Trains The British Transport Films Collection On And Off The Rails DVD Review Trains The British Transport Films Collection On And Off The Rails DVD Review Trains The British Transport Films Collection On And Off The Rails DVD Review Trains The British Transport Films Collection On And Off The Rails DVD Review Trains The British Transport Films Collection On And Off The Rails DVD Review Trains The British Transport Films Collection On And Off The Rails DVD Review Trains The British Transport Films Collection On And Off The Rails DVD Review Trains The British Transport Films Collection On And Off The Rails DVD Review Trains The British Transport Films Collection On And Off The Rails DVD Review Trains The British Transport Films Collection On And Off The Rails DVD Review Trains The British Transport Films Collection On And Off The Rails DVD Review Trains The British Transport Films Collection On And Off The Rails DVD Review Trains The British Transport Films Collection On And Off The Rails DVD Review Trains The British Transport Films Collection On And Off The Rails DVD Review Trains The British Transport Films Collection On And Off The Rails DVD Review Trains The British Transport Films Collection On And Off The Rails DVD Review Trains The British Transport Films Collection On And Off The Rails DVD Review Trains The British Transport Films Collection On And Off The Rails DVD Review Trains The British Transport Films Collection On And Off The Rails DVD Review Trains The British Transport Films Collection On And Off The Rails DVD Review Trains The British Transport Films Collection On And Off The Rails DVD Review Trains The British Transport Films Collection On And Off The Rails DVD Review Trains The British Transport Films Collection On And Off The Rails DVD Review Trains The British Transport Films Collection On And Off The Rails DVD Review Trains The British Transport Films Collection On And Off The Rails DVD Review Trains The British Transport Films Collection On And Off The Rails DVD Review Trains The British Transport Films Collection On And Off The Rails DVD Review Trains The British Transport Films Collection On And Off The Rails DVD Review Trains The British Transport Films Collection On And Off The Rails DVD Review Trains The British Transport Films Collection On And Off The Rails DVD Review Trains The British Transport Films Collection