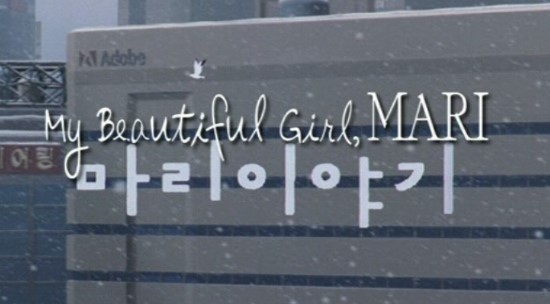 (aka 'Mari iyagi' or 'My Beautiful Girl, Mari')
directed by Seong-kang Lee

South Korea 2002
Call this the not-so-Wonderful-Days if you will, a sentimental, perceptive tale of a young boy, Nam-woo, coping with the loss of his father (which probably has even greater resonance in a patriarchal society like Korea's), the illness of his grandmother, his mother's new boyfriend and the impending departure to the city of his best friend by retreating into a world of fantasy where he meets the title character, a mute girl who becomes the only character in his life with any sense of permanence: his mother is trying to move on, his grandmother has a very pragmatical sense of her own mortality, his best friend will be continuing at school in another city (something repeated in the present-day opening sequence, in which the friend announces again that he'll be studying abroad, underscoring the sense of separation we all feel from even our closest friends with the passage of time). It's ultimately a cautious, profound tale about letting go and moving on, something the main character deeply wishes he could avoid, and something that can stir-up similar childhood memories in even the most hardened cynic. Director Lee Sung-gang wisely shuns conventional Japanese and western animation styles to create something entirely new and heartbreakingly beautiful in its deceptive simplicity.
Excerpt of Brian Thibodeau's review on Imdb comments located HERE
Poster
Theatrical Release: January 18th, 2002 - South Korea
Reviews More Reviews DVD Reviews
DVD Review: A.D. Vision - Region 1 - NTSC
DVD Box Cover

CLICK to order from:

Distribution
A.D. Vision - Region 1 - NTSC
Runtime
1:18:24
Video
1.78:1 Original Aspect Ratio
Average Bitrate: 5.76 mb/s
NTSC 720x480 29.97 f/s

NOTE: The Vertical axis represents the bits transferred per second. The Horizontal is the time in minutes.

Bitrate:

Audio
Korean (Dolby Digital 5.1), English (Dolby Digital 5.1)
Subtitles
English, None
Features

Release Information:
Studio: A.D. Vision

Aspect Ratio:
Original aspect Ratio 1.78:1

Edition Details:

• ADV Previews
• DVD Credits

DVD Release Date: July 5th, 2005
Transparent Keep Case
Chapters: 20
| | |
| --- | --- |
| Comments: | Delightful fantasy film with a very hard edge. Although this transfers suffers from not being progressive (see last capture) the vibrant and beautiful images detract somewhat from this flaw. It would be even more incredible had they done the transfer properly. As I have stated I am not partial to yellow subtitles. The anamorphic image is tight and the colors are quite good - there is the audio choice of an English DUB or the original Korean - both in 5.1. Both are acceptable. No extras save for some A.D. Vision trailers. The film is sure worth the purchase but we'll see if we can compare to some existing alt-region editions. Stay tuned. |
---
---
Subtitle Sample
Screen Captures
---
---





DONATIONS Keep DVDBeaver alive and advertisement free:
Mail cheques, money orders, cash to: or CLICK PayPal logo to donate!
Gary Tooze

Mississauga, Ontario,

CANADA
Thank You!
Seong-kang Lee's Mari iyagi My Beautiful Girl Mari DVD Review Seong-kang Lee Mari iyagi My Beautiful Girl Mari DVD Review Seong-kang Lee Mari iyagi My Beautiful Girl Mari DVD Review Seong-kang Lee Mari iyagi My Beautiful Girl Mari DVD Review Seong-kang Lee Mari iyagi My Beautiful Girl Mari DVD Review Seong-kang Lee Mari iyagi My Beautiful Girl Mari DVD Review Seong-kang Lee Mari iyagi My Beautiful Girl Mari DVD Review Seong-kang Lee Mari iyagi My Beautiful Girl Mari DVD Review Seong-kang Lee Mari iyagi My Beautiful Girl Mari DVD Review Seong-kang Lee Mari iyagi My Beautiful Girl Mari DVD Review Seong-kang Lee Mari iyagi My Beautiful Girl Mari DVD Review Seong-kang Lee Mari iyagi My Beautiful Girl Mari DVD Review Seong-kang Lee Mari iyagi My Beautiful Girl Mari DVD Review Seong-kang Lee Mari iyagi My Beautiful Girl Mari DVD Review Seong-kang Lee Mari iyagi My Beautiful Girl Mari DVD Review Seong-kang Lee's Mari iyagi My Beautiful Girl Mari DVD Review Seong-kang Lee Mari iyagi My Beautiful Girl Mari DVD Review Seong-kang Lee Mari iyagi My Beautiful Girl Mari DVD Review Seong-kang Lee Mari iyagi My Beautiful Girl Mari DVD Review Seong-kang Lee Mari iyagi My Beautiful Girl Mari DVD Review Seong-kang Lee Mari iyagi My Beautiful Girl Mari DVD Review Seong-kang Lee Mari iyagi My Beautiful Girl Mari DVD Review Seong-kang Lee Mari iyagi My Beautiful Girl Mari DVD Review Seong-kang Lee Mari iyagi My Beautiful Girl Mari DVD Review Seong-kang Lee Mari iyagi My Beautiful Girl Mari DVD Review Seong-kang Lee Mari iyagi My Beautiful Girl Mari DVD Review Seong-kang Lee Mari iyagi My Beautiful Girl Mari DVD Review Seong-kang Lee Mari iyagi My Beautiful Girl Mari DVD Review Seong-kang Lee Mari iyagi My Beautiful Girl Mari DVD Review Seong-kang Lee Mari iyagi My Beautiful Girl Mari DVD Review Seong-kang Lee's Mari iyagi My Beautiful Girl Mari DVD Review Seong-kang Lee Mari iyagi My Beautiful Girl Mari DVD Review Seong-kang Lee Mari iyagi My Beautiful Girl Mari DVD Review Seong-kang Lee Mari iyagi My Beautiful Girl Mari DVD Review Seong-kang Lee Mari iyagi My Beautiful Girl Mari DVD Review Seong-kang Lee Mari iyagi My Beautiful Girl Mari DVD Review Seong-kang Lee Mari iyagi My Beautiful Girl Mari DVD Review Seong-kang Lee Mari iyagi My Beautiful Girl Mari DVD Review Seong-kang Lee Mari iyagi My Beautiful Girl Mari DVD Review Seong-kang Lee Mari iyagi My Beautiful Girl Mari DVD Review Seong-kang Lee Mari iyagi My Beautiful Girl Mari DVD Review Seong-kang Lee Mari iyagi My Beautiful Girl Mari DVD Review Seong-kang Lee Mari iyagi My Beautiful Girl Mari DVD Review Seong-kang Lee Mari iyagi My Beautiful Girl Mari DVD Review Seong-kang Lee Mari iyagi My Beautiful Girl Mari DVD Review Seong-kang Lee's Mari iyagi My Beautiful Girl Mari DVD Review Seong-kang Lee Mari iyagi My Beautiful Girl Mari DVD Review Seong-kang Lee Mari iyagi My Beautiful Girl Mari DVD Review Seong-kang Lee Mari iyagi My Beautiful Girl Mari DVD Review Seong-kang Lee Mari iyagi My Beautiful Girl Mari DVD Review Seong-kang Lee Mari iyagi My Beautiful Girl Mari DVD Review Seong-kang Lee Mari iyagi My Beautiful Girl Mari DVD Review Seong-kang Lee Mari iyagi My Beautiful Girl Mari DVD Review Seong-kang Lee Mari iyagi My Beautiful Girl Mari DVD Review Seong-kang Lee Mari iyagi My Beautiful Girl Mari DVD Review Seong-kang Lee Mari iyagi My Beautiful Girl Mari DVD Review Seong-kang Lee Mari iyagi My Beautiful Girl Mari DVD Review Seong-kang Lee Mari iyagi My Beautiful Girl Mari DVD Review Seong-kang Lee Mari iyagi My Beautiful Girl Mari DVD Review Seong-kang Lee Mari iyagi My Beautiful Girl Mari DVD Review Seong-kang Lee's Mari iyagi My Beautiful Girl Mari DVD Review Seong-kang Lee Mari iyagi My Beautiful Girl Mari DVD Review Seong-kang Lee Mari iyagi My Beautiful Girl Mari DVD Review Seong-kang Lee Mari iyagi My Beautiful Girl Mari DVD Review Seong-kang Lee Mari iyagi My Beautiful Girl Mari DVD Review Seong-kang Lee Mari iyagi My Beautiful Girl Mari DVD Review Seong-kang Lee Mari iyagi My Beautiful Girl Mari DVD Review Seong-kang Lee Mari iyagi My Beautiful Girl Mari DVD Review Seong-kang Lee Mari iyagi My Beautiful Girl Mari DVD Review Seong-kang Lee Mari iyagi My Beautiful Girl Mari DVD Review Seong-kang Lee Mari iyagi My Beautiful Girl Mari DVD Review Seong-kang Lee Mari iyagi My Beautiful Girl Mari DVD Review Seong-kang Lee Mari iyagi My Beautiful Girl Mari DVD Review Seong-kang Lee Mari iyagi My Beautiful Girl Mari DVD Review Seong-kang Lee Mari iyagi My Beautiful Girl Mari DVD Review Seong-kang Lee's Mari iyagi My Beautiful Girl Mari DVD Review Seong-kang Lee Mari iyagi My Beautiful Girl Mari DVD Review Seong-kang Lee Mari iyagi My Beautiful Girl Mari DVD Review Seong-kang Lee Mari iyagi My Beautiful Girl Mari DVD Review Seong-kang Lee Mari iyagi My Beautiful Girl Mari DVD Review Seong-kang Lee Mari iyagi My Beautiful Girl Mari DVD Review Seong-kang Lee Mari iyagi My Beautiful Girl Mari DVD Review Seong-kang Lee Mari iyagi My Beautiful Girl Mari DVD Review Seong-kang Lee Mari iyagi My Beautiful Girl Mari DVD Review Seong-kang Lee Mari iyagi My Beautiful Girl Mari DVD Review Seong-kang Lee Mari iyagi My Beautiful Girl Mari DVD Review Seong-kang Lee Mari iyagi My Beautiful Girl Mari DVD Review Seong-kang Lee Mari iyagi My Beautiful Girl Mari DVD Review Seong-kang Lee Mari iyagi My Beautiful Girl Mari DVD Review Seong-kang Lee Mari iyagi My Beautiful Girl Mari DVD Review Seong-kang Lee's Mari iyagi My Beautiful Girl Mari DVD Review Seong-kang Lee Mari iyagi My Beautiful Girl Mari DVD Review Seong-kang Lee Mari iyagi My Beautiful Girl Mari DVD Review Seong-kang Lee Mari iyagi My Beautiful Girl Mari DVD Review Seong-kang Lee Mari iyagi My Beautiful Girl Mari DVD Review Seong-kang Lee Mari iyagi My Beautiful Girl Mari DVD Review Seong-kang Lee Mari iyagi My Beautiful Girl Mari DVD Review Seong-kang Lee Mari iyagi My Beautiful Girl Mari DVD Review Seong-kang Lee Mari iyagi My Beautiful Girl Mari DVD Review Seong-kang Lee Mari iyagi My Beautiful Girl Mari DVD Review Seong-kang Lee Mari iyagi My Beautiful Girl Mari DVD Review Seong-kang Lee Mari iyagi My Beautiful Girl Mari DVD Review Seong-kang Lee Mari iyagi My Beautiful Girl Mari DVD Review Seong-kang Lee Mari iyagi My Beautiful Girl Mari DVD Review Seong-kang Lee Mari iyagi My Beautiful Girl Mari DVD Review Seong-kang Lee's Mari iyagi My Beautiful Girl Mari DVD Review Seong-kang Lee Mari iyagi My Beautiful Girl Mari DVD Review Seong-kang Lee Mari iyagi My Beautiful Girl Mari DVD Review Seong-kang Lee Mari iyagi My Beautiful Girl Mari DVD Review Seong-kang Lee Mari iyagi My Beautiful Girl Mari DVD Review Seong-kang Lee Mari iyagi My Beautiful Girl Mari DVD Review Seong-kang Lee Mari iyagi My Beautiful Girl Mari DVD Review Seong-kang Lee Mari iyagi My Beautiful Girl Mari DVD Review Seong-kang Lee Mari iyagi My Beautiful Girl Mari DVD Review Seong-kang Lee Mari iyagi My Beautiful Girl Mari DVD Review Seong-kang Lee Mari iyagi My Beautiful Girl Mari DVD Review Seong-kang Lee Mari iyagi My Beautiful Girl Mari DVD Review Seong-kang Lee Mari iyagi My Beautiful Girl Mari DVD Review Seong-kang Lee Mari iyagi My Beautiful Girl Mari DVD Review Seong-kang Lee Mari iyagi My Beautiful Girl Mari DVD Review