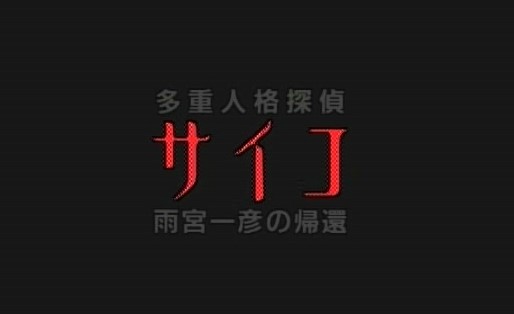 (aka 'Tajuu jinkaku tantei saiko - Amamiya Kazuhiko no kikan' or 'MPD Psycho' or 'Multiple Personality Detective Psycho - Kazuhiko Amamiya Returns')
directed by Takashi Miike

Japan 2000
Sin and Memories of Drifting Pedals: A sadistic criminal is turning his victims into human flower pots. Detective Amamiya Kazuhiko is called out of early retirement to work on the case, which is tied to horrific events in his past. His new wife goes missing and a mysterious cult with barcodes tattooed on their eyeballs surfaces to wreak havoc on the city. The Method of a Working World: A brutal serial murderer cuts babies from their mothers' wombs in what appears to be a copycat crime from five years earlier. All of the women have barcodes tattooed on their eyeballs. The victims, under some sort of hypnosis, purchase the surgical quality knives used to kill them the day before their murders! As Detective Amamiya's wife wanders the city in a trance, he discovers someone from his past is involved in the crime wave.
Keep Case Box Cover
Theatrical Release: May 2nd, 2000 - Tokyo
Reviews More Reviews DVD Reviews
DVD Review: Ventura Distribution - Region 1 - NTSC
DVD Box Cover

CLICK to order from:

Distribution
Ventura Distribution - Region 1 - NTSC
Runtime
Approx. 1:56:00
Video
1.81:1 Original Aspect Ratio
Average Bitrate: 7.27 mb/s
NTSC 720x480 29.97 f/s

NOTE: The Vertical axis represents the bits transferred per second. The Horizontal is the time in minutes.

Bitrate:

Audio
Japanese, (Dolby Digital 2.0)
Subtitles
English, None
Features

Release Information:
Studio: Ventura Distribution

Aspect Ratio:
Original aspect Ratio 1.81:1

Edition Details:

• trailers and previews

DVD Release Date: May 24th, 2005
Keep Case inside cardboard box
Chapters: 10
Comments:

Frankly, I couldn't really get into this. Perhaps being cynical I found it very purposely convoluted and a lot of style over substance with some gruesome stuff thrown in. But that's me and I'm sure there are many riding the Asian shock-fest of films that will enjoy this immensely.

The image, although both non-progressive (see combing in last capture) and non-anamorphic doesn't look overly poor for tube viewing. Its quite similar to TV-to-DVD productions. Colors are acceptable and it is a little soft. There was black border around the image prohibiting full horizontal resolution. Audio was 2.0 and mostly consistent. Subtitles seem well done. Overall a failing grade for a DVD, but the same crowd who enjoy this as entertainment may not care.
---



DVD Menus
---
Subtitle Sample
Screen Captures
---
Combing...
DVD Box Cover

CLICK to order from:

Distribution
Ventura Distribution - Region 1 - NTSC
---






Takashi Miike's MPD Psycho DVD Review Takashi Miike MPD Psycho DVD Review Takashi Miike MPD Psycho DVD Review Takashi Miike MPD Psycho DVD Review Takashi Miike MPD Psycho DVD Review Takashi Miike MPD Psycho DVD Review Takashi Miike MPD Psycho DVD Review Takashi Miike MPD Psycho DVD Review Takashi Miike MPD Psycho DVD Review Takashi Miike MPD Psycho DVD Review Takashi Miike MPD Psycho DVD Review Takashi Miike MPD Psycho DVD Review Takashi Miike MPD Psycho DVD Review Takashi Miike's MPD Psycho DVD Review Takashi Miike MPD Psycho DVD Review Takashi Miike MPD Psycho DVD Review Takashi Miike MPD Psycho DVD Review Takashi Miike MPD Psycho DVD Review Takashi Miike MPD Psycho DVD Review Takashi Miike MPD Psycho DVD Review Takashi Miike MPD Psycho DVD Review Takashi Miike MPD Psycho DVD Review Takashi Miike MPD Psycho DVD Review Takashi Miike MPD Psycho DVD Review Takashi Miike MPD Psycho DVD Review Takashi Miike MPD Psycho DVD Review Takashi Miike's MPD Psycho DVD Review Takashi Miike MPD Psycho DVD Review Takashi Miike MPD Psycho DVD Review Takashi Miike MPD Psycho DVD Review Takashi Miike MPD Psycho DVD Review Takashi Miike MPD Psycho DVD Review Takashi Miike MPD Psycho DVD Review Takashi Miike MPD Psycho DVD Review Takashi Miike MPD Psycho DVD Review Takashi Miike MPD Psycho DVD Review Takashi Miike MPD Psycho DVD Review Takashi Miike MPD Psycho DVD Review Takashi Miike MPD Psycho DVD Review Takashi Miike's MPD Psycho DVD Review Takashi Miike MPD Psycho DVD Review Takashi Miike MPD Psycho DVD Review Takashi Miike MPD Psycho DVD Review Takashi Miike MPD Psycho DVD Review Takashi Miike MPD Psycho DVD Review Takashi Miike MPD Psycho DVD Review Takashi Miike MPD Psycho DVD Review Takashi Miike MPD Psycho DVD Review Takashi Miike MPD Psycho DVD Review Takashi Miike MPD Psycho DVD Review Takashi Miike MPD Psycho DVD Review Takashi Miike MPD Psycho DVD Review Takashi Miike's MPD Psycho DVD Review Takashi Miike MPD Psycho DVD Review Takashi Miike MPD Psycho DVD Review Takashi Miike MPD Psycho DVD Review Takashi Miike MPD Psycho DVD Review Takashi Miike MPD Psycho DVD Review Takashi Miike MPD Psycho DVD Review Takashi Miike MPD Psycho DVD Review Takashi Miike MPD Psycho DVD Review Takashi Miike MPD Psycho DVD Review Takashi Miike MPD Psycho DVD Review Takashi Miike MPD Psycho DVD Review Takashi Miike MPD Psycho DVD Review Takashi Miike's MPD Psycho DVD Review Takashi Miike MPD Psycho DVD Review Takashi Miike MPD Psycho DVD Review Takashi Miike MPD Psycho DVD Review Takashi Miike MPD Psycho DVD Review Takashi Miike MPD Psycho DVD Review Takashi Miike MPD Psycho DVD Review Takashi Miike MPD Psycho DVD Review Takashi Miike MPD Psycho DVD Review Takashi Miike MPD Psycho DVD Review Takashi Miike MPD Psycho DVD Review Takashi Miike MPD Psycho DVD Review Takashi Miike MPD Psycho DVD Review Takashi Miike's MPD Psycho DVD Review Takashi Miike MPD Psycho DVD Review Takashi Miike MPD Psycho DVD Review Takashi Miike MPD Psycho DVD Review Takashi Miike MPD Psycho DVD Review Takashi Miike MPD Psycho DVD Review Takashi Miike MPD Psycho DVD Review Takashi Miike MPD Psycho DVD Review Takashi Miike MPD Psycho DVD Review Takashi Miike MPD Psycho DVD Review Takashi Miike MPD Psycho DVD Review Takashi Miike MPD Psycho DVD Review Takashi Miike MPD Psycho DVD Review Takashi Miike's MPD Psycho DVD Review Takashi Miike MPD Psycho DVD Review Takashi Miike MPD Psycho DVD Review Takashi Miike MPD Psycho DVD Review Takashi Miike MPD Psycho DVD Review Takashi Miike MPD Psycho DVD Review Takashi Miike MPD Psycho DVD Review Takashi Miike MPD Psycho DVD Review Takashi Miike MPD Psycho DVD Review Takashi Miike MPD Psycho DVD Review Takashi Miike MPD Psycho DVD Review Takashi Miike MPD Psycho DVD Review Takashi Miike MPD Psycho DVD Review Takashi Miike's MPD Psycho DVD Review Takashi Miike MPD Psycho DVD Review Takashi Miike MPD Psycho DVD Review Takashi Miike MPD Psycho DVD Review Takashi Miike MPD Psycho DVD Review Takashi Miike MPD Psycho DVD Review Takashi Miike MPD Psycho DVD Review Takashi Miike MPD Psycho DVD Review Takashi Miike MPD Psycho DVD Review Takashi Miike MPD Psycho DVD Review Takashi Miike MPD Psycho DVD Review Takashi Miike MPD Psycho DVD Review Takashi Miike MPD Psycho DVD Review Takashi Miike's MPD Psycho DVD Review Takashi Miike MPD Psycho DVD Review Takashi Miike MPD Psycho DVD Review Takashi Miike MPD Psycho DVD Review Takashi Miike MPD Psycho DVD Review Takashi Miike MPD Psycho DVD Review Takashi Miike MPD Psycho DVD Review Takashi Miike MPD Psycho DVD Review Takashi Miike MPD Psycho DVD Review Takashi Miike MPD Psycho DVD Review Takashi Miike MPD Psycho DVD Review Takashi Miike MPD Psycho DVD Review Takashi Miike MPD Psycho DVD Review Takashi Miike's MPD Psycho DVD Review Takashi Miike MPD Psycho DVD Review Takashi Miike MPD Psycho DVD Review Takashi Miike MPD Psycho DVD Review Takashi Miike MPD Psycho DVD Review Takashi Miike MPD Psycho DVD Review Takashi Miike MPD Psycho DVD Review Takashi Miike MPD Psycho DVD Review Takashi Miike MPD Psycho DVD Review Takashi Miike MPD Psycho DVD Review Takashi Miike MPD Psycho DVD Review Takashi Miike MPD Psycho DVD Review Takashi Miike MPD Psycho DVD Review Takashi Miike's MPD Psycho DVD Review Takashi Miike MPD Psycho DVD Review Takashi Miike MPD Psycho DVD Review Takashi Miike MPD Psycho DVD Review Takashi Miike MPD Psycho DVD Review Takashi Miike MPD Psycho DVD Review Takashi Miike MPD Psycho DVD Review Takashi Miike MPD Psycho DVD Review Takashi Miike MPD Psycho DVD Review Takashi Miike MPD Psycho DVD Review Takashi Miike MPD Psycho DVD Review Takashi Miike MPD Psycho DVD Review Takashi Miike MPD Psycho DVD Review