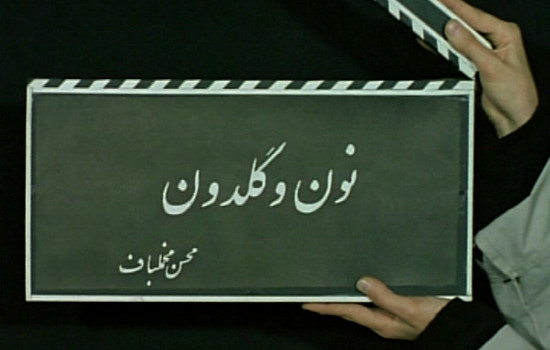 (aka 'Nun va Goldoon' or 'A Moment of Innocence' or 'Bread and Flower')
directed by Mohsen Makhmalbaf
Iran 1996
In 1974, Iranian director Mohsen Makhmalbaf, then a 17-year-old fundamentalist rebel working to overthrow the Shah's regime, stabbed a policeman in an effort to steal his gun and served a five-year prison sentence. Twenty years later, he was casting non-actors for a film called Salaam Cinema when the victim, Mirhadi Tayebi, showed up for an open audition. Their surprise reunion sparked the inspiration for Makhmalbaf's startlingly original A Moment Of Innocence, which revisits the incident through a meta-cinematic technique that combines documentary and fiction, then transcends the limitations of both. Makhmalbaf and Tayebi play themselves, each assigned to cast a young man to perform their respective roles in a recreation of that fateful day. After a series of gently comic miscues, the director and the former cop finally settle on their actors and coach them to reenact the event from their particular perspective. At the center of both accounts is a teenage girl (played by Marjam Mohamadamini, the woman's daughter) who would ask Tayebi for the time and directions every day, a gesture he took as romantic while Makhmalbaf considered her an accomplice to his crime. Though its methods lie somewhere between Pirandello and Rashomon, A Moment Of Innocence adds a personal dimension that's uniquely its own, as Makhmalbaf's investigation into the past evolves into a touching act of contrition. On a more universal scale, he questions the use of violence as a catalyst for positive social change.
Excerpt of Scott Tobias review at The Onion AV located HERE
Poster
Theatrical Release: August 13th, 1996
Reviews More Reviews DVD Reviews
DVD Review: New Yorker - Region 1 - NTSC
DVD Box Cover

CLICK to order from:

Distribution
New Yorker Video - Region 1 - NTSC
Runtime
1:14:42
Video
1.82:1 Original Aspect Ratio
Average Bitrate: 6.81 mb/s
NTSC 720x480 29.97 f/s

NOTE: The Vertical axis represents the bits transferred per second. The Horizontal is the time in minutes.

Bitrate:

Audio
Farsi (Dolby Digital 2.0)
Subtitles
English, None
Features

Release Information:
Studio: New Yorker Video

Aspect Ratio:
Original aspect Ratio 1.82:1

Edition Details:

• French Trailer
• 4-page liner notes with notes by Godfrey Cheshire

DVD Release Date: July 19th, 2005
Keep Case
Chapters: 16
| | |
| --- | --- |
| Comments: | The image quality is about typical for an analog sourced, non-progressive DVD. In fact this is far better than any other form that I have seen it. Colors are slightly washed and the image can be a bit hazy at times. Subtitles are quite readable, but rather high in the frame. Audio is in original Farsi (Persian). The film is excellent and as I don't see any line-up to put this out in digital, this is the best of the available formats to date. The film deserves better, but its lack of popularity may keep it at this level of quality - which makes it very watch-able for tube viewing. |
---
---
Subtitle Sample
Screen Captures
---
DONATIONS Keep DVDBeaver alive and advertisement free:
Mail cheques, money orders, cash to: or CLICK PayPal logo to donate!
Gary Tooze

Mississauga, Ontario,

CANADA
Thank You!
Mohsen Makhmalbaf's A Moment of Innocence DVD Review Mohsen Makhmalbaf A Moment of Innocence DVD Review Mohsen Makhmalbaf A Moment of Innocence DVD Review Mohsen Makhmalbaf A Moment of Innocence DVD Review Mohsen Makhmalbaf A Moment of Innocence DVD Review Mohsen Makhmalbaf A Moment of Innocence DVD Review Mohsen Makhmalbaf A Moment of Innocence DVD Review Mohsen Makhmalbaf A Moment of Innocence DVD Review Mohsen Makhmalbaf A Moment of Innocence DVD Review Mohsen Makhmalbaf A Moment of Innocence DVD Review Mohsen Makhmalbaf's A Moment of Innocence DVD Review Mohsen Makhmalbaf A Moment of Innocence DVD Review Mohsen Makhmalbaf A Moment of Innocence DVD Review Mohsen Makhmalbaf A Moment of Innocence DVD Review Mohsen Makhmalbaf A Moment of Innocence DVD Review Mohsen Makhmalbaf A Moment of Innocence DVD Review Mohsen Makhmalbaf A Moment of Innocence DVD Review Mohsen Makhmalbaf A Moment of Innocence DVD Review Mohsen Makhmalbaf A Moment of Innocence DVD Review Mohsen Makhmalbaf A Moment of Innocence DVD Review Mohsen Makhmalbaf's A Moment of Innocence DVD Review Mohsen Makhmalbaf A Moment of Innocence DVD Review Mohsen Makhmalbaf A Moment of Innocence DVD Review Mohsen Makhmalbaf A Moment of Innocence DVD Review Mohsen Makhmalbaf A Moment of Innocence DVD Review Mohsen Makhmalbaf A Moment of Innocence DVD Review Mohsen Makhmalbaf A Moment of Innocence DVD Review Mohsen Makhmalbaf A Moment of Innocence DVD Review Mohsen Makhmalbaf A Moment of Innocence DVD Review Mohsen Makhmalbaf A Moment of Innocence DVD Review Mohsen Makhmalbaf's A Moment of Innocence DVD Review Mohsen Makhmalbaf A Moment of Innocence DVD Review Mohsen Makhmalbaf A Moment of Innocence DVD Review Mohsen Makhmalbaf A Moment of Innocence DVD Review Mohsen Makhmalbaf A Moment of Innocence DVD Review Mohsen Makhmalbaf A Moment of Innocence DVD Review Mohsen Makhmalbaf A Moment of Innocence DVD Review Mohsen Makhmalbaf A Moment of Innocence DVD Review Mohsen Makhmalbaf A Moment of Innocence DVD Review Mohsen Makhmalbaf A Moment of Innocence DVD Review Mohsen Makhmalbaf's A Moment of Innocence DVD Review Mohsen Makhmalbaf A Moment of Innocence DVD Review Mohsen Makhmalbaf A Moment of Innocence DVD Review Mohsen Makhmalbaf A Moment of Innocence DVD Review Mohsen Makhmalbaf A Moment of Innocence DVD Review Mohsen Makhmalbaf A Moment of Innocence DVD Review Mohsen Makhmalbaf A Moment of Innocence DVD Review Mohsen Makhmalbaf A Moment of Innocence DVD Review Mohsen Makhmalbaf A Moment of Innocence DVD Review Mohsen Makhmalbaf A Moment of Innocence DVD Review Mohsen Makhmalbaf's A Moment of Innocence DVD Review Mohsen Makhmalbaf A Moment of Innocence DVD Review Mohsen Makhmalbaf A Moment of Innocence DVD Review Mohsen Makhmalbaf A Moment of Innocence DVD Review Mohsen Makhmalbaf A Moment of Innocence DVD Review Mohsen Makhmalbaf A Moment of Innocence DVD Review Mohsen Makhmalbaf A Moment of Innocence DVD Review Mohsen Makhmalbaf A Moment of Innocence DVD Review Mohsen Makhmalbaf A Moment of Innocence DVD Review Mohsen Makhmalbaf A Moment of Innocence DVD Review Mohsen Makhmalbaf's A Moment of Innocence DVD Review Mohsen Makhmalbaf A Moment of Innocence DVD Review Mohsen Makhmalbaf A Moment of Innocence DVD Review Mohsen Makhmalbaf A Moment of Innocence DVD Review Mohsen Makhmalbaf A Moment of Innocence DVD Review Mohsen Makhmalbaf A Moment of Innocence DVD Review Mohsen Makhmalbaf A Moment of Innocence DVD Review Mohsen Makhmalbaf A Moment of Innocence DVD Review Mohsen Makhmalbaf A Moment of Innocence DVD Review Mohsen Makhmalbaf A Moment of Innocence DVD Review Mohsen Makhmalbaf's A Moment of Innocence DVD Review Mohsen Makhmalbaf A Moment of Innocence DVD Review Mohsen Makhmalbaf A Moment of Innocence DVD Review Mohsen Makhmalbaf A Moment of Innocence DVD Review Mohsen Makhmalbaf A Moment of Innocence DVD Review Mohsen Makhmalbaf A Moment of Innocence DVD Review Mohsen Makhmalbaf A Moment of Innocence DVD Review Mohsen Makhmalbaf A Moment of Innocence DVD Review Mohsen Makhmalbaf A Moment of Innocence DVD Review Mohsen Makhmalbaf A Moment of Innocence DVD Review Mohsen Makhmalbaf's A Moment of Innocence DVD Review Mohsen Makhmalbaf A Moment of Innocence DVD Review Mohsen Makhmalbaf A Moment of Innocence DVD Review Mohsen Makhmalbaf A Moment of Innocence DVD Review Mohsen Makhmalbaf A Moment of Innocence DVD Review Mohsen Makhmalbaf A Moment of Innocence DVD Review Mohsen Makhmalbaf A Moment of Innocence DVD Review Mohsen Makhmalbaf A Moment of Innocence DVD Review Mohsen Makhmalbaf A Moment of Innocence DVD Review Mohsen Makhmalbaf A Moment of Innocence DVD Review Mohsen Makhmalbaf's A Moment of Innocence DVD Review Mohsen Makhmalbaf A Moment of Innocence DVD Review Mohsen Makhmalbaf A Moment of Innocence DVD Review Mohsen Makhmalbaf A Moment of Innocence DVD Review Mohsen Makhmalbaf A Moment of Innocence DVD Review Mohsen Makhmalbaf A Moment of Innocence DVD Review Mohsen Makhmalbaf A Moment of Innocence DVD Review Mohsen Makhmalbaf A Moment of Innocence DVD Review Mohsen Makhmalbaf A Moment of Innocence DVD Review Mohsen Makhmalbaf A Moment of Innocence DVD Review Mohsen Makhmalbaf's A Moment of Innocence DVD Review Mohsen Makhmalbaf A Moment of Innocence DVD Review Mohsen Makhmalbaf A Moment of Innocence DVD Review Mohsen Makhmalbaf A Moment of Innocence DVD Review Mohsen Makhmalbaf A Moment of Innocence DVD Review Mohsen Makhmalbaf A Moment of Innocence DVD Review Mohsen Makhmalbaf A Moment of Innocence DVD Review Mohsen Makhmalbaf A Moment of Innocence DVD Review Mohsen Makhmalbaf A Moment of Innocence DVD Review Mohsen Makhmalbaf A Moment of Innocence DVD Review