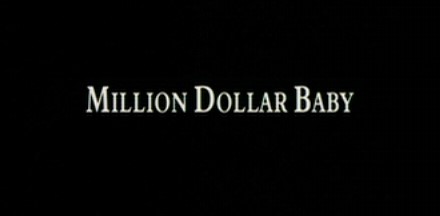 (aka 'Rope Burns')
directed by Clint Eastwood
USA 2004
Clint Eastwood's 25th film as a director, Million Dollar Baby stands proudly with Unforgiven and Mystic River as the masterwork of a great American filmmaker. In an age of bloated spectacle and computer-generated effects extravaganzas, Eastwood turns an elegant screenplay by Paul Haggis (adapted from the book Rope Burns: Stories From the Corner by F.X. Toole, a pseudonym for veteran boxing manager Jerry Boyd) into a simple, humanitarian example of classical filmmaking, as deeply felt in its heart-wrenching emotions as it is streamlined in its character-driven storytelling. In the course of developing powerful bonds between "white-trash" Missouri waitress and aspiring boxer Maggie Fitzgerald (Hilary Swank), her grizzled, reluctant trainer Frankie Dunn (Eastwood), and Frankie's best friend and training-gym partner Eddie "Scrap-Iron" Dupris (Morgan Freeman), 74-year-old Eastwood mines gold from each and every character, resulting in stellar work from his well-chosen cast. Containing deep reserves of love, loss, and the universal desire for something better in hard-scrabble lives, Million Dollar Baby emerged, quietly and gracefully, as one of the most acclaimed films of 2004, released just in time to earn an abundance of year-end accolades, all of them well-deserved.
Excerpt of Jeff Shannon's review from movie-pages.com located HERE.
Posters
Theatrical Release: January 18th, 2003 - Tokyo
Reviews More Reviews DVD Reviews
DVD Review: Warner (2-disc) - Region 1 - NTSC
DVD Box Cover

CLICK to order from:

Distribution
Warner Home Video - Region 1 - NTSC
Runtime
2:12:20
Video
2.37:1 Original Aspect Ratio
Average Bitrate: 6.71 mb/s
NTSC 720x480 29.97 f/s

NOTE: The Vertical axis represents the bits transferred per second. The Horizontal is the time in minutes.

Bitrate:

Audio
English (Dolby Digital 5.1), DUB French (Dolby Digital 5.1)
Subtitles
English, French, Spanish, None
Features

Release Information:
Studio: Warner Home Video

Aspect Ratio:
Original aspect Ratio 2.37:1

Edition Details:

• James Lipton Takes on Three: 25-minute roundtable with Clint Eastwood, Hilary Swank, Morgan Freeman, and moderator James Lipton
• Born to Fight: examines the parallels of the movie to real-life boxer Lucia Rijker
• Producers Round 15: behind the scenes

DVD Release Date: July 12th, 2005
Double Slim Keep Case
Chapters: 37
| | |
| --- | --- |
| Comments: | Some are fans of the purposeful 'thick' appearance of certain films these days, and this DVD has faithfully represented that in this package from Warner, who are a quality outfit. Personally the heavy look always looks a little hazy to me. My disc has a French (Quebecois) DUB (5.1) to back the original English (also 5.1). I *hope* this isn't a Canadian DVD thing and removes a potential DTS track or something, but the 5.1 is very strong with great rear speaker background effect. Extras are good with no real 'padding' - I especially enjoyed the round-table discussion. Overall this is a winner - superior Hollywood effort on a fabulous DVD. Great job again Warner ! out of |
---
Disc 2
---
Subtitle Sample
Screen Captures
---
---





DONATIONS Keep DVDBeaver alive and advertisement free:
Mail cheques, money orders, cash to: or CLICK PayPal logo to donate!
Gary Tooze

Mississauga, Ontario,

CANADA
Thank You!
Clint Eastwood's Million Dollar Baby DVD Review Clint Eastwood Million Dollar Baby DVD Review Clint Eastwood Million Dollar Baby DVD Review Clint Eastwood Million Dollar Baby DVD Review Clint Eastwood Million Dollar Baby DVD Review Clint Eastwood Million Dollar Baby DVD Review Clint Eastwood Million Dollar Baby DVD Review Clint Eastwood Million Dollar Baby DVD Review Clint Eastwood Million Dollar Baby DVD Review Clint Eastwood Million Dollar Baby DVD Review Clint Eastwood Million Dollar Baby DVD Review Clint Eastwood Million Dollar Baby DVD Review Clint Eastwood's Million Dollar Baby DVD Review Clint Eastwood Million Dollar Baby DVD Review Clint Eastwood Million Dollar Baby DVD Review Clint Eastwood Million Dollar Baby DVD Review Clint Eastwood Million Dollar Baby DVD Review Clint Eastwood Million Dollar Baby DVD Review Clint Eastwood Million Dollar Baby DVD Review Clint Eastwood Million Dollar Baby DVD Review Clint Eastwood Million Dollar Baby DVD Review Clint Eastwood Million Dollar Baby DVD Review Clint Eastwood Million Dollar Baby DVD Review Clint Eastwood Million Dollar Baby DVD ReviewClint Eastwood's Million Dollar Baby DVD Review Clint Eastwood Million Dollar Baby DVD Review Clint Eastwood Million Dollar Baby DVD Review Clint Eastwood Million Dollar Baby DVD Review Clint Eastwood Million Dollar Baby DVD Review Clint Eastwood Million Dollar Baby DVD Review Clint Eastwood Million Dollar Baby DVD Review Clint Eastwood Million Dollar Baby DVD Review Clint Eastwood Million Dollar Baby DVD Review Clint Eastwood Million Dollar Baby DVD Review Clint Eastwood Million Dollar Baby DVD Review Clint Eastwood Million Dollar Baby DVD ReviewClint Eastwood's Million Dollar Baby DVD Review Clint Eastwood Million Dollar Baby DVD Review Clint Eastwood Million Dollar Baby DVD Review Clint Eastwood Million Dollar Baby DVD Review Clint Eastwood Million Dollar Baby DVD Review Clint Eastwood Million Dollar Baby DVD Review Clint Eastwood Million Dollar Baby DVD Review Clint Eastwood Million Dollar Baby DVD Review Clint Eastwood Million Dollar Baby DVD Review Clint Eastwood Million Dollar Baby DVD Review Clint Eastwood Million Dollar Baby DVD Review Clint Eastwood Million Dollar Baby DVD ReviewClint Eastwood's Million Dollar Baby DVD Review Clint Eastwood Million Dollar Baby DVD Review Clint Eastwood Million Dollar Baby DVD Review Clint Eastwood Million Dollar Baby DVD Review Clint Eastwood Million Dollar Baby DVD Review Clint Eastwood Million Dollar Baby DVD Review Clint Eastwood Million Dollar Baby DVD Review Clint Eastwood Million Dollar Baby DVD Review Clint Eastwood Million Dollar Baby DVD Review Clint Eastwood Million Dollar Baby DVD Review Clint Eastwood Million Dollar Baby DVD Review Clint Eastwood Million Dollar Baby DVD ReviewClint Eastwood's Million Dollar Baby DVD Review Clint Eastwood Million Dollar Baby DVD Review Clint Eastwood Million Dollar Baby DVD Review Clint Eastwood Million Dollar Baby DVD Review Clint Eastwood Million Dollar Baby DVD Review Clint Eastwood Million Dollar Baby DVD Review Clint Eastwood Million Dollar Baby DVD Review Clint Eastwood Million Dollar Baby DVD Review Clint Eastwood Million Dollar Baby DVD Review Clint Eastwood Million Dollar Baby DVD Review Clint Eastwood Million Dollar Baby DVD Review Clint Eastwood Million Dollar Baby DVD ReviewClint Eastwood's Million Dollar Baby DVD Review Clint Eastwood Million Dollar Baby DVD Review Clint Eastwood Million Dollar Baby DVD Review Clint Eastwood Million Dollar Baby DVD Review Clint Eastwood Million Dollar Baby DVD Review Clint Eastwood Million Dollar Baby DVD Review Clint Eastwood Million Dollar Baby DVD Review Clint Eastwood Million Dollar Baby DVD Review Clint Eastwood Million Dollar Baby DVD Review Clint Eastwood Million Dollar Baby DVD Review Clint Eastwood Million Dollar Baby DVD Review Clint Eastwood Million Dollar Baby DVD ReviewClint Eastwood's Million Dollar Baby DVD Review Clint Eastwood Million Dollar Baby DVD Review Clint Eastwood Million Dollar Baby DVD Review Clint Eastwood Million Dollar Baby DVD Review Clint Eastwood Million Dollar Baby DVD Review Clint Eastwood Million Dollar Baby DVD Review Clint Eastwood Million Dollar Baby DVD Review Clint Eastwood Million Dollar Baby DVD Review Clint Eastwood Million Dollar Baby DVD Review Clint Eastwood Million Dollar Baby DVD Review Clint Eastwood Million Dollar Baby DVD Review Clint Eastwood Million Dollar Baby DVD ReviewClint Eastwood's Million Dollar Baby DVD Review Clint Eastwood Million Dollar Baby DVD Review Clint Eastwood Million Dollar Baby DVD Review Clint Eastwood Million Dollar Baby DVD Review Clint Eastwood Million Dollar Baby DVD Review Clint Eastwood Million Dollar Baby DVD Review Clint Eastwood Million Dollar Baby DVD Review Clint Eastwood Million Dollar Baby DVD Review Clint Eastwood Million Dollar Baby DVD Review Clint Eastwood Million Dollar Baby DVD Review Clint Eastwood Million Dollar Baby DVD Review Clint Eastwood Million Dollar Baby DVD ReviewClint Eastwood's Million Dollar Baby DVD Review Clint Eastwood Million Dollar Baby DVD Review Clint Eastwood Million Dollar Baby DVD Review Clint Eastwood Million Dollar Baby DVD Review Clint Eastwood Million Dollar Baby DVD Review Clint Eastwood Million Dollar Baby DVD Review Clint Eastwood Million Dollar Baby DVD Review Clint Eastwood Million Dollar Baby DVD Review Clint Eastwood Million Dollar Baby DVD Review Clint Eastwood Million Dollar Baby DVD Review Clint Eastwood Million Dollar Baby DVD Review Clint Eastwood Million Dollar Baby DVD Review