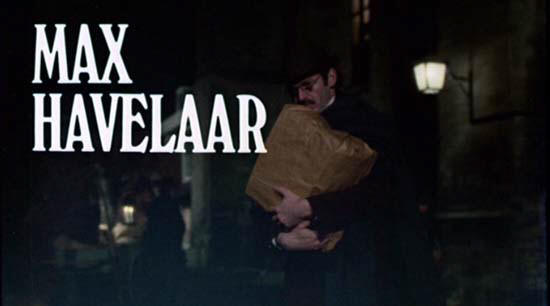 directed by Fons Rademakers
Holland 1976
The Book 'Max Havelaar' is the exclamation mark of Dutch culture, and labeled 'the only Dutch contribution to world-literature'. Written in 1859 by Eduard Douwes Dekker, under the alias 'Multatuli'. Which means 'I who suffered much', a line Max (Peter Faber) uses poignantly in the film of old master Fons Rademakers. It indicates that the scenario, of Gerard Soeteman, is very good indeed.

The book is much like the package Sjaalman (*) is carrying around in the beginning of the film. The masterpiece is a tight knot document build up from loosely connected stories and essays. The novella 'Saidja & Adinda' is an autonome text in the book, which has been integrated majestically in the scenario. The brilliant parable of the Japanese stonecutter resurfaces in the film as a story told by Tine to the kids...

Hated as much as it was admired in the early stages, the book is more of a political pamphlet (a 'J'Accuse' of the Dutch Emile Zola, one might say, but then on an epic scale..). The document deals with all the corruption and oppression the colonial powers of Dutch Government could muster. And boy, were they 'good' at it !

The film had much to live up to, and in 1976 it seemed quite impossible to mount such a huge production for a Dutch film.
Thanks to the superb script, the excellence of one of the most prolific directors of the Low Countries, AND not in the least to the strong co-producers from Indonesia, the film became a landmark in Dutch Film history, cast and crew excelling in every way and going beyond their own limitations for the very first time. A turning point in the film business of Holland. Most of all a superb saga with a pretty strong cast and an unbeatable story !

NB: The full-length audio-commentary of Fons Rademakers has been subtitled on this DVD, and is pretty intriguing.

NB2: Monique van de Ven, who became an icon overnight when Paul Verhoeven yanked her out of acting-school and gave her the lead role in 'Turkish Delight' in 1973 (another emblem of Dutch Culture, again from a famous/notorious book), is credited as 'script girl' here. Shooting in Indonesia took 4 months and her newlywed spouse, Jan de Bont, was the director of cinematography of both 'Turkish Delight' and 'Max Havelaar' (and later the director of 'Speed' and such)...

(*) Most of the names in MAX HAVELAAR are run of the mill, but there are a few exceptions, which aren't explained in the subtitles:
Droogstoppel = 'Dry Stubble' when literary translated-
Sjaalman = the man with a shawl, indicating he is a pauper who has no money for an overcoat -
Wawelaar, the minister (preaching in the glorious Bavo church in Haarlem) = 'Windbag' -
The black soldier that whistles is called Bouvier, which is a big black dog in the Netherlands -
Resident Slijmering = 'Toad', 'Slimeball', 'Creep' (quoting from my dictionary); 'Slijm' means mucus or phlegm
Posters
Theatrical Release: January 1st, 1976
Reviews More Reviews DVD Reviews
DVD Review: A-Film Home Entertainment - Region 2 - PAL
DVD Box Cover

Distribution

A-Film Home Entertainment

Region 2 - PAL

Runtime
2'50
Video

2.35:1 Original Aspect Ratio

16X9 enhanced
Average Bitrate: 5.30 mb/s
PAL 720x576 25.00 f/s

NOTE: The Vertical axis represents the bits transferred per second. The Horizontal is the time in minutes.

Bitrate

Audio
Dolby Digital 2.0 Stereo, Dutch
Subtitles
Dutch, German, French, English, Italian
Features
Release Information:
Studio: A-Film Home Entertainment

Aspect Ratio:
Widescreen anamorphic - 2.35:1

Edition Details:
• Special features:
• Original trailer
• Publicity artwork
• Photo gallery
• Audio commentary by Fons Rademaker
• Filmographies

DVD Release Date: 2003
single amaray

Chapters 30
Comments
A-Film Entertainment did a good job with this epic, very well defined contrast ratio with deep rendition of blacks and not too many washouts, nice sharpness throughout most of the film and only few sporadically soft passages detected that could be attributed to low lit or intentionally out of focus set ups. Chroma has a nice balance with well defined color correction, few scenes appear over saturated but could have been intentional or filtered. Not to many detectable artifacts attributed to poor encoding and mediocre datacine. Included multilingual subtitles feature properly displayed font with discernible translation.

Audio well transcribed from original source with well balanced frequency response and good dynamic range, beautiful attention to ambient sounds that were incorporated with dialog and other sound elements.

Limited distribution of A-Film Entertainment is the only drawback to this release, one so far can only obtain it in the Benelux countries.

Gracious help came from Amsterdam in obtaining this immense adaptation, masterfully done by Fons Rademakers. I've asked Eric to enlighten non Dutch viewers on this film with a review, rightfully so Eric broadens our horizons with details that are so critical to historical epics of monumental proportions. Thank you Eric.
---



DVD Menus


---
Screen Captures
Subtitle sample