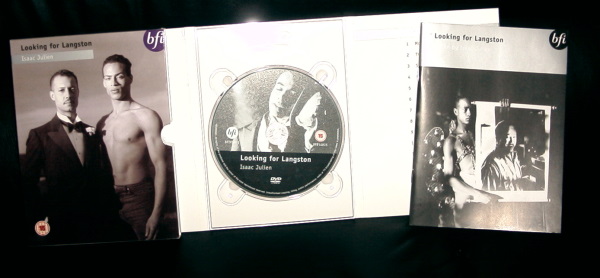 directed by Isaac Julien
UK 1988
Award-winning British filmmaker Isaac Julien's film is both critically acclaimed, and controversial. A lyrical and poetic consideration of the life of revered Harlem Renaissance poet Langston Hughes, Julien invokes Hughes as a black gay cultural icon, against an impressionistic, atmospheric setting that parallels a Harlem speakeasy of the 1920s with an 80s London nightclub.

Extracts from Hughes' poetry are interwoven with the work of cultural figures from the 1920s and beyond, including black poets Essex Hemphill and Bruce Nugent, and photographer Robert Mapplethorpe, constructing a lyrical and multilayered narrative. Julien explores the ambiguous sexual subtexts of a period of rich artistic expression, and the enduring cultural significance of these pioneers' work.

Shot in black and white by cinematographer Nina Kellgren, the film combines archival footage with newly staged set pieces, fantasy sequences, and an imagined love story. The result is a beautiful and ultimately celebratory piece about artistic expression and the nature of black gay desire.
****
This stylish avant-garde film is a meditation on the work of acclaimed black poet Langston Hughes. The film reclaims and celebrates Langston Hughes as an important black gay voice in American culture. Original footage of the Cotton Club in the 1920s, archival footage depicting the Harlem Renaissance period, and Robert Mapplethorpe's photos of beautiful black men set the scene for this exploration of attitudes toward homosexuality.
Theatrical Release: February 1989 (Berlin International Film Festival)
Reviews More Reviews DVD Reviews
DVD Review: BFI - Region 2 - PAL
DVD Box Cover

CLICK to order from:

Distribution
BFI Video - Region 2 - PAL
Runtime
44:40
Video
1.33:1 Original Aspect Ratio
Average Bitrate: 6.20 mb/s
PAL 720x576 25.00 f/s

NOTE: The Vertical axis represents the bits transferred per second. The Horizontal is the time in minutes.

Bitrate:

Audio
English (Dolby Digital 1.0)
Subtitles
English, None
Features

Release Information:
Studio: BFI Home Video

Aspect Ratio:
Original aspect Ratio 1.33:1

Edition Details:

• Commentary by Director/Writer Isaac Julien and Director of Photography Nina Kellgren
• Portrait in Blue : Essex Hemphill Short Film
• • First and Last Words Radio Programme (30 mins)
Three Photo Galleries
• 46-Page liner notes Booklet

DVD Release Date: June 27th, 2005
Keep Case
Chapters: 10
| | |
| --- | --- |
| Comments: | A lot of effort went into this DVD package from BFI - one can almost sense the compassion and love of the film through the extensive DVD offering. The image is transferred exactly how it should be - new footage looking well-contrasted and archival footage have a duller edge. The feature film is only 45 minutes and the disc has been stacked with extra features including the commentary, revealing featurettes (optional subtitles on everything), an audio radio programme and a wonderful 46 page liner notes booklet with photos, interviews reviews etc. Those with an open mind to poetry will come away quite satisfied with this purchase. Not for everyone, but for those sparked by the content - it is excellent expereince. Enjoy! |
---
| | |
| --- | --- |
| | |
| | |
| | |
---
Subtitle Sample
Screen Captures
---
DONATIONS Keep DVDBeaver alive and advertisement free:
Mail cheques, money orders, cash to: or CLICK PayPal logo to donate!
Gary Tooze

Mississauga, Ontario,

CANADA
Thank You!
Isaac Julien's Looking for Langston DVD Review Isaac Julien Looking for Langston DVD Review Isaac Julien Looking for Langston DVD Review Isaac Julien Looking for Langston DVD Review Isaac Julien Looking for Langston DVD Review Isaac Julien Looking for Langston DVD Review Isaac Julien Looking for Langston DVD Review Isaac Julien Looking for Langston DVD Review Isaac Julien Looking for Langston DVD Review Isaac Julien Looking for Langston DVD Review Isaac Julien Looking for Langston DVD Review Isaac Julien Looking for Langston DVD Review Isaac Julien's Looking for Langston DVD Review Isaac Julien Looking for Langston DVD Review Isaac Julien Looking for Langston DVD Review Isaac Julien Looking for Langston DVD Review Isaac Julien Looking for Langston DVD Review Isaac Julien Looking for Langston DVD Review Isaac Julien Looking for Langston DVD Review Isaac Julien Looking for Langston DVD Review Isaac Julien Looking for Langston DVD Review Isaac Julien Looking for Langston DVD Review Isaac Julien Looking for Langston DVD Review Isaac Julien Looking for Langston DVD Review Isaac Julien's Looking for Langston DVD Review Isaac Julien Looking for Langston DVD Review Isaac Julien Looking for Langston DVD Review Isaac Julien Looking for Langston DVD Review Isaac Julien Looking for Langston DVD Review Isaac Julien Looking for Langston DVD Review Isaac Julien Looking for Langston DVD Review Isaac Julien Looking for Langston DVD Review Isaac Julien Looking for Langston DVD Review Isaac Julien Looking for Langston DVD Review Isaac Julien Looking for Langston DVD Review Isaac Julien Looking for Langston DVD Review Isaac Julien's Looking for Langston DVD Review Isaac Julien Looking for Langston DVD Review Isaac Julien Looking for Langston DVD Review Isaac Julien Looking for Langston DVD Review Isaac Julien Looking for Langston DVD Review Isaac Julien Looking for Langston DVD Review Isaac Julien Looking for Langston DVD Review Isaac Julien Looking for Langston DVD Review Isaac Julien Looking for Langston DVD Review Isaac Julien Looking for Langston DVD Review Isaac Julien Looking for Langston DVD Review Isaac Julien Looking for Langston DVD Review Isaac Julien's Looking for Langston DVD Review Isaac Julien Looking for Langston DVD Review Isaac Julien Looking for Langston DVD Review Isaac Julien Looking for Langston DVD Review Isaac Julien Looking for Langston DVD Review Isaac Julien Looking for Langston DVD Review Isaac Julien Looking for Langston DVD Review Isaac Julien Looking for Langston DVD Review Isaac Julien Looking for Langston DVD Review Isaac Julien Looking for Langston DVD Review Isaac Julien Looking for Langston DVD Review Isaac Julien Looking for Langston DVD Review Isaac Julien's Looking for Langston DVD Review Isaac Julien Looking for Langston DVD Review Isaac Julien Looking for Langston DVD Review Isaac Julien Looking for Langston DVD Review Isaac Julien Looking for Langston DVD Review Isaac Julien Looking for Langston DVD Review Isaac Julien Looking for Langston DVD Review Isaac Julien Looking for Langston DVD Review Isaac Julien Looking for Langston DVD Review Isaac Julien Looking for Langston DVD Review Isaac Julien Looking for Langston DVD Review Isaac Julien Looking for Langston DVD Review Isaac Julien's Looking for Langston DVD Review Isaac Julien Looking for Langston DVD Review Isaac Julien Looking for Langston DVD Review Isaac Julien Looking for Langston DVD Review Isaac Julien Looking for Langston DVD Review Isaac Julien Looking for Langston DVD Review Isaac Julien Looking for Langston DVD Review Isaac Julien Looking for Langston DVD Review Isaac Julien Looking for Langston DVD Review Isaac Julien Looking for Langston DVD Review Isaac Julien Looking for Langston DVD Review Isaac Julien Looking for Langston DVD Review Isaac Julien's Looking for Langston DVD Review Isaac Julien Looking for Langston DVD Review Isaac Julien Looking for Langston DVD Review Isaac Julien Looking for Langston DVD Review Isaac Julien Looking for Langston DVD Review Isaac Julien Looking for Langston DVD Review Isaac Julien Looking for Langston DVD Review Isaac Julien Looking for Langston DVD Review Isaac Julien Looking for Langston DVD Review Isaac Julien Looking for Langston DVD Review Isaac Julien Looking for Langston DVD Review Isaac Julien Looking for Langston DVD Review Isaac Julien's Looking for Langston DVD Review Isaac Julien Looking for Langston DVD Review Isaac Julien Looking for Langston DVD Review Isaac Julien Looking for Langston DVD Review Isaac Julien Looking for Langston DVD Review Isaac Julien Looking for Langston DVD Review Isaac Julien Looking for Langston DVD Review Isaac Julien Looking for Langston DVD Review Isaac Julien Looking for Langston DVD Review Isaac Julien Looking for Langston DVD Review Isaac Julien Looking for Langston DVD Review Isaac Julien Looking for Langston DVD Review Isaac Julien's Looking for Langston DVD Review Isaac Julien Looking for Langston DVD Review Isaac Julien Looking for Langston DVD Review Isaac Julien Looking for Langston DVD Review Isaac Julien Looking for Langston DVD Review Isaac Julien Looking for Langston DVD Review Isaac Julien Looking for Langston DVD Review Isaac Julien Looking for Langston DVD Review Isaac Julien Looking for Langston DVD Review Isaac Julien Looking for Langston DVD Review Isaac Julien Looking for Langston DVD Review Isaac Julien Looking for Langston DVD Review