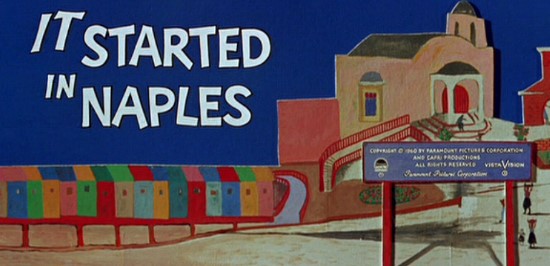 directed by Melville Shavelson
USA 19
60
I have to admit the only reason I watched this movie was to see Gable and Loren. The location – the Isle of Capri – doesn't hurt either. I haven't seen many of Loren's films because I'm not a huge fan of watching subtitles, so I decided to give this, one of her American efforts, a try. She's a constant surprise, charming, sexy and funny, giving Gable a run for his money. Gable was at the end of his long and illustrious career and though always worth watching, this isn't one of his better efforts. Playing a gruff American hampers his innate charm and masculinity. Though not enough for this to be a total loss. In this version, what brings them together is the love and welfare of an 8-year-old boy, their nephew, played with great humor and passion by Marietto Angeletti. It's an interesting twist on the usual boy meets girl story, but it doesn't really serve much of a purpose. One certainly needs hindrances to keep the lovers apart, but neither looks very good when they're fighting over the welfare of a child. This is, however, a comedy, so it doesn't get too serious.
Excerpt from crazy4cinema.com located HERE.
Posters
Theatrical Release: August 7th, 1960
Reviews More Reviews DVD Reviews
DVD Review: Paramount - Region 1 - NTSC
DVD Box Cover

CLICK to order from:

Distribution
Paramount Home Video - Region 1 - NTSC
Runtime
1:39:57
Video
1.78:1 Original Aspect Ratio
Average Bitrate: 5.80 mb/s
NTSC 720x480 29.97 f/s

NOTE: The Vertical axis represents the bits transferred per second. The Horizontal is the time in minutes.

Bitrate:

Audio
English (Dolby Digital 2.0)
Subtitles
English, None
Features

Release Information:
Studio: Paramount Home Video

Aspect Ratio:
Original aspect Ratio 1.78:1

Edition Details:

• None

DVD Release Date: July 12th, 2005
Keep Case
Chapters: 15
| | |
| --- | --- |
| Comments: | This is a flawless and stunning image. Beautiful colors well separated, tight to the frame lines, anamorphic, progressive. The print must have been in excellent condition. Some of the films scenery is quite breathtaking and it has translated well to DVD. Sophie Loren looks all woman, Gable is as distinguished as ever, but its the little boy who steals the show. Yellow subtitles and original audio finish the extra-less, but lenient on the pocketbook, DVD by Paramount. A must buy for the pristine image alone! out of |
---

---
Subtitle Sample
Screen Captures
---
DONATIONS Keep DVDBeaver alive and advertisement free:
Mail cheques, money orders, cash to: or CLICK PayPal logo to donate!
Gary Tooze

Mississauga, Ontario,

CANADA
Thank You!
It Started in Naples Clark Gable Sophia Loren DVD Review It Started in Naples Clark Gable Sophia Loren DVD Review It Started in Naples Clark Gable Sophia Loren DVD Review It Started in Naples Clark Gable Sophia Loren DVD Review It Started in Naples Clark Gable Sophia Loren DVD Review It Started in Naples Clark Gable Sophia Loren DVD Review It Started in Naples Clark Gable Sophia Loren DVD Review It Started in Naples Clark Gable Sophia Loren DVD Review It Started in Naples Clark Gable Sophia Loren DVD Review It Started in Naples Clark Gable Sophia Loren DVD Review It Started in Naples Clark Gable Sophia Loren DVD Review It Started in Naples Clark Gable Sophia Loren DVD Review It Started in Naples Clark Gable Sophia Loren DVD Review It Started in Naples Clark Gable Sophia Loren DVD Review It Started in Naples Clark Gable Sophia Loren DVD Review It Started in Naples Clark Gable Sophia Loren DVD Review It Started in Naples Clark Gable Sophia Loren DVD Review It Started in Naples Clark Gable Sophia Loren DVD Review It Started in Naples Clark Gable Sophia Loren DVD Review It Started in Naples Clark Gable Sophia Loren DVD Review It Started in Naples Clark Gable Sophia Loren DVD Review It Started in Naples Clark Gable Sophia Loren DVD Review It Started in Naples Clark Gable Sophia Loren DVD Review It Started in Naples Clark Gable Sophia Loren DVD Review It Started in Naples Clark Gable Sophia Loren DVD Review It Started in Naples Clark Gable Sophia Loren DVD Review It Started in Naples Clark Gable Sophia Loren DVD Review It Started in Naples Clark Gable Sophia Loren DVD Review It Started in Naples Clark Gable Sophia Loren DVD Review It Started in Naples Clark Gable Sophia Loren DVD Review It Started in Naples Clark Gable Sophia Loren DVD Review It Started in Naples Clark Gable Sophia Loren DVD Review It Started in Naples Clark Gable Sophia Loren DVD Review It Started in Naples Clark Gable Sophia Loren DVD Review It Started in Naples Clark Gable Sophia Loren DVD Review It Started in Naples Clark Gable Sophia Loren DVD Review It Started in Naples Clark Gable Sophia Loren DVD Review It Started in Naples Clark Gable Sophia Loren DVD Review It Started in Naples Clark Gable Sophia Loren DVD Review It Started in Naples Clark Gable Sophia Loren DVD Review It Started in Naples Clark Gable Sophia Loren DVD Review It Started in Naples Clark Gable Sophia Loren DVD Review It Started in Naples Clark Gable Sophia Loren DVD Review It Started in Naples Clark Gable Sophia Loren DVD Review It Started in Naples Clark Gable Sophia Loren DVD Review It Started in Naples Clark Gable Sophia Loren DVD Review It Started in Naples Clark Gable Sophia Loren DVD Review It Started in Naples Clark Gable Sophia Loren DVD Review It Started in Naples Clark Gable Sophia Loren DVD Review It Started in Naples Clark Gable Sophia Loren DVD Review It Started in Naples Clark Gable Sophia Loren DVD Review It Started in Naples Clark Gable Sophia Loren DVD Review It Started in Naples Clark Gable Sophia Loren DVD Review It Started in Naples Clark Gable Sophia Loren DVD Review It Started in Naples Clark Gable Sophia Loren DVD Review It Started in Naples Clark Gable Sophia Loren DVD Review It Started in Naples Clark Gable Sophia Loren DVD Review It Started in Naples Clark Gable Sophia Loren DVD Review It Started in Naples Clark Gable Sophia Loren DVD Review It Started in Naples Clark Gable Sophia Loren DVD Review It Started in Naples Clark Gable Sophia Loren DVD Review It Started in Naples Clark Gable Sophia Loren DVD Review It Started in Naples Clark Gable Sophia Loren DVD Review It Started in Naples Clark Gable Sophia Loren DVD Review It Started in Naples Clark Gable Sophia Loren DVD Review It Started in Naples Clark Gable Sophia Loren DVD Review It Started in Naples Clark Gable Sophia Loren DVD Review It Started in Naples Clark Gable Sophia Loren DVD Review It Started in Naples Clark Gable Sophia Loren DVD Review It Started in Naples Clark Gable Sophia Loren DVD Review It Started in Naples Clark Gable Sophia Loren DVD Review It Started in Naples Clark Gable Sophia Loren DVD Review It Started in Naples Clark Gable Sophia Loren DVD Review It Started in Naples Clark Gable Sophia Loren DVD Review It Started in Naples Clark Gable Sophia Loren DVD Review It Started in Naples Clark Gable Sophia Loren DVD Review It Started in Naples Clark Gable Sophia Loren DVD Review It Started in Naples Clark Gable Sophia Loren DVD Review It Started in Naples Clark Gable Sophia Loren DVD Review It Started in Naples Clark Gable Sophia Loren DVD Review It Started in Naples Clark Gable Sophia Loren DVD Review It Started in Naples Clark Gable Sophia Loren DVD Review It Started in Naples Clark Gable Sophia Loren DVD Review It Started in Naples Clark Gable Sophia Loren DVD Review It Started in Naples Clark Gable Sophia Loren DVD Review It Started in Naples Clark Gable Sophia Loren DVD Review It Started in Naples Clark Gable Sophia Loren DVD Review It Started in Naples Clark Gable Sophia Loren DVD Review