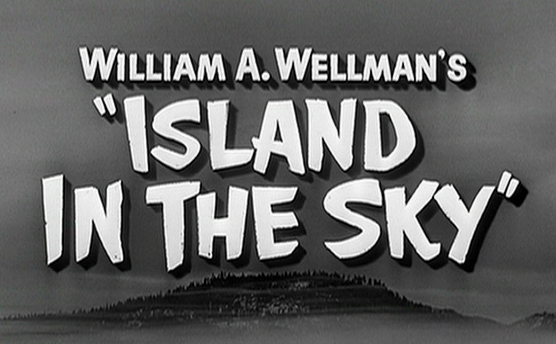 directed by William A. Wellman
USA 1953
The frozen, unforgiving terrain of subarctic Canada is the setting as screen giant John Wayne heads an all-star cast in this meticulously restored adventure drama. Set after World War II, Wayne plays Dooley, a former army pilot flying transport missions, who is forced to crash-land his fuel-starved plane on a frozen lake after it strays from its course. A desperate game of survival begins as Dooley and his men confront a meager food supply, limited shelter, inadequate clothing, a primitive emergency radio transmitter and an impending arctic storm. Meanwhile, Dooley's fellow pilots and their crews launch a seemingly overwhelming air search of the bleak, uncharted landscape - grimly realizing that the rescue of the missing men diminishes with each tick of the clock. Lloyd Nolan, Walter Abel, James Arness, Andy Devine and Harry Carey, Jr. also star in this engrossing tale of bravery, hope and survival of the human spirit.
Poster
Theatrical Release: September 5th, 1953
Reviews More Reviews DVD Reviews
DVD Review: Paramount - Region 1 - NTSC
DVD Box Cover

CLICK to order from:

Distribution
Paramount Home Video - Region 1 - NTSC
Runtime
1:49:32
Video
1.33:1 Original Aspect Ratio
Average Bitrate: 6.46 mb/s
NTSC 720x480 29.97 f/s

NOTE: The Vertical axis represents the bits transferred per second. The Horizontal is the time in minutes.

Bitrate:

Audio
English (Dolby Digital 2.0)
Subtitles
English, None
Features

Release Information:
Studio: Paramount Home Video

Aspect Ratio:
Original aspect Ratio 1.33:1

Edition Details:

• Commentary by Leonard Maltin, Darryl Hickman, James Lydon, William Wellman, Jr. and aviation expert Vincent Longo
• Introduction by Leonard Maltin
• Featurettes:
Dooley's Down
The Making of Island in the Sky
Flight School - The Art of Aerial Photography
Ernest K. Gann: Adventurer, Author, Artist
Flying for Uncle Sam
The John Wayne Stock Company: Harry Carey, Jr.
Theatrical Trailer
Introduction to "Gunsmoke" TV promo
Batjac Montage
Newsreel Footage of Premiere
Photo Gallery

DVD Release Date: August 2nd, 2005
Keep Case
Chapters: 12
Comments:

Only after extensive zooming in did I find some evidence of, what I thought was, edge enhancement. There is some digital noise visible and some minor print damage (see below) but I am not disappointed in this release at all. It seems a shade above the usual Paramount initiatives. Certainly the extras are stacked with featurettes that I found both filler ones and those of interest. What I have heard of the commentary so far is good although Maltin tends to be a little pandering/pedantic at times. Like the release of The High and the Mighty, this is a great package for Wayne fans and for those of classic Hollywood cinema. The more I see of Wellman's films the more I enjoy his style. out of

NOTE: One thing I didn't like was that even if you skipped the Maltin intro, you still see it if you press 'play'. You can bypass with a chapter stop, but pretty sneaky regardless.
---



DVD Menus
---
Subtitle Sample
Screen Captures
---
---
NOTE: Print Damage
---






William A. Wellman's - Island in the Sky DVD Review John Wayne DVD Review Island in the Sky Wellman John Wayne DVD Review Island in the Sky Wellman John Wayne DVD Review Island in the Sky Wellman John Wayne DVD Review Island in the Sky Wellman John Wayne DVD Review Island in the Sky Wellman John Wayne DVD Review Island in the Sky Wellman John Wayne DVD Review Island in the Sky Wellman John Wayne DVD Review Island in the Sky Wellman John Wayne DVD Review Island in the Sky Wellman John Wayne DVD Review Island in the Sky Wellman John Wayne DVD Review Island in the Sky Wellman John Wayne DVD Review Island in the Sky Wellman John Wayne DVD Review William A. Wellman's - Island in the Sky DVD Review John Wayne DVD Review Island in the Sky Wellman John Wayne DVD Review Island in the Sky Wellman John Wayne DVD Review Island in the Sky Wellman John Wayne DVD Review Island in the Sky Wellman John Wayne DVD Review Island in the Sky Wellman John Wayne DVD Review Island in the Sky Wellman John Wayne DVD Review Island in the Sky Wellman John Wayne DVD Review Island in the Sky Wellman John Wayne DVD Review Island in the Sky Wellman John Wayne DVD Review Island in the Sky Wellman John Wayne DVD Review Island in the Sky Wellman John Wayne DVD Review Island in the Sky Wellman John Wayne DVD Review William A. Wellman's - Island in the Sky DVD Review John Wayne DVD Review Island in the Sky Wellman John Wayne DVD Review Island in the Sky Wellman John Wayne DVD Review Island in the Sky Wellman John Wayne DVD Review Island in the Sky Wellman John Wayne DVD Review Island in the Sky Wellman John Wayne DVD Review Island in the Sky Wellman John Wayne DVD Review Island in the Sky Wellman John Wayne DVD Review Island in the Sky Wellman John Wayne DVD Review Island in the Sky Wellman John Wayne DVD Review Island in the Sky Wellman John Wayne DVD Review Island in the Sky Wellman John Wayne DVD Review Island in the Sky Wellman John Wayne DVD Review William A. Wellman's - Island in the Sky DVD Review John Wayne DVD Review Island in the Sky Wellman John Wayne DVD Review Island in the Sky Wellman John Wayne DVD Review Island in the Sky Wellman John Wayne DVD Review Island in the Sky Wellman John Wayne DVD Review Island in the Sky Wellman John Wayne DVD Review Island in the Sky Wellman John Wayne DVD Review Island in the Sky Wellman John Wayne DVD Review Island in the Sky Wellman John Wayne DVD Review Island in the Sky Wellman John Wayne DVD Review Island in the Sky Wellman John Wayne DVD Review Island in the Sky Wellman John Wayne DVD Review Island in the Sky Wellman John Wayne DVD Review William A. Wellman's - Island in the Sky DVD Review John Wayne DVD Review Island in the Sky Wellman John Wayne DVD Review Island in the Sky Wellman John Wayne DVD Review Island in the Sky Wellman John Wayne DVD Review Island in the Sky Wellman John Wayne DVD Review Island in the Sky Wellman John Wayne DVD Review Island in the Sky Wellman John Wayne DVD Review Island in the Sky Wellman John Wayne DVD Review Island in the Sky Wellman John Wayne DVD Review Island in the Sky Wellman John Wayne DVD Review Island in the Sky Wellman John Wayne DVD Review Island in the Sky Wellman John Wayne DVD Review Island in the Sky Wellman John Wayne DVD Review William A. Wellman's - Island in the Sky DVD Review John Wayne DVD Review Island in the Sky Wellman John Wayne DVD Review Island in the Sky Wellman John Wayne DVD Review Island in the Sky Wellman John Wayne DVD Review Island in the Sky Wellman John Wayne DVD Review Island in the Sky Wellman John Wayne DVD Review Island in the Sky Wellman John Wayne DVD Review Island in the Sky Wellman John Wayne DVD Review Island in the Sky Wellman John Wayne DVD Review Island in the Sky Wellman John Wayne DVD Review Island in the Sky Wellman John Wayne DVD Review Island in the Sky Wellman John Wayne DVD Review Island in the Sky Wellman John Wayne DVD Review William A. Wellman's - Island in the Sky DVD Review John Wayne DVD Review Island in the Sky Wellman John Wayne DVD Review Island in the Sky Wellman John Wayne DVD Review Island in the Sky Wellman John Wayne DVD Review Island in the Sky Wellman John Wayne DVD Review Island in the Sky Wellman John Wayne DVD Review Island in the Sky Wellman John Wayne DVD Review Island in the Sky Wellman John Wayne DVD Review Island in the Sky Wellman John Wayne DVD Review Island in the Sky Wellman John Wayne DVD Review Island in the Sky Wellman John Wayne DVD Review Island in the Sky Wellman John Wayne DVD Review Island in the Sky Wellman John Wayne DVD Review William A. Wellman's - Island in the Sky DVD Review John Wayne DVD Review Island in the Sky Wellman John Wayne DVD Review Island in the Sky Wellman John Wayne DVD Review Island in the Sky Wellman John Wayne DVD Review Island in the Sky Wellman John Wayne DVD Review Island in the Sky Wellman John Wayne DVD Review Island in the Sky Wellman John Wayne DVD Review Island in the Sky Wellman John Wayne DVD Review Island in the Sky Wellman John Wayne DVD Review Island in the Sky Wellman John Wayne DVD Review Island in the Sky Wellman John Wayne DVD Review Island in the Sky Wellman John Wayne DVD Review Island in the Sky Wellman John Wayne DVD Review William A. Wellman's - Island in the Sky DVD Review John Wayne DVD Review Island in the Sky Wellman John Wayne DVD Review Island in the Sky Wellman John Wayne DVD Review Island in the Sky Wellman John Wayne DVD Review Island in the Sky Wellman John Wayne DVD Review Island in the Sky Wellman John Wayne DVD Review Island in the Sky Wellman John Wayne DVD Review Island in the Sky Wellman John Wayne DVD Review Island in the Sky Wellman John Wayne DVD Review Island in the Sky Wellman John Wayne DVD Review Island in the Sky Wellman John Wayne DVD Review Island in the Sky Wellman John Wayne DVD Review Island in the Sky Wellman John Wayne DVD Review William A. Wellman's - Island in the Sky DVD Review John Wayne DVD Review Island in the Sky Wellman John Wayne DVD Review Island in the Sky Wellman John Wayne DVD Review Island in the Sky Wellman John Wayne DVD Review Island in the Sky Wellman John Wayne DVD Review Island in the Sky Wellman John Wayne DVD Review Island in the Sky Wellman John Wayne DVD Review Island in the Sky Wellman John Wayne DVD Review Island in the Sky Wellman John Wayne DVD Review Island in the Sky Wellman John Wayne DVD Review Island in the Sky Wellman John Wayne DVD Review Island in the Sky Wellman John Wayne DVD Review Island in the Sky Wellman John Wayne DVD Review