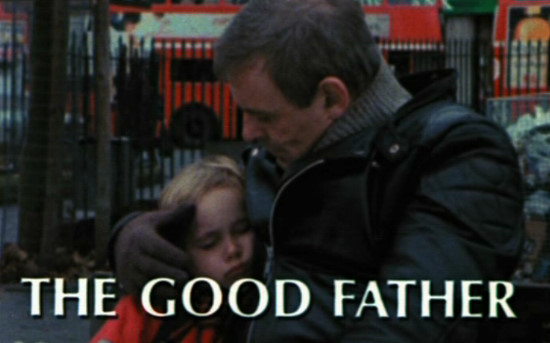 directed by Mike Newell
UK 1985
Anthony Hopkins as an angry publishing exec who abandons his wife and son to nurse antifeminist resentments. British director Mike Newell (Dance With a Stranger) establishes the "hard" issue early (of male hostility to encroaching feminism), then spends the rest of the film backing away from it: it isn't his wife Hopkins ultimately resents but his son (for monopolizing her affections), an oedipal reversal that pulls the teeth of the drama by trivializing the stakes. Newell's tight crosscutting style, as gray and gritty here as it was sleekly seductive in Stranger, creates a feeling of claustrophobic entrapment: it isolates the characters from each other or, conversely, packs them together so closely they hardly have room to maneuver. It's a style appropriate to the social disintegration Newell wants to suggest, a Britain of litigious antagonists beyond polity, though the TV problematics (the film was shot for British television) make entirely too neat a package.
Excerpt of Pat Graham's capsule From the Chicago Reader HERE
Video Cover
Theatrical Release: November 1985
Reviews More Reviews DVD Reviews
DVD Review: Home Vision - Region 1 - NTSC
DVD Box Cover

CLICK to order from:

Distribution
Home Vision Entertainment - Region 1 - NTSC
Runtime
1:30:08
Video
1.78:1 Original Aspect Ratio
Average Bitrate: 6.11 mb/s
NTSC 720x480 29.97 f/s

NOTE: The Vertical axis represents the bits transferred per second. The Horizontal is the time in minutes.

Bitrate:

Audio
English (Dolby Digital 1.0)
Subtitles
English, None
Features

Release Information:
Studio: Home Vision Entertainment

Aspect Ratio:
Original aspect Ratio 1.78:1

Edition Details:

• Liner notes essay by Wheeler Winston Dixon

DVD Release Date: July 5th, 2005
Keep Case
Chapters: 16
| | |
| --- | --- |
| Comments: | The DVD image is in a little rougher shape that I would have anticipated with a very muddy appearance. It is non-progressively transferred which doesn't help matters although horizontal pans are quite minimal combing can occasionally be seen (see last capture). Colors seem a little wayward as skin tones shift from pale to reddish. Subtitles are excellent. The film was originally shot for theatrical TV release and I was enthralled with it. Hopkins gives his usual top-shelf portrayal and Newell shows close-ups from his characters standpoint, as if attempting to put us in his shoes, or at least empathize. No digital extras but a nice essay in the liner notes. I enjoyed this unique film so much I am endorsing the DVD - we recommend! |
---
---
Subtitle Sample
Screen Captures
---
---
Combing indicates a non-progressive transfer
DONATIONS Keep DVDBeaver alive and advertisement free:
Mail cheques, money orders, cash to: or CLICK PayPal logo to donate!
Gary Tooze

Mississauga, Ontario,

CANADA
Thank You!
Anthony Hopkins in Mike Newell's The Good Father dvd review Anthony Hopkins Mike Newell The Good Father dvd review Anthony Hopkins Mike Newell The Good Father dvd review Anthony Hopkins Mike Newell The Good Father dvd review Anthony Hopkins Mike Newell The Good Father dvd review Anthony Hopkins Mike Newell The Good Father dvd review Anthony Hopkins Mike Newell The Good Father dvd review Anthony Hopkins Mike Newell The Good Father dvd review Anthony Hopkins Mike Newell The Good Father dvd review Anthony Hopkins Mike Newell The Good Father dvd review Anthony Hopkins in Mike Newell's The Good Father dvd review Anthony Hopkins Mike Newell The Good Father dvd review Anthony Hopkins Mike Newell The Good Father dvd review Anthony Hopkins Mike Newell The Good Father dvd review Anthony Hopkins Mike Newell The Good Father dvd review Anthony Hopkins Mike Newell The Good Father dvd review Anthony Hopkins Mike Newell The Good Father dvd review Anthony Hopkins Mike Newell The Good Father dvd review Anthony Hopkins Mike Newell The Good Father dvd review Anthony Hopkins Mike Newell The Good Father dvd review Anthony Hopkins in Mike Newell's The Good Father dvd review Anthony Hopkins Mike Newell The Good Father dvd review Anthony Hopkins Mike Newell The Good Father dvd review Anthony Hopkins Mike Newell The Good Father dvd review Anthony Hopkins Mike Newell The Good Father dvd review Anthony Hopkins Mike Newell The Good Father dvd review Anthony Hopkins Mike Newell The Good Father dvd review Anthony Hopkins Mike Newell The Good Father dvd review Anthony Hopkins Mike Newell The Good Father dvd review Anthony Hopkins Mike Newell The Good Father dvd review Anthony Hopkins in Mike Newell's The Good Father dvd review Anthony Hopkins Mike Newell The Good Father dvd review Anthony Hopkins Mike Newell The Good Father dvd review Anthony Hopkins Mike Newell The Good Father dvd review Anthony Hopkins Mike Newell The Good Father dvd review Anthony Hopkins Mike Newell The Good Father dvd review Anthony Hopkins Mike Newell The Good Father dvd review Anthony Hopkins Mike Newell The Good Father dvd review Anthony Hopkins Mike Newell The Good Father dvd review Anthony Hopkins Mike Newell The Good Father dvd review Anthony Hopkins in Mike Newell's The Good Father dvd review Anthony Hopkins Mike Newell The Good Father dvd review Anthony Hopkins Mike Newell The Good Father dvd review Anthony Hopkins Mike Newell The Good Father dvd review Anthony Hopkins Mike Newell The Good Father dvd review Anthony Hopkins Mike Newell The Good Father dvd review Anthony Hopkins Mike Newell The Good Father dvd review Anthony Hopkins Mike Newell The Good Father dvd review Anthony Hopkins Mike Newell The Good Father dvd review Anthony Hopkins Mike Newell The Good Father dvd review Anthony Hopkins in Mike Newell's The Good Father dvd review Anthony Hopkins Mike Newell The Good Father dvd review Anthony Hopkins Mike Newell The Good Father dvd review Anthony Hopkins Mike Newell The Good Father dvd review Anthony Hopkins Mike Newell The Good Father dvd review Anthony Hopkins Mike Newell The Good Father dvd review Anthony Hopkins Mike Newell The Good Father dvd review Anthony Hopkins Mike Newell The Good Father dvd review Anthony Hopkins Mike Newell The Good Father dvd review Anthony Hopkins Mike Newell The Good Father dvd review Anthony Hopkins in Mike Newell's The Good Father dvd review Anthony Hopkins Mike Newell The Good Father dvd review Anthony Hopkins Mike Newell The Good Father dvd review Anthony Hopkins Mike Newell The Good Father dvd review Anthony Hopkins Mike Newell The Good Father dvd review Anthony Hopkins Mike Newell The Good Father dvd review Anthony Hopkins Mike Newell The Good Father dvd review Anthony Hopkins Mike Newell The Good Father dvd review Anthony Hopkins Mike Newell The Good Father dvd review Anthony Hopkins Mike Newell The Good Father dvd review Anthony Hopkins in Mike Newell's The Good Father dvd review Anthony Hopkins Mike Newell The Good Father dvd review Anthony Hopkins Mike Newell The Good Father dvd review Anthony Hopkins Mike Newell The Good Father dvd review Anthony Hopkins Mike Newell The Good Father dvd review Anthony Hopkins Mike Newell The Good Father dvd review Anthony Hopkins Mike Newell The Good Father dvd review Anthony Hopkins Mike Newell The Good Father dvd review Anthony Hopkins Mike Newell The Good Father dvd review Anthony Hopkins Mike Newell The Good Father dvd review