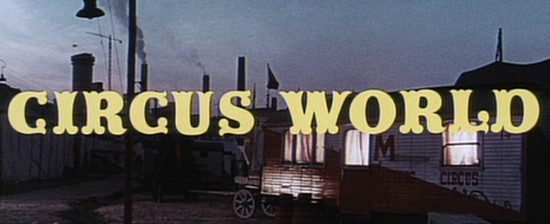 (aka 'Samuel Bronston's Circus World" or "The Magnificent Showman')
directed by Henry Hathaway
USA 1964
Often cited as a lower grade Bronston epic comparing it to El Cid, King of Kings or The Fall of the Roman Empire, though detractors of Circus World may have a point. A weak narrative really puts John Wayne out of his element - his gesture attempts appear contrived at times, but the gals (Cardinale and Hayworth) are very supportive beyond their vacuous characters. Comparisons to The Greatest Show on Earth are fitting - Circus owner Matt Masters (Wayne) is beset by disaster after disaster as he attempts a European tour. The subplot involves an emotional conflict between his adopted daughter and her mother. Looking a little deeper into this extravaganza we can certainly see the lights of Hollywood shining if not as brightly as in the past. Heck, I enjoyed this - I like the Duke and Hayworth and the inside look at the circus show world is intriguing - certainly seeing many of the acts is worth the price alone (I saw an Indian brave outrun a horse around the three rings!).

out of

Posters
Theatrical Release: June 25th, 1964
Reviews More Reviews DVD Reviews
DVD Review: Tohokushinsha Corp. - Region 2 - NTSC
DVD Box Cover

CLICK to order from:

Thinking of buying from YesAsia? CLICK HERE and use THIS UPDATED BEAVER PAGE to source their very best...

Distribution
Tohokushinsha Corp. - Region 2 - NTSC
Runtime
2:17:50
Video
2.32:1 Original Aspect Ratio
Average Bitrate: 6.24 mb/s
NTSC 720x480 29.97 f/s

NOTE: The Vertical axis represents the bits transferred per second. The Horizontal is the time in minutes.

Bitrate:

Audio
English (Dolby Digital 2.0)
Subtitles
Japanese, None
Features

Release Information:
Studio: Tohokushinsha Home Video

Aspect Ratio:
Original aspect Ratio 2.32:1

Edition Details:

• Theatrical trailer
• Introduction (Japanese text screen)
• Cast and Crew (Japanese text screen)

DVD Release Date: February 27th, 2003
Keep Case
Chapters: 20
Comments:

Un

like "The Fall of the Roman Empire" or "El Cid" this DVD is encoded for Region 2 (still NTSC) so standard North American DVD players will not show it.

The image shows some dirt and scratches but overall is quite good.

A notch below Tohokushinsha "The Fall of the Roman Empire" but possibly superior to their "El Cid". Colors are acceptable if a shade washed-out and although the image is extremely bright I don't see signs of any digital manipulation (may have some contrast dampening). It can look thick and saturated, but I'll wager is true to theatrical. It's smooth, anamorphic, tight to the frame and progressive. Again we have text extras in Japanese (and liner notes in Japanese with photos) and a theatrical trailer. The audio is English 4.0 surround and the Japanese subtitles are removable. This is a good DVD for its representation of the film - out of

NOTE: We have reviewed 3 more similarly strong Bronston-film Japanese DVD releases (The Fall of the Roman Empire, 55 Days at Peking and El Cid) to include in a possible group order from Amazon Japan or YesAsia.com.
---



DVD Menus
---
Subtitle Sample
Screen Captures
---
---
DVD Box Cover

CLICK to order from:

Thinking of buying from YesAsia? CLICK HERE and use THIS UPDATED BEAVER PAGE to source their very best...

Distribution
Tohokushinsha Corp. - Region 2 - NTSC
---






Henry Hathaway's Circus World Samuel Bronston Circus World DVD Review Henry Hathaway Circus World Samuel Bronston Circus World DVD Review Henry Hathaway Circus World Samuel Bronston Circus World DVD Review Henry Hathaway Circus World Samuel Bronston Circus World DVD Review Henry Hathaway Circus World Samuel Bronston Circus World DVD Review Henry Hathaway Circus World Samuel Bronston Circus World DVD Review Henry Hathaway Circus World Samuel Bronston Circus World DVD Review Henry Hathaway Circus World Samuel Bronston Circus World DVD Review Henry Hathaway Circus World Samuel Bronston Circus World DVD Review Henry Hathaway Circus World Samuel Bronston Circus World DVD Review Henry Hathaway Circus World Samuel Bronston Circus World DVD Review Henry Hathaway's Circus World Samuel Bronston Circus World DVD Review Henry Hathaway Circus World Samuel Bronston Circus World DVD Review Henry Hathaway Circus World Samuel Bronston Circus World DVD Review Henry Hathaway Circus World Samuel Bronston Circus World DVD Review Henry Hathaway Circus World Samuel Bronston Circus World DVD Review Henry Hathaway Circus World Samuel Bronston Circus World DVD Review Henry Hathaway Circus World Samuel Bronston Circus World DVD Review Henry Hathaway Circus World Samuel Bronston Circus World DVD Review Henry Hathaway Circus World Samuel Bronston Circus World DVD Review Henry Hathaway Circus World Samuel Bronston Circus World DVD Review Henry Hathaway Circus World Samuel Bronston Circus World DVD Review Henry Hathaway's Circus World Samuel Bronston Circus World DVD Review Henry Hathaway Circus World Samuel Bronston Circus World DVD Review Henry Hathaway Circus World Samuel Bronston Circus World DVD Review Henry Hathaway Circus World Samuel Bronston Circus World DVD Review Henry Hathaway Circus World Samuel Bronston Circus World DVD Review Henry Hathaway Circus World Samuel Bronston Circus World DVD Review Henry Hathaway Circus World Samuel Bronston Circus World DVD Review Henry Hathaway Circus World Samuel Bronston Circus World DVD Review Henry Hathaway Circus World Samuel Bronston Circus World DVD Review Henry Hathaway Circus World Samuel Bronston Circus World DVD Review Henry Hathaway Circus World Samuel Bronston Circus World DVD Review Henry Hathaway's Circus World Samuel Bronston Circus World DVD Review Henry Hathaway Circus World Samuel Bronston Circus World DVD Review Henry Hathaway Circus World Samuel Bronston Circus World DVD Review Henry Hathaway Circus World Samuel Bronston Circus World DVD Review Henry Hathaway Circus World Samuel Bronston Circus World DVD Review Henry Hathaway Circus World Samuel Bronston Circus World DVD Review Henry Hathaway Circus World Samuel Bronston Circus World DVD Review Henry Hathaway Circus World Samuel Bronston Circus World DVD Review Henry Hathaway Circus World Samuel Bronston Circus World DVD Review Henry Hathaway Circus World Samuel Bronston Circus World DVD Review Henry Hathaway Circus World Samuel Bronston Circus World DVD Review Henry Hathaway's Circus World Samuel Bronston Circus World DVD Review Henry Hathaway Circus World Samuel Bronston Circus World DVD Review Henry Hathaway Circus World Samuel Bronston Circus World DVD Review Henry Hathaway Circus World Samuel Bronston Circus World DVD Review Henry Hathaway Circus World Samuel Bronston Circus World DVD Review Henry Hathaway Circus World Samuel Bronston Circus World DVD Review Henry Hathaway Circus World Samuel Bronston Circus World DVD Review Henry Hathaway Circus World Samuel Bronston Circus World DVD Review Henry Hathaway Circus World Samuel Bronston Circus World DVD Review Henry Hathaway Circus World Samuel Bronston Circus World DVD Review Henry Hathaway Circus World Samuel Bronston Circus World DVD Review Henry Hathaway's Circus World Samuel Bronston Circus World DVD Review Henry Hathaway Circus World Samuel Bronston Circus World DVD Review Henry Hathaway Circus World Samuel Bronston Circus World DVD Review Henry Hathaway Circus World Samuel Bronston Circus World DVD Review Henry Hathaway Circus World Samuel Bronston Circus World DVD Review Henry Hathaway Circus World Samuel Bronston Circus World DVD Review Henry Hathaway Circus World Samuel Bronston Circus World DVD Review Henry Hathaway Circus World Samuel Bronston Circus World DVD Review Henry Hathaway Circus World Samuel Bronston Circus World DVD Review Henry Hathaway Circus World Samuel Bronston Circus World DVD Review Henry Hathaway Circus World Samuel Bronston Circus World DVD Review Henry Hathaway's Circus World Samuel Bronston Circus World DVD Review Henry Hathaway Circus World Samuel Bronston Circus World DVD Review Henry Hathaway Circus World Samuel Bronston Circus World DVD Review Henry Hathaway Circus World Samuel Bronston Circus World DVD Review Henry Hathaway Circus World Samuel Bronston Circus World DVD Review Henry Hathaway Circus World Samuel Bronston Circus World DVD Review Henry Hathaway Circus World Samuel Bronston Circus World DVD Review Henry Hathaway Circus World Samuel Bronston Circus World DVD Review Henry Hathaway Circus World Samuel Bronston Circus World DVD Review Henry Hathaway Circus World Samuel Bronston Circus World DVD Review Henry Hathaway Circus World Samuel Bronston Circus World DVD Review