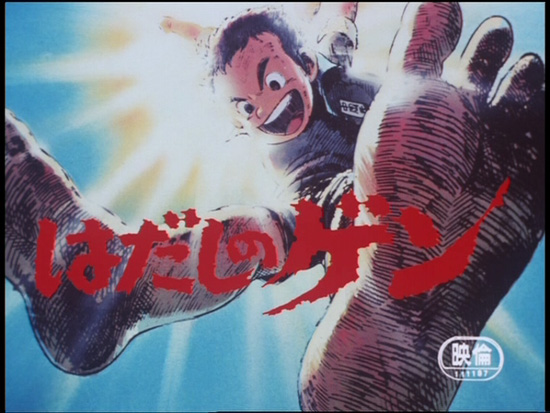 (aka "Hadashi no Gen" )
directed by Mori Masaki
Japan 1983
"Barefoot Gen" is the autobiographical account of Keiji Nakazawas childhood. He was only six years old, when the bomb fell in Hiroshima and destroyed his hometown, and wanted the generations to know what it was like to grow up after a nuclear bomb, especially as the world was about to go crazy with nuclear weapons.

Having previously published Nakazawas short story "Ore wa Mita", Shukan Shonen Jampu, the largest Japanese manga with over 2 million readers, published "Hadashi no Gen" in 1972, but was cancelled after in 1973, and continued by three less widely distributed magazines: Shimin, Bunka Hyoron and Kyoiku Hyoron. In 1975 the stories was then published in its now known four books, and in 1976 it became a live action film as well as being translated into English.

In 1983 the first two books were made into the animation film "Barefoot Gen" by Mori Masaki. The film only uses fragments from the first book, which deals with ordinary life in wartime Hiroshima and ends with the explosion of the nuclear bomb, and concentrates mainly on the second book, which deals with the period following the destruction of Hiroshima and the survival of Gen and his pregnant mother.

As a film, "Barefoot Gen" hardly is for children. While the style is traditional children manga with those big cute eyes, the story is not. Here we see the effects of the blast, people melting, eyes falling out of their sockets, skin falling of bones. Compared to the similar "Graves of Fireflies", the animation is crude, but the story is superior. A detailed account of the seconds, minutes, hours and days after the bomb, "Barefoot Gen" never points fingers or attempts political statements, but simply gives a point of view from a child. In many ways this is a children's version of Imamura's "Black Rain".

In 1986 the follow-up came, "Barefoot Gen 2", telling the story of Gen and his adopted brother Ryu, three years after the bomb.

"Barefoot Gen" is more than just a simple animated film about the effects of the nuclear bomb. It is, in the words of Art Spiegelman, "A vivid and harrowing story that will burn a radioactive crater in your memory that will never let you go." It is a witness account of one of the greatest horrors of modern time.
Posters etc.
Theatrical Release: July 21, 1983
Reviews More Reviews DVD Reviews
DVD Review: Optimum Asia - Region 2 - PAL
Big thanks to Henrik Sylow for the Review!
DVD Box Cover

CLICK to order from:

DVD includes Barefoot Gen and Barefoot Gen 2!

Distribution

Optimum Asia

Region 2 - PAL

Runtime
1:23:23
Video

1.33:1 Original Aspect Ratio
Average Bitrate: 5.23 mb/s
PAL 720x576 25.00 f/s

NOTE: The Vertical axis represents the bits transferred per second. The Horizontal is the time in minutes.

Bitrate

Audio
2.0 Dolby Digital Japanese
Subtitles
English, None
Features
Release Information:
Studio: Optimum Asia

Aspect Ratio:
Fullscreen - 1.33:1

Edition Details:
• War Child Promo (0:36 / 16x9)
• 16 page booklet containing two interviews with Keiji Nakazawa and an essay by Jonathan Clements

DVD Release Date: August 1, 2005
Keep Case

Chapters 13
Comments
This is a PAL to NTSC transfer, as a PAL master would have been unrealistic expensive. The transfer is from the newly restored print, and while captures show minute signs of compression artifacts, especially color banding and edge enhancements, the transfer is surprisingly good. Colors are strong and details sharp.

The sound is the original 2.0 Dolby Digital and it sounds surprisingly good. It is not as aggressive or dynamic as one is used to, but the sound is crips and very clear..

The DVD comes with a 16 page booklet with two interviews of Nakazawas, one by Tara Brady, the other by Jonathan Clements, the co-author of The Anime Encyclopedia, and a very insightful essay on Nakazawa and Gen by Clements, before ending with noting upon "War Child".

Established in 1993, War Child offer protection and emergency relief for children affected by war. Optimum will donate a portion of the sale of each "Barefoot Gen" DVD to War Child to mark the 60th anniversary of the Hiroshima bomb (August 6, 2005).
---



DVD Menus
---
Screen Captures
subtitle sample
Captures in 768 px native resolution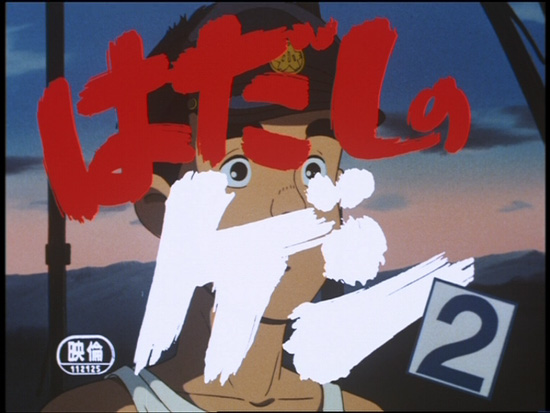 (aka "Hadashi no Gen 2" )
directed by Toshio Hirata and Akio Sakai
Japan 1986
Theatrical Release: June 14, 1986
Reviews More Reviews DVD Reviews
DVD Review: Optimum Asia - Region 2 - PAL
Big thanks to Henrik Sylow for the Review!
DVD Box Cover

CLICK to order from:

DVD includes Barefoot Gen and Barefoot Gen 2!

Distribution

Optimum Asia

Region 2 - PAL

Runtime
1:25:17
Video

1.33:1 Original Aspect Ratio
Average Bitrate: 5.33 mb/s
PAL 720x576 25.00 f/s

NOTE: The Vertical axis represents the bits transferred per second. The Horizontal is the time in minutes.

Bitrate

Audio
2.0 Dolby Digital Japanese
Subtitles
English, None
Features
Release Information:
Studio: Optimum Asia

Aspect Ratio:
Fullscreen - 1.33:1

Edition Details:
• No Extras

DVD Release Date: August 1, 2005
Keep Case

Chapters 13
---



DVD Menus
---
Screen Captures
subtitle sample
Captures in 768 px native resolution