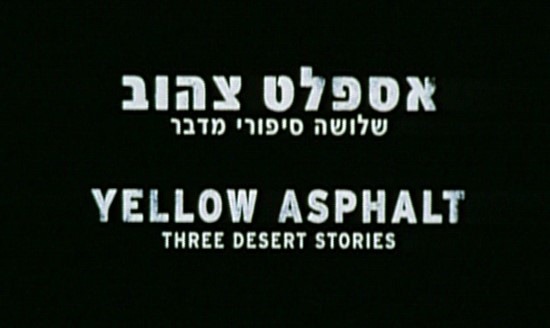 (aka 'Asphalt Zahov ')
directed by Dan Verete
Israel 2001
As western culture gradually began to infiltrate the Judean desert, once the sole domain of the Bedouin tribes, the convergence of contemporary mores and ancient traditions was unavoidable. At the edge of modern Israel and the Bedouin way of life, three dramatic encounters between two very different societies set the stage for Yellow Asphalt: the tragic death of a Bedouin boy on the asphalt road cutting the desert in two; the impossible marriage between a German woman and her Bedouin husband and the forbidden love affair of a Bedouin maid and her Israeli employer. Shot on location in the exotic landscapes of the Judean desert with the participation of the Bedouin tribe "Jahalin," at the heart of Yellow Asphalt are tales of the human condition - of passion and deceit, carelessness and love, courage and selfishness, in which no one culture has a monopoly on virtue or vice.
Theatrical Release: August 16th, 2001 - Israel
Reviews More Reviews DVD Reviews
DVD Review: New Yorker - Region 1 - NTSC
DVD Box Cover

CLICK to order from:

Distribution
New Yorker Home Video - Region 1 - NTSC
Runtime
1:22:27
Video
1.33:1 Original Aspect Ratio
Average Bitrate: 6.19 mb/s
NTSC 720x480 29.97 f/s

NOTE: The Vertical axis represents the bits transferred per second. The Horizontal is the time in minutes.

Bitrate:

Audio
Hebrew / Arabic / English (Dolby Digital 2.0)
Subtitles
English (burned in)
Features

Release Information:
Studio: New Yorker Home Video

Aspect Ratio:
Original aspect Ratio 1.33:1

Edition Details:

• Theatrical Trailer (1:29)
• trailers for other NY'er releases

DVD Release Date: June 21st, 2005
Keep Case
Chapters: 16
| | |
| --- | --- |
| Comments: | The non-High Definition image has some typical analog artifacts, but they are not overly prevalent. The image is a bit soft and the subtitles are burned-in. Colors are acceptable - overall this would be considered a fairly good tape-to-DVD transfer. It does not have the depth of contrast and sharpness of a progressive transfer but it is adequate for typical tube viewing. A memorable and worthwhile film experience that may never see a better transfer. |
---
---
Subtitle Sample
Screen Captures
---
---





DONATIONS Keep DVDBeaver alive and advertisement free:
Mail cheques, money orders, cash to: or CLICK PayPal logo to donate!
Gary Tooze

Mississauga, Ontario,

CANADA
Thank You!
Dan Verete's Yellow Asphalt - New Yorker - Region 1- NTSC DVD Review Yellow Asphalt DVD Review Yellow Asphalt DVD Review Yellow Asphalt DVD Review Yellow Asphalt DVD Review Yellow Asphalt DVD Review Yellow Asphalt DVD Review Yellow Asphalt DVD Review Yellow Asphalt DVD Review Yellow Asphalt DVD Review Yellow Asphalt DVD Review Yellow Asphalt DVD Review Yellow Asphalt DVD Review Yellow Asphalt DVD Review Yellow Asphalt DVD Review Yellow Asphalt DVD Review Yellow Asphalt DVD Review Yellow Asphalt DVD Review Yellow Asphalt DVD Review Yellow Asphalt Dan Verete's Yellow Asphalt - New Yorker - Region 1- NTSC DVD Review Yellow Asphalt DVD Review Yellow Asphalt DVD Review Yellow Asphalt DVD Review Yellow Asphalt DVD Review Yellow Asphalt DVD Review Yellow Asphalt DVD Review Yellow Asphalt DVD Review Yellow Asphalt DVD Review Yellow Asphalt DVD Review Yellow Asphalt DVD Review Yellow Asphalt DVD Review Yellow Asphalt DVD Review Yellow Asphalt DVD Review Yellow Asphalt DVD Review Yellow Asphalt DVD Review Yellow Asphalt DVD Review Yellow Asphalt DVD Review Yellow Asphalt DVD Review Yellow Asphalt Dan Verete's Yellow Asphalt - New Yorker - Region 1- NTSC DVD Review Yellow Asphalt DVD Review Yellow Asphalt DVD Review Yellow Asphalt DVD Review Yellow Asphalt DVD Review Yellow Asphalt DVD Review Yellow Asphalt DVD Review Yellow Asphalt DVD Review Yellow Asphalt DVD Review Yellow Asphalt DVD Review Yellow Asphalt DVD Review Yellow Asphalt DVD Review Yellow Asphalt DVD Review Yellow Asphalt DVD Review Yellow Asphalt DVD Review Yellow Asphalt DVD Review Yellow Asphalt DVD Review Yellow Asphalt DVD Review Yellow Asphalt DVD Review Yellow Asphalt Dan Verete's Yellow Asphalt - New Yorker - Region 1- NTSC DVD Review Yellow Asphalt DVD Review Yellow Asphalt DVD Review Yellow Asphalt DVD Review Yellow Asphalt DVD Review Yellow Asphalt DVD Review Yellow Asphalt DVD Review Yellow Asphalt DVD Review Yellow Asphalt DVD Review Yellow Asphalt DVD Review Yellow Asphalt DVD Review Yellow Asphalt DVD Review Yellow Asphalt DVD Review Yellow Asphalt DVD Review Yellow Asphalt DVD Review Yellow Asphalt DVD Review Yellow Asphalt DVD Review Yellow Asphalt DVD Review Yellow Asphalt DVD Review Yellow Asphalt Dan Verete's Yellow Asphalt - New Yorker - Region 1- NTSC DVD Review Yellow Asphalt DVD Review Yellow Asphalt DVD Review Yellow Asphalt DVD Review Yellow Asphalt DVD Review Yellow Asphalt DVD Review Yellow Asphalt DVD Review Yellow Asphalt DVD Review Yellow Asphalt DVD Review Yellow Asphalt DVD Review Yellow Asphalt DVD Review Yellow Asphalt DVD Review Yellow Asphalt DVD Review Yellow Asphalt DVD Review Yellow Asphalt DVD Review Yellow Asphalt DVD Review Yellow Asphalt DVD Review Yellow Asphalt DVD Review Yellow Asphalt DVD Review Yellow Asphalt Dan Verete's Yellow Asphalt - New Yorker - Region 1- NTSC DVD Review Yellow Asphalt DVD Review Yellow Asphalt DVD Review Yellow Asphalt DVD Review Yellow Asphalt DVD Review Yellow Asphalt DVD Review Yellow Asphalt DVD Review Yellow Asphalt DVD Review Yellow Asphalt DVD Review Yellow Asphalt DVD Review Yellow Asphalt DVD Review Yellow Asphalt DVD Review Yellow Asphalt DVD Review Yellow Asphalt DVD Review Yellow Asphalt DVD Review Yellow Asphalt DVD Review Yellow Asphalt DVD Review Yellow Asphalt DVD Review Yellow Asphalt DVD Review Yellow Asphalt Dan Verete's Yellow Asphalt - New Yorker - Region 1- NTSC DVD Review Yellow Asphalt DVD Review Yellow Asphalt DVD Review Yellow Asphalt DVD Review Yellow Asphalt DVD Review Yellow Asphalt DVD Review Yellow Asphalt DVD Review Yellow Asphalt DVD Review Yellow Asphalt DVD Review Yellow Asphalt DVD Review Yellow Asphalt DVD Review Yellow Asphalt DVD Review Yellow Asphalt DVD Review Yellow Asphalt DVD Review Yellow Asphalt DVD Review Yellow Asphalt DVD Review Yellow Asphalt DVD Review Yellow Asphalt DVD Review Yellow Asphalt DVD Review Yellow Asphalt Dan Verete's Yellow Asphalt - New Yorker - Region 1- NTSC DVD Review Yellow Asphalt DVD Review Yellow Asphalt DVD Review Yellow Asphalt DVD Review Yellow Asphalt DVD Review Yellow Asphalt DVD Review Yellow Asphalt DVD Review Yellow Asphalt DVD Review Yellow Asphalt DVD Review Yellow Asphalt DVD Review Yellow Asphalt DVD Review Yellow Asphalt DVD Review Yellow Asphalt DVD Review Yellow Asphalt DVD Review Yellow Asphalt DVD Review Yellow Asphalt DVD Review Yellow Asphalt DVD Review Yellow Asphalt DVD Review Yellow Asphalt DVD Review Yellow Asphalt