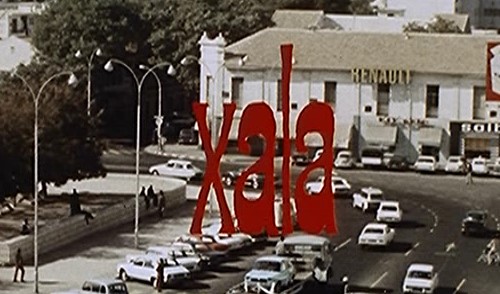 (aka 'Impotence" or "The Curse')
directed by Ousmane Sembene
Senegal 1975
This savagely funny satire portrays El Hadji, a prosperous, self-satisfied, politically crooked modern businessman who is struck down by the xala (pronounced "ha-la") - a curse rendering its victim impotent. While he chases after witch doctors and soothsayers on a frantic, often hilarious search for a cure, his impotence becomes a mirror of the powerlessness of young African nations over dependent on white technology.

Unable to consummate his third (polygamous) marriage, and neglecting his business affairs and political activities as he seeks a cure, his social stature is stripped away, leaving him shamed and humiliated. And while humorous, there is a sympathy in his downfall at the hands of others who are even more corrupt than he is.

XALA is a moving and comical look at a man caught up in the corruption of his country and the tribulations of a changing society.
Alternate DVD cover
Theatrical Release: July 1975 - Moscow Film Festival
Reviews More Reviews DVD Reviews
DVD Review: New Yorker - Region 1 - NTSC
DVD Box Cover

CLICK to order from:

Distribution
New Yorker Video - Region 1 - NTSC
Runtime
2:02:44
Video
1.57:1 Original Aspect Ratio
Average Bitrate: 7.45 mb/s
NTSC 720x480 29.97 f/s

NOTE: The Vertical axis represents the bits transferred per second. The Horizontal is the time in minutes.

Bitrate:

Audio
French / Wolof (Dolby Digital 2.0)
Subtitles
English (burned-in)
Features

Release Information:
Studio: New Yorker Home Video

Aspect Ratio:
Original aspect Ratio 1.57:1

Edition Details:

• New Yorker trailers

DVD Release Date: May 31st, 2005
Keep Case
Chapters: 22
| | |
| --- | --- |
| Comments: | This is an extremely poor image from New Yorker - they have been negligent in almost every important area - non-progressive transfer, non-anamorphic, burned-in subtitles, overly bright image (losing all shadow detail) and no extras. Color balance is way off. It's a treat to see this film, but this NY'er effort is as poor as if it was transferred by Facets. Very cool film, but terrible DVD. out of |
---



DVD Menus
---
Subtitle Sample
Screen Captures
---
DVD Box Cover

CLICK to order from:

Distribution
New Yorker Video - Region 1 - NTSC
---






Ousmane Sembene's Xala New Yorlr - Region 1 - NTSC DVD Review Ousmane Sembene Xala DVD
Review Ousmane Sembene Xala DVD Review Ousmane Sembene Xala DVD Review Ousmane
Sembene Xala DVD Review Ousmane Sembene Xala DVD Review Ousmane Sembene Xala DVD
Review Ousmane Sembene Xala DVD Review Ousmane Sembene Xala DVD Review Ousmane
Sembene Xala DVD Review Ousmane Sembene Xala DVD Review Ousmane Sembene Xala DVD
Review Ousmane Sembene Xala DVD Review Ousmane Sembene Xala DVD Review Ousmane Sembene Xala DVD Review Ousmane Sembene Xala DVD Review Ousmane Sembene's Xala New Yorlr - Region 1 - NTSC DVD Review Ousmane Sembene Xala DVD
Review Ousmane Sembene Xala DVD Review Ousmane Sembene Xala DVD Review Ousmane
Sembene Xala DVD Review Ousmane Sembene Xala DVD Review Ousmane Sembene Xala DVD
Review Ousmane Sembene Xala DVD Review Ousmane Sembene Xala DVD Review Ousmane
Sembene Xala DVD Review Ousmane Sembene Xala DVD Review Ousmane Sembene Xala DVD
Review Ousmane Sembene Xala DVD Review Ousmane Sembene Xala DVD Review Ousmane Sembene Xala DVD Review Ousmane Sembene Xala DVD Review Ousmane Sembene's Xala New Yorlr - Region 1 - NTSC DVD Review Ousmane Sembene Xala DVD
Review Ousmane Sembene Xala DVD Review Ousmane Sembene Xala DVD Review Ousmane
Sembene Xala DVD Review Ousmane Sembene Xala DVD Review Ousmane Sembene Xala DVD
Review Ousmane Sembene Xala DVD Review Ousmane Sembene Xala DVD Review Ousmane
Sembene Xala DVD Review Ousmane Sembene Xala DVD Review Ousmane Sembene Xala DVD
Review Ousmane Sembene Xala DVD Review Ousmane Sembene Xala DVD Review Ousmane Sembene Xala DVD Review Ousmane Sembene Xala DVD Review Ousmane Sembene's Xala New Yorlr - Region 1 - NTSC DVD Review Ousmane Sembene Xala DVD
Review Ousmane Sembene Xala DVD Review Ousmane Sembene Xala DVD Review Ousmane
Sembene Xala DVD Review Ousmane Sembene Xala DVD Review Ousmane Sembene Xala DVD
Review Ousmane Sembene Xala DVD Review Ousmane Sembene Xala DVD Review Ousmane
Sembene Xala DVD Review Ousmane Sembene Xala DVD Review Ousmane Sembene Xala DVD
Review Ousmane Sembene Xala DVD Review Ousmane Sembene Xala DVD Review Ousmane Sembene Xala DVD Review Ousmane Sembene Xala DVD Review Ousmane Sembene's Xala New Yorlr - Region 1 - NTSC DVD Review Ousmane Sembene Xala DVD
Review Ousmane Sembene Xala DVD Review Ousmane Sembene Xala DVD Review Ousmane
Sembene Xala DVD Review Ousmane Sembene Xala DVD Review Ousmane Sembene Xala DVD
Review Ousmane Sembene Xala DVD Review Ousmane Sembene Xala DVD Review Ousmane
Sembene Xala DVD Review Ousmane Sembene Xala DVD Review Ousmane Sembene Xala DVD
Review Ousmane Sembene Xala DVD Review Ousmane Sembene Xala DVD Review Ousmane Sembene Xala DVD Review Ousmane Sembene Xala DVD Review Ousmane Sembene's Xala New Yorlr - Region 1 - NTSC DVD Review Ousmane Sembene Xala DVD
Review Ousmane Sembene Xala DVD Review Ousmane Sembene Xala DVD Review Ousmane
Sembene Xala DVD Review Ousmane Sembene Xala DVD Review Ousmane Sembene Xala DVD
Review Ousmane Sembene Xala DVD Review Ousmane Sembene Xala DVD Review Ousmane
Sembene Xala DVD Review Ousmane Sembene Xala DVD Review Ousmane Sembene Xala DVD
Review Ousmane Sembene Xala DVD Review Ousmane Sembene Xala DVD Review Ousmane Sembene Xala DVD Review Ousmane Sembene Xala DVD Review Ousmane Sembene's Xala New Yorlr - Region 1 - NTSC DVD Review Ousmane Sembene Xala DVD
Review Ousmane Sembene Xala DVD Review Ousmane Sembene Xala DVD Review Ousmane
Sembene Xala DVD Review Ousmane Sembene Xala DVD Review Ousmane Sembene Xala DVD
Review Ousmane Sembene Xala DVD Review Ousmane Sembene Xala DVD Review Ousmane
Sembene Xala DVD Review Ousmane Sembene Xala DVD Review Ousmane Sembene Xala DVD
Review Ousmane Sembene Xala DVD Review Ousmane Sembene Xala DVD Review Ousmane Sembene Xala DVD Review Ousmane Sembene Xala DVD Review Ousmane Sembene's Xala New Yorlr - Region 1 - NTSC DVD Review Ousmane Sembene Xala DVD
Review Ousmane Sembene Xala DVD Review Ousmane Sembene Xala DVD Review Ousmane
Sembene Xala DVD Review Ousmane Sembene Xala DVD Review Ousmane Sembene Xala DVD
Review Ousmane Sembene Xala DVD Review Ousmane Sembene Xala DVD Review Ousmane
Sembene Xala DVD Review Ousmane Sembene Xala DVD Review Ousmane Sembene Xala DVD
Review Ousmane Sembene Xala DVD Review Ousmane Sembene Xala DVD Review Ousmane Sembene Xala DVD Review Ousmane Sembene Xala DVD Review Ousmane Sembene's Xala New Yorlr - Region 1 - NTSC DVD Review Ousmane Sembene Xala DVD
Review Ousmane Sembene Xala DVD Review Ousmane Sembene Xala DVD Review Ousmane
Sembene Xala DVD Review Ousmane Sembene Xala DVD Review Ousmane Sembene Xala DVD
Review Ousmane Sembene Xala DVD Review Ousmane Sembene Xala DVD Review Ousmane
Sembene Xala DVD Review Ousmane Sembene Xala DVD Review Ousmane Sembene Xala DVD
Review Ousmane Sembene Xala DVD Review Ousmane Sembene Xala DVD Review Ousmane Sembene Xala DVD Review Ousmane Sembene Xala DVD Review Ousmane Sembene's Xala New Yorlr - Region 1 - NTSC DVD Review Ousmane Sembene Xala DVD
Review Ousmane Sembene Xala DVD Review Ousmane Sembene Xala DVD Review Ousmane
Sembene Xala DVD Review Ousmane Sembene Xala DVD Review Ousmane Sembene Xala DVD
Review Ousmane Sembene Xala DVD Review Ousmane Sembene Xala DVD Review Ousmane
Sembene Xala DVD Review Ousmane Sembene Xala DVD Review Ousmane Sembene Xala DVD
Review Ousmane Sembene Xala DVD Review Ousmane Sembene Xala DVD Review Ousmane Sembene Xala DVD Review Ousmane Sembene Xala DVD Review