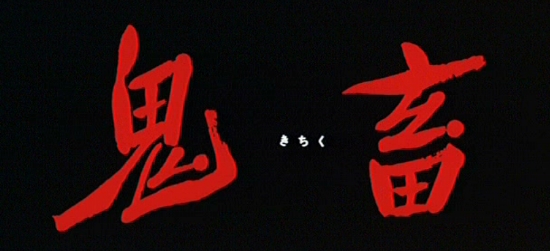 (aka 'The Demon" or "Kichiku')
directed by Yoshitaro Nomura
Japan 1978
Famed director Yoshitaro Nomura (Castle of Sand, The Incident) and bestselling Japanese mystery author Seicho Matsumoto combine forces on The Demon (Kichiku), a chilling and complex tale of betrayal and murder. A strange relationship develops between a man, his wife, and his mistress, and a young boy becomes the pawn in a dangerous game of passion and intrigue that ends in a shocking climax. Photographed in sumptuous color, The Demon will keep the most avid mystery buff guessing as it weaves an unforgettable tale of greed, lust, and obsession.
****
I found this very disturbing, bordering on shocking, but I also had a very high level of anticipation that could easily be interpreted as suspense. I wouldn't consider this a "mystery" at all, but rather a very realistic and shocking drama. I could easily see this as being a true story, one the media would latch onto and society would devour in total disgust. I was also surprised how well the director was able to illicit sympathy where there should have been none. Although I wouldn't consider this a classic I did find it unique and unforgettable.

out of

Theatrical Release: October 7th, 1978
Reviews More Reviews DVD Reviews
DVD Review: Home Vision - Region 1 - NTSC
DVD Box Cover

CLICK to order from:

Distribution
Home Vision Entertainment - Region 1 - NTSC
Runtime
1:49:20
Video
1.78:1 Original Aspect Ratio
Average Bitrate: 4.59 mb/s
NTSC 720x480 29.97 f/s

NOTE: The Vertical axis represents the bits transferred per second. The Horizontal is the time in minutes.

Bitrate:

Audio
Japanese (Dolby Digital 2.0)
Subtitles
English, None
Features

Release Information:
Studio: Home Vision Entertainment

Aspect Ratio:
Original aspect Ratio 1.78:1

Edition Details:

• Select director filmography
• Select actor filmographies
• Original theatrical trailer
• HVE's Zatoichi: The Blind Swordsman series trailer
• Liner notes by Japanese film expert and author Patrick Macias

DVD Release Date: September 21st, 2004
Keep Case
Chapters: 18
| | |
| --- | --- |
| Comments: | For a non-progressive transfer this doesn't look too bad. It's a little hazy in spots, but often a function of the background focusing that seems to be extensively used by the director (blurring objects in the foreground). Colors are good and subtitles are excellent. The 2.0 track is consistent if not dynamic and never tested. Extras are really just filler, but overall I wasn't too disappointed with the 16X9 transfer. out of |
---



DVD Menus
---
Subtitle Sample
Screen Captures
---
---
Combing evident
---
Recommended Reading (CLICK COVERS or TITLES for more information)
The Midnight Eye Guide to New Japanese Film
by Tom Mes and Jasper Sharp
Eros Plus Massacre: An Introduction to the Japanese New Wave Cinema (Midland Book, Mb 469)
by David Desser

Kon Ichikawa (Cinematheque Ontario Monographs)

by James Quandt, Cinematheque Ontario

Shohei Imamura (Cinematheque Ontario Monographs, No. 1)
by James Quandt
Asian Cult Cinema
by Thomas Weisser
The Yakuza Movie Book : A Guide to Japanese Gangster Films
by Mark Schilling
Japanese Movie Posters: Yakuza, Monster, Pink, and Horror
by Chuck Stephens, Tetsuya Masuda, Kairakutei Black
A Hundred Years of Japanese Film by Donald Richie
Check out more in "The Library"
---
DVD Box Cover

CLICK to order from:

Distribution
Home Vision Home Video - Region 1 - NTSC
---






Yoshitaro Nomura's The Demon (Kichiku) - Home Vision - Region 1 - NTSC - Yoshitaro Nomura The Demon Kichiku DVD Review Yoshitaro Nomura The Demon Kichiku DVD Review Yoshitaro Nomura The Demon Kichiku DVD Review Yoshitaro Nomura The Demon Kichiku DVD Review Yoshitaro Nomura The Demon Kichiku DVD Review Yoshitaro Nomura The Demon Kichiku DVD Review Yoshitaro Nomura The Demon Kichiku DVD Review Yoshitaro Nomura The Demon Kichiku DVD Review Yoshitaro Nomura The Demon Kichiku DVD Review Yoshitaro Nomura The Demon Kichiku DVD Review Yoshitaro Nomura The Demon Kichiku DVD Review Yoshitaro Nomura's The Demon (Kichiku) - Home Vision - Region 1 - NTSC - Yoshitaro Nomura The Demon Kichiku DVD Review Yoshitaro Nomura The Demon Kichiku DVD Review Yoshitaro Nomura The Demon Kichiku DVD Review Yoshitaro Nomura The Demon Kichiku DVD Review Yoshitaro Nomura The Demon Kichiku DVD Review Yoshitaro Nomura The Demon Kichiku DVD Review Yoshitaro Nomura The Demon Kichiku DVD Review Yoshitaro Nomura The Demon Kichiku DVD Review Yoshitaro Nomura The Demon Kichiku DVD Review Yoshitaro Nomura The Demon Kichiku DVD Review Yoshitaro Nomura The Demon Kichiku DVD Review Yoshitaro Nomura's The Demon (Kichiku) - Home Vision - Region 1 - NTSC - Yoshitaro Nomura The Demon Kichiku DVD Review Yoshitaro Nomura The Demon Kichiku DVD Review Yoshitaro Nomura The Demon Kichiku DVD Review Yoshitaro Nomura The Demon Kichiku DVD Review Yoshitaro Nomura The Demon Kichiku DVD Review Yoshitaro Nomura The Demon Kichiku DVD Review Yoshitaro Nomura The Demon Kichiku DVD Review Yoshitaro Nomura The Demon Kichiku DVD Review Yoshitaro Nomura The Demon Kichiku DVD Review Yoshitaro Nomura The Demon Kichiku DVD Review Yoshitaro Nomura The Demon Kichiku DVD Review Yoshitaro Nomura's The Demon (Kichiku) - Home Vision - Region 1 - NTSC - Yoshitaro Nomura The Demon Kichiku DVD Review Yoshitaro Nomura The Demon Kichiku DVD Review Yoshitaro Nomura The Demon Kichiku DVD Review Yoshitaro Nomura The Demon Kichiku DVD Review Yoshitaro Nomura The Demon Kichiku DVD Review Yoshitaro Nomura The Demon Kichiku DVD Review Yoshitaro Nomura The Demon Kichiku DVD Review Yoshitaro Nomura The Demon Kichiku DVD Review Yoshitaro Nomura The Demon Kichiku DVD Review Yoshitaro Nomura The Demon Kichiku DVD Review Yoshitaro Nomura The Demon Kichiku DVD Review Yoshitaro Nomura's The Demon (Kichiku) - Home Vision - Region 1 - NTSC - Yoshitaro Nomura The Demon Kichiku DVD Review Yoshitaro Nomura The Demon Kichiku DVD Review Yoshitaro Nomura The Demon Kichiku DVD Review Yoshitaro Nomura The Demon Kichiku DVD Review Yoshitaro Nomura The Demon Kichiku DVD Review Yoshitaro Nomura The Demon Kichiku DVD Review Yoshitaro Nomura The Demon Kichiku DVD Review Yoshitaro Nomura The Demon Kichiku DVD Review Yoshitaro Nomura The Demon Kichiku DVD Review Yoshitaro Nomura The Demon Kichiku DVD Review Yoshitaro Nomura The Demon Kichiku DVD Review Yoshitaro Nomura's The Demon (Kichiku) - Home Vision - Region 1 - NTSC - Yoshitaro Nomura The Demon Kichiku DVD Review Yoshitaro Nomura The Demon Kichiku DVD Review Yoshitaro Nomura The Demon Kichiku DVD Review Yoshitaro Nomura The Demon Kichiku DVD Review Yoshitaro Nomura The Demon Kichiku DVD Review Yoshitaro Nomura The Demon Kichiku DVD Review Yoshitaro Nomura The Demon Kichiku DVD Review Yoshitaro Nomura The Demon Kichiku DVD Review Yoshitaro Nomura The Demon Kichiku DVD Review Yoshitaro Nomura The Demon Kichiku DVD Review Yoshitaro Nomura The Demon Kichiku DVD Review