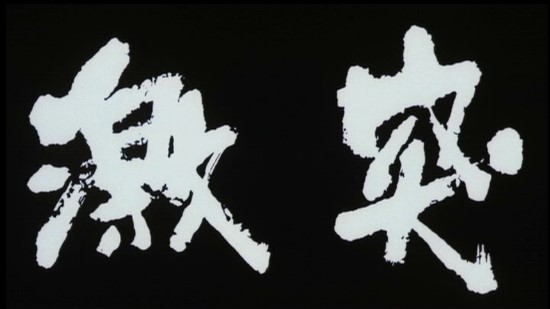 (aka 'Sh˘gun Iemitsu no ranshin - Gekitotsu' or 'Geki Totsu: The Insanity of Emperor Iemitsu' or 'Gekitosu' or 'Shogun's Shadow')
directed by Yasuo Furuhata

Japan 1989
Iemitsu, Tokugawa Shogun III, hates his eldest son Takechiyo; all his love is given to his younger son Tokumatsu. One day, he orders Takechiyo to an initiation rite in Yedo (today's Tokio). Takechiyo lives far away under the surveillance of Hotta Masamori, head of the Skura clan, where he was also raised. Hotta does suspect some kind of treachery, but he can not ignore the direct command of the Shogun. Therefore, he starts on his travel with Takechiyo and seven accompanying samurais. A large army under the command of Iba Shoemon, a vassal of the Shogun, attacks their night camp in the vicinity of a copper mine. Hotta dies in this first battle, but Takechiyo and the samurai manage to escape. They are chased by the army, and several skirmishes between the small force and the larger army follow.
Poster
Theatrical Release: 1989 - Tokyo
DVD Review: Ventura Distribution - Region 1 - NTSC
DVD Box Cover

CLICK to order from:

Distribution
Ventura Distribution - Region 1 - NTSC
Runtime
1:51:28
Video
1.78:1 Original Aspect Ratio
Average Bitrate: 7.29 mb/s
NTSC 720x480 29.97 f/s

NOTE: The Vertical axis represents the bits transferred per second. The Horizontal is the time in minutes.

Bitrate:

Audio
Japanese (Dolby Digital 2.0)
Subtitles
English, None
Features

Release Information:
Studio: Ventura Distribution

Aspect Ratio:
Original aspect Ratio 1.78:1

Edition Details:

• 7 trailers of other Ventura genre DVDs

DVD Release Date: July 5th, 2005
Keep Case
Chapters: 12
| | |
| --- | --- |
| Comments: | Tight anamorphic image that is acceptably sharp. Colors are a little faded, but the overall integrity of the theatrical image appears to be in shape. I found the subtitle font a littler fat and they can move relatively quickly in some passages. I don't think genre fans will be too disappointed by this DVD, although some relevant extras would have been appropriate.out of |
---
---
Subtitle Sample
Screen Captures
---
---
---
Recommended Reading (CLICK COVERS or TITLES for more information)
The Midnight Eye Guide to New Japanese Film
by Tom Mes and Jasper Sharp
Eros Plus Massacre: An Introduction to the Japanese New Wave Cinema (Midland Book, Mb 469)
by David Desser

Kon Ichikawa (Cinematheque Ontario Monographs)

by James Quandt, Cinematheque Ontario

Shohei Imamura (Cinematheque Ontario Monographs, No. 1)
by James Quandt
Silver Screen Samurai: The Best of Japan's Samurai Movie Posters
by Na
The Films of Akira Kurosawa by Donald Ritchie
The Yakuza Movie Book : A Guide to Japanese Gangster Films
by Mark Schilling
Japanese Movie Posters: Yakuza, Monster, Pink, and Horror
by Chuck Stephens, Tetsuya Masuda, Kairakutei Black
A Hundred Years of Japanese Film by Donald Richie
Check out more in "The Library"
---
DONATIONS Keep DVDBeaver alive and advertisement free:
Mail cheques, money orders, cash to: or CLICK PayPal logo to donate!
Gary Tooze

Mississauga, Ontario,

CANADA
Thank You!
Yasuo Furuhata Shogun's Shadow Sonny Chiba DVD Review Yasuo Furuhata Shogun's Shadow Sonny Chiba DVD Review Yasuo Furuhata Shogun's Shadow Sonny Chiba DVD Review Yasuo Furuhata Shogun's Shadow Sonny Chiba DVD Review Yasuo Furuhata Shogun's Shadow Sonny Chiba DVD Review Yasuo Furuhata Shogun's Shadow Sonny Chiba DVD Review Yasuo Furuhata Shogun's Shadow Sonny Chiba DVD Review Yasuo Furuhata Shogun's Shadow Sonny Chiba DVD Review Yasuo Furuhata Shogun's Shadow Sonny Chiba DVD Review Yasuo Furuhata Shogun's Shadow Sonny Chiba DVD Review Yasuo Furuhata Shogun's Shadow Sonny Chiba DVD Review Yasuo Furuhata Shogun's Shadow Sonny Chiba DVD Review Yasuo Furuhata Shogun's Shadow Sonny Chiba DVD Review Yasuo Furuhata Shogun's Shadow Sonny Chiba DVD Review Yasuo Furuhata Shogun's Shadow Sonny Chiba DVD Review Yasuo Furuhata Shogun's Shadow Sonny Chiba DVD Review Yasuo Furuhata Shogun's Shadow Sonny Chiba DVD Review Yasuo Furuhata Shogun's Shadow Sonny Chiba DVD Review Yasuo Furuhata Shogun's Shadow Sonny Chiba DVD Review Yasuo Furuhata Shogun's Shadow Sonny Chiba DVD Review Yasuo Furuhata Shogun's Shadow Sonny Chiba DVD Review Yasuo Furuhata Shogun's Shadow Sonny Chiba DVD Review Yasuo Furuhata Shogun's Shadow Sonny Chiba DVD Review Yasuo Furuhata Shogun's Shadow Sonny Chiba DVD Review Yasuo Furuhata Shogun's Shadow Sonny Chiba DVD Review Yasuo Furuhata Shogun's Shadow Sonny Chiba DVD Review Yasuo Furuhata Shogun's Shadow Sonny Chiba DVD Review Yasuo Furuhata Shogun's Shadow Sonny Chiba DVD Review Yasuo Furuhata Shogun's Shadow Sonny Chiba DVD Review Yasuo Furuhata Shogun's Shadow Sonny Chiba DVD Review Yasuo Furuhata Shogun's Shadow Sonny Chiba DVD Review Yasuo Furuhata Shogun's Shadow Sonny Chiba DVD Review Yasuo Furuhata Shogun's Shadow Sonny Chiba DVD Review Yasuo Furuhata Shogun's Shadow Sonny Chiba DVD Review Yasuo Furuhata Shogun's Shadow Sonny Chiba DVD Review Yasuo Furuhata Shogun's Shadow Sonny Chiba DVD Review Yasuo Furuhata Shogun's Shadow Sonny Chiba DVD Review Yasuo Furuhata Shogun's Shadow Sonny Chiba DVD Review Yasuo Furuhata Shogun's Shadow Sonny Chiba DVD Review Yasuo Furuhata Shogun's Shadow Sonny Chiba DVD Review Yasuo Furuhata Shogun's Shadow Sonny Chiba DVD Review Yasuo Furuhata Shogun's Shadow Sonny Chiba DVD Review Yasuo Furuhata Shogun's Shadow Sonny Chiba DVD Review Yasuo Furuhata Shogun's Shadow Sonny Chiba DVD Review Yasuo Furuhata Shogun's Shadow Sonny Chiba DVD Review Yasuo Furuhata Shogun's Shadow Sonny Chiba DVD Review Yasuo Furuhata Shogun's Shadow Sonny Chiba DVD Review Yasuo Furuhata Shogun's Shadow Sonny Chiba DVD Review Yasuo Furuhata Shogun's Shadow Sonny Chiba DVD Review Yasuo Furuhata Shogun's Shadow Sonny Chiba DVD Review Yasuo Furuhata Shogun's Shadow Sonny Chiba DVD Review Yasuo Furuhata Shogun's Shadow Sonny Chiba DVD Review Yasuo Furuhata Shogun's Shadow Sonny Chiba DVD Review Yasuo Furuhata Shogun's Shadow Sonny Chiba DVD Review Yasuo Furuhata Shogun's Shadow Sonny Chiba DVD Review Yasuo Furuhata Shogun's Shadow Sonny Chiba DVD Review Yasuo Furuhata Shogun's Shadow Sonny Chiba DVD Review Yasuo Furuhata Shogun's Shadow Sonny Chiba DVD Review Yasuo Furuhata Shogun's Shadow Sonny Chiba DVD Review Yasuo Furuhata Shogun's Shadow Sonny Chiba DVD Review Yasuo Furuhata Shogun's Shadow Sonny Chiba DVD Review Yasuo Furuhata Shogun's Shadow Sonny Chiba DVD Review Yasuo Furuhata Shogun's Shadow Sonny Chiba DVD Review Yasuo Furuhata Shogun's Shadow Sonny Chiba DVD Review Yasuo Furuhata Shogun's Shadow Sonny Chiba DVD Review Yasuo Furuhata Shogun's Shadow Sonny Chiba DVD Review Yasuo Furuhata Shogun's Shadow Sonny Chiba DVD Review Yasuo Furuhata Shogun's Shadow Sonny Chiba DVD Review Yasuo Furuhata Shogun's Shadow Sonny Chiba DVD Review Yasuo Furuhata Shogun's Shadow Sonny Chiba DVD Review Yasuo Furuhata Shogun's Shadow Sonny Chiba DVD Review Yasuo Furuhata Shogun's Shadow Sonny Chiba DVD Review Yasuo Furuhata Shogun's Shadow Sonny Chiba DVD Review Yasuo Furuhata Shogun's Shadow Sonny Chiba DVD Review Yasuo Furuhata Shogun's Shadow Sonny Chiba DVD Review Yasuo Furuhata Shogun's Shadow Sonny Chiba DVD Review Yasuo Furuhata Shogun's Shadow Sonny Chiba DVD Review Yasuo Furuhata Shogun's Shadow Sonny Chiba DVD Review Yasuo Furuhata Shogun's Shadow Sonny Chiba DVD Review Yasuo Furuhata Shogun's Shadow Sonny Chiba DVD Review Yasuo Furuhata Shogun's Shadow Sonny Chiba DVD Review Yasuo Furuhata Shogun's Shadow Sonny Chiba DVD Review Yasuo Furuhata Shogun's Shadow Sonny Chiba DVD Review Yasuo Furuhata Shogun's Shadow Sonny Chiba DVD Review Yasuo Furuhata Shogun's Shadow Sonny Chiba DVD Review Yasuo Furuhata Shogun's Shadow Sonny Chiba DVD Review Yasuo Furuhata Shogun's Shadow Sonny Chiba DVD Review Yasuo Furuhata Shogun's Shadow Sonny Chiba DVD Review Yasuo Furuhata Shogun's Shadow Sonny Chiba DVD Review Yasuo Furuhata Shogun's Shadow Sonny Chiba DVD Review Yasuo Furuhata Shogun's Shadow Sonny Chiba DVD Review Yasuo Furuhata Shogun's Shadow Sonny Chiba DVD Review Yasuo Furuhata Shogun's Shadow Sonny Chiba DVD Review Yasuo Furuhata Shogun's Shadow Sonny Chiba DVD Review Yasuo Furuhata Shogun's Shadow Sonny Chiba DVD Review Yasuo Furuhata Shogun's Shadow Sonny Chiba DVD Review Yasuo Furuhata Shogun's Shadow Sonny Chiba DVD Review Yasuo Furuhata Shogun's Shadow Sonny Chiba DVD Review Yasuo Furuhata Shogun's Shadow Sonny Chiba DVD Review Yasuo Furuhata Shogun's Shadow Sonny Chiba DVD Review Yasuo Furuhata Shogun's Shadow Sonny Chiba DVD Review Yasuo Furuhata Shogun's Shadow Sonny Chiba DVD Review Yasuo Furuhata Shogun's Shadow Sonny Chiba DVD Review Yasuo Furuhata Shogun's Shadow Sonny Chiba DVD Review Yasuo Furuhata Shogun's Shadow Sonny Chiba DVD Review Yasuo Furuhata Shogun's Shadow Sonny Chiba DVD Review Yasuo Furuhata Shogun's Shadow Sonny Chiba DVD Review Yasuo Furuhata Shogun's Shadow Sonny Chiba DVD Review Yasuo Furuhata Shogun's Shadow Sonny Chiba DVD Review Yasuo Furuhata Shogun's Shadow Sonny Chiba DVD Review Yasuo Furuhata Shogun's Shadow Sonny Chiba DVD Review Yasuo Furuhata Shogun's Shadow Sonny Chiba DVD Review Yasuo Furuhata Shogun's Shadow Sonny Chiba DVD Review Yasuo Furuhata Shogun's Shadow Sonny Chiba DVD Review Yasuo Furuhata Shogun's Shadow Sonny Chiba DVD Review Yasuo Furuhata Shogun's Shadow Sonny Chiba DVD Review Yasuo Furuhata Shogun's Shadow Sonny Chiba DVD Review Yasuo Furuhata Shogun's Shadow Sonny Chiba DVD Review Yasuo Furuhata Shogun's Shadow Sonny Chiba DVD Review Yasuo Furuhata Shogun's Shadow Sonny Chiba DVD Review Yasuo Furuhata Shogun's Shadow Sonny Chiba DVD Review Yasuo Furuhata Shogun's Shadow Sonny Chiba DVD Review Yasuo Furuhata Shogun's Shadow Sonny Chiba DVD Review Yasuo Furuhata Shogun's Shadow Sonny Chiba DVD Review Yasuo Furuhata Shogun's Shadow Sonny Chiba DVD Review Yasuo Furuhata Shogun's Shadow Sonny Chiba DVD Review