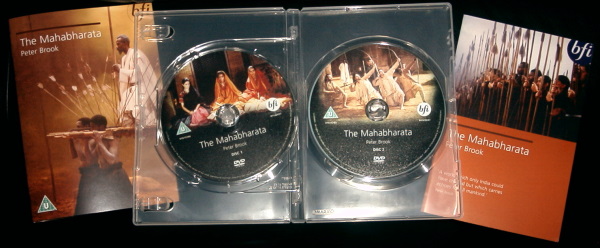 (aka 'Le Mahabharta')
directed by Peter Brook
UK / France 1989
Based on a 3,500 year old Indian narrative and also the longest book in the world, Brook and co-screenwriter Jean-Claude Carrière present a version of their triumphant stage production, re-imagined for the screen. The epic story of mankind is presented in vivid colours by a spirited international cast.
Posters
Theatrical Release: February 1989
Reviews More Reviews DVD Reviews
DVD Review: BFI (2-disc) - Region 2 - PAL
DVD Box Cover

CLICK to order from:

Distribution
BFI - Region 2 - PAL
Runtime
1:49:48 + 1:34:38 + 1:48:09 = approx 5 hours 12 minutes
Video
1.33:1 Original Aspect Ratio
Average Bitrate: 4.89 mb/s
PAL 720x576 25.00 f/s

NOTE: The Vertical axis represents the bits transferred per second. The Horizontal is the time in minutes.

Bitrate:

Bitrate:

Audio
English (Dolby Digital 2.0)
Subtitles
English, None
Features

Release Information:
Studio: BFI Home Video

Aspect Ratio:
Original aspect Ratio 1.33:1

Edition Details:

• 24-page illustrated booklet with introductory and explanatory text written by Brook and Carrière, synopses of the three stories and details of the characters.


DVD Release Date: May 30th, 2005
Keep Case
Chapters: 12 X 3 = 36
| | |
| --- | --- |
| Comments: | Although this looks to have been a 'made for TV' series the image quality is superior than those usual transfers. There is a degree of softness and washed-out colors but there are moments of strong clarity and I suspect it was converted progressively. Audio is clear and consistent and they have even included optional subtitles. To follow along with the adventure there is quite a substantial 22-page booklet included. Let me tell you, this is an amazing viewing experience that ends quite rewardingly. I wish I could tell you that it reminded me of something, but I draw a blank, so I guess add 'unique' to my list of adjectives. Thanks to BFI for bringing this to us! out of |
---
---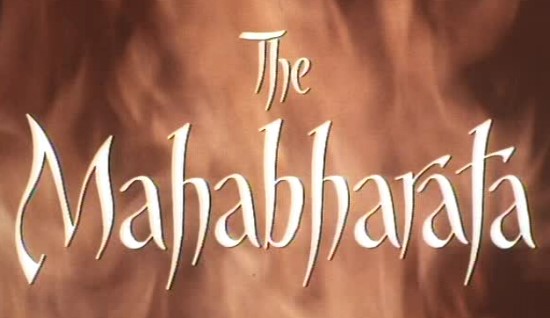 Subtitle Sample
Screen Captures
---
DVD Box Cover

CLICK to order from:

Distribution
BFI - Region 2 - PAL
---




DONATIONS Keep DVDBeaver alive and advertisement free:
Mail cheques, money orders, cash to: or CLICK PayPal logo to donate!
Gary Tooze

Mississauga, Ontario,

CANADA
Thank You!
Peter Brook's Mahabharata BFI - Regfion 2- PAL dvd review Peter Brook Mahabharata BFI dvd review Peter Brook Mahabharata BFI dvd review Peter Brook Mahabharata BFI dvd review Peter Brook Mahabharata BFI dvd review Peter Brook Mahabharata BFI dvd review Peter Brook Mahabharata BFI dvd review Peter Brook Mahabharata BFI dvd review Peter Brook Mahabharata BFI dvd review Peter Brook Mahabharata BFI dvd review Peter Brook Mahabharata BFI dvd review Peter Brook Mahabharata BFI dvd review Peter Brook Mahabharata BFI dvd review Peter Brook Mahabharata BFI dvd review Peter Brook Mahabharata BFI Peter Brook's Mahabharata BFI - Regfion 2- PAL dvd review Peter Brook Mahabharata BFI dvd review Peter Brook Mahabharata BFI dvd review Peter Brook Mahabharata BFI dvd review Peter Brook Mahabharata BFI dvd review Peter Brook Mahabharata BFI dvd review Peter Brook Mahabharata BFI dvd review Peter Brook Mahabharata BFI dvd review Peter Brook Mahabharata BFI dvd review Peter Brook Mahabharata BFI dvd review Peter Brook Mahabharata BFI dvd review Peter Brook Mahabharata BFI dvd review Peter Brook Mahabharata BFI dvd review Peter Brook Mahabharata BFI dvd review Peter Brook Mahabharata BFI Peter Brook's Mahabharata BFI - Regfion 2- PAL dvd review Peter Brook Mahabharata BFI dvd review Peter Brook Mahabharata BFI dvd review Peter Brook Mahabharata BFI dvd review Peter Brook Mahabharata BFI dvd review Peter Brook Mahabharata BFI dvd review Peter Brook Mahabharata BFI dvd review Peter Brook Mahabharata BFI dvd review Peter Brook Mahabharata BFI dvd review Peter Brook Mahabharata BFI dvd review Peter Brook Mahabharata BFI dvd review Peter Brook Mahabharata BFI dvd review Peter Brook Mahabharata BFI dvd review Peter Brook Mahabharata BFI dvd review Peter Brook Mahabharata BFI Peter Brook's Mahabharata BFI - Regfion 2- PAL dvd review Peter Brook Mahabharata BFI dvd review Peter Brook Mahabharata BFI dvd review Peter Brook Mahabharata BFI dvd review Peter Brook Mahabharata BFI dvd review Peter Brook Mahabharata BFI dvd review Peter Brook Mahabharata BFI dvd review Peter Brook Mahabharata BFI dvd review Peter Brook Mahabharata BFI dvd review Peter Brook Mahabharata BFI dvd review Peter Brook Mahabharata BFI dvd review Peter Brook Mahabharata BFI dvd review Peter Brook Mahabharata BFI dvd review Peter Brook Mahabharata BFI dvd review Peter Brook Mahabharata BFI Peter Brook's Mahabharata BFI - Regfion 2- PAL dvd review Peter Brook Mahabharata BFI dvd review Peter Brook Mahabharata BFI dvd review Peter Brook Mahabharata BFI dvd review Peter Brook Mahabharata BFI dvd review Peter Brook Mahabharata BFI dvd review Peter Brook Mahabharata BFI dvd review Peter Brook Mahabharata BFI dvd review Peter Brook Mahabharata BFI dvd review Peter Brook Mahabharata BFI dvd review Peter Brook Mahabharata BFI dvd review Peter Brook Mahabharata BFI dvd review Peter Brook Mahabharata BFI dvd review Peter Brook Mahabharata BFI dvd review Peter Brook Mahabharata BFI Peter Brook's Mahabharata BFI - Regfion 2- PAL dvd review Peter Brook Mahabharata BFI dvd review Peter Brook Mahabharata BFI dvd review Peter Brook Mahabharata BFI dvd review Peter Brook Mahabharata BFI dvd review Peter Brook Mahabharata BFI dvd review Peter Brook Mahabharata BFI dvd review Peter Brook Mahabharata BFI dvd review Peter Brook Mahabharata BFI dvd review Peter Brook Mahabharata BFI dvd review Peter Brook Mahabharata BFI dvd review Peter Brook Mahabharata BFI dvd review Peter Brook Mahabharata BFI dvd review Peter Brook Mahabharata BFI dvd review Peter Brook Mahabharata BFI Peter Brook's Mahabharata BFI - Regfion 2- PAL dvd review Peter Brook Mahabharata BFI dvd review Peter Brook Mahabharata BFI dvd review Peter Brook Mahabharata BFI dvd review Peter Brook Mahabharata BFI dvd review Peter Brook Mahabharata BFI dvd review Peter Brook Mahabharata BFI dvd review Peter Brook Mahabharata BFI dvd review Peter Brook Mahabharata BFI dvd review Peter Brook Mahabharata BFI dvd review Peter Brook Mahabharata BFI dvd review Peter Brook Mahabharata BFI dvd review Peter Brook Mahabharata BFI dvd review Peter Brook Mahabharata BFI dvd review Peter Brook Mahabharata BFI Peter Brook's Mahabharata BFI - Regfion 2- PAL dvd review Peter Brook Mahabharata BFI dvd review Peter Brook Mahabharata BFI dvd review Peter Brook Mahabharata BFI dvd review Peter Brook Mahabharata BFI dvd review Peter Brook Mahabharata BFI dvd review Peter Brook Mahabharata BFI dvd review Peter Brook Mahabharata BFI dvd review Peter Brook Mahabharata BFI dvd review Peter Brook Mahabharata BFI dvd review Peter Brook Mahabharata BFI dvd review Peter Brook Mahabharata BFI dvd review Peter Brook Mahabharata BFI dvd review Peter Brook Mahabharata BFI dvd review Peter Brook Mahabharata BFI Peter Brook's Mahabharata BFI - Regfion 2- PAL dvd review Peter Brook Mahabharata BFI dvd review Peter Brook Mahabharata BFI dvd review Peter Brook Mahabharata BFI dvd review Peter Brook Mahabharata BFI dvd review Peter Brook Mahabharata BFI dvd review Peter Brook Mahabharata BFI dvd review Peter Brook Mahabharata BFI dvd review Peter Brook Mahabharata BFI dvd review Peter Brook Mahabharata BFI dvd review Peter Brook Mahabharata BFI dvd review Peter Brook Mahabharata BFI dvd review Peter Brook Mahabharata BFI dvd review Peter Brook Mahabharata BFI dvd review Peter Brook Mahabharata BFI