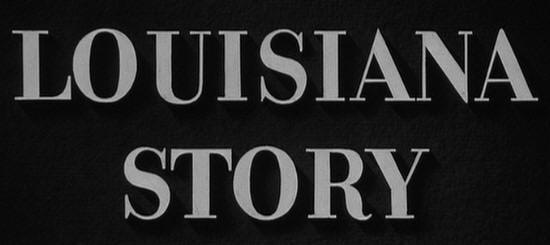 directed by Robert J. Flaherty
USA 19
48
Nominated for an Oscar and the winner of the Pulitzer Prize for its musical score, Robert J. Flaherty's last masterpiece is a visually stunning, lyrical tribute to a land and its people. Flaherty's poetic vision of nature and the human spirit fills every frame of this amazing film. Through the eyes of a young Cajun boy living on the Bayou, Flaherty tells a story of disruption and change when an oil rig brings industry into his pristine world. Listed on the National Film Registry as a national treasure, Louisiana Story has finally been restored to its original glory.
Posters
Theatrical Release: September 28th, 1948
Reviews More Reviews DVD Reviews
DVD Review: Home Vision Entertainment - Region 1 - NTSC
DVD Box Cover

CLICK to order from:

Distribution
Home Vision Entertainment - Region 1 - NTSC
Runtime
1:21:18
Video
1.33:1 Original Aspect Ratio
Average Bitrate: 6.1 mb/s
NTSC 720x480 29.97 f/s

NOTE: The Vertical axis represents the bits transferred per second. The Horizontal is the time in minutes.

Bitrate:

Audio
English (Dolby Digital 2.0)
Subtitles
None
Features

Release Information:
Studio: Home Vision Entertainment Home Video

Aspect Ratio:
Original Aspect Ratio 1.33:1

Edition Details:

Letters Home: A Reading of cinematographer Richard Leacock's Letters with Images from the Production

Flaherty and Film: A filmed discussion between Frances Flaherty and Robert Gardner about the making of Louisiana Story

Hidden and Seeking: A Documentary excerpt in shich Frances Flaherty reflects on her life and work with Robert Flaherty

The Land: An excerpt from a 1940 film directed by Robert Flaherty for the Unites States Department of Agriculture

Study Film: Commentary by Richard Leacock and Frances Flaherty over the famed opening sequence

DVD Release Date: May 20th, 2003
Keep Case
Chapters: 14
| | |
| --- | --- |
| Comments: | I was quite captivated by this film, but I am also a big fan of atmosphere. The image quality is fantastic. Certainly far superior to Flaherty's "Man of Aran" from almost 15 years before. This transfer has sublime dusted grays, great contrast, visible film grain and is quite sharp. One minor failing is some fluctuation (shimmering) that is noticeable at times. Audio is original, clear and consistent. The extras are fairly full and very worthy for further appreciation of the film. This is a damn good DVD package folks. out of |
---
---
Screen Captures
---
---





DONATIONS Keep DVDBeaver alive and advertisement free:
Mail cheques, money orders, cash to: or CLICK PayPal logo to donate!
Gary Tooze

Mississauga, Ontario,

CANADA
Thank You!
Robert J. Flaherty's Louisiana Story - Home Vision Entertainment - Region 1- NTSC DVD Review Robert J. Flaherty Louisiana Story DVD Review Robert J. Flaherty Louisiana Story DVD Review Robert J. Flaherty Louisiana Story DVD Review Robert J. Flaherty Louisiana Story DVD Review Robert J. Flaherty Louisiana Story DVD Review Robert J. Flaherty Louisiana Story DVD Review Robert J. Flaherty Louisiana Story DVD Review Robert J. Flaherty Louisiana Story DVD Review Robert J. Flaherty Louisiana Story DVD Review Robert J. Flaherty Louisiana Story DVD Review Robert J. Flaherty Louisiana Story DVD Review Robert J. Flaherty Louisiana Story DVD Review Robert J. Flaherty Louisiana Story DVD Review Robert J. Flaherty's Louisiana Story - Home Vision Entertainment - Region 1- NTSC DVD Review Robert J. Flaherty Louisiana Story DVD Review Robert J. Flaherty Louisiana Story DVD Review Robert J. Flaherty Louisiana Story DVD Review Robert J. Flaherty Louisiana Story DVD Review Robert J. Flaherty Louisiana Story DVD Review Robert J. Flaherty Louisiana Story DVD Review Robert J. Flaherty Louisiana Story DVD Review Robert J. Flaherty Louisiana Story DVD Review Robert J. Flaherty Louisiana Story DVD Review Robert J. Flaherty Louisiana Story DVD Review Robert J. Flaherty Louisiana Story DVD Review Robert J. Flaherty Louisiana Story DVD Review Robert J. Flaherty Louisiana Story DVD Review Robert J. Flaherty's Louisiana Story - Home Vision Entertainment - Region 1- NTSC DVD Review Robert J. Flaherty Louisiana Story DVD Review Robert J. Flaherty Louisiana Story DVD Review Robert J. Flaherty Louisiana Story DVD Review Robert J. Flaherty Louisiana Story DVD Review Robert J. Flaherty Louisiana Story DVD Review Robert J. Flaherty Louisiana Story DVD Review Robert J. Flaherty Louisiana Story DVD Review Robert J. Flaherty Louisiana Story DVD Review Robert J. Flaherty Louisiana Story DVD Review Robert J. Flaherty Louisiana Story DVD Review Robert J. Flaherty Louisiana Story DVD Review Robert J. Flaherty Louisiana Story DVD Review Robert J. Flaherty Louisiana Story DVD Review Robert J. Flaherty's Louisiana Story - Home Vision Entertainment - Region 1- NTSC DVD Review Robert J. Flaherty Louisiana Story DVD Review Robert J. Flaherty Louisiana Story DVD Review Robert J. Flaherty Louisiana Story DVD Review Robert J. Flaherty Louisiana Story DVD Review Robert J. Flaherty Louisiana Story DVD Review Robert J. Flaherty Louisiana Story DVD Review Robert J. Flaherty Louisiana Story DVD Review Robert J. Flaherty Louisiana Story DVD Review Robert J. Flaherty Louisiana Story DVD Review Robert J. Flaherty Louisiana Story DVD Review Robert J. Flaherty Louisiana Story DVD Review Robert J. Flaherty Louisiana Story DVD Review Robert J. Flaherty Louisiana Story DVD Review Robert J. Flaherty's Louisiana Story - Home Vision Entertainment - Region 1- NTSC DVD Review Robert J. Flaherty Louisiana Story DVD Review Robert J. Flaherty Louisiana Story DVD Review Robert J. Flaherty Louisiana Story DVD Review Robert J. Flaherty Louisiana Story DVD Review Robert J. Flaherty Louisiana Story DVD Review Robert J. Flaherty Louisiana Story DVD Review Robert J. Flaherty Louisiana Story DVD Review Robert J. Flaherty Louisiana Story DVD Review Robert J. Flaherty Louisiana Story DVD Review Robert J. Flaherty Louisiana Story DVD Review Robert J. Flaherty Louisiana Story DVD Review Robert J. Flaherty Louisiana Story DVD Review Robert J. Flaherty Louisiana Story DVD Review Robert J. Flaherty's Louisiana Story - Home Vision Entertainment - Region 1- NTSC DVD Review Robert J. Flaherty Louisiana Story DVD Review Robert J. Flaherty Louisiana Story DVD Review Robert J. Flaherty Louisiana Story DVD Review Robert J. Flaherty Louisiana Story DVD Review Robert J. Flaherty Louisiana Story DVD Review Robert J. Flaherty Louisiana Story DVD Review Robert J. Flaherty Louisiana Story DVD Review Robert J. Flaherty Louisiana Story DVD Review Robert J. Flaherty Louisiana Story DVD Review Robert J. Flaherty Louisiana Story DVD Review Robert J. Flaherty Louisiana Story DVD Review Robert J. Flaherty Louisiana Story DVD Review Robert J. Flaherty Louisiana Story DVD Review Robert J. Flaherty's Louisiana Story - Home Vision Entertainment - Region 1- NTSC DVD Review Robert J. Flaherty Louisiana Story DVD Review Robert J. Flaherty Louisiana Story DVD Review Robert J. Flaherty Louisiana Story DVD Review Robert J. Flaherty Louisiana Story DVD Review Robert J. Flaherty Louisiana Story DVD Review Robert J. Flaherty Louisiana Story DVD Review Robert J. Flaherty Louisiana Story DVD Review Robert J. Flaherty Louisiana Story DVD Review Robert J. Flaherty Louisiana Story DVD Review Robert J. Flaherty Louisiana Story DVD Review Robert J. Flaherty Louisiana Story DVD Review Robert J. Flaherty Louisiana Story DVD Review Robert J. Flaherty Louisiana Story DVD Review