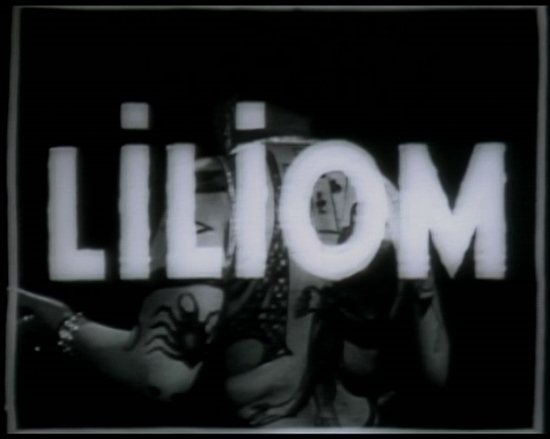 Liliom is Fritz Lang's dazzling 1934 film that has until now been nearly impossible to see in the U.S. Starring Charles Boyer just before hitting major stardom in Hollywood, Liliom is a captivating noir fantasy. Brash ne'er-do-well Liliom, played by Boyer with physical gusto and inner uncertainty, is a carnival barker until he encounters the ethereal Julie. Their spellbound union is based on her unwavering faith in him. Liliom is overjoyed to learn he will become a father, but his efforts to find money for his family end badly. When twin dark angels bring Liliom to a fantastic tribunal in the heavens, his story is contradicted by a filmed replay of his past. Years later, he is brought back for one day to do something good. An uncanny encounter with his daughter leads to a beautifully abstract resolution of his destiny. After leaving Nazi Germany, Lang stopped in France long enough to make one film, Liliom provides intriguing glimpses of later magical realist films from Cocteau and Powell/Pressburger, and of the surreal transcendence of Borzage, who had filmed Ferenc Molnar's play in 1930. Rogers and Hammerstein later transformed it into the hit musical Carousel.
Posters
Theatrical Release: April 27th, 1934 - Paris
Reviews More Reviews DVD Reviews
DVD Review: Kino - Region 0 - NTSC
DVD Box Cover

CLICK to order from:

Distribution
Kino Video - Region 1 - NTSC
Runtime
1:56: 36
Video
1.33:1 Original Aspect Ratio
Average Bitrate: 4.98 mb/s
NTSC 720x480 29.97 f/s

NOTE: The Vertical axis represents the bits transferred per second. The Horizontal is the time in minutes.

Bitrate:

Audio
French (Dolby Digital 2.0)
Subtitles
English, None
Features

Release Information:
Studio: Kino Video

Aspect Ratio:
Original aspect Ratio 1.33:1

Edition Details:

• Fritz Lang Filmography

DVD Release Date: March 30th, 2004
Keep Case
Chapters: 14
| | |
| --- | --- |
| Comments: | Frankly I am getting a little tired of other DVD reviewers sugar-coating their comments - this DVD is bordering on totally unwatchable and it cost me good money! As well as being hazy, blurry and teaming with 'combing' - the audio is broken with hiss' and fluctuating volume levels. It has contrast boosting. The subtitles have inappropriate translations at times, précised in others and to top it off - are nauseatingly bright yellow. There are no real extras and the price is far too expensive. I realize the poor and clandestine (never shown in the US) condition this film was in, but Kino have not done it any favors with their non-progressive transfer. It mentions quite prominently before the film starts how 'Film Preservation' is supported etc. but it seems like nothing was put into this analog transfer. Needless to say we do not recommend. out of |
---



DVD Menus
---
Subtitle Sample
Screen Captures
---
---
Bad Combing throughout...
DVD Box Cover

CLICK to order from:

Distribution
Kino Video - Region 1 - NTSC
---





Fritz Lang's Liliom - Kino - Region 0 - NTSC - Liliom Fritz Lang DVD Review Charles Boyer Liliom Liliom Fritz Lang DVD Review Charles Boyer Liliom Liliom Fritz Lang DVD Review Charles Boyer Liliom Liliom Fritz Lang DVD Review Charles Boyer Liliom Liliom Fritz Lang DVD Review Charles Boyer Liliom Liliom Fritz Lang DVD Review Charles Boyer Liliom Liliom Fritz Lang DVD Review Charles Boyer Liliom Liliom Fritz Lang DVD Review Charles Boyer Liliom Liliom Fritz Lang DVD Review Charles Boyer Liliom Liliom Fritz Lang DVD Review Charles Boyer Liliom Fritz Lang's Liliom - Kino - Region 0 - NTSC - Liliom Fritz Lang DVD Review Charles Boyer Liliom Liliom Fritz Lang DVD Review Charles Boyer Liliom Liliom Fritz Lang DVD Review Charles Boyer Liliom Liliom Fritz Lang DVD Review Charles Boyer Liliom Liliom Fritz Lang DVD Review Charles Boyer Liliom Liliom Fritz Lang DVD Review Charles Boyer Liliom Liliom Fritz Lang DVD Review Charles Boyer Liliom Liliom Fritz Lang DVD Review Charles Boyer Liliom Liliom Fritz Lang DVD Review Charles Boyer Liliom Liliom Fritz Lang DVD Review Charles Boyer Liliom Fritz Lang's Liliom - Kino - Region 0 - NTSC - Liliom Fritz Lang DVD Review Charles Boyer Liliom Liliom Fritz Lang DVD Review Charles Boyer Liliom Liliom Fritz Lang DVD Review Charles Boyer Liliom Liliom Fritz Lang DVD Review Charles Boyer Liliom Liliom Fritz Lang DVD Review Charles Boyer Liliom Liliom Fritz Lang DVD Review Charles Boyer Liliom Liliom Fritz Lang DVD Review Charles Boyer Liliom Liliom Fritz Lang DVD Review Charles Boyer Liliom Liliom Fritz Lang DVD Review Charles Boyer Liliom Liliom Fritz Lang DVD Review Charles Boyer Liliom Fritz Lang's Liliom - Kino - Region 0 - NTSC - Liliom Fritz Lang DVD Review Charles Boyer Liliom Liliom Fritz Lang DVD Review Charles Boyer Liliom Liliom Fritz Lang DVD Review Charles Boyer Liliom Liliom Fritz Lang DVD Review Charles Boyer Liliom Liliom Fritz Lang DVD Review Charles Boyer Liliom Liliom Fritz Lang DVD Review Charles Boyer Liliom Liliom Fritz Lang DVD Review Charles Boyer Liliom Liliom Fritz Lang DVD Review Charles Boyer Liliom Liliom Fritz Lang DVD Review Charles Boyer Liliom Liliom Fritz Lang DVD Review Charles Boyer Liliom Fritz Lang's Liliom - Kino - Region 0 - NTSC - Liliom Fritz Lang DVD Review Charles Boyer Liliom Liliom Fritz Lang DVD Review Charles Boyer Liliom Liliom Fritz Lang DVD Review Charles Boyer Liliom Liliom Fritz Lang DVD Review Charles Boyer Liliom Liliom Fritz Lang DVD Review Charles Boyer Liliom Liliom Fritz Lang DVD Review Charles Boyer Liliom Liliom Fritz Lang DVD Review Charles Boyer Liliom Liliom Fritz Lang DVD Review Charles Boyer Liliom Liliom Fritz Lang DVD Review Charles Boyer Liliom Liliom Fritz Lang DVD Review Charles Boyer Liliom Fritz Lang's Liliom - Kino - Region 0 - NTSC - Liliom Fritz Lang DVD Review Charles Boyer Liliom Liliom Fritz Lang DVD Review Charles Boyer Liliom Liliom Fritz Lang DVD Review Charles Boyer Liliom Liliom Fritz Lang DVD Review Charles Boyer Liliom Liliom Fritz Lang DVD Review Charles Boyer Liliom Liliom Fritz Lang DVD Review Charles Boyer Liliom Liliom Fritz Lang DVD Review Charles Boyer Liliom Liliom Fritz Lang DVD Review Charles Boyer Liliom Liliom Fritz Lang DVD Review Charles Boyer Liliom Liliom Fritz Lang DVD Review Charles Boyer Liliom Fritz Lang's Liliom - Kino - Region 0 - NTSC - Liliom Fritz Lang DVD Review Charles Boyer Liliom Liliom Fritz Lang DVD Review Charles Boyer Liliom Liliom Fritz Lang DVD Review Charles Boyer Liliom Liliom Fritz Lang DVD Review Charles Boyer Liliom Liliom Fritz Lang DVD Review Charles Boyer Liliom Liliom Fritz Lang DVD Review Charles Boyer Liliom Liliom Fritz Lang DVD Review Charles Boyer Liliom Liliom Fritz Lang DVD Review Charles Boyer Liliom Liliom Fritz Lang DVD Review Charles Boyer Liliom Liliom Fritz Lang DVD Review Charles Boyer Liliom