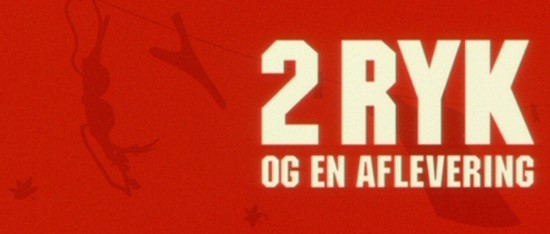 (aka '2 Moves and a Pass' or 'Kick'n Rush')
directed by Aage Rais-Nordentoft
Denmark 2003
A riveting coming-of-age film from celebrated Danish filmmaker Aage Rais-Nordentoft.

Jakob, Bo, and Mikkel share a passion for soccer, girls, and petty vandalism. As Jakob embarks on a tentative new romance with a girl Mikkel has been secretly admiring, Bo's moves on the field draw the attention of professional soccer scouts. Each, in their own way, discovers that life is fraught with sudden joys and lasting pain, and that nothing ever stays the same. With inspired writing and an exuberant cast, this stylized teenage drama makes a clean break from the pack.
Alt DVD Cover
Theatrical Release: October 1st, 2003 - Buster Children's Film Festival
DVD Review: Home Vision Entertainment - Region 1 - NTSC
DVD Box Cover

CLICK to order from:

Distribution
Home Vision Entertainment - Region 1 - NTSC
Runtime
1:34:04
Video
1.79:1 Original Aspect Ratio
Average Bitrate: 6.7 mb/s
NTSC 720x480 29.97 f/s

NOTE: The Vertical axis represents the bits transferred per second. The Horizontal is the time in minutes.

Bitrate:

Audio
Danish (Dolby Digital 2.0) , Danish (Dolby Digital 5.1)
Subtitles
English, None
Features

Release Information:
Studio: Home Vision Entertainment

Aspect Ratio:
Original aspect Ratio 1.79:1

Edition Details:

• Trailer
• 2-page liner notes interview with director Aage Rais-Nordentoft

DVD Release Date: June 21st, 2005
Keep Case
Chapters: 19
| | |
| --- | --- |
| Comments: | Some minor combing is evident but its not excessive and although not tight, the anamorphic image is acceptable. There is some softness at times, but tube owners should be happy with the filmic appearance which is probably not far off the theatrical. Audio options for 2.0 stereo and 5.1 which is never tested. Cute film that might find an appeal to the late teen crowd and certainly those post-after school specials. out of |
---



DVD Menus
---
Subtitle Sample
Screen Captures
---
---
Minor combing...
DVD Box Cover

CLICK to order from:

Distribution
Home Vision Entertainment - Region 1 - NTSC
---






Aage Rais-Nordentoft Kick'n Rush DVD Review Aage Rais-Nordentoft Kick'n Rush DVD Review Aage Rais-Nordentoft Kick'n Rush DVD Review Aage Rais-Nordentoft Kick'n Rush DVD Review Aage Rais-Nordentoft Kick'n Rush DVD Review Aage Rais-Nordentoft Kick'n Rush DVD Review Aage Rais-Nordentoft Kick'n Rush DVD Review Aage Rais-Nordentoft Kick'n Rush DVD Review Aage Rais-Nordentoft Kick'n Rush DVD Review Aage Rais-Nordentoft Kick'n Rush DVD Review Aage Rais-Nordentoft Kick'n Rush DVD Review Aage Rais-Nordentoft Kick'n Rush DVD Review Aage Rais-Nordentoft Kick'n Rush DVD Review Aage Rais-Nordentoft Kick'n Rush DVD Review Aage Rais-Nordentoft Kick'n Rush DVD Review Aage Rais-Nordentoft Kick'n Rush DVD Review Aage Rais-Nordentoft Kick'n Rush DVD Review Aage Rais-Nordentoft Kick'n Rush DVD Review Aage Rais-Nordentoft Kick'n Rush DVD Review Aage Rais-Nordentoft Kick'n Rush DVD Review Aage Rais-Nordentoft Kick'n Rush DVD Review Aage Rais-Nordentoft Kick'n Rush DVD Review Aage Rais-Nordentoft Kick'n Rush DVD Review Aage Rais-Nordentoft Kick'n Rush DVD Review Aage Rais-Nordentoft Kick'n Rush DVD Review Aage Rais-Nordentoft Kick'n Rush DVD Review Aage Rais-Nordentoft Kick'n Rush DVD Review Aage Rais-Nordentoft Kick'n Rush DVD Review Aage Rais-Nordentoft Kick'n Rush DVD Review Aage Rais-Nordentoft Kick'n Rush DVD Review Aage Rais-Nordentoft Kick'n Rush DVD Review Aage Rais-Nordentoft Kick'n Rush DVD Review Aage Rais-Nordentoft Kick'n Rush DVD Review Aage Rais-Nordentoft Kick'n Rush DVD Review Aage Rais-Nordentoft Kick'n Rush DVD Review Aage Rais-Nordentoft Kick'n Rush DVD Review Aage Rais-Nordentoft Kick'n Rush DVD Review Aage Rais-Nordentoft Kick'n Rush DVD Review Aage Rais-Nordentoft Kick'n Rush DVD Review Aage Rais-Nordentoft Kick'n Rush DVD Review Aage Rais-Nordentoft Kick'n Rush DVD Review Aage Rais-Nordentoft Kick'n Rush DVD Review Aage Rais-Nordentoft Kick'n Rush DVD Review Aage Rais-Nordentoft Kick'n Rush DVD Review Aage Rais-Nordentoft Kick'n Rush DVD Review Aage Rais-Nordentoft Kick'n Rush DVD Review Aage Rais-Nordentoft Kick'n Rush DVD Review Aage Rais-Nordentoft Kick'n Rush DVD Review Aage Rais-Nordentoft Kick'n Rush DVD Review Aage Rais-Nordentoft Kick'n Rush DVD Review Aage Rais-Nordentoft Kick'n Rush DVD Review Aage Rais-Nordentoft Kick'n Rush DVD Review Aage Rais-Nordentoft Kick'n Rush DVD Review Aage Rais-Nordentoft Kick'n Rush DVD Review Aage Rais-Nordentoft Kick'n Rush DVD Review Aage Rais-Nordentoft Kick'n Rush DVD Review Aage Rais-Nordentoft Kick'n Rush DVD Review Aage Rais-Nordentoft Kick'n Rush DVD Review Aage Rais-Nordentoft Kick'n Rush DVD Review Aage Rais-Nordentoft Kick'n Rush DVD Review Aage Rais-Nordentoft Kick'n Rush DVD Review Aage Rais-Nordentoft Kick'n Rush DVD Review Aage Rais-Nordentoft Kick'n Rush DVD Review Aage Rais-Nordentoft Kick'n Rush DVD Review Aage Rais-Nordentoft Kick'n Rush DVD Review Aage Rais-Nordentoft Kick'n Rush DVD Review Aage Rais-Nordentoft Kick'n Rush DVD Review Aage Rais-Nordentoft Kick'n Rush DVD Review Aage Rais-Nordentoft Kick'n Rush DVD Review Aage Rais-Nordentoft Kick'n Rush DVD Review Aage Rais-Nordentoft Kick'n Rush DVD Review Aage Rais-Nordentoft Kick'n Rush DVD Review Aage Rais-Nordentoft Kick'n Rush DVD Review Aage Rais-Nordentoft Kick'n Rush DVD Review Aage Rais-Nordentoft Kick'n Rush DVD Review Aage Rais-Nordentoft Kick'n Rush DVD Review Aage Rais-Nordentoft Kick'n Rush DVD Review Aage Rais-Nordentoft Kick'n Rush DVD Review Aage Rais-Nordentoft Kick'n Rush DVD Review Aage Rais-Nordentoft Kick'n Rush DVD Review Aage Rais-Nordentoft Kick'n Rush DVD Review Aage Rais-Nordentoft Kick'n Rush DVD Review Aage Rais-Nordentoft Kick'n Rush DVD Review Aage Rais-Nordentoft Kick'n Rush DVD Review Aage Rais-Nordentoft Kick'n Rush DVD Review Aage Rais-Nordentoft Kick'n Rush DVD Review Aage Rais-Nordentoft Kick'n Rush DVD Review Aage Rais-Nordentoft Kick'n Rush DVD Review Aage Rais-Nordentoft Kick'n Rush DVD Review Aage Rais-Nordentoft Kick'n Rush DVD Review Aage Rais-Nordentoft Kick'n Rush DVD Review Aage Rais-Nordentoft Kick'n Rush DVD Review Aage Rais-Nordentoft Kick'n Rush DVD Review Aage Rais-Nordentoft Kick'n Rush DVD Review Aage Rais-Nordentoft Kick'n Rush DVD Review Aage Rais-Nordentoft Kick'n Rush DVD Review Aage Rais-Nordentoft Kick'n Rush DVD Review Aage Rais-Nordentoft Kick'n Rush DVD Review Aage Rais-Nordentoft Kick'n Rush DVD Review Aage Rais-Nordentoft Kick'n Rush DVD Review Aage Rais-Nordentoft Kick'n Rush DVD Review Aage Rais-Nordentoft Kick'n Rush DVD Review Aage Rais-Nordentoft Kick'n Rush DVD Review Aage Rais-Nordentoft Kick'n Rush DVD Review Aage Rais-Nordentoft Kick'n Rush DVD Review Aage Rais-Nordentoft Kick'n Rush DVD Review Aage Rais-Nordentoft Kick'n Rush DVD Review Aage Rais-Nordentoft Kick'n Rush DVD Review Aage Rais-Nordentoft Kick'n Rush DVD Review Aage Rais-Nordentoft Kick'n Rush DVD Review Aage Rais-Nordentoft Kick'n Rush DVD Review Aage Rais-Nordentoft Kick'n Rush DVD Review Aage Rais-Nordentoft Kick'n Rush DVD Review Aage Rais-Nordentoft Kick'n Rush DVD Review Aage Rais-Nordentoft Kick'n Rush DVD Review Aage Rais-Nordentoft Kick'n Rush DVD Review Aage Rais-Nordentoft Kick'n Rush DVD Review Aage Rais-Nordentoft Kick'n Rush DVD Review Aage Rais-Nordentoft Kick'n Rush DVD Review Aage Rais-Nordentoft Kick'n Rush DVD Review Aage Rais-Nordentoft Kick'n Rush DVD Review Aage Rais-Nordentoft Kick'n Rush DVD Review Aage Rais-Nordentoft Kick'n Rush DVD Review Aage Rais-Nordentoft Kick'n Rush DVD Review Aage Rais-Nordentoft Kick'n Rush DVD Review Aage Rais-Nordentoft Kick'n Rush DVD Review Aage Rais-Nordentoft Kick'n Rush DVD Review Aage Rais-Nordentoft Kick'n Rush DVD Review Aage Rais-Nordentoft Kick'n Rush DVD Review Aage Rais-Nordentoft Kick'n Rush DVD Review Aage Rais-Nordentoft Kick'n Rush DVD Review Aage Rais-Nordentoft Kick'n Rush DVD Review Aage Rais-Nordentoft Kick'n Rush DVD Review Aage Rais-Nordentoft Kick'n Rush DVD Review Aage Rais-Nordentoft Kick'n Rush DVD Review Aage Rais-Nordentoft Kick'n Rush DVD Review Aage Rais-Nordentoft Kick'n Rush DVD Review Aage Rais-Nordentoft Kick'n Rush DVD Review Aage Rais-Nordentoft Kick'n Rush DVD Review Aage Rais-Nordentoft Kick'n Rush DVD Review Aage Rais-Nordentoft Kick'n Rush DVD Review Aage Rais-Nordentoft Kick'n Rush DVD Review Aage Rais-Nordentoft Kick'n Rush DVD Review Aage Rais-Nordentoft Kick'n Rush DVD Review Aage Rais-Nordentoft Kick'n Rush DVD Review Aage Rais-Nordentoft Kick'n Rush DVD Review Aage Rais-Nordentoft Kick'n Rush DVD Review Aage Rais-Nordentoft Kick'n Rush DVD Review Aage Rais-Nordentoft Kick'n Rush DVD Review Aage Rais-Nordentoft Kick'n Rush DVD Review