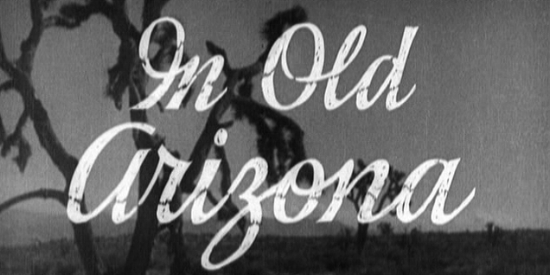 directed by Irving Cummings + Raoul Walsh
USA 1928
This is likely the first sound western film as well as the first sound film done out-of-doors. Suggested by "The Caballero's Way", a short story by William Sidney Porter (O.Henry), the main character, "The Cisco Kid", has been considerably upgraded. Porter's "Kid" was a ruthless bandit who didn't like people who got in his way, especially sheriffs. When a sheriff seduced the "Kid's" girl-friend into betraying him into an ambush, the "Kid", ruthlessly clever, took his revenge in a sadistic fashion. In case one might want to read the story, I will say no more. In the film, the "Kid" is a bandit right enough, but a sympathetic one, and sufficiently clever to outwit a sheriff who persuades the girlfriend to disarm the "Kid". She does this by charming him into taking off his gun when he meets her for a tryst. Don't worry, the "Kid" is one up on this trick, too, but protects himself in somewhat gentler fashion than in the story. If one could view this film today it would seem a museum piece, but not without some pictorial charm. I remember the photography as very pictorial, as with some later sequels, and there is a scene of bacon frying over a campfire that rather startled 1929 film goers with the realistic sound.
Review by FISHER L. FORREST as located on IMdb HERE
Theatrical Release: December 25th, 1928
DVD Review: 20th Century Fox - Region 1 - NTSC
DVD Box Cover

CLICK to order from:

Distribution
20th Century Fox Home Video - Region 1 - NTSC
Runtime
1:38:48
Video
1.19:1 Original Aspect Ratio
Average Bitrate: 5.87 mb/s
NTSC 720x480 29.97 f/s

NOTE: The Vertical axis represents the bits transferred per second. The Horizontal is the time in minutes.

Bitrate:

Audio
Restored English (Dolby Digital 1.0), Original English (Dolby Digital 1.0)
Subtitles
English, Spanish, None
Features

Release Information:
Studio: 20th Century Fox Home Video

Aspect Ratio:
Original aspect Ratio 1.19:1

Edition Details:

• none

DVD Release Date: May 24th, 2005
Keep Case
Chapters: 20
Comments:

As with many DVDs that I review, there are things that I like about this transfer and things that I don't. I'm happy that Fox chose to maintain the original pillar-box ratio (approx. 1.19:1) NOTE: Unlike Warner on their Chaplin Boxsets - see HERE. This is the original way the film was presented, it should be respected and maintained. If you take into consideration the age of the film, it has some nice relatively clean moments with plenty of grain, but there are prominent vertical lines (scratches?) that appear through much of the film. After a while they are not as distracting and help to further emphasize the era that the film was made.

On the audio front, 2 options are available; a restored mono track that still has fidelity problems although it is quite listenable considering. I briefly checked a few scenes against the original unrestored audio and noticed little difference. Now there are probably moments when it really comes into play, but I'm thankful for the optional subtitles regardless. I really enjoyed watching this even with its age deficiencies. Where the package fails the most is in the extras department - there is nothing - nada - not even a liner notes essay. Still, this is a wonderful, historically relevant film... now on DVD! I, personally, love stuff like this!
---



DVD Menus

---
Subtitle Sample
Screen Captures
---
Prominent scratch line through much of the film - most visible here:
---
---
Recommended Reading for Western Genre Fans (CLICK COVERS or TITLES for more information)
Check out more in "The Library"
---
DVD Box Cover

CLICK to order from:

Distribution
20th Century Fox Home Video - Region 1 - NTSC
---






Raoul Walsh's In Old Arizona (1928) - 20th Century Fox - Region 1- NTSC In Old Arizona Raoul Walsh 1928 DVD Review In Old Arizona Raoul Walsh 1928 DVD Review In Old Arizona Raoul Walsh 1928 DVD Review In Old Arizona Raoul Walsh 1928 DVD Review In Old Arizona Raoul Walsh 1928 DVD Review In Old Arizona Raoul Walsh 1928 DVD Review In Old Arizona Raoul Walsh 1928 DVD Review In Old Arizona Raoul Walsh 1928 DVD Review In Old Arizona Raoul Walsh 1928 DVD Review In Old Arizona Raoul Walsh 1928 DVD Review In Old Arizona Raoul Walsh 1928 DVD Review Raoul Walsh's In Old Arizona (1928) - 20th Century Fox - Region 1- NTSC In Old Arizona Raoul Walsh 1928 DVD Review In Old Arizona Raoul Walsh 1928 DVD Review In Old Arizona Raoul Walsh 1928 DVD Review In Old Arizona Raoul Walsh 1928 DVD Review In Old Arizona Raoul Walsh 1928 DVD Review In Old Arizona Raoul Walsh 1928 DVD Review In Old Arizona Raoul Walsh 1928 DVD Review In Old Arizona Raoul Walsh 1928 DVD Review In Old Arizona Raoul Walsh 1928 DVD Review In Old Arizona Raoul Walsh 1928 DVD Review In Old Arizona Raoul Walsh 1928 DVD Review Raoul Walsh's In Old Arizona (1928) - 20th Century Fox - Region 1- NTSC In Old Arizona Raoul Walsh 1928 DVD Review In Old Arizona Raoul Walsh 1928 DVD Review In Old Arizona Raoul Walsh 1928 DVD Review In Old Arizona Raoul Walsh 1928 DVD Review In Old Arizona Raoul Walsh 1928 DVD Review In Old Arizona Raoul Walsh 1928 DVD Review In Old Arizona Raoul Walsh 1928 DVD Review In Old Arizona Raoul Walsh 1928 DVD Review In Old Arizona Raoul Walsh 1928 DVD Review In Old Arizona Raoul Walsh 1928 DVD Review In Old Arizona Raoul Walsh 1928 DVD Review Raoul Walsh's In Old Arizona (1928) - 20th Century Fox - Region 1- NTSC In Old Arizona Raoul Walsh 1928 DVD Review In Old Arizona Raoul Walsh 1928 DVD Review In Old Arizona Raoul Walsh 1928 DVD Review In Old Arizona Raoul Walsh 1928 DVD Review In Old Arizona Raoul Walsh 1928 DVD Review In Old Arizona Raoul Walsh 1928 DVD Review In Old Arizona Raoul Walsh 1928 DVD Review In Old Arizona Raoul Walsh 1928 DVD Review In Old Arizona Raoul Walsh 1928 DVD Review In Old Arizona Raoul Walsh 1928 DVD Review In Old Arizona Raoul Walsh 1928 DVD Review Raoul Walsh's In Old Arizona (1928) - 20th Century Fox - Region 1- NTSC In Old Arizona Raoul Walsh 1928 DVD Review In Old Arizona Raoul Walsh 1928 DVD Review In Old Arizona Raoul Walsh 1928 DVD Review In Old Arizona Raoul Walsh 1928 DVD Review In Old Arizona Raoul Walsh 1928 DVD Review In Old Arizona Raoul Walsh 1928 DVD Review In Old Arizona Raoul Walsh 1928 DVD Review In Old Arizona Raoul Walsh 1928 DVD Review In Old Arizona Raoul Walsh 1928 DVD Review In Old Arizona Raoul Walsh 1928 DVD Review In Old Arizona Raoul Walsh 1928 DVD Review Raoul Walsh's In Old Arizona (1928) - 20th Century Fox - Region 1- NTSC In Old Arizona Raoul Walsh 1928 DVD Review In Old Arizona Raoul Walsh 1928 DVD Review In Old Arizona Raoul Walsh 1928 DVD Review In Old Arizona Raoul Walsh 1928 DVD Review In Old Arizona Raoul Walsh 1928 DVD Review In Old Arizona Raoul Walsh 1928 DVD Review In Old Arizona Raoul Walsh 1928 DVD Review In Old Arizona Raoul Walsh 1928 DVD Review In Old Arizona Raoul Walsh 1928 DVD Review In Old Arizona Raoul Walsh 1928 DVD Review In Old Arizona Raoul Walsh 1928 DVD Review Raoul Walsh's In Old Arizona (1928) - 20th Century Fox - Region 1- NTSC In Old Arizona Raoul Walsh 1928 DVD Review In Old Arizona Raoul Walsh 1928 DVD Review In Old Arizona Raoul Walsh 1928 DVD Review In Old Arizona Raoul Walsh 1928 DVD Review In Old Arizona Raoul Walsh 1928 DVD Review In Old Arizona Raoul Walsh 1928 DVD Review In Old Arizona Raoul Walsh 1928 DVD Review In Old Arizona Raoul Walsh 1928 DVD Review In Old Arizona Raoul Walsh 1928 DVD Review In Old Arizona Raoul Walsh 1928 DVD Review In Old Arizona Raoul Walsh 1928 DVD Review