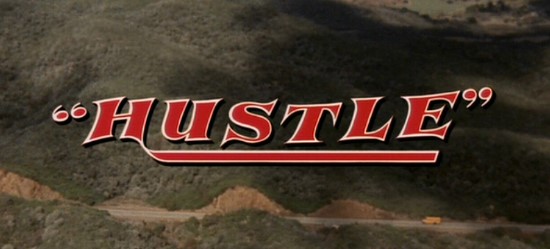 directed by Robert Aldrich
USA 1975
Jaded, cynical, edgy. Burt Reynolds is Lt. Phil Gaines, a case-hardened Los Angeles detective who finds himself drawn into a dark, complex puzzle that involves the death of a teenage girl. Complicating his investigation is his sizzling relationship with an icy hooker (Catherine Deneuve), who has a dangerous connection to the case - one of her high-powered clients (Eddie Albert) is a main suspect. Moreover, the victim's unstable father (Ben Johnson) blurs the focus of Gaines' investigation even further by embarking on his own erratic, inept sleuthing. Paul Winfield, Eileen Brennan, Ernest Borgnine and Jack Carter also star inn a suspenseful, gritty tale of urban corruption and murder directed by Robert Aldrich.
Posters
Theatrical Release: December 25th, 1975
Reviews More Reviews DVD Reviews
DVD Review: Paramount - Region 1 - NTSC
DVD Box Cover

CLICK to order from:

Distribution
Paramount Home Video - Region 1 - NTSC
Runtime
1:59:40
Video
1.78:1 Original Aspect Ratio
Average Bitrate: 7.0 mb/s
NTSC 720x480 29.97 f/s

NOTE: The Vertical axis represents the bits transferred per second. The Horizontal is the time in minutes.

Bitrate:

Audio
English (Dolby Digital 2.0)
Subtitles
English, None
Features

Release Information:
Studio: Paramount Home Video

Aspect Ratio:
Original Aspect Ratio 1.78:1

Edition Details:

• none

DVD Release Date: June 21st, 2005
Keep Case
Chapters: 15
| | |
| --- | --- |
| Comments: | Not really in the league of classic noir, this is still an enjoyable attempt with Reynolds charisma being one of the major proponents of the film. The Paramount DVD image is nothing short of stupendous. Top marks on all fronts for sharpness, contrast and colors. Audio is original and consistent. Subtitles are an awful yellow. No extras but you get what you pay for here as it is priced to sell. We recommend! out of |
---

---
Subtitle Sample
Screen Captures
---
DVD Box Cover

CLICK to order from:

Distribution
Paramount Home Video - Region 1 - NTSC
---





DONATIONS Keep DVDBeaver alive and advertisement free:
Mail cheques, money orders, cash to: or CLICK PayPal logo to donate!
Gary Tooze

Mississauga, Ontario,

CANADA
Thank You!
Robert Aldrich Hustle Burt Reynolds Catherine Deneuve dvd review Robert Aldrich Hustle Burt Reynolds Catherine Deneuve dvd review Robert Aldrich Hustle Burt Reynolds Catherine Deneuve dvd review Robert Aldrich Hustle Burt Reynolds Catherine Deneuve dvd review Robert Aldrich Hustle Burt Reynolds Catherine Deneuve dvd review Robert Aldrich Hustle Burt Reynolds Catherine Deneuve dvd review Robert Aldrich Hustle Burt Reynolds Catherine Deneuve dvd review Robert Aldrich Hustle Burt Reynolds Catherine Deneuve dvd review Robert Aldrich Hustle Burt Reynolds Catherine Deneuve dvd review Robert Aldrich Hustle Burt Reynolds Catherine Deneuve dvd review Robert Aldrich Hustle Burt Reynolds Catherine Deneuve dvd review Robert Aldrich Hustle Burt Reynolds Catherine Deneuve dvd review Robert Aldrich Hustle Burt Reynolds Catherine Deneuve dvd review Robert Aldrich Hustle Burt Reynolds Catherine Deneuve dvd review Robert Aldrich Hustle Burt Reynolds Catherine Deneuve dvd review Robert Aldrich Hustle Burt Reynolds Catherine Deneuve dvd review Robert Aldrich Hustle Burt Reynolds Catherine Deneuve dvd review Robert Aldrich Hustle Burt Reynolds Catherine Deneuve dvd review Robert Aldrich Hustle Burt Reynolds Catherine Deneuve dvd review Robert Aldrich Hustle Burt Reynolds Catherine Deneuve dvd review Robert Aldrich Hustle Burt Reynolds Catherine Deneuve dvd review Robert Aldrich Hustle Burt Reynolds Catherine Deneuve dvd review Robert Aldrich Hustle Burt Reynolds Catherine Deneuve dvd review Robert Aldrich Hustle Burt Reynolds Catherine Deneuve dvd review Robert Aldrich Hustle Burt Reynolds Catherine Deneuve dvd review Robert Aldrich Hustle Burt Reynolds Catherine Deneuve dvd review Robert Aldrich Hustle Burt Reynolds Catherine Deneuve dvd review Robert Aldrich Hustle Burt Reynolds Catherine Deneuve dvd review Robert Aldrich Hustle Burt Reynolds Catherine Deneuve dvd review Robert Aldrich Hustle Burt Reynolds Catherine Deneuve dvd review Robert Aldrich Hustle Burt Reynolds Catherine Deneuve dvd review Robert Aldrich Hustle Burt Reynolds Catherine Deneuve dvd review Robert Aldrich Hustle Burt Reynolds Catherine Deneuve dvd review Robert Aldrich Hustle Burt Reynolds Catherine Deneuve dvd review Robert Aldrich Hustle Burt Reynolds Catherine Deneuve dvd review Robert Aldrich Hustle Burt Reynolds Catherine Deneuve dvd review Robert Aldrich Hustle Burt Reynolds Catherine Deneuve dvd review Robert Aldrich Hustle Burt Reynolds Catherine Deneuve dvd review Robert Aldrich Hustle Burt Reynolds Catherine Deneuve dvd review Robert Aldrich Hustle Burt Reynolds Catherine Deneuve dvd review Robert Aldrich Hustle Burt Reynolds Catherine Deneuve dvd review Robert Aldrich Hustle Burt Reynolds Catherine Deneuve dvd review Robert Aldrich Hustle Burt Reynolds Catherine Deneuve dvd review Robert Aldrich Hustle Burt Reynolds Catherine Deneuve dvd review Robert Aldrich Hustle Burt Reynolds Catherine Deneuve dvd review Robert Aldrich Hustle Burt Reynolds Catherine Deneuve dvd review Robert Aldrich Hustle Burt Reynolds Catherine Deneuve dvd review Robert Aldrich Hustle Burt Reynolds Catherine Deneuve dvd review Robert Aldrich Hustle Burt Reynolds Catherine Deneuve dvd review Robert Aldrich Hustle Burt Reynolds Catherine Deneuve dvd review Robert Aldrich Hustle Burt Reynolds Catherine Deneuve dvd review Robert Aldrich Hustle Burt Reynolds Catherine Deneuve dvd review Robert Aldrich Hustle Burt Reynolds Catherine Deneuve dvd review Robert Aldrich Hustle Burt Reynolds Catherine Deneuve dvd review Robert Aldrich Hustle Burt Reynolds Catherine Deneuve dvd review Robert Aldrich Hustle Burt Reynolds Catherine Deneuve dvd review Robert Aldrich Hustle Burt Reynolds Catherine Deneuve dvd review Robert Aldrich Hustle Burt Reynolds Catherine Deneuve dvd review Robert Aldrich Hustle Burt Reynolds Catherine Deneuve dvd review Robert Aldrich Hustle Burt Reynolds Catherine Deneuve dvd review Robert Aldrich Hustle Burt Reynolds Catherine Deneuve dvd review Robert Aldrich Hustle Burt Reynolds Catherine Deneuve dvd review Robert Aldrich Hustle Burt Reynolds Catherine Deneuve dvd review Robert Aldrich Hustle Burt Reynolds Catherine Deneuve dvd review Robert Aldrich Hustle Burt Reynolds Catherine Deneuve dvd review Robert Aldrich Hustle Burt Reynolds Catherine Deneuve dvd review Robert Aldrich Hustle Burt Reynolds Catherine Deneuve dvd review Robert Aldrich Hustle Burt Reynolds Catherine Deneuve dvd review Robert Aldrich Hustle Burt Reynolds Catherine Deneuve dvd review Robert Aldrich Hustle Burt Reynolds Catherine Deneuve dvd review Robert Aldrich Hustle Burt Reynolds Catherine Deneuve dvd review Robert Aldrich Hustle Burt Reynolds Catherine Deneuve dvd review Robert Aldrich Hustle Burt Reynolds Catherine Deneuve dvd review Robert Aldrich Hustle Burt Reynolds Catherine Deneuve dvd review Robert Aldrich Hustle Burt Reynolds Catherine Deneuve dvd review Robert Aldrich Hustle Burt Reynolds Catherine Deneuve dvd review Robert Aldrich Hustle Burt Reynolds Catherine Deneuve dvd review Robert Aldrich Hustle Burt Reynolds Catherine Deneuve dvd review Robert Aldrich Hustle Burt Reynolds Catherine Deneuve dvd review Robert Aldrich Hustle Burt Reynolds Catherine Deneuve dvd review Robert Aldrich Hustle Burt Reynolds Catherine Deneuve dvd review Robert Aldrich Hustle Burt Reynolds Catherine Deneuve dvd review Robert Aldrich Hustle Burt Reynolds Catherine Deneuve dvd review Robert Aldrich Hustle Burt Reynolds Catherine Deneuve dvd review Robert Aldrich Hustle Burt Reynolds Catherine Deneuve dvd review Robert Aldrich Hustle Burt Reynolds Catherine Deneuve dvd review Robert Aldrich Hustle Burt Reynolds Catherine Deneuve dvd review Robert Aldrich Hustle Burt Reynolds Catherine Deneuve dvd review Robert Aldrich Hustle Burt Reynolds Catherine Deneuve dvd review Robert Aldrich Hustle Burt Reynolds Catherine Deneuve dvd review Robert Aldrich Hustle Burt Reynolds Catherine Deneuve dvd review Robert Aldrich Hustle Burt Reynolds Catherine Deneuve dvd review Robert Aldrich Hustle Burt Reynolds Catherine Deneuve dvd review Robert Aldrich Hustle Burt Reynolds Catherine Deneuve dvd review Robert Aldrich Hustle Burt Reynolds Catherine Deneuve dvd review Robert Aldrich Hustle Burt Reynolds Catherine Deneuve dvd review Robert Aldrich Hustle Burt Reynolds Catherine Deneuve dvd review Robert Aldrich Hustle Burt Reynolds Catherine Deneuve dvd review Robert Aldrich Hustle Burt Reynolds Catherine Deneuve dvd review Robert Aldrich Hustle Burt Reynolds Catherine Deneuve dvd review Robert Aldrich Hustle Burt Reynolds Catherine Deneuve dvd review Robert Aldrich Hustle Burt Reynolds Catherine Deneuve dvd review Robert Aldrich Hustle Burt Reynolds Catherine Deneuve dvd review Robert Aldrich Hustle Burt Reynolds Catherine Deneuve dvd review