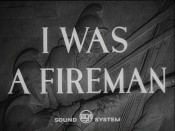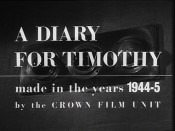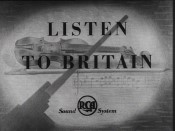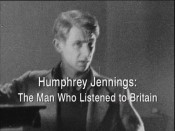 The Humphrey Jennings Collection
directed by Humphrey Jennings
UK 1942-45
Features three films from the man described by Lindsay Anderson as 'the only true poet of the English cinema': Listen to Britain, Diary for Timothy (both from the newly-made BFI 2004 prints) and I Was a Fireman. In Listen to Britain, Jennings collects and edits the sounds and sights of wartime Britain into an extraordinarily moving and effective collage. Diary for Timothy is a film that is relevant for every generation and bears repeated viewings. The feature-length I Was a Fireman, the story of 24 hours in the life of a fire crew during the Blitz, is an innovative work that should be as iconic to British cinema as Vigo's L'Atalante is to French.
Theatrical Release: Various
DVD Review: Film First - Region 0 - PAL
DVD Box Cover

CLICK to order from:

Distribution
Film First - Region 0 - PAL
Runtime
Almost 3 hours
Video
1.33:1 Original Aspect Ratio
Average Bitrate: 4.57 mb/s
PAL 720x576 25.00 f/s

NOTE: The Vertical axis represents the bits transferred per second. The Horizontal is the time in minutes.

Bitrate:

Audio
English (Dolby Digital 2.0)
Subtitles
None
Features

Release Information:
Studio: Film First Home Video

Aspect Ratio:
Original aspect Ratio 1.33:1

Edition Details:

• Diary for Timothy (37:28)
• I Was a Fireman (1:11:00)
• Listen to Britain (17:37)
• Humphrey Jennings: The Man Who Listened to Britain(50:20)
• 12-page liner notes booklet with essay by Lindsay Anderson

DVD Release Date: July 25th, 2005
Keep Case
Chapters: 35 in total
Comments:

This DVD has some great moments of clarity and the source materials must have been in very good condition. No digital manipulations and very sharp with good contrast for the most part. There are acceptable scratches and damage visible at times, but it is obvious that the BFI 2004 prints have been well restored. These films have such immense historical value its like stepping into a time machine watching them. The included documentary and liner notes add volumes to the appreciation factor of the films. I think I may rush to get all his work on DVD now... out of

It's interesting and frustrating when different distributors put out compilations of work by certain directors. Without comparing disc quality, I think the Image R1 disc may be better value. It doesn't include the documentary about Jennings on the disc Gary reviewed - but it includes the three other titles, plus LONDON CAN TAKE IT (1940) WORDS FOR BATTLE (1941) and FAMILY PORTRAIT (1951) It also has a small extra, 9 minutes of Dame Myra Hess playing the first movement of Beethoven's Apassionata sonata in a wartime concert. It's almost an object lesson in how to film a classical performance. Anyone not knowing Jennings work should just look at the "One Man Went to Mow" sequence in FIRES WERE STARTED (aka I Was a Fireman.) It's a superb example of how music, editing, etc can all combine to express camaraderie, etc.


Peter Hourigan
---
---
Screen Captures
---
DONATIONS Keep DVDBeaver alive and advertisement free:
Mail cheques, money orders, cash to: or CLICK PayPal logo to donate!
Gary Tooze

Mississauga, Ontario,

CANADA
Thank You!
The Humphrey Jennings Collection DVD Films First - Region 0 - PAL DVD Review Humphrey Jennings Collection DVD Review Humphrey Jennings Collection DVD Review Humphrey Jennings Collection DVD Review Humphrey Jennings Collection DVD Review Humphrey Jennings Collection DVD Review Humphrey Jennings Collection DVD Review Humphrey Jennings Collection DVD Review Humphrey Jennings Collection DVD Review Humphrey Jennings Collection DVD Review Humphrey Jennings Collection DVD Review Humphrey Jennings Collection DVD Review Humphrey Jennings Collection DVD Review Humphrey Jennings Collection DVD Review Humphrey Jennings Collection DVD Review Humphrey Jennings Collection DVD Review Humphrey Jennings Collection DVD Review Humphrey Jennings Collection The Humphrey Jennings Collection DVD Films First - Region 0 - PAL DVD Review Humphrey Jennings Collection DVD Review Humphrey Jennings Collection DVD Review Humphrey Jennings Collection DVD Review Humphrey Jennings Collection DVD Review Humphrey Jennings Collection DVD Review Humphrey Jennings Collection DVD Review Humphrey Jennings Collection DVD Review Humphrey Jennings Collection DVD Review Humphrey Jennings Collection DVD Review Humphrey Jennings Collection DVD Review Humphrey Jennings Collection DVD Review Humphrey Jennings Collection DVD Review Humphrey Jennings Collection DVD Review Humphrey Jennings Collection DVD Review Humphrey Jennings Collection DVD Review Humphrey Jennings Collection DVD Review Humphrey Jennings Collection The Humphrey Jennings Collection DVD Films First - Region 0 - PAL DVD Review Humphrey Jennings Collection DVD Review Humphrey Jennings Collection DVD Review Humphrey Jennings Collection DVD Review Humphrey Jennings Collection DVD Review Humphrey Jennings Collection DVD Review Humphrey Jennings Collection DVD Review Humphrey Jennings Collection DVD Review Humphrey Jennings Collection DVD Review Humphrey Jennings Collection DVD Review Humphrey Jennings Collection DVD Review Humphrey Jennings Collection DVD Review Humphrey Jennings Collection DVD Review Humphrey Jennings Collection DVD Review Humphrey Jennings Collection DVD Review Humphrey Jennings Collection DVD Review Humphrey Jennings Collection DVD Review Humphrey Jennings Collection The Humphrey Jennings Collection DVD Films First - Region 0 - PAL DVD Review Humphrey Jennings Collection DVD Review Humphrey Jennings Collection DVD Review Humphrey Jennings Collection DVD Review Humphrey Jennings Collection DVD Review Humphrey Jennings Collection DVD Review Humphrey Jennings Collection DVD Review Humphrey Jennings Collection DVD Review Humphrey Jennings Collection DVD Review Humphrey Jennings Collection DVD Review Humphrey Jennings Collection DVD Review Humphrey Jennings Collection DVD Review Humphrey Jennings Collection DVD Review Humphrey Jennings Collection DVD Review Humphrey Jennings Collection DVD Review Humphrey Jennings Collection DVD Review Humphrey Jennings Collection DVD Review Humphrey Jennings Collection The Humphrey Jennings Collection DVD Films First - Region 0 - PAL DVD Review Humphrey Jennings Collection DVD Review Humphrey Jennings Collection DVD Review Humphrey Jennings Collection DVD Review Humphrey Jennings Collection DVD Review Humphrey Jennings Collection DVD Review Humphrey Jennings Collection DVD Review Humphrey Jennings Collection DVD Review Humphrey Jennings Collection DVD Review Humphrey Jennings Collection DVD Review Humphrey Jennings Collection DVD Review Humphrey Jennings Collection DVD Review Humphrey Jennings Collection DVD Review Humphrey Jennings Collection DVD Review Humphrey Jennings Collection DVD Review Humphrey Jennings Collection DVD Review Humphrey Jennings Collection DVD Review Humphrey Jennings Collection The Humphrey Jennings Collection DVD Films First - Region 0 - PAL DVD Review Humphrey Jennings Collection DVD Review Humphrey Jennings Collection DVD Review Humphrey Jennings Collection DVD Review Humphrey Jennings Collection DVD Review Humphrey Jennings Collection DVD Review Humphrey Jennings Collection DVD Review Humphrey Jennings Collection DVD Review Humphrey Jennings Collection DVD Review Humphrey Jennings Collection DVD Review Humphrey Jennings Collection DVD Review Humphrey Jennings Collection DVD Review Humphrey Jennings Collection DVD Review Humphrey Jennings Collection DVD Review Humphrey Jennings Collection DVD Review Humphrey Jennings Collection DVD Review Humphrey Jennings Collection DVD Review Humphrey Jennings Collection The Humphrey Jennings Collection DVD Films First - Region 0 - PAL DVD Review Humphrey Jennings Collection DVD Review Humphrey Jennings Collection DVD Review Humphrey Jennings Collection DVD Review Humphrey Jennings Collection DVD Review Humphrey Jennings Collection DVD Review Humphrey Jennings Collection DVD Review Humphrey Jennings Collection DVD Review Humphrey Jennings Collection DVD Review Humphrey Jennings Collection DVD Review Humphrey Jennings Collection DVD Review Humphrey Jennings Collection DVD Review Humphrey Jennings Collection DVD Review Humphrey Jennings Collection DVD Review Humphrey Jennings Collection DVD Review Humphrey Jennings Collection DVD Review Humphrey Jennings Collection DVD Review Humphrey Jennings Collection The Humphrey Jennings Collection DVD Films First - Region 0 - PAL DVD Review Humphrey Jennings Collection DVD Review Humphrey Jennings Collection DVD Review Humphrey Jennings Collection DVD Review Humphrey Jennings Collection DVD Review Humphrey Jennings Collection DVD Review Humphrey Jennings Collection DVD Review Humphrey Jennings Collection DVD Review Humphrey Jennings Collection DVD Review Humphrey Jennings Collection DVD Review Humphrey Jennings Collection DVD Review Humphrey Jennings Collection DVD Review Humphrey Jennings Collection DVD Review Humphrey Jennings Collection DVD Review Humphrey Jennings Collection DVD Review Humphrey Jennings Collection DVD Review Humphrey Jennings Collection DVD Review Humphrey Jennings Collection The Humphrey Jennings Collection DVD Films First - Region 0 - PAL DVD Review Humphrey Jennings Collection DVD Review Humphrey Jennings Collection DVD Review Humphrey Jennings Collection DVD Review Humphrey Jennings Collection DVD Review Humphrey Jennings Collection DVD Review Humphrey Jennings Collection DVD Review Humphrey Jennings Collection DVD Review Humphrey Jennings Collection DVD Review Humphrey Jennings Collection DVD Review Humphrey Jennings Collection DVD Review Humphrey Jennings Collection DVD Review Humphrey Jennings Collection DVD Review Humphrey Jennings Collection DVD Review Humphrey Jennings Collection DVD Review Humphrey Jennings Collection DVD Review Humphrey Jennings Collection DVD Review Humphrey Jennings Collection The Humphrey Jennings Collection DVD Films First - Region 0 - PAL DVD Review Humphrey Jennings Collection DVD Review Humphrey Jennings Collection DVD Review Humphrey Jennings Collection DVD Review Humphrey Jennings Collection DVD Review Humphrey Jennings Collection DVD Review Humphrey Jennings Collection DVD Review Humphrey Jennings Collection DVD Review Humphrey Jennings Collection DVD Review Humphrey Jennings Collection DVD Review Humphrey Jennings Collection DVD Review Humphrey Jennings Collection DVD Review Humphrey Jennings Collection DVD Review Humphrey Jennings Collection DVD Review Humphrey Jennings Collection DVD Review Humphrey Jennings Collection DVD Review Humphrey Jennings Collection DVD Review Humphrey Jennings Collection