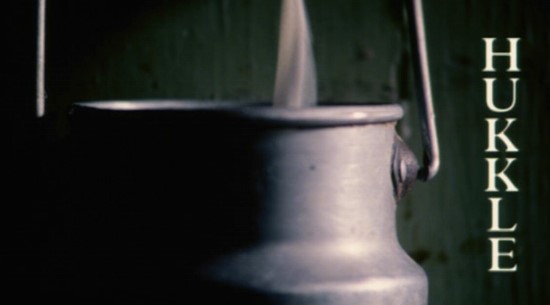 directed by György Pálfi
Hungary 2002
Hungarian director György Pálfi's debut is a mesmerizing symphony of sight and sound that chronicles a series of mysterious interconnected events both idyllic and sinister. From an elderly man's hiccup (or "hukkle") to a microscopically observed menagerie of animals, Hukkle lovingly magnifies the little moments of a summer day that usually pass unnoticed. With minimum dialogue, Hukkle brims with subtle secrets waiting to be unlocked and etches a quirky portrait of a rustic village where things are not what they seem.
Posters
Theatrical Release: September 12th, 2002 - Toronto Film Festival
Reviews More Reviews DVD Reviews
DVD Review: Home Vision Entertainment - Region 1 - NTSC
DVD Box Cover

CLICK to order from:

Distribution
Home Vision Entertainment - Region 1 - NTSC
Runtime
1:18:20
Video
1.82:1 Original Aspect Ratio
Average Bitrate: 5.15 mb/s
NTSC 720x480 29.97 f/s

NOTE: The Vertical axis represents the bits transferred per second. The Horizontal is the time in minutes.

Bitrate:

Audio
Hungarian (Dolby Digital 2.0), Hungarian (Dolby Digital 5.1)
Subtitles
English, None (subtitles on commentary)
Features

Release Information:
Studio: Home Vision Entertainment

Aspect Ratio:
Original aspect Ratio 1.82:1

Edition Details:

• Commentary with Director and Cinematographer (English subtitles)

• The Making of Hukkle (25 minutes)
• Pre-production footage
• Excerpts from detailed production diary
• Theatrical trailer

DVD Release Date: July 26th, 2005
Keep Case
Chapters: 25
| | |
| --- | --- |
| Comments: | This is a really nice film but the image is marred by some pronounced combing. It is very evident in all motion sequences. The anamorphic image is not tight to the frame. The picture has a bit of softness, but colors seem acceptable if not brilliant. The film is virtually dialogue-less so the subtitle option is more for the commentary (in Hungarian). I was fortunate enough to see this film on an alternate DVD that a good friend sent last year, but can't seem to find it to do a comparison. If memory serves it was not 16X9 enhanced. I suspect that even sharp-eyed tube owners might notice the combing in the form of 'trailing' through motion sequences. I can guess that this transfer was the reason that it was not bumped up to the Criterion label. The film is a gem, but its a shame that of the DVD was not transferred with the same Criterion-level quality. |
---



DVD Menus
---
Subtitle Sample
Screen Captures
---
---
Bad combing...
DVD Box Cover

CLICK to order from:

Distribution
Home Vision Entertainment - Region 1 - NTSC
---






György Pálfi's Hukkle DVD Review György Pálfi Hukkle DVD Review György Pálfi Hukkle DVD Review György Pálfi Hukkle DVD Review György Pálfi Hukkle DVD Review György Pálfi Hukkle DVD Review György Pálfi Hukkle DVD Review György Pálfi Hukkle DVD Review György Pálfi Hukkle DVD Review György Pálfi Hukkle DVD Review György Pálfi Hukkle DVD Review György Pálfi Hukkle DVD Review György Pálfi Hukkle DVD Review György Pálfi Hukkle DVD Review György Pálfi Hukkle DVD Review György Pálfi Hukkle DVD Review György Pálfi Hukkle DVD Review György Pálfi Hukkle DVD Review György Pálfi Hukkle DVD Review György Pálfi Hukkle DVD Review György Pálfi's Hukkle DVD Review György Pálfi Hukkle DVD Review György Pálfi Hukkle DVD Review György Pálfi Hukkle DVD Review György Pálfi Hukkle DVD Review György Pálfi Hukkle DVD Review György Pálfi Hukkle DVD Review György Pálfi Hukkle DVD Review György Pálfi Hukkle DVD Review György Pálfi Hukkle DVD Review György Pálfi Hukkle DVD Review György Pálfi Hukkle DVD Review György Pálfi Hukkle DVD Review György Pálfi Hukkle DVD Review György Pálfi Hukkle DVD Review György Pálfi Hukkle DVD Review György Pálfi Hukkle DVD Review György Pálfi Hukkle DVD Review György Pálfi Hukkle DVD Review György Pálfi Hukkle DVD Review György Pálfi's Hukkle DVD Review György Pálfi Hukkle DVD Review György Pálfi Hukkle DVD Review György Pálfi Hukkle DVD Review György Pálfi Hukkle DVD Review György Pálfi Hukkle DVD Review György Pálfi Hukkle DVD Review György Pálfi Hukkle DVD Review György Pálfi Hukkle DVD Review György Pálfi Hukkle DVD Review György Pálfi Hukkle DVD Review György Pálfi Hukkle DVD Review György Pálfi Hukkle DVD Review György Pálfi Hukkle DVD Review György Pálfi Hukkle DVD Review György Pálfi Hukkle DVD Review György Pálfi Hukkle DVD Review György Pálfi Hukkle DVD Review György Pálfi Hukkle DVD Review György Pálfi Hukkle DVD Review György Pálfi's Hukkle DVD Review György Pálfi Hukkle DVD Review György Pálfi Hukkle DVD Review György Pálfi Hukkle DVD Review György Pálfi Hukkle DVD Review György Pálfi Hukkle DVD Review György Pálfi Hukkle DVD Review György Pálfi Hukkle DVD Review György Pálfi Hukkle DVD Review György Pálfi Hukkle DVD Review György Pálfi Hukkle DVD Review György Pálfi Hukkle DVD Review György Pálfi Hukkle DVD Review György Pálfi Hukkle DVD Review György Pálfi Hukkle DVD Review György Pálfi Hukkle DVD Review György Pálfi Hukkle DVD Review György Pálfi Hukkle DVD Review György Pálfi Hukkle DVD Review György Pálfi Hukkle DVD Review György Pálfi's Hukkle DVD Review György Pálfi Hukkle DVD Review György Pálfi Hukkle DVD Review György Pálfi Hukkle DVD Review György Pálfi Hukkle DVD Review György Pálfi Hukkle DVD Review György Pálfi Hukkle DVD Review György Pálfi Hukkle DVD Review György Pálfi Hukkle DVD Review György Pálfi Hukkle DVD Review György Pálfi Hukkle DVD Review György Pálfi Hukkle DVD Review György Pálfi Hukkle DVD Review György Pálfi Hukkle DVD Review György Pálfi Hukkle DVD Review György Pálfi Hukkle DVD Review György Pálfi Hukkle DVD Review György Pálfi Hukkle DVD Review György Pálfi Hukkle DVD Review György Pálfi Hukkle DVD Review György Pálfi's Hukkle DVD Review György Pálfi Hukkle DVD Review György Pálfi Hukkle DVD Review György Pálfi Hukkle DVD Review György Pálfi Hukkle DVD Review György Pálfi Hukkle DVD Review György Pálfi Hukkle DVD Review György Pálfi Hukkle DVD Review György Pálfi Hukkle DVD Review György Pálfi Hukkle DVD Review György Pálfi Hukkle DVD Review György Pálfi Hukkle DVD Review György Pálfi Hukkle DVD Review György Pálfi Hukkle DVD Review György Pálfi Hukkle DVD Review György Pálfi Hukkle DVD Review György Pálfi Hukkle DVD Review György Pálfi Hukkle DVD Review György Pálfi Hukkle DVD Review György Pálfi Hukkle DVD Review György Pálfi's Hukkle DVD Review György Pálfi Hukkle DVD Review György Pálfi Hukkle DVD Review György Pálfi Hukkle DVD Review György Pálfi Hukkle DVD Review György Pálfi Hukkle DVD Review György Pálfi Hukkle DVD Review György Pálfi Hukkle DVD Review György Pálfi Hukkle DVD Review György Pálfi Hukkle DVD Review György Pálfi Hukkle DVD Review György Pálfi Hukkle DVD Review György Pálfi Hukkle DVD Review György Pálfi Hukkle DVD Review György Pálfi Hukkle DVD Review György Pálfi Hukkle DVD Review György Pálfi Hukkle DVD Review György Pálfi Hukkle DVD Review György Pálfi Hukkle DVD Review György Pálfi Hukkle DVD Review György Pálfi's Hukkle DVD Review György Pálfi Hukkle DVD Review György Pálfi Hukkle DVD Review György Pálfi Hukkle DVD Review György Pálfi Hukkle DVD Review György Pálfi Hukkle DVD Review György Pálfi Hukkle DVD Review György Pálfi Hukkle DVD Review György Pálfi Hukkle DVD Review György Pálfi Hukkle DVD Review György Pálfi Hukkle DVD Review György Pálfi Hukkle DVD Review György Pálfi Hukkle DVD Review György Pálfi Hukkle DVD Review György Pálfi Hukkle DVD Review György Pálfi Hukkle DVD Review György Pálfi Hukkle DVD Review György Pálfi Hukkle DVD Review György Pálfi Hukkle DVD Review György Pálfi Hukkle DVD Review