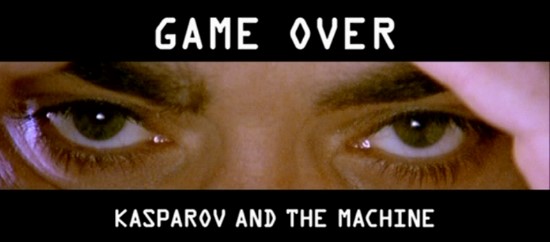 directed by Vikram Jayanti
Canada / UK
2003
Garry Kasparov is arguably the greatest chess player who has ever lived. In 1997 he played a chess match against IBM's computer Deep Blue. Kasparov lost the match. This film shows the match and the events surrounding it from Kasparov's perspective. It delves into the psychological aspects of the game, paranoia surrounding it and suspicions that have arisen around IBM's true tactics. It consists of interviews with Kasparov, his manager, chess experts, and members of the IBM Deep Blue team, as well as original footage of the match itself.
****
I was quite keen on chess when I was much younger and won the Chess Championship of my school every year I attended, but any ego you might have developed from playing the audio visual club is soon blown away when you go confront the local Russian émigrés in High Park. I paid my $12 yearly membership fee - went for months ... and never won a game. With my Modern Chess Opening book still on my shelf, I retired - extensively defeated. Realizing my limitations I begin to read about Chess history - Paul Morphy - a man who didn't even want to play chess, he just could - beats 120 or 124 opponents that he plays simultaneously... and he was blindfolded at the time. He can then repeat every move in every game 6 weeks later. The mystique of the game of chess derives from its total use of intellect, mind vs. mind. The Game Over documentary promotes this mystique to a certain degree, Kasparov's ego, the monetary side of the game and this genuine moment in history where we, human, can no longer conquer a 'stupid' machine (as Kasparov calls it).
Gary Tooze
Books...
Theatrical Release: September 5th, 2003 - Toronto Film Festival
Reviews More Reviews DVD Reviews
DVD Review: ThinkFilm - Region 1 - NTSC
DVD Box Cover

CLICK to order from:

Distribution
ThinkFilm Home Video - Region 1 - NTSC
Runtime
1:24:54
Video
1.78:1 Original Aspect Ratio
Average Bitrate: 6.6 mb/s
NTSC 720x480 29.97 f/s

NOTE: The Vertical axis represents the bits transferred per second. The Horizontal is the time in minutes.

Bitrate:

Audio
English (Dolby Digital 5.1)
Subtitles
None
Features

Release Information:
Studio: ThinkFilm

Aspect Ratio:
Original aspect Ratio 1.78:1

Edition Details:

• Commentary by director Vikram Jayanti

Annotated and animated six games of Kasparov and Deep Blue from 1997
• Kasparov Bio (Text)
• Via PC - test out 'ChessMaster 10th edition' program

DVD Release Date: May 31st, 2005
Keep Case
Chapters: 20
Comments:

I was very captivated by this - all the enigmatic celebrities associated with chess showing simple and charming failings. I don't rate the historic aspect of the match as highly as some might, but regardless it is very interesting. Jayanti doesn't over play that hand and the pivotal 2nd game is described as such early on.

Most of the archival footage is non-progressive and exhibits combing in sideways pans, but the new footage with Kasparov is quite clean, especially for a documentary. Audio is a bit weak and fluctuating - this is where subtitles would have been of benefit. The commentary is moderately intriguing but the best attribute are the animated 6 games played at a comfortable pace with narration. I think this is a great DVD to own, for chess fans or not. out of

NOTE: This film starts with a slow meandering camera and hushed inaudible whispers in the background - I had the distinct feeling it was an ode to Aleksandr Sokurov's Russian Ark.
---



DVD Menus
---
Screen Captures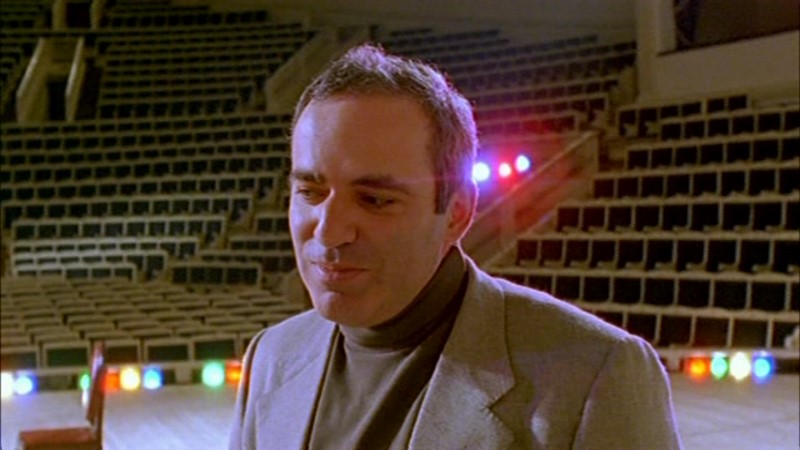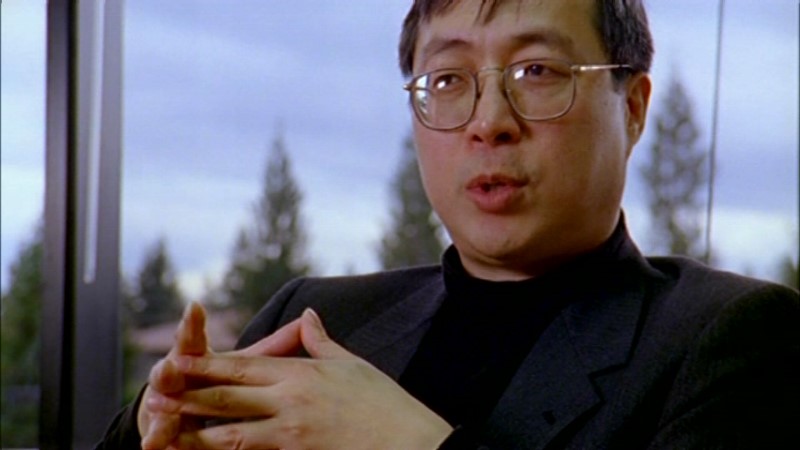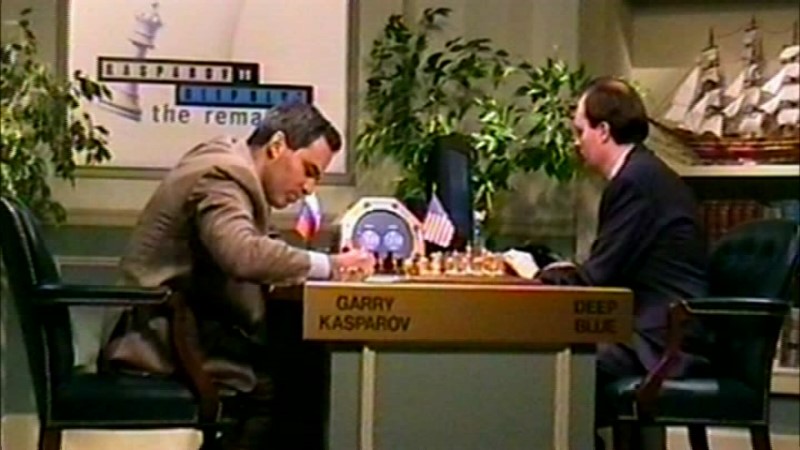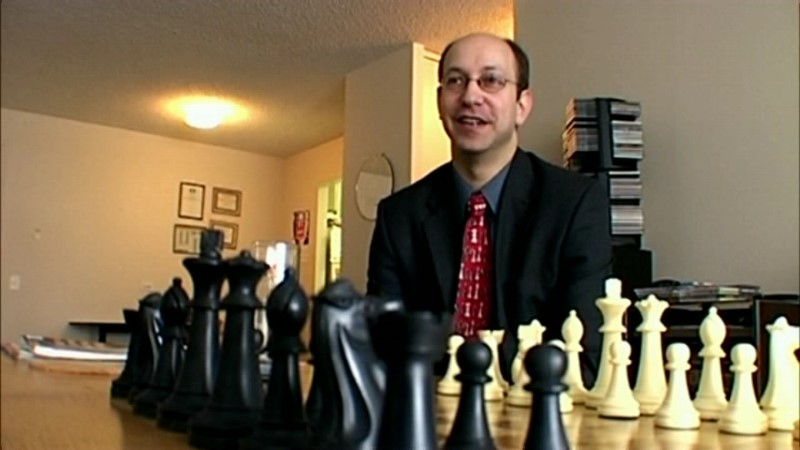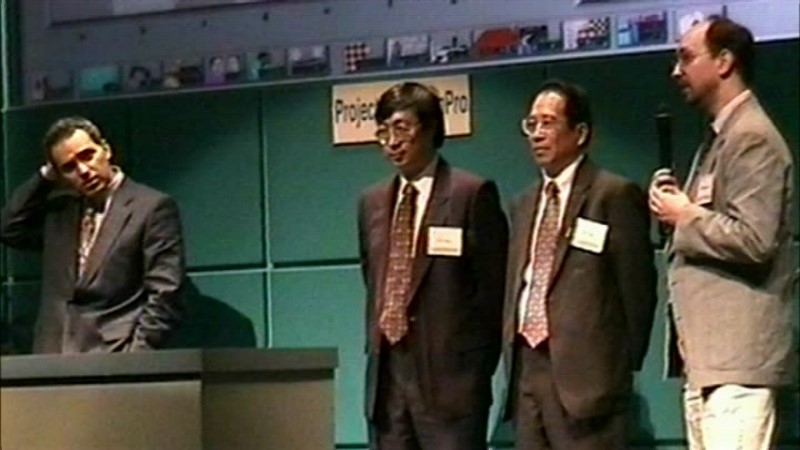 ---
---
---
Incidental Reading (CLICK COVERS or TITLES for more information)
DVD Box Cover

CLICK to order from:

Distribution
ThinkFilm Home Video - Region 1 - NTSC
---




















DONATIONS Keep DVDBeaver alive:
Mail cheques, money orders, cash to: or CLICK PayPal logo to donate!
Gary Tooze

Mississauga, Ontario,

CANADA
Thank You!
Vikram Jayanti's Game Over: Kasparov and the Machine - ThinkFilm - Region 1 NTSC game over Gary Kasparov dvd review chess Deep Blue game over Gary Kasparov dvd review chess Deep Blue game over Gary Kasparov dvd review chess Deep Blue game over Gary Kasparov dvd review chess Deep Blue game over Gary Kasparov dvd review chess Deep Blue game over Gary Kasparov dvd review chess Deep Blue game over Gary Kasparov dvd review chess Deep Blue game over Gary Kasparov dvd review chess Deep Blue game over Gary Kasparov dvd review chess Deep Blue game over Gary Kasparov dvd review chess Deep Blue Vikram Jayanti's Game Over: Kasparov and the Machine - ThinkFilm - Region 1 NTSC game over Gary Kasparov dvd review chess Deep Blue game over Gary Kasparov dvd review chess Deep Blue game over Gary Kasparov dvd review chess Deep Blue game over Gary Kasparov dvd review chess Deep Blue game over Gary Kasparov dvd review chess Deep Blue game over Gary Kasparov dvd review chess Deep Blue game over Gary Kasparov dvd review chess Deep Blue game over Gary Kasparov dvd review chess Deep Blue game over Gary Kasparov dvd review chess Deep Blue game over Gary Kasparov dvd review chess Deep Blue Vikram Jayanti's Game Over: Kasparov and the Machine - ThinkFilm - Region 1 NTSC game over Gary Kasparov dvd review chess Deep Blue game over Gary Kasparov dvd review chess Deep Blue game over Gary Kasparov dvd review chess Deep Blue game over Gary Kasparov dvd review chess Deep Blue game over Gary Kasparov dvd review chess Deep Blue game over Gary Kasparov dvd review chess Deep Blue game over Gary Kasparov dvd review chess Deep Blue game over Gary Kasparov dvd review chess Deep Blue game over Gary Kasparov dvd review chess Deep Blue game over Gary Kasparov dvd review chess Deep Blue Vikram Jayanti's Game Over: Kasparov and the Machine - ThinkFilm - Region 1 NTSC game over Gary Kasparov dvd review chess Deep Blue game over Gary Kasparov dvd review chess Deep Blue game over Gary Kasparov dvd review chess Deep Blue game over Gary Kasparov dvd review chess Deep Blue game over Gary Kasparov dvd review chess Deep Blue game over Gary Kasparov dvd review chess Deep Blue game over Gary Kasparov dvd review chess Deep Blue game over Gary Kasparov dvd review chess Deep Blue game over Gary Kasparov dvd review chess Deep Blue game over Gary Kasparov dvd review chess Deep Blue Vikram Jayanti's Game Over: Kasparov and the Machine - ThinkFilm - Region 1 NTSC game over Gary Kasparov dvd review chess Deep Blue game over Gary Kasparov dvd review chess Deep Blue game over Gary Kasparov dvd review chess Deep Blue game over Gary Kasparov dvd review chess Deep Blue game over Gary Kasparov dvd review chess Deep Blue game over Gary Kasparov dvd review chess Deep Blue game over Gary Kasparov dvd review chess Deep Blue game over Gary Kasparov dvd review chess Deep Blue game over Gary Kasparov dvd review chess Deep Blue game over Gary Kasparov dvd review chess Deep Blue Vikram Jayanti's Game Over: Kasparov and the Machine - ThinkFilm - Region 1 NTSC game over Gary Kasparov dvd review chess Deep Blue game over Gary Kasparov dvd review chess Deep Blue game over Gary Kasparov dvd review chess Deep Blue game over Gary Kasparov dvd review chess Deep Blue game over Gary Kasparov dvd review chess Deep Blue game over Gary Kasparov dvd review chess Deep Blue game over Gary Kasparov dvd review chess Deep Blue game over Gary Kasparov dvd review chess Deep Blue game over Gary Kasparov dvd review chess Deep Blue game over Gary Kasparov dvd review chess Deep Blue Vikram Jayanti's Game Over: Kasparov and the Machine - ThinkFilm - Region 1 NTSC game over Gary Kasparov dvd review chess Deep Blue game over Gary Kasparov dvd review chess Deep Blue game over Gary Kasparov dvd review chess Deep Blue game over Gary Kasparov dvd review chess Deep Blue game over Gary Kasparov dvd review chess Deep Blue game over Gary Kasparov dvd review chess Deep Blue game over Gary Kasparov dvd review chess Deep Blue game over Gary Kasparov dvd review chess Deep Blue game over Gary Kasparov dvd review chess Deep Blue game over Gary Kasparov dvd review chess Deep Blue Vikram Jayanti's Game Over: Kasparov and the Machine - ThinkFilm - Region 1 NTSC game over Gary Kasparov dvd review chess Deep Blue game over Gary Kasparov dvd review chess Deep Blue game over Gary Kasparov dvd review chess Deep Blue game over Gary Kasparov dvd review chess Deep Blue game over Gary Kasparov dvd review chess Deep Blue game over Gary Kasparov dvd review chess Deep Blue game over Gary Kasparov dvd review chess Deep Blue game over Gary Kasparov dvd review chess Deep Blue game over Gary Kasparov dvd review chess Deep Blue game over Gary Kasparov dvd review chess Deep Blue