'Electric Edwardians'
Restored by The British Film Institute (and BBC)
UK 2005
Film footage shot between 1900-1913
The films of Mitchell & Kenyon take us on a tour of everyday life in Edwardian Britain. The Lost World of Mitchell & Kenyon, the hugely successful BBC TV series, subsequently released on DVD by BFI Video, introduced audiences to these miraculous views of the past. Now this new DVD offers the opportunity to explore the Collection in greater depth.

The material is taken from 28 hours of footage and represents a cross-section of the subjects covered in the Collection. From factory gates to football matches, the leaving of Liverpool to the leaving of work, the workers on holiday and at play, it provides an unparalleled opportunity to see the world through the eyes of the working communities of the time.

The films are grouped into five sections: Youth and Education, The Anglo-Boer War, Workers, High Days and Holidays and People and Places; a total of 35 full-length films in all, plus five 'hidden' items. They are set to a specially commissioned score by Sheffield-based duo In The Nursery and presented in a digipack, with extensive extras offering much background material.
Home Pages About the Preservation
DVD Review: BFI Video - Region 2 - PAL
DVD Box Cover

CLICK to order from:

Distribution
BFI Video - Region 2 - PAL
Runtime
1:25:24
Video
1.33:1 Original Aspect Ratio
Average Bitrate: 6.19 mb/s
NTSC 720x480 29.97 f/s

NOTE: The Vertical axis represents the bits transferred per second. The Horizontal is the time in minutes.

Bitrate:

Audio
Silent with music - English (Dolby Digital 2.0) - Narration and Commentary
Subtitles
English, None
Features

Release Information:
Studio: BFI Video

Aspect Ratio:
Original aspect Ratio 1.33:1

Edition Details:

• Commentary And Filmed Interview With Vanessa Toulmin Of The National Fairground Archive
• Featurette On The Restoration By The BFI National Film And Television Archive
• Pictures Of Crowd Splendor Voice Over By Tom Gunning Narration By Paul McGann
• Illustrated 24-page booklet, written by Vanessa Toulmin

DVD Release Date: May 30th, 2005
Triple Tiered digi-pak inside slipcase
Chapters: 5 sections with 36 Chapters in total
| | |
| --- | --- |
| Comments: | For those who were as enthralled as I was with The Lost World of Mitchell & Kenyon, both BBC TV and BFI DVD, this more of the same magic. Not only does this delve deeper into this mammoth cinematic find, but it is also a superior image. Although I saw some very minor combing (possibly as a function of the frame rate conversion), this must be progressively transferred - it is very smooth. Further relevant additions include well-appointed subtitles and an adept commentary. This is only approx 1 1/2 hours, where 'The Lost World...' was almost 3 hours. This DVD has 45 minutes of valued extra features including a featurette on the restoration, a voice over introduction and a beautiful 24 page booklet covering more interesting facts about the historical significance of these films. I really can't find any flaws in this wonderful package. BFI are known as champions of this type of under-appreciated cinema. They deserve our support. out of |
---
---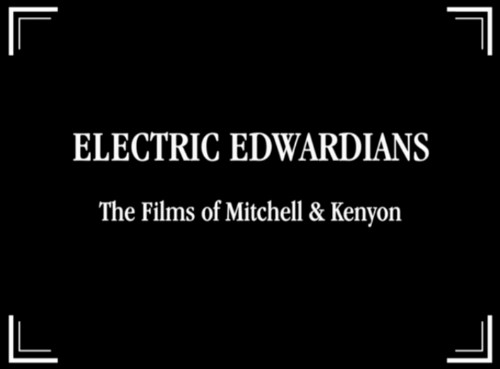 Subtitle Sample
Screen Captures
---
Associated Reading (CLICK COVERS or TITLES for more information)
DVD Box Cover

CLICK to order from:

Distribution
BFI Video - Region 2 - PAL
---





DONATIONS Keep DVDBeaver alive and advertisement free:
Mail cheques, money orders, cash to: or CLICK PayPal logo to donate!
Gary Tooze

Mississauga, Ontario,

CANADA
Thank You!
electric edwardians michell and kenyon DVD Review BFI electric edwardians michell and kenyon DVD Review BFI electric edwardians michell and kenyon DVD Review BFI electric edwardians michell and kenyon DVD Review BFI electric edwardians michell and kenyon DVD Review BFI electric edwardians michell and kenyon DVD Review BFI electric edwardians michell and kenyon DVD Review BFI electric edwardians michell and kenyon DVD Review BFI electric edwardians michell and kenyon DVD Review BFI electric edwardians michell and kenyon DVD Review BFI electric edwardians michell and kenyon DVD Review BFI electric edwardians michell and kenyon DVD Review BFI electric edwardians michell and kenyon DVD Review BFI electric edwardians michell and kenyon DVD Review BFI electric edwardians michell and kenyon DVD Review BFI electric edwardians michell and kenyon DVD Review BFI electric edwardians michell and kenyon DVD Review BFI electric edwardians michell and kenyon DVD Review BFI electric edwardians michell and kenyon DVD Review BFI electric edwardians michell and kenyon DVD Review BFI electric edwardians michell and kenyon DVD Review BFI electric edwardians michell and kenyon DVD Review BFI electric edwardians michell and kenyon DVD Review BFI electric edwardians michell and kenyon DVD Review BFI electric edwardians michell and kenyon DVD Review BFI electric edwardians michell and kenyon DVD Review BFI electric edwardians michell and kenyon DVD Review BFI electric edwardians michell and kenyon DVD Review BFI electric edwardians michell and kenyon DVD Review BFI electric edwardians michell and kenyon DVD Review BFI electric edwardians michell and kenyon DVD Review BFI electric edwardians michell and kenyon DVD Review BFI electric edwardians michell and kenyon DVD Review BFI electric edwardians michell and kenyon DVD Review BFI electric edwardians michell and kenyon DVD Review BFI electric edwardians michell and kenyon DVD Review BFI electric edwardians michell and kenyon DVD Review BFI electric edwardians michell and kenyon DVD Review BFI electric edwardians michell and kenyon DVD Review BFI electric edwardians michell and kenyon DVD Review BFI electric edwardians michell and kenyon DVD Review BFI electric edwardians michell and kenyon DVD Review BFI electric edwardians michell and kenyon DVD Review BFI electric edwardians michell and kenyon DVD Review BFI electric edwardians michell and kenyon DVD Review BFI electric edwardians michell and kenyon DVD Review BFI electric edwardians michell and kenyon DVD Review BFI electric edwardians michell and kenyon DVD Review BFI electric edwardians michell and kenyon DVD Review BFI electric edwardians michell and kenyon DVD Review BFI electric edwardians michell and kenyon DVD Review BFI electric edwardians michell and kenyon DVD Review BFI electric edwardians michell and kenyon DVD Review BFI electric edwardians michell and kenyon DVD Review BFI electric edwardians michell and kenyon DVD Review BFI electric edwardians michell and kenyon DVD Review BFI electric edwardians michell and kenyon DVD Review BFI electric edwardians michell and kenyon DVD Review BFI electric edwardians michell and kenyon DVD Review BFI electric edwardians michell and kenyon DVD Review BFI electric edwardians michell and kenyon DVD Review BFI electric edwardians michell and kenyon DVD Review BFI electric edwardians michell and kenyon DVD Review BFI electric edwardians michell and kenyon DVD Review BFI electric edwardians michell and kenyon DVD Review BFI electric edwardians michell and kenyon DVD Review BFI electric edwardians michell and kenyon DVD Review BFI electric edwardians michell and kenyon DVD Review BFI electric edwardians michell and kenyon DVD Review BFI electric edwardians michell and kenyon DVD Review BFI electric edwardians michell and kenyon DVD Review BFI electric edwardians michell and kenyon DVD Review BFI electric edwardians michell and kenyon DVD Review BFI electric edwardians michell and kenyon DVD Review BFI electric edwardians michell and kenyon DVD Review BFI electric edwardians michell and kenyon DVD Review BFI electric edwardians michell and kenyon DVD Review BFI electric edwardians michell and kenyon DVD Review BFI electric edwardians michell and kenyon DVD Review BFI electric edwardians michell and kenyon DVD Review BFI electric edwardians michell and kenyon DVD Review BFI electric edwardians michell and kenyon DVD Review BFI electric edwardians michell and kenyon DVD Review BFI electric edwardians michell and kenyon DVD Review BFI electric edwardians michell and kenyon DVD Review BFI electric edwardians michell and kenyon DVD Review BFI electric edwardians michell and kenyon DVD Review BFI electric edwardians michell and kenyon DVD Review BFI electric edwardians michell and kenyon DVD Review BFI electric edwardians michell and kenyon DVD Review BFI electric edwardians michell and kenyon DVD Review BFI electric edwardians michell and kenyon DVD Review BFI electric edwardians michell and kenyon DVD Review BFI electric edwardians michell and kenyon DVD Review BFI electric edwardians michell and kenyon DVD Review BFI electric edwardians michell and kenyon DVD Review BFI electric edwardians michell and kenyon DVD Review BFI electric edwardians michell and kenyon DVD Review BFI electric edwardians michell and kenyon DVD Review BFI electric edwardians michell and kenyon DVD Review BFI electric edwardians michell and kenyon DVD Review BFI electric edwardians michell and kenyon DVD Review BFI electric edwardians michell and kenyon DVD Review BFI electric edwardians michell and kenyon DVD Review BFI electric edwardians michell and kenyon DVD Review BFI electric edwardians michell and kenyon DVD Review BFI electric edwardians michell and kenyon DVD Review BFI electric edwardians michell and kenyon DVD Review BFI electric edwardians michell and kenyon DVD Review BFI electric edwardians michell and kenyon DVD Review BFI electric edwardians michell and kenyon DVD Review BFI electric edwardians michell and kenyon DVD Review BFI