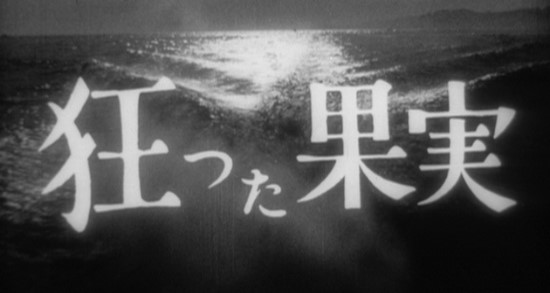 (aka 'Crazed Fruit' or 'Juvenile Jungle')
directed by Kô Nakahira

Japan 1956
Two brothers compete for the amorous favors of a young woman during a seaside summer of gambling, boating, and drinking in this seminal "sun tribe" (taiyozoku) film from director Ko Nakahira. Adapted from the controversial novel by Shintaro Ishihara—and critically savaged for its lurid portrayal of the postwar sexual revolution among Japan's young and privileged—Crazed Fruit is an anarchic outcry against tradition and the older generation.
Theatrical Release: January 1956
Reviews More Reviews DVD Reviews
DVD Review: Criterion - Region 0 - NTSC
DVD Box Cover

CLICK to order from:

Distribution
Criterion Collection - Spine # 295 - Region 0 - NTSC
Runtime
1:25:51
Video
1.33:1 Original Aspect Ratio
Average Bitrate: 8.769 mb/s
NTSC 720x480 29.97 f/s

NOTE: The Vertical axis represents the bits transferred per second. The Horizontal is the time in minutes.

Bitrate:

Audio
Japanese (Dolby Digital 2.0)
Subtitles
English, , None
Features

Release Information:
Studio: Criterion / Home Vision

Aspect Ratio:
Original aspect Ratio 1.33:1

Edition Details:

• Audio commentary by renowned Japanese-film scholar Donald Richie
• Liner notes with essay by film scholar Michael Raine

DVD Release Date: June 28th, 2005
Keep Case
Chapters: 22
| | |
| --- | --- |
| Comments: | The print has some damage marks and is very dirty in spots, especially in the beginning, but Criterion have maintained the contrast and shadow detail. There is film grain showing in some of the scenes. It is, of course, progressively transferred and the subtitles are excellent. It looks more like a much older film, probably due to the manner in which it was stored. Original Japanese mono audio is offered. Donald Richie talks of the sexuality of the era among a number of other topics in the commentary and I found his dissertations less-dry than usual. The film reminded me of a kind of James-Dean-ish youth perspective film and I enjoyed it very much. out of |
---



DVD Menus
---
Subtitle Sample
Screen Captures
---
---
Recommended Reading in Japanese Cinema (CLICK COVERS or TITLES for more information)
Check out more in "The Library"
---
DVD Box Cover

CLICK to order from:

Distribution
Criterion Collection - Spine # 295 - Region 1 - NTSC
---






Kô Nakahira Kurutta kajitsu Crazed Fruit Criterion DVD Review Kô Nakahira Kurutta kajitsu Crazed Fruit Criterion DVD Review Kô Nakahira Kurutta kajitsu Crazed Fruit Criterion DVD Review Kô Nakahira Kurutta kajitsu Crazed Fruit Criterion DVD Review Kô Nakahira Kurutta kajitsu Crazed Fruit Criterion DVD Review Kô Nakahira Kurutta kajitsu Crazed Fruit Criterion DVD Review Kô Nakahira Kurutta kajitsu Crazed Fruit Criterion DVD Review Kô Nakahira Kurutta kajitsu Crazed Fruit Criterion DVD Review Kô Nakahira Kurutta kajitsu Crazed Fruit Criterion DVD Review Kô Nakahira Kurutta kajitsu Crazed Fruit Criterion DVD Review Kô Nakahira Kurutta kajitsu Crazed Fruit Criterion DVD Review Kô Nakahira Kurutta kajitsu Crazed Fruit Criterion DVD Review Kô Nakahira Kurutta kajitsu Crazed Fruit Criterion DVD Review Kô Nakahira Kurutta kajitsu Crazed Fruit Criterion DVD Review Kô Nakahira Kurutta kajitsu Crazed Fruit Criterion DVD Review Kô Nakahira Kurutta kajitsu Crazed Fruit Criterion DVD Review Kô Nakahira Kurutta kajitsu Crazed Fruit Criterion DVD Review Kô Nakahira Kurutta kajitsu Crazed Fruit Criterion DVD Review Kô Nakahira Kurutta kajitsu Crazed Fruit Criterion DVD Review Kô Nakahira Kurutta kajitsu Crazed Fruit Criterion DVD Review Kô Nakahira Kurutta kajitsu Crazed Fruit Criterion DVD Review Kô Nakahira Kurutta kajitsu Crazed Fruit Criterion DVD Review Kô Nakahira Kurutta kajitsu Crazed Fruit Criterion DVD Review Kô Nakahira Kurutta kajitsu Crazed Fruit Criterion DVD Review Kô Nakahira Kurutta kajitsu Crazed Fruit Criterion DVD Review Kô Nakahira Kurutta kajitsu Crazed Fruit Criterion DVD Review Kô Nakahira Kurutta kajitsu Crazed Fruit Criterion DVD Review Kô Nakahira Kurutta kajitsu Crazed Fruit Criterion DVD Review Kô Nakahira Kurutta kajitsu Crazed Fruit Criterion DVD Review Kô Nakahira Kurutta kajitsu Crazed Fruit Criterion DVD Review Kô Nakahira Kurutta kajitsu Crazed Fruit Criterion DVD Review Kô Nakahira Kurutta kajitsu Crazed Fruit Criterion DVD Review Kô Nakahira Kurutta kajitsu Crazed Fruit Criterion DVD Review Kô Nakahira Kurutta kajitsu Crazed Fruit Criterion DVD Review Kô Nakahira Kurutta kajitsu Crazed Fruit Criterion DVD Review Kô Nakahira Kurutta kajitsu Crazed Fruit Criterion DVD Review Kô Nakahira Kurutta kajitsu Crazed Fruit Criterion DVD Review Kô Nakahira Kurutta kajitsu Crazed Fruit Criterion DVD Review Kô Nakahira Kurutta kajitsu Crazed Fruit Criterion DVD Review Kô Nakahira Kurutta kajitsu Crazed Fruit Criterion DVD Review Kô Nakahira Kurutta kajitsu Crazed Fruit Criterion DVD Review Kô Nakahira Kurutta kajitsu Crazed Fruit Criterion DVD Review Kô Nakahira Kurutta kajitsu Crazed Fruit Criterion DVD Review Kô Nakahira Kurutta kajitsu Crazed Fruit Criterion DVD Review Kô Nakahira Kurutta kajitsu Crazed Fruit Criterion DVD Review Kô Nakahira Kurutta kajitsu Crazed Fruit Criterion DVD Review Kô Nakahira Kurutta kajitsu Crazed Fruit Criterion DVD Review Kô Nakahira Kurutta kajitsu Crazed Fruit Criterion DVD Review Kô Nakahira Kurutta kajitsu Crazed Fruit Criterion DVD Review Kô Nakahira Kurutta kajitsu Crazed Fruit Criterion DVD Review Kô Nakahira Kurutta kajitsu Crazed Fruit Criterion DVD Review Kô Nakahira Kurutta kajitsu Crazed Fruit Criterion DVD Review Kô Nakahira Kurutta kajitsu Crazed Fruit Criterion DVD Review Kô Nakahira Kurutta kajitsu Crazed Fruit Criterion DVD Review Kô Nakahira Kurutta kajitsu Crazed Fruit Criterion DVD Review Kô Nakahira Kurutta kajitsu Crazed Fruit Criterion DVD Review Kô Nakahira Kurutta kajitsu Crazed Fruit Criterion DVD Review Kô Nakahira Kurutta kajitsu Crazed Fruit Criterion DVD Review Kô Nakahira Kurutta kajitsu Crazed Fruit Criterion DVD Review Kô Nakahira Kurutta kajitsu Crazed Fruit Criterion DVD Review Kô Nakahira Kurutta kajitsu Crazed Fruit Criterion DVD Review Kô Nakahira Kurutta kajitsu Crazed Fruit Criterion DVD Review Kô Nakahira Kurutta kajitsu Crazed Fruit Criterion DVD Review Kô Nakahira Kurutta kajitsu Crazed Fruit Criterion DVD Review Kô Nakahira Kurutta kajitsu Crazed Fruit Criterion DVD Review Kô Nakahira Kurutta kajitsu Crazed Fruit Criterion DVD Review Kô Nakahira Kurutta kajitsu Crazed Fruit Criterion DVD Review Kô Nakahira Kurutta kajitsu Crazed Fruit Criterion DVD Review Kô Nakahira Kurutta kajitsu Crazed Fruit Criterion DVD Review Kô Nakahira Kurutta kajitsu Crazed Fruit Criterion DVD Review Kô Nakahira Kurutta kajitsu Crazed Fruit Criterion DVD Review Kô Nakahira Kurutta kajitsu Crazed Fruit Criterion DVD Review Kô Nakahira Kurutta kajitsu Crazed Fruit Criterion DVD Review Kô Nakahira Kurutta kajitsu Crazed Fruit Criterion DVD Review Kô Nakahira Kurutta kajitsu Crazed Fruit Criterion DVD Review Kô Nakahira Kurutta kajitsu Crazed Fruit Criterion DVD Review Kô Nakahira Kurutta kajitsu Crazed Fruit Criterion DVD Review Kô Nakahira Kurutta kajitsu Crazed Fruit Criterion DVD Review Kô Nakahira Kurutta kajitsu Crazed Fruit Criterion DVD Review Kô Nakahira Kurutta kajitsu Crazed Fruit Criterion DVD Review Kô Nakahira Kurutta kajitsu Crazed Fruit Criterion DVD Review Kô Nakahira Kurutta kajitsu Crazed Fruit Criterion DVD Review Kô Nakahira Kurutta kajitsu Crazed Fruit Criterion DVD Review Kô Nakahira Kurutta kajitsu Crazed Fruit Criterion DVD Review Kô Nakahira Kurutta kajitsu Crazed Fruit Criterion DVD Review Kô Nakahira Kurutta kajitsu Crazed Fruit Criterion DVD Review Kô Nakahira Kurutta kajitsu Crazed Fruit Criterion DVD Review Kô Nakahira Kurutta kajitsu Crazed Fruit Criterion DVD Review Kô Nakahira Kurutta kajitsu Crazed Fruit Criterion DVD Review Kô Nakahira Kurutta kajitsu Crazed Fruit Criterion DVD Review Kô Nakahira Kurutta kajitsu Crazed Fruit Criterion DVD Review Kô Nakahira Kurutta kajitsu Crazed Fruit Criterion DVD Review Kô Nakahira Kurutta kajitsu Crazed Fruit Criterion DVD Review Kô Nakahira Kurutta kajitsu Crazed Fruit Criterion DVD Review Kô Nakahira Kurutta kajitsu Crazed Fruit Criterion DVD Review Kô Nakahira Kurutta kajitsu Crazed Fruit Criterion DVD Review Kô Nakahira Kurutta kajitsu Crazed Fruit Criterion DVD Review Kô Nakahira Kurutta kajitsu Crazed Fruit Criterion DVD Review Kô Nakahira Kurutta kajitsu Crazed Fruit Criterion DVD Review Kô Nakahira Kurutta kajitsu Crazed Fruit Criterion DVD Review Kô Nakahira Kurutta kajitsu Crazed Fruit Criterion DVD Review Kô Nakahira Kurutta kajitsu Crazed Fruit Criterion DVD Review Kô Nakahira Kurutta kajitsu Crazed Fruit Criterion DVD Review Kô Nakahira Kurutta kajitsu Crazed Fruit Criterion DVD Review Kô Nakahira Kurutta kajitsu Crazed Fruit Criterion DVD Review Kô Nakahira Kurutta kajitsu Crazed Fruit Criterion DVD Review Kô Nakahira Kurutta kajitsu Crazed Fruit Criterion DVD Review Kô Nakahira Kurutta kajitsu Crazed Fruit Criterion DVD Review Kô Nakahira Kurutta kajitsu Crazed Fruit Criterion DVD Review Kô Nakahira Kurutta kajitsu Crazed Fruit Criterion DVD Review Kô Nakahira Kurutta kajitsu Crazed Fruit Criterion DVD Review Kô Nakahira Kurutta kajitsu Crazed Fruit Criterion DVD Review Kô Nakahira Kurutta kajitsu Crazed Fruit Criterion DVD Review Kô Nakahira Kurutta kajitsu Crazed Fruit Criterion DVD Review Kô Nakahira Kurutta kajitsu Crazed Fruit Criterion DVD Review Kô Nakahira Kurutta kajitsu Crazed Fruit Criterion DVD Review Kô Nakahira Kurutta kajitsu Crazed Fruit Criterion DVD Review Kô Nakahira Kurutta kajitsu Crazed Fruit Criterion DVD Review Kô Nakahira Kurutta kajitsu Crazed Fruit Criterion DVD Review Kô Nakahira Kurutta kajitsu Crazed Fruit Criterion DVD Review Kô Nakahira Kurutta kajitsu Crazed Fruit Criterion DVD Review Kô Nakahira Kurutta kajitsu Crazed Fruit Criterion DVD Review Kô Nakahira Kurutta kajitsu Crazed Fruit Criterion DVD Review Kô Nakahira Kurutta kajitsu Crazed Fruit Criterion DVD Review Kô Nakahira Kurutta kajitsu Crazed Fruit Criterion DVD Review Kô Nakahira Kurutta kajitsu Crazed Fruit Criterion DVD Review Kô Nakahira Kurutta kajitsu Crazed Fruit Criterion DVD Review Kô Nakahira Kurutta kajitsu Crazed Fruit Criterion DVD Review Kô Nakahira Kurutta kajitsu Crazed Fruit Criterion DVD Review Kô Nakahira Kurutta kajitsu Crazed Fruit Criterion DVD Review Kô Nakahira Kurutta kajitsu Crazed Fruit Criterion DVD Review Kô Nakahira Kurutta kajitsu Crazed Fruit Criterion DVD Review Kô Nakahira Kurutta kajitsu Crazed Fruit Criterion DVD Review Kô Nakahira Kurutta kajitsu Crazed Fruit Criterion DVD Review Kô Nakahira Kurutta kajitsu Crazed Fruit Criterion DVD Review Kô Nakahira Kurutta kajitsu Crazed Fruit Criterion DVD Review Kô Nakahira Kurutta kajitsu Crazed Fruit Criterion DVD Review Kô Nakahira Kurutta kajitsu Crazed Fruit Criterion DVD Review Kô Nakahira Kurutta kajitsu Crazed Fruit Criterion DVD Review Kô Nakahira Kurutta kajitsu Crazed Fruit Criterion DVD Review Kô Nakahira Kurutta kajitsu Crazed Fruit Criterion DVD Review Kô Nakahira Kurutta kajitsu Crazed Fruit Criterion DVD Review Kô Nakahira Kurutta kajitsu Crazed Fruit Criterion DVD Review Kô Nakahira Kurutta kajitsu Crazed Fruit Criterion DVD Review