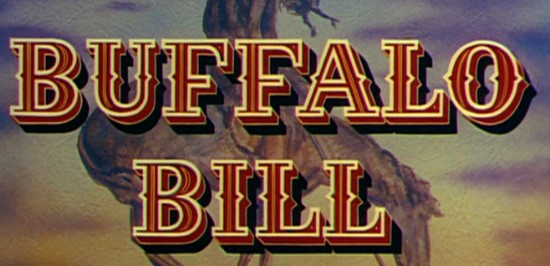 directed by William A. Wellman
USA 1944
Buffalo Bill Cody had three incarnations: as a pioneer, as a lobbyist in Washington and as a circus and side-show attraction. As played by McCrea, Cody is presented as a handsome frontiersman, a defender of the red Indian and an all-American hero. No mention here of his questionably acquired wealth in the later years. Wellman, who agreed to make the movie as a quid pro quo for getting the superb The Ox-Bow Incident, directs with the accent on action. Dull female roles are fleshed out by O'Hara as his ever-dutiful wife and Darnell as a native American.
Video Cover
Theatrical Release: March 1944 - USA
Reviews More Reviews DVD Reviews
DVD Review: 20th Century Fox - Region 1 - NTSC
DVD Box Cover

CLICK to order from:

Distribution
20th Century Fox Home Video - Region 1 - NTSC
Runtime
1:30:18
Video
1.33:1 Original Aspect Ratio
Average Bitrate: 6.47 mb/s
NTSC 720x480 29.97 f/s

NOTE: The Vertical axis represents the bits transferred per second. The Horizontal is the time in minutes.

Bitrate:

Audio
English (Stereo 2.0) ,English (Mono), DUBs: French (Dolby Digital 1.0), Spanish (Dolby Digital 1.0)
Subtitles
English, Spanish, None
Features

Release Information:
Studio: 20th Century Fox Home Video

Aspect Ratio:
Original aspect Ratio 1.33:1

Edition Details:

• none

DVD Release Date: May 24th, 2005
Keep Case
Chapters: 24
| | |
| --- | --- |
| Comments: | This DVD image isn't too bad considering - early Technicolor, relative sharpness, full of grain and decent contrast. I only listened to the mono English track option and it was consistent with an occasional background hiss noted. No extras at all but I loved the menus. A very pragmatic and reasonably priced DVD. out of |
---



DVD Menus
---
Subtitle Sample
Screen Captures
---
---
---
Recommended Reading for Western Genre Fans (CLICK COVERS or TITLES for more information)
Check out more in "The Library"
---
DVD Box Cover

CLICK to order from:

Distribution
20th Century Fox Home Video - Region 1 - NTSC
---






William A. Wellman's Buffalo Bill194420th Century Fox - Region 1- NTSC Buffalo Bill 1944 William A. Wellman DVD Review Buffalo Bill 1944 William A. Wellman DVD Review Buffalo Bill 1944 William A. Wellman DVD Review Buffalo Bill 1944 William A. Wellman DVD Review Buffalo Bill 1944 William A. Wellman DVD Review Buffalo Bill 1944 William A. Wellman DVD Review Buffalo Bill 1944 William A. Wellman DVD Review Buffalo Bill 1944 William A. Wellman DVD Review Buffalo Bill 1944 William A. Wellman DVD Review Buffalo Bill 1944 William A. Wellman DVD Review Buffalo Bill 1944 William A. Wellman DVD Review Buffalo Bill 1944 William A. Wellman DVD Review Buffalo Bill 1944 William A. Wellman DVD Review William A. Wellman's Buffalo Bill194420th Century Fox - Region 1- NTSC Buffalo Bill 1944 William A. Wellman DVD Review Buffalo Bill 1944 William A. Wellman DVD Review Buffalo Bill 1944 William A. Wellman DVD Review Buffalo Bill 1944 William A. Wellman DVD Review Buffalo Bill 1944 William A. Wellman DVD Review Buffalo Bill 1944 William A. Wellman DVD Review Buffalo Bill 1944 William A. Wellman DVD Review Buffalo Bill 1944 William A. Wellman DVD Review Buffalo Bill 1944 William A. Wellman DVD Review Buffalo Bill 1944 William A. Wellman DVD Review Buffalo Bill 1944 William A. Wellman DVD Review Buffalo Bill 1944 William A. Wellman DVD Review Buffalo Bill 1944 William A. Wellman DVD Review William A. Wellman's Buffalo Bill194420th Century Fox - Region 1- NTSC Buffalo Bill 1944 William A. Wellman DVD Review Buffalo Bill 1944 William A. Wellman DVD Review Buffalo Bill 1944 William A. Wellman DVD Review Buffalo Bill 1944 William A. Wellman DVD Review Buffalo Bill 1944 William A. Wellman DVD Review Buffalo Bill 1944 William A. Wellman DVD Review Buffalo Bill 1944 William A. Wellman DVD Review Buffalo Bill 1944 William A. Wellman DVD Review Buffalo Bill 1944 William A. Wellman DVD Review Buffalo Bill 1944 William A. Wellman DVD Review Buffalo Bill 1944 William A. Wellman DVD Review Buffalo Bill 1944 William A. Wellman DVD Review Buffalo Bill 1944 William A. Wellman DVD Review William A. Wellman's Buffalo Bill194420th Century Fox - Region 1- NTSC Buffalo Bill 1944 William A. Wellman DVD Review Buffalo Bill 1944 William A. Wellman DVD Review Buffalo Bill 1944 William A. Wellman DVD Review Buffalo Bill 1944 William A. Wellman DVD Review Buffalo Bill 1944 William A. Wellman DVD Review Buffalo Bill 1944 William A. Wellman DVD Review Buffalo Bill 1944 William A. Wellman DVD Review Buffalo Bill 1944 William A. Wellman DVD Review Buffalo Bill 1944 William A. Wellman DVD Review Buffalo Bill 1944 William A. Wellman DVD Review Buffalo Bill 1944 William A. Wellman DVD Review Buffalo Bill 1944 William A. Wellman DVD Review Buffalo Bill 1944 William A. Wellman DVD Review William A. Wellman's Buffalo Bill194420th Century Fox - Region 1- NTSC Buffalo Bill 1944 William A. Wellman DVD Review Buffalo Bill 1944 William A. Wellman DVD Review Buffalo Bill 1944 William A. Wellman DVD Review Buffalo Bill 1944 William A. Wellman DVD Review Buffalo Bill 1944 William A. Wellman DVD Review Buffalo Bill 1944 William A. Wellman DVD Review Buffalo Bill 1944 William A. Wellman DVD Review Buffalo Bill 1944 William A. Wellman DVD Review Buffalo Bill 1944 William A. Wellman DVD Review Buffalo Bill 1944 William A. Wellman DVD Review Buffalo Bill 1944 William A. Wellman DVD Review Buffalo Bill 1944 William A. Wellman DVD Review Buffalo Bill 1944 William A. Wellman DVD Review William A. Wellman's Buffalo Bill194420th Century Fox - Region 1- NTSC Buffalo Bill 1944 William A. Wellman DVD Review Buffalo Bill 1944 William A. Wellman DVD Review Buffalo Bill 1944 William A. Wellman DVD Review Buffalo Bill 1944 William A. Wellman DVD Review Buffalo Bill 1944 William A. Wellman DVD Review Buffalo Bill 1944 William A. Wellman DVD Review Buffalo Bill 1944 William A. Wellman DVD Review Buffalo Bill 1944 William A. Wellman DVD Review Buffalo Bill 1944 William A. Wellman DVD Review Buffalo Bill 1944 William A. Wellman DVD Review Buffalo Bill 1944 William A. Wellman DVD Review Buffalo Bill 1944 William A. Wellman DVD Review Buffalo Bill 1944 William A. Wellman DVD Review William A. Wellman's Buffalo Bill194420th Century Fox - Region 1- NTSC Buffalo Bill 1944 William A. Wellman DVD Review Buffalo Bill 1944 William A. Wellman DVD Review Buffalo Bill 1944 William A. Wellman DVD Review Buffalo Bill 1944 William A. Wellman DVD Review Buffalo Bill 1944 William A. Wellman DVD Review Buffalo Bill 1944 William A. Wellman DVD Review Buffalo Bill 1944 William A. Wellman DVD Review Buffalo Bill 1944 William A. Wellman DVD Review Buffalo Bill 1944 William A. Wellman DVD Review Buffalo Bill 1944 William A. Wellman DVD Review Buffalo Bill 1944 William A. Wellman DVD Review Buffalo Bill 1944 William A. Wellman DVD Review Buffalo Bill 1944 William A. Wellman DVD Review