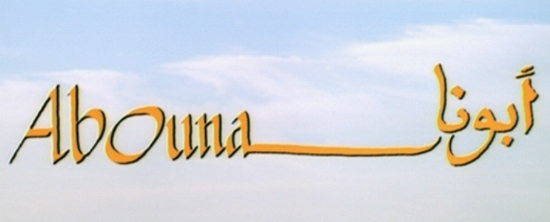 (aka 'Our Father')
directed by Mahamat-Saleh Haroun
France / Chad / Netherlands 2002
From a dusty village in the Republic of Chad, two brothers, Amine and Tahir­, set out in search of their father. Reflecting on the rhythm of Africa, Abouna is a film rich in culture with a deep understanding of the human condition in general and youth in particular. This devastatingly powerful, magnificently photographed drama is director Mahamat-Saleh Haroun's triumphant follow-up to his international award-winning Bye Bye Africa.
Theatrical Release: May 20th, 2002 - Cannes Film Festival
Reviews More Reviews DVD Reviews
DVD Review: Home Vision - Region 1 - NTSC
DVD Box Cover

CLICK to order from:

Distribution
Home Vision Entertainment - Region 1 - NTSC
Runtime
1:24:12
Video
1.78:1 Original Aspect Ratio
Average Bitrate: 6.73 mb/s
NTSC 720x480 29.97 f/s

NOTE: The Vertical axis represents the bits transferred per second. The Horizontal is the time in minutes.

Bitrate:

Audio
Chad / Arabic (Dolby Digital 2.0)
Subtitles
English, None
Features

Release Information:
Studio: Home Vision Entertainment

Aspect Ratio:
Original aspect Ratio 1.78:1

Edition Details:

• Interview with director Mahamat-Saleh Haroun
• Two film shorts by Mahamet-Saleh Haroun: Goi Goi, B 400
• Original theatrical trailer
• Liner notes by film critic Phil Hall

DVD Release Date: May 17th, 2005
Keep Case
Chapters: 16
| | |
| --- | --- |
| Comments: | As far as non-progressive transfers go, this is definitely not the worst I have ever seen. Minor 'combing' was evident in many horizontal pans. The image has a black border around it hence not taking advantage of the full horizontal resolution. It is a little soft but colors aren't bad. Subtitles and the original audio are consistent and acceptable. There are some nice extras in the package including a director interview and two of his short films. So, we have a great film, sub-par transfer in an excellent package. Worthy to pick-up as I highly doubt it will be coming out by anyone else soon. out of |
---
| | |
| --- | --- |
| | |
| | |
| | |
---
Subtitle Sample
Screen Captures
DVD Box Cover

CLICK to order from:

Distribution
Home Vision Entertainment - Region 1 - NTSC
---





DONATIONS Keep DVDBeaver alive and advertisement free:
Mail cheques, money orders, cash to: or CLICK PayPal logo to donate!
Gary Tooze

Mississauga, Ontario,

CANADA
Thank You!
Mahamat-Saleh Haroun's - Abouna - Home Vision Entertainment - Region 1- NTSC DVD Review Mahamat-Saleh Haroun Abouna DVD Review Mahamat-Saleh Haroun Abouna DVD Review Mahamat-Saleh Haroun Abouna DVD Review Mahamat-Saleh Haroun Abouna DVD Review Mahamat-Saleh Haroun Abouna DVD Review Mahamat-Saleh Haroun Abouna DVD Review Mahamat-Saleh Haroun Abouna DVD Review Mahamat-Saleh Haroun Abouna DVD Review Mahamat-Saleh Haroun Abouna DVD Review Mahamat-Saleh Haroun Abouna DVD Review Mahamat-Saleh Haroun Abouna DVD Review Mahamat-Saleh Haroun's - Abouna - Home Vision Entertainment - Region 1- NTSC DVD Review Mahamat-Saleh Haroun Abouna DVD Review Mahamat-Saleh Haroun Abouna DVD Review Mahamat-Saleh Haroun Abouna DVD Review Mahamat-Saleh Haroun Abouna DVD Review Mahamat-Saleh Haroun Abouna DVD Review Mahamat-Saleh Haroun Abouna DVD Review Mahamat-Saleh Haroun Abouna DVD Review Mahamat-Saleh Haroun Abouna DVD Review Mahamat-Saleh Haroun Abouna DVD Review Mahamat-Saleh Haroun Abouna DVD Review Mahamat-Saleh Haroun Abouna DVD Review Mahamat-Saleh Haroun's - Abouna - Home Vision Entertainment - Region 1- NTSC DVD Review Mahamat-Saleh Haroun Abouna DVD Review Mahamat-Saleh Haroun Abouna DVD Review Mahamat-Saleh Haroun Abouna DVD Review Mahamat-Saleh Haroun Abouna DVD Review Mahamat-Saleh Haroun Abouna DVD Review Mahamat-Saleh Haroun Abouna DVD Review Mahamat-Saleh Haroun Abouna DVD Review Mahamat-Saleh Haroun Abouna DVD Review Mahamat-Saleh Haroun Abouna DVD Review Mahamat-Saleh Haroun Abouna DVD Review Mahamat-Saleh Haroun Abouna DVD Review Mahamat-Saleh Haroun's - Abouna - Home Vision Entertainment - Region 1- NTSC DVD Review Mahamat-Saleh Haroun Abouna DVD Review Mahamat-Saleh Haroun Abouna DVD Review Mahamat-Saleh Haroun Abouna DVD Review Mahamat-Saleh Haroun Abouna DVD Review Mahamat-Saleh Haroun Abouna DVD Review Mahamat-Saleh Haroun Abouna DVD Review Mahamat-Saleh Haroun Abouna DVD Review Mahamat-Saleh Haroun Abouna DVD Review Mahamat-Saleh Haroun Abouna DVD Review Mahamat-Saleh Haroun Abouna DVD Review Mahamat-Saleh Haroun Abouna DVD Review Mahamat-Saleh Haroun's - Abouna - Home Vision Entertainment - Region 1- NTSC DVD Review Mahamat-Saleh Haroun Abouna DVD Review Mahamat-Saleh Haroun Abouna DVD Review Mahamat-Saleh Haroun Abouna DVD Review Mahamat-Saleh Haroun Abouna DVD Review Mahamat-Saleh Haroun Abouna DVD Review Mahamat-Saleh Haroun Abouna DVD Review Mahamat-Saleh Haroun Abouna DVD Review Mahamat-Saleh Haroun Abouna DVD Review Mahamat-Saleh Haroun Abouna DVD Review Mahamat-Saleh Haroun Abouna DVD Review Mahamat-Saleh Haroun Abouna DVD Review Mahamat-Saleh Haroun's - Abouna - Home Vision Entertainment - Region 1- NTSC DVD Review Mahamat-Saleh Haroun Abouna DVD Review Mahamat-Saleh Haroun Abouna DVD Review Mahamat-Saleh Haroun Abouna DVD Review Mahamat-Saleh Haroun Abouna DVD Review Mahamat-Saleh Haroun Abouna DVD Review Mahamat-Saleh Haroun Abouna DVD Review Mahamat-Saleh Haroun Abouna DVD Review Mahamat-Saleh Haroun Abouna DVD Review Mahamat-Saleh Haroun Abouna DVD Review Mahamat-Saleh Haroun Abouna DVD Review Mahamat-Saleh Haroun Abouna DVD Review Mahamat-Saleh Haroun's - Abouna - Home Vision Entertainment - Region 1- NTSC DVD Review Mahamat-Saleh Haroun Abouna DVD Review Mahamat-Saleh Haroun Abouna DVD Review Mahamat-Saleh Haroun Abouna DVD Review Mahamat-Saleh Haroun Abouna DVD Review Mahamat-Saleh Haroun Abouna DVD Review Mahamat-Saleh Haroun Abouna DVD Review Mahamat-Saleh Haroun Abouna DVD Review Mahamat-Saleh Haroun Abouna DVD Review Mahamat-Saleh Haroun Abouna DVD Review Mahamat-Saleh Haroun Abouna DVD Review Mahamat-Saleh Haroun Abouna DVD Review