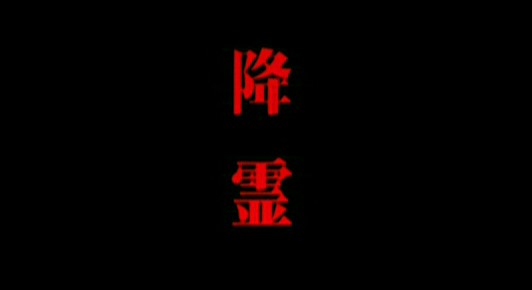 (aka 'Kôrei' or 'Seance')
directed by Kiyoshi Kurosawa

Japan 2000
A psychic and her husband, who works as a sound-effects technician, unwittingly get involved in a kidnap case, and she tries to use her powers to locate the victim. This loose 2000 remake of the psychological study Seance on a Wet Afternoon (1964) is less straightforward and more metaphysical than the original, raising just as many questions as it answers about the supernatural, free will, unintended consequences, and guilt. Writer-director Kiyoshi Kurosawa twists the conventions of the supernatural-mystery genre in unexpected ways. He also uses an elaborately layered sound track and a muted, elegant visual style--which charges spaces with a creepy ambience while disclosing incriminating detail, in scenes that owe a debt to Hitchcock and Kubrick--to implicate the audience in what the couple hear and see and in their sense of frustration and dread. There's a lot of bravado and perversity and too much philosophical musing in Kurosawa's chronicle of a guilt trip, but his vision of how ambition and boredom can warp ordinary people is truly frightening. With Koji Yakusho and Jun Fubuki.
Excerpt of Ted Shen's synopsis at the Chicago Reader located HERE.
Posters
Theatrical Release: August 7th 2000 - Switzerland (Locarno Film Festival)
Reviews More Reviews DVD Reviews
DVD Review: Home Vision - Region 1 - NTSC
DVD Box Cover

CLICK to order from:

Distribution
Home Vision Home Video - Region 1 - NTSC
Runtime
1:37:09
Video
1.33:1 Original Aspect Ratio
Average Bitrate: 5.29 mb/s
NTSC 720x480 29.97 f/s

NOTE: The Vertical axis represents the bits transferred per second. The Horizontal is the time in minutes.

Bitrate:

Audio
Japanese (Dolby Digital 2.0)
Subtitles
English, None
Features

Release Information:
Studio: Home Vision Entertainment

Aspect Ratio:
Original aspect Ratio 1.33:1

Edition Details:

• Interview with Kiyoshi Kurosawa (10:00)
• 2 page liner notes with essay by Gabe Klinger
• trailers for Seance, Cure and Charisma

DVD Release Date: May 17th, 2005
Keep Case
Chapters: 21
| | |
| --- | --- |
| Comments: | This transfer seems very dark, which may be in accordance with the mood and thereby intentional but it has some lose grain and de-colorization at times. It shows occasional softness and the colors are a bit dull. Original Full Frame ratio as prepared for TV, it is an interesting film but the image is, overall, not as sharp as Charisma. Subtitles are excellent and audio consistent (mono). From the same interview with K. Kurosawa that is on the Charisma disc, but we have a different and longer segment (10 minutes). Gabe Klinger's liner notes are informative discussing Kurosawa's reconfiguration of time and space. I judge this to be a fascinating and imaginative reworking of the original film (which I was never fond of), but more in tune for Kurosawa's following than the average film go-er. I must admit I am enjoying his work the more I see of it, although I, personally, won't bump Mr. K. Kurosawa up to auteur level just yet. |
---
---
Subtitle Sample
Screen Captures
---





DONATIONS Keep DVDBeaver alive and advertisement free:
Mail cheques, money orders, cash to: or CLICK PayPal logo to donate!
Thank You!
Kiyoshi Kurosawa's Seance - Home Vision - Region 1- NTSC - Kôrei Kiyoshi Kurosawa Seance DVD Review Home Vision Kôrei Kiyoshi Kurosawa Seance DVD Review Home Vision Kôrei Kiyoshi Kurosawa Seance DVD Review Home Vision Kôrei Kiyoshi Kurosawa Seance DVD Review Home Vision Kôrei Kiyoshi Kurosawa Seance DVD Review Home Vision Kôrei Kiyoshi Kurosawa Seance DVD Review Home Vision Kôrei Kiyoshi Kurosawa Seance DVD Review Home Vision Kôrei Kiyoshi Kurosawa Seance DVD Review Home Vision Kiyoshi Kurosawa's Seance - Home Vision - Region 1- NTSC - Kôrei Kiyoshi Kurosawa Seance DVD Review Home Vision Kôrei Kiyoshi Kurosawa Seance DVD Review Home Vision Kôrei Kiyoshi Kurosawa Seance DVD Review Home Vision Kôrei Kiyoshi Kurosawa Seance DVD Review Home Vision Kôrei Kiyoshi Kurosawa Seance DVD Review Home Vision Kôrei Kiyoshi Kurosawa Seance DVD Review Home Vision Kôrei Kiyoshi Kurosawa Seance DVD Review Home Vision Kôrei Kiyoshi Kurosawa Seance DVD Review Home Vision Kiyoshi Kurosawa's Seance - Home Vision - Region 1- NTSC - Kôrei Kiyoshi Kurosawa Seance DVD Review Home Vision Kôrei Kiyoshi Kurosawa Seance DVD Review Home Vision Kôrei Kiyoshi Kurosawa Seance DVD Review Home Vision Kôrei Kiyoshi Kurosawa Seance DVD Review Home Vision Kôrei Kiyoshi Kurosawa Seance DVD Review Home Vision Kôrei Kiyoshi Kurosawa Seance DVD Review Home Vision Kôrei Kiyoshi Kurosawa Seance DVD Review Home Vision Kôrei Kiyoshi Kurosawa Seance DVD Review Home Vision Kiyoshi Kurosawa's Seance - Home Vision - Region 1- NTSC - Kôrei Kiyoshi Kurosawa Seance DVD Review Home Vision Kôrei Kiyoshi Kurosawa Seance DVD Review Home Vision Kôrei Kiyoshi Kurosawa Seance DVD Review Home Vision Kôrei Kiyoshi Kurosawa Seance DVD Review Home Vision Kôrei Kiyoshi Kurosawa Seance DVD Review Home Vision Kôrei Kiyoshi Kurosawa Seance DVD Review Home Vision Kôrei Kiyoshi Kurosawa Seance DVD Review Home Vision Kôrei Kiyoshi Kurosawa Seance DVD Review Home Vision Kiyoshi Kurosawa's Seance - Home Vision - Region 1- NTSC - Kôrei Kiyoshi Kurosawa Seance DVD Review Home Vision Kôrei Kiyoshi Kurosawa Seance DVD Review Home Vision Kôrei Kiyoshi Kurosawa Seance DVD Review Home Vision Kôrei Kiyoshi Kurosawa Seance DVD Review Home Vision Kôrei Kiyoshi Kurosawa Seance DVD Review Home Vision Kôrei Kiyoshi Kurosawa Seance DVD Review Home Vision Kôrei Kiyoshi Kurosawa Seance DVD Review Home Vision Kôrei Kiyoshi Kurosawa Seance DVD Review Home Vision Kiyoshi Kurosawa's Seance - Home Vision - Region 1- NTSC - Kôrei Kiyoshi Kurosawa Seance DVD Review Home Vision Kôrei Kiyoshi Kurosawa Seance DVD Review Home Vision Kôrei Kiyoshi Kurosawa Seance DVD Review Home Vision Kôrei Kiyoshi Kurosawa Seance DVD Review Home Vision Kôrei Kiyoshi Kurosawa Seance DVD Review Home Vision Kôrei Kiyoshi Kurosawa Seance DVD Review Home Vision Kôrei Kiyoshi Kurosawa Seance DVD Review Home Vision Kôrei Kiyoshi Kurosawa Seance DVD Review Home Vision Kiyoshi Kurosawa's Seance - Home Vision - Region 1- NTSC - Kôrei Kiyoshi Kurosawa Seance DVD Review Home Vision Kôrei Kiyoshi Kurosawa Seance DVD Review Home Vision Kôrei Kiyoshi Kurosawa Seance DVD Review Home Vision Kôrei Kiyoshi Kurosawa Seance DVD Review Home Vision Kôrei Kiyoshi Kurosawa Seance DVD Review Home Vision Kôrei Kiyoshi Kurosawa Seance DVD Review Home Vision Kôrei Kiyoshi Kurosawa Seance DVD Review Home Vision Kôrei Kiyoshi Kurosawa Seance DVD Review Home Vision Kiyoshi Kurosawa's Seance - Home Vision - Region 1- NTSC - Kôrei Kiyoshi Kurosawa Seance DVD Review Home Vision Kôrei Kiyoshi Kurosawa Seance DVD Review Home Vision Kôrei Kiyoshi Kurosawa Seance DVD Review Home Vision Kôrei Kiyoshi Kurosawa Seance DVD Review Home Vision Kôrei Kiyoshi Kurosawa Seance DVD Review Home Vision Kôrei Kiyoshi Kurosawa Seance DVD Review Home Vision Kôrei Kiyoshi Kurosawa Seance DVD Review Home Vision Kôrei Kiyoshi Kurosawa Seance DVD Review Home Vision Kiyoshi Kurosawa's Seance - Home Vision - Region 1- NTSC - Kôrei Kiyoshi Kurosawa Seance DVD Review Home Vision Kôrei Kiyoshi Kurosawa Seance DVD Review Home Vision Kôrei Kiyoshi Kurosawa Seance DVD Review Home Vision Kôrei Kiyoshi Kurosawa Seance DVD Review Home Vision Kôrei Kiyoshi Kurosawa Seance DVD Review Home Vision Kôrei Kiyoshi Kurosawa Seance DVD Review Home Vision Kôrei Kiyoshi Kurosawa Seance DVD Review Home Vision Kôrei Kiyoshi Kurosawa Seance DVD Review Home Vision Kiyoshi Kurosawa's Seance - Home Vision - Region 1- NTSC - Kôrei Kiyoshi Kurosawa Seance DVD Review Home Vision Kôrei Kiyoshi Kurosawa Seance DVD Review Home Vision Kôrei Kiyoshi Kurosawa Seance DVD Review Home Vision Kôrei Kiyoshi Kurosawa Seance DVD Review Home Vision Kôrei Kiyoshi Kurosawa Seance DVD Review Home Vision Kôrei Kiyoshi Kurosawa Seance DVD Review Home Vision Kôrei Kiyoshi Kurosawa Seance DVD Review Home Vision Kôrei Kiyoshi Kurosawa Seance DVD Review Home Vision Kiyoshi Kurosawa's Seance - Home Vision - Region 1- NTSC - Kôrei Kiyoshi Kurosawa Seance DVD Review Home Vision Kôrei Kiyoshi Kurosawa Seance DVD Review Home Vision Kôrei Kiyoshi Kurosawa Seance DVD Review Home Vision Kôrei Kiyoshi Kurosawa Seance DVD Review Home Vision Kôrei Kiyoshi Kurosawa Seance DVD Review Home Vision Kôrei Kiyoshi Kurosawa Seance DVD Review Home Vision Kôrei Kiyoshi Kurosawa Seance DVD Review Home Vision Kôrei Kiyoshi Kurosawa Seance DVD Review Home Vision Kiyoshi Kurosawa's Seance - Home Vision - Region 1- NTSC - Kôrei Kiyoshi Kurosawa Seance DVD Review Home Vision Kôrei Kiyoshi Kurosawa Seance DVD Review Home Vision Kôrei Kiyoshi Kurosawa Seance DVD Review Home Vision Kôrei Kiyoshi Kurosawa Seance DVD Review Home Vision Kôrei Kiyoshi Kurosawa Seance DVD Review Home Vision Kôrei Kiyoshi Kurosawa Seance DVD Review Home Vision Kôrei Kiyoshi Kurosawa Seance DVD Review Home Vision Kôrei Kiyoshi Kurosawa Seance DVD Review Home Vision