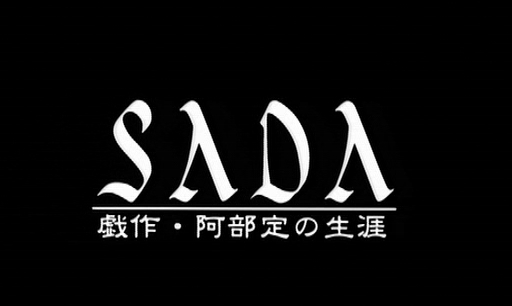 directed by Nobuhiko Obayashi
Japan 1998
Sada is a compelling erotic thriller, based on the true story of Sada Abe, a Japanese geisha, who murdered and castrated her lover on May 19, 1936. Director Nobuhiko Obayashi explores Sada's past; her rape at age 14, her descent into prostitution, and the crime of passion that ultimately turned her into an overnight media celebrity. Starring Hitomi Kuroki (Paradise Lost); Sada is a shocking, daring, and provocative film.
Book Cover etc.
Theatrical Release: February 21st 1998 (Berlin International Film Festival)
Reviews More Reviews DVD Reviews
DVD Review: Home Vision - Region 1 - NTSC
DVD Box Cover

CLICK to order from:

Distribution
Home Vision Entertainment - Region 1 - NTSC
Runtime
2:12:08
Video
1.33:1 Original Aspect Ratio
Average Bitrate: 6.84 mb/s
NTSC 720x480 29.97 f/s

NOTE: The Vertical axis represents the bits transferred per second. The Horizontal is the time in minutes.

Bitrate:

Audio
Japanese (Dolby Digital 1.0)
Subtitles
English, None
Features

Release Information:
Studio: Home Vision Entertainment

Aspect Ratio:
Original aspect Ratio 1.33:1

Edition Details:

• Trailer (1:47)
• Zatoichi Trailer
• Filmographies static screens
• 2-page liner notes with essay by Richard Kadrey

DVD Release Date: August 10th, 2004
Keep Case
Chapters: 24
Comments:

An unusual and damn interesting film. Briskly paced with third wall occasionally broken by playful narration.

The DVD image is nothing short of spectacular - super sharp with rich bright colors and excellent subtitles - this is a great disc. It is the type of film that HVE could have added some extensive extras and bumped up the the Criterion label. It is a shame it didn't because the story is quite fascinating. Kadrey's liner note's essay is good, but the other extras are mere fillers. Still, such a marvelous image and unique film deserve to be rewarded, and we give it out of
---
---
Subtitle Sample
Screen Captures
---
---
---
Recommended Reading in Japanese Cinema (CLICK COVERS or TITLES for more information)
The Japan Journals : 1947-2004,

by Donald Richie

The Midnight Eye Guide to New Japanese Film
by Tom Mes and Jasper Sharp
Eros Plus Massacre: An Introduction to the Japanese New Wave Cinema (Midland Book, Mb 469)
by David Desser
The Films of Akira Kurosawa by Donald Ritchie
Japanese Movie Posters: Yakuza, Monster, Pink, and Horror
by Chuck Stephens, Tetsuya Masuda, Kairakutei Black

by Yasujiro Ozu, Kogo Noda, Donald Richie, Eric Klestadt

Ozu by Donald Ritchie

A Hundred Years of Japanese Film by Donald Richie
---
DVD Box Cover

CLICK to order from:

Distribution
Home Vision Entertainment - Region 1 - NTSC





DONATIONS Keep DVDBeaver alive and advertisement free:
Mail cheques, money orders, cash to: or CLICK PayPal logo to donate!
Thank You!
Nobuhiko Obayashi's - Sada - Home Vision - Region 1- NTSC DVD Review HVE Sada Nobuhiko Obayashi Sada DVD Review HVE Sada Sada Nobuhiko Obayashi Sada DVD Review HVE Sada SadaNobuhiko Obayashi Sada DVD Review HVE Sada Sada Nobuhiko Obayashi Sada DVD Review HVE Sada Sada Nobuhiko Obayashi Sada DVD Review HVE Sada SadaNobuhiko Obayashi Sada DVD Review HVE Sada Sada Nobuhiko Obayashi Sada DVD Review HVE Sada Sada Nobuhiko Obayashi Sada DVD Review HVE Sada Sada Nobuhiko Obayashi Sada DVD Review HVE Sada Nobuhiko Obayashi's - Sada - Home Vision - Region 1- NTSC DVD Review HVE Sada Nobuhiko Obayashi Sada DVD Review HVE Sada Sada Nobuhiko Obayashi Sada DVD Review HVE Sada SadaNobuhiko Obayashi Sada DVD Review HVE Sada Sada Nobuhiko Obayashi Sada DVD Review HVE Sada Sada Nobuhiko Obayashi Sada DVD Review HVE Sada SadaNobuhiko Obayashi Sada DVD Review HVE Sada Sada Nobuhiko Obayashi Sada DVD Review HVE Sada Sada Nobuhiko Obayashi Sada DVD Review HVE Sada Sada Nobuhiko Obayashi Sada DVD Review HVE Sada Nobuhiko Obayashi's - Sada - Home Vision - Region 1- NTSC DVD Review HVE Sada Nobuhiko Obayashi Sada DVD Review HVE Sada Sada Nobuhiko Obayashi Sada DVD Review HVE Sada SadaNobuhiko Obayashi Sada DVD Review HVE Sada Sada Nobuhiko Obayashi Sada DVD Review HVE Sada Sada Nobuhiko Obayashi Sada DVD Review HVE Sada SadaNobuhiko Obayashi Sada DVD Review HVE Sada Sada Nobuhiko Obayashi Sada DVD Review HVE Sada Sada Nobuhiko Obayashi Sada DVD Review HVE Sada Sada Nobuhiko Obayashi Sada DVD Review HVE Sada Nobuhiko Obayashi's - Sada - Home Vision - Region 1- NTSC DVD Review HVE Sada Nobuhiko Obayashi Sada DVD Review HVE Sada Sada Nobuhiko Obayashi Sada DVD Review HVE Sada SadaNobuhiko Obayashi Sada DVD Review HVE Sada Sada Nobuhiko Obayashi Sada DVD Review HVE Sada Sada Nobuhiko Obayashi Sada DVD Review HVE Sada SadaNobuhiko Obayashi Sada DVD Review HVE Sada Sada Nobuhiko Obayashi Sada DVD Review HVE Sada Sada Nobuhiko Obayashi Sada DVD Review HVE Sada Sada Nobuhiko Obayashi Sada DVD Review HVE Sada Nobuhiko Obayashi's - Sada - Home Vision - Region 1- NTSC DVD Review HVE Sada Nobuhiko Obayashi Sada DVD Review HVE Sada Sada Nobuhiko Obayashi Sada DVD Review HVE Sada SadaNobuhiko Obayashi Sada DVD Review HVE Sada Sada Nobuhiko Obayashi Sada DVD Review HVE Sada Sada Nobuhiko Obayashi Sada DVD Review HVE Sada SadaNobuhiko Obayashi Sada DVD Review HVE Sada Sada Nobuhiko Obayashi Sada DVD Review HVE Sada Sada Nobuhiko Obayashi Sada DVD Review HVE Sada Sada Nobuhiko Obayashi Sada DVD Review HVE Sada Nobuhiko Obayashi's - Sada - Home Vision - Region 1- NTSC DVD Review HVE Sada Nobuhiko Obayashi Sada DVD Review HVE Sada Sada Nobuhiko Obayashi Sada DVD Review HVE Sada SadaNobuhiko Obayashi Sada DVD Review HVE Sada Sada Nobuhiko Obayashi Sada DVD Review HVE Sada Sada Nobuhiko Obayashi Sada DVD Review HVE Sada SadaNobuhiko Obayashi Sada DVD Review HVE Sada Sada Nobuhiko Obayashi Sada DVD Review HVE Sada Sada Nobuhiko Obayashi Sada DVD Review HVE Sada Sada Nobuhiko Obayashi Sada DVD Review HVE Sada Nobuhiko Obayashi's - Sada - Home Vision - Region 1- NTSC DVD Review HVE Sada Nobuhiko Obayashi Sada DVD Review HVE Sada Sada Nobuhiko Obayashi Sada DVD Review HVE Sada SadaNobuhiko Obayashi Sada DVD Review HVE Sada Sada Nobuhiko Obayashi Sada DVD Review HVE Sada Sada Nobuhiko Obayashi Sada DVD Review HVE Sada SadaNobuhiko Obayashi Sada DVD Review HVE Sada Sada Nobuhiko Obayashi Sada DVD Review HVE Sada Sada Nobuhiko Obayashi Sada DVD Review HVE Sada Sada Nobuhiko Obayashi Sada DVD Review HVE Sada Nobuhiko Obayashi's - Sada - Home Vision - Region 1- NTSC DVD Review HVE Sada Nobuhiko Obayashi Sada DVD Review HVE Sada Sada Nobuhiko Obayashi Sada DVD Review HVE Sada SadaNobuhiko Obayashi Sada DVD Review HVE Sada Sada Nobuhiko Obayashi Sada DVD Review HVE Sada Sada Nobuhiko Obayashi Sada DVD Review HVE Sada SadaNobuhiko Obayashi Sada DVD Review HVE Sada Sada Nobuhiko Obayashi Sada DVD Review HVE Sada Sada Nobuhiko Obayashi Sada DVD Review HVE Sada Sada Nobuhiko Obayashi Sada DVD Review HVE Sada Nobuhiko Obayashi's - Sada - Home Vision - Region 1- NTSC DVD Review HVE Sada Nobuhiko Obayashi Sada DVD Review HVE Sada Sada Nobuhiko Obayashi Sada DVD Review HVE Sada SadaNobuhiko Obayashi Sada DVD Review HVE Sada Sada Nobuhiko Obayashi Sada DVD Review HVE Sada Sada Nobuhiko Obayashi Sada DVD Review HVE Sada SadaNobuhiko Obayashi Sada DVD Review HVE Sada Sada Nobuhiko Obayashi Sada DVD Review HVE Sada Sada Nobuhiko Obayashi Sada DVD Review HVE Sada Sada Nobuhiko Obayashi Sada DVD Review HVE Sada