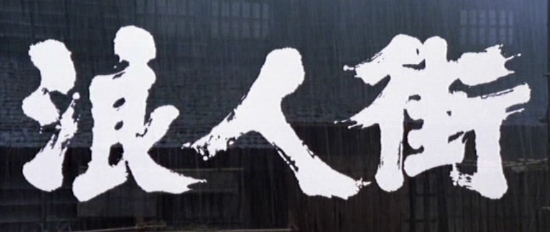 (aka 'Rônin-gai')
directed by Kazuo Kuroki

Japan 1990
Kazuo Kuroki's international award-winning period drama was produced in commemoration of the 60th anniversary of the death of Shozo Makino, "the father of Japanese films." Set in the 1830s near the end of the age of the samurai, Ronin Gai is populated by an ensemble of colorful characters, social outcasts who patronize a restaurant and brothel on the outskirts of Edo. Among them are prostitutes and master-less samurai reduced to drunkenness and debauchery. The disgraced and disillusioned former warriors get a chance at redemption when renegade samurai invade the area to murder the prostitutes.
Poster
Theatrical Release: January 18th, 1990
DVD Review: Home Vision - Region 1 - NTSC
DVD Box Cover

CLICK to order from:

Distribution
Home Vision Entertainment - Region 1 - NTSC
Runtime
1:56:10
Video
1.78:1 Original Aspect Ratio
Average Bitrate: 4.33 mb/s
NTSC 720x480 29.97 f/s

NOTE: The Vertical axis represents the bits transferred per second. The Horizontal is the time in minutes.

Bitrate:

Audio
Japanese (Dolby Digital 2.0)
Subtitles
English, None
Features

Release Information:
Studio: Home Vision Entertainment

Aspect Ratio:
Original aspect Ratio 1.78:1

Edition Details:

• Theatrical trailer (2:09)
• 4-page liner notes with essay by Mark Pollard (www.kungfucinema.com)

DVD Release Date: June 7th, 2005
Keep Case
Chapters: 18
Comments:

This anamorphic DVD image is quite strong at times, but also has moments of great failing. It is non-progressive and 'combing' artifacts (see last capture) are present in all swift horizontal pans (there are many). It also exhibits some saturation in the more colorful sequences and skin tones look a shade red. Overall, although tube owners won't be upset, this is a notch below current Home Vision standard.

For Samurai fans the film is quite a treat with some dark and foreboding imagery and keen characters. Extras include a trailer and an astute liner notes essay giving further character to the film. 2.0 channel audio is consistent and the subtitles are of typically strong HVE quality. out of
---



DVD Menus
---
Subtitle Sample
Screen Captures
---
Combing evident in horizontal pans...
---
Recommended Reading (CLICK COVERS or TITLES for more information)
Check out more in "The Library"
---
DVD Box Cover

CLICK to order from:

Distribution
Home Vision Entertainment - Region 1 - NTSC
---






Kazuo Kuroki's Rônin-gai Ronin Gai - Home Vision - Region 1- NTSC DVD Review Kazuo Kuroki Rônin-gai Ronin Gai DVD Review Kazuo Kuroki Rônin-gai Ronin Gai DVD Review Kazuo Kuroki Rônin-gai Ronin Gai DVD Review Kazuo Kuroki Rônin-gai Ronin Gai DVD Review Kazuo Kuroki Rônin-gai Ronin Gai DVD Review Kazuo Kuroki Rônin-gai Ronin Gai DVD Review Kazuo Kuroki Rônin-gai Ronin Gai DVD Review Kazuo Kuroki Rônin-gai Ronin Gai DVD Review Kazuo Kuroki's Rônin-gai Ronin Gai - Home Vision - Region 1- NTSC DVD Review Kazuo Kuroki Rônin-gai Ronin Gai DVD Review Kazuo Kuroki Rônin-gai Ronin Gai DVD Review Kazuo Kuroki Rônin-gai Ronin Gai DVD Review Kazuo Kuroki Rônin-gai Ronin Gai DVD Review Kazuo Kuroki Rônin-gai Ronin Gai DVD Review Kazuo Kuroki Rônin-gai Ronin Gai DVD Review Kazuo Kuroki Rônin-gai Ronin Gai DVD Review Kazuo Kuroki Rônin-gai Ronin Gai DVD Review Kazuo Kuroki's Rônin-gai Ronin Gai - Home Vision - Region 1- NTSC DVD Review Kazuo Kuroki Rônin-gai Ronin Gai DVD Review Kazuo Kuroki Rônin-gai Ronin Gai DVD Review Kazuo Kuroki Rônin-gai Ronin Gai DVD Review Kazuo Kuroki Rônin-gai Ronin Gai DVD Review Kazuo Kuroki Rônin-gai Ronin Gai DVD Review Kazuo Kuroki Rônin-gai Ronin Gai DVD Review Kazuo Kuroki Rônin-gai Ronin Gai DVD Review Kazuo Kuroki Rônin-gai Ronin Gai DVD Review Kazuo Kuroki's Rônin-gai Ronin Gai - Home Vision - Region 1- NTSC DVD Review Kazuo Kuroki Rônin-gai Ronin Gai DVD Review Kazuo Kuroki Rônin-gai Ronin Gai DVD Review Kazuo Kuroki Rônin-gai Ronin Gai DVD Review Kazuo Kuroki Rônin-gai Ronin Gai DVD Review Kazuo Kuroki Rônin-gai Ronin Gai DVD Review Kazuo Kuroki Rônin-gai Ronin Gai DVD Review Kazuo Kuroki Rônin-gai Ronin Gai DVD Review Kazuo Kuroki Rônin-gai Ronin Gai DVD Review Kazuo Kuroki's Rônin-gai Ronin Gai - Home Vision - Region 1- NTSC DVD Review Kazuo Kuroki Rônin-gai Ronin Gai DVD Review Kazuo Kuroki Rônin-gai Ronin Gai DVD Review Kazuo Kuroki Rônin-gai Ronin Gai DVD Review Kazuo Kuroki Rônin-gai Ronin Gai DVD Review Kazuo Kuroki Rônin-gai Ronin Gai DVD Review Kazuo Kuroki Rônin-gai Ronin Gai DVD Review Kazuo Kuroki Rônin-gai Ronin Gai DVD Review Kazuo Kuroki Rônin-gai Ronin Gai DVD Review Kazuo Kuroki's Rônin-gai Ronin Gai - Home Vision - Region 1- NTSC DVD Review Kazuo Kuroki Rônin-gai Ronin Gai DVD Review Kazuo Kuroki Rônin-gai Ronin Gai DVD Review Kazuo Kuroki Rônin-gai Ronin Gai DVD Review Kazuo Kuroki Rônin-gai Ronin Gai DVD Review Kazuo Kuroki Rônin-gai Ronin Gai DVD Review Kazuo Kuroki Rônin-gai Ronin Gai DVD Review Kazuo Kuroki Rônin-gai Ronin Gai DVD Review Kazuo Kuroki Rônin-gai Ronin Gai DVD Review Kazuo Kuroki's Rônin-gai Ronin Gai - Home Vision - Region 1- NTSC DVD Review Kazuo Kuroki Rônin-gai Ronin Gai DVD Review Kazuo Kuroki Rônin-gai Ronin Gai DVD Review Kazuo Kuroki Rônin-gai Ronin Gai DVD Review Kazuo Kuroki Rônin-gai Ronin Gai DVD Review Kazuo Kuroki Rônin-gai Ronin Gai DVD Review Kazuo Kuroki Rônin-gai Ronin Gai DVD Review Kazuo Kuroki Rônin-gai Ronin Gai DVD Review Kazuo Kuroki Rônin-gai Ronin Gai DVD Review Kazuo Kuroki's Rônin-gai Ronin Gai - Home Vision - Region 1- NTSC DVD Review Kazuo Kuroki Rônin-gai Ronin Gai DVD Review Kazuo Kuroki Rônin-gai Ronin Gai DVD Review Kazuo Kuroki Rônin-gai Ronin Gai DVD Review Kazuo Kuroki Rônin-gai Ronin Gai DVD Review Kazuo Kuroki Rônin-gai Ronin Gai DVD Review Kazuo Kuroki Rônin-gai Ronin Gai DVD Review Kazuo Kuroki Rônin-gai Ronin Gai DVD Review Kazuo Kuroki Rônin-gai Ronin Gai DVD Review Kazuo Kuroki's Rônin-gai Ronin Gai - Home Vision - Region 1- NTSC DVD Review Kazuo Kuroki Rônin-gai Ronin Gai DVD Review Kazuo Kuroki Rônin-gai Ronin Gai DVD Review Kazuo Kuroki Rônin-gai Ronin Gai DVD Review Kazuo Kuroki Rônin-gai Ronin Gai DVD Review Kazuo Kuroki Rônin-gai Ronin Gai DVD Review Kazuo Kuroki Rônin-gai Ronin Gai DVD Review Kazuo Kuroki Rônin-gai Ronin Gai DVD Review Kazuo Kuroki Rônin-gai Ronin Gai DVD Review