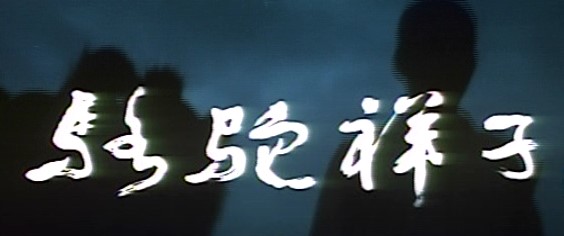 (aka 'Luo tuo Xiang Zi" or "Rickshaw Boy")
directed by Zifeng Ling
China 19
82
Rickshaw Boy (1982) tells the story of Xiangzi, a young peasant from the countryside who works as a rickshaw puller in Beijing in the 1920s, trying to save enough money to buy his own vehicle. The first film from Communist China to open in an American theater, Rickshaw Boy is not just a story about rickshaw pullers, but about the ugliness of a city run by dueling warlords where many of the poor turned against each other for survival. While at times overly melodramatic, the film transcends its "socialist realism" limitations to become a deeply involving portrait of the optimism and courage of the common people in old China .
...

Directed by Ling Zefing, a member of China 's Third Generation (1949-78) of filmmakers, Rickshaw Boy is based on the 1936 novel Camel Xiangzi by proletarian author and playwright Lao She, one of the first novels about a laborer in modern Chinese literature. The impact of Lao She (who sadly committed suicide after being persecuted during the Cultural Revolution) is still felt today. In recent years it has become common to see rickshaw boys dressed in traditional clothes worn by rickshaw pullers of the past, waiting for customers on the side of the road. Beijing residents call them "Xiangzi," celebrating the struggles of this hero from their literary past.
Excerpt from Howard Schumann's review located HERE
Poster
Theatrical Release: Beijing 1982
Reviews More Reviews DVD Reviews
DVD Review: Facets - Region 0 - NTSC
DVD Box Cover

CLICK to order from:

Distribution
Facets Video - Region 0 - NTSC
Runtime
1:57:00
Video
2.43:1 Original Aspect Ratio
Average Bitrate: 4.87 mb/s
NTSC 720x480 29.97 f/s

NOTE: The Vertical axis represents the bits transferred per second. The Horizontal is the time in minutes.

Bitrate:

Audio
Mandarin (Dolby Digital 2.0)
Subtitles
English (ingrained)
Features

Release Information:
Studio: Facets Video

Aspect Ratio:
Original aspect Ratio 2.43:1

Edition Details:

• Introduction by David Buckley (2:18)
• Synopsis, credits and International Awards

DVD Release Date: July 13th, 2004
Keep Case
Chapters: 18
| | |
| --- | --- |
| Comments: | Well, this DVD is almost unwatchable, as you may judge by the screen captures below. Both 'ghosting' and 'combing' indicating non-progressive transfer nor HD either. Colors are washed out and the non-anamorphic image is very hazy overall. English subtitles are ingrained (non-removable), crackling audio - what can one say? This is a very poor DVD - I have seen VHS to DVD by people in their basement that look better. I can't be sure of the source print, but I'll gather it was no gem either. The dichotomy of this is - either you see the film in this condition... or you don't see the film at all. It is a shame because it is a strong, important piece of cinema. out of |
---



DVD Menus

---
Subtitle Sample
Screen Captures
---
---
Ghosting and combing prevalent...
DVD Box Cover

CLICK to order from:

Distribution
Facets Video - Region 0 - NTSC
---






Zifeng Ling Luo tuo Xiang Zi Rickshaw Boy DVD Review Zifeng Ling Luo tuo Xiang Zi Rickshaw Boy DVD Review Zifeng Ling Luo tuo Xiang Zi Rickshaw Boy DVD Review Zifeng Ling Luo tuo Xiang Zi Rickshaw Boy DVD Review Zifeng Ling Luo tuo Xiang Zi Rickshaw Boy DVD Review Zifeng Ling Luo tuo Xiang Zi Rickshaw Boy DVD Review Zifeng Ling Luo tuo Xiang Zi Rickshaw Boy DVD Review Zifeng Ling Luo tuo Xiang Zi Rickshaw Boy DVD Review Zifeng Ling Luo tuo Xiang Zi Rickshaw Boy DVD Review Zifeng Ling Luo tuo Xiang Zi Rickshaw Boy DVD Review Zifeng Ling Luo tuo Xiang Zi Rickshaw Boy DVD Review Zifeng Ling Luo tuo Xiang Zi Rickshaw Boy DVD Review Zifeng Ling Luo tuo Xiang Zi Rickshaw Boy DVD Review Zifeng Ling Luo tuo Xiang Zi Rickshaw Boy DVD Review Zifeng Ling Luo tuo Xiang Zi Rickshaw Boy DVD Review Zifeng Ling Luo tuo Xiang Zi Rickshaw Boy DVD Review Zifeng Ling Luo tuo Xiang Zi Rickshaw Boy DVD Review Zifeng Ling Luo tuo Xiang Zi Rickshaw Boy DVD Review Zifeng Ling Luo tuo Xiang Zi Rickshaw Boy DVD Review Zifeng Ling Luo tuo Xiang Zi Rickshaw Boy DVD Review Zifeng Ling Luo tuo Xiang Zi Rickshaw Boy DVD Review Zifeng Ling Luo tuo Xiang Zi Rickshaw Boy DVD Review Zifeng Ling Luo tuo Xiang Zi Rickshaw Boy DVD Review Zifeng Ling Luo tuo Xiang Zi Rickshaw Boy DVD Review Zifeng Ling Luo tuo Xiang Zi Rickshaw Boy DVD Review Zifeng Ling Luo tuo Xiang Zi Rickshaw Boy DVD Review Zifeng Ling Luo tuo Xiang Zi Rickshaw Boy DVD Review Zifeng Ling Luo tuo Xiang Zi Rickshaw Boy DVD Review Zifeng Ling Luo tuo Xiang Zi Rickshaw Boy DVD Review Zifeng Ling Luo tuo Xiang Zi Rickshaw Boy DVD Review Zifeng Ling Luo tuo Xiang Zi Rickshaw Boy DVD Review Zifeng Ling Luo tuo Xiang Zi Rickshaw Boy DVD Review Zifeng Ling Luo tuo Xiang Zi Rickshaw Boy DVD Review Zifeng Ling Luo tuo Xiang Zi Rickshaw Boy DVD Review Zifeng Ling Luo tuo Xiang Zi Rickshaw Boy DVD Review Zifeng Ling Luo tuo Xiang Zi Rickshaw Boy DVD Review Zifeng Ling Luo tuo Xiang Zi Rickshaw Boy DVD Review Zifeng Ling Luo tuo Xiang Zi Rickshaw Boy DVD Review Zifeng Ling Luo tuo Xiang Zi Rickshaw Boy DVD Review Zifeng Ling Luo tuo Xiang Zi Rickshaw Boy DVD Review Zifeng Ling Luo tuo Xiang Zi Rickshaw Boy DVD Review Zifeng Ling Luo tuo Xiang Zi Rickshaw Boy DVD Review Zifeng Ling Luo tuo Xiang Zi Rickshaw Boy DVD Review Zifeng Ling Luo tuo Xiang Zi Rickshaw Boy DVD Review Zifeng Ling Luo tuo Xiang Zi Rickshaw Boy DVD Review Zifeng Ling Luo tuo Xiang Zi Rickshaw Boy DVD Review Zifeng Ling Luo tuo Xiang Zi Rickshaw Boy DVD Review Zifeng Ling Luo tuo Xiang Zi Rickshaw Boy DVD Review Zifeng Ling Luo tuo Xiang Zi Rickshaw Boy DVD Review Zifeng Ling Luo tuo Xiang Zi Rickshaw Boy DVD Review Zifeng Ling Luo tuo Xiang Zi Rickshaw Boy DVD Review Zifeng Ling Luo tuo Xiang Zi Rickshaw Boy DVD Review Zifeng Ling Luo tuo Xiang Zi Rickshaw Boy DVD Review Zifeng Ling Luo tuo Xiang Zi Rickshaw Boy DVD Review Zifeng Ling Luo tuo Xiang Zi Rickshaw Boy DVD Review Zifeng Ling Luo tuo Xiang Zi Rickshaw Boy DVD Review Zifeng Ling Luo tuo Xiang Zi Rickshaw Boy DVD Review Zifeng Ling Luo tuo Xiang Zi Rickshaw Boy DVD Review Zifeng Ling Luo tuo Xiang Zi Rickshaw Boy DVD Review Zifeng Ling Luo tuo Xiang Zi Rickshaw Boy DVD Review Zifeng Ling Luo tuo Xiang Zi Rickshaw Boy DVD Review Zifeng Ling Luo tuo Xiang Zi Rickshaw Boy DVD Review Zifeng Ling Luo tuo Xiang Zi Rickshaw Boy DVD Review Zifeng Ling Luo tuo Xiang Zi Rickshaw Boy DVD Review Zifeng Ling Luo tuo Xiang Zi Rickshaw Boy DVD Review Zifeng Ling Luo tuo Xiang Zi Rickshaw Boy DVD Review Zifeng Ling Luo tuo Xiang Zi Rickshaw Boy DVD Review Zifeng Ling Luo tuo Xiang Zi Rickshaw Boy DVD Review Zifeng Ling Luo tuo Xiang Zi Rickshaw Boy DVD Review Zifeng Ling Luo tuo Xiang Zi Rickshaw Boy DVD Review