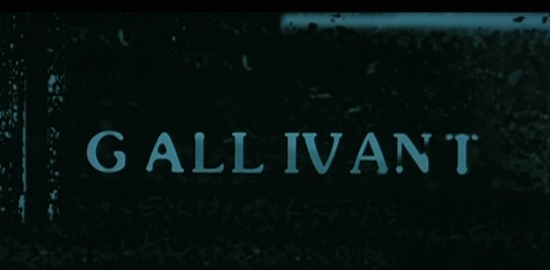 directed by Andrew Kötting
UK 1997
Filmmaker Andrew Kötting takes his 85-year-old grandmother and seven-year-old daughter on a clockwise journey around Britain's coastline, finding that the seaside communities host a wealth of eccentrics. Gladys is strong and opinionated, constantly interrupting with anecdotes and confusing reminiscences while Eden, the young girl, suffers from Joubert Syndrome and can only talk through sign language. A triumphant blend of the home and road movie genres and a stunning example of 'psychogeography', in the words of Iain Sinclair.
****
Andrew Kotting's touching, personal 1997 documentary about his 6,000-mile journey along the coasts of England, Wales, and Scotland with his 90-year-old grandmother and his 7-year-old daughter, who suffers from the serious neurological disease Joubert's syndrome. Far from depressing and often funny, this has as many quirky aspects as the films of Ross McElwee and manages to cover an interesting range of topics as well.
Excerpt from Jonathan Rosenbaum's review at the Chicago Reader located HERE
Theatrical Release: September 19th, 1997 - UK
Reviews More Reviews DVD Reviews
DVD Review: BFI - Region 2- PAL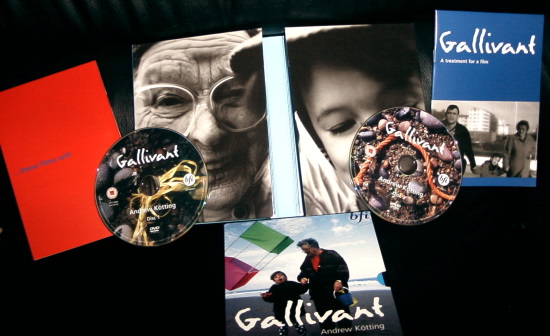 Distribution
BFI Video - Region 2 - PAL
Runtime
1:39:36
Video
1.75:1 Original Aspect Ratio
Average Bitrate: 4.32 mb/s
NTSC 720x480 29.97 f/s

NOTE: The Vertical axis represents the bits transferred per second. The Horizontal is the time in minutes.

Bitrate:

Disc 1

Bitrate:

Disc 2

Audio
English (Dolby Digital 1.0)
Subtitles
English, None
Features

Release Information:
Studio: BFI Video

Aspect Ratio:
Original aspect Ratio 1.75:1

Edition Details:

• Eleven short films: Smart Alek, Lŕ Bas, Gallivant (The Pilot), Jaunt, Klipperty Klöpp, Hoi-Polloi, Acumen, H.B. 1829 (his badblöod), Diddyköy, Invalids and Me
• Visionary Landscapes, a new 2-screen film, made in collaboration with Jem Finer, which reworks Super 8 outtakes from Gallivant and combines them with beautifully constructed soundscapes
• Two illustrated booklets: one containing an essay by Iain Sinclair and film notes by Andrew Kötting; the other containing the original treatment for Gallivant

DVD Release Date: May 23rd, 2005
Four-tiered Digi-pak slipcase
Chapters: 12
Comments:

What a beautiful film. Very touching and humorous - a marvelous example of what the power of cinema (even limited cinema) can do.

We have a lot of leeway for independent films (Super 8) like this that have obviously produced a rather pragmatic print. I don't suspect that if BFI had 16X9 enhanced they could have achieved a better result. I am also unsure of the extensive cost of making this progressive. It does exhibit some 'combing' but at the stage the original negative was in it may have seemed most prudent to allow the limited technical charm of the production to speak for itself. After all, this is not what the film is about. Optional subtitles are of definite value as verbal audio can be quite scattered. The package (see above) is one of the most beautiful I have ever seen and the extras and shorts are a loving touch for a film that deserves some exposure. Owning this, I think that you will treasure it dearly.
---



DVD Menus


DVD Menus (Disc 2)
---
Screen Captures
Andrew Kötting's Gallivant BFI Video region 2- PAL DVD Review Andrew Kötting Gallivant DVD Review Andrew Kötting Gallivant DVD Review Andrew Kötting Gallivant DVD Review Andrew Kötting Gallivant DVD Review Andrew Kötting Gallivant DVD Review Andrew Kötting Gallivant DVD Review Andrew Kötting Gallivant DVD Review Andrew Kötting Gallivant DVD Review Andrew Kötting Gallivant DVD Review Andrew Kötting Gallivant DVD Review Andrew Kötting Gallivant DVD Review Andrew Kötting Gallivant DVD Review Andrew Kötting Gallivant DVD Review Andrew Kötting Gallivant DVD Review Andrew Kötting Gallivant Andrew Kötting's Gallivant BFI Video region 2- PAL DVD Review Andrew Kötting Gallivant DVD Review Andrew Kötting Gallivant DVD Review Andrew Kötting Gallivant DVD Review Andrew Kötting Gallivant DVD Review Andrew Kötting Gallivant DVD Review Andrew Kötting Gallivant DVD Review Andrew Kötting Gallivant DVD Review Andrew Kötting Gallivant DVD Review Andrew Kötting Gallivant DVD Review Andrew Kötting Gallivant DVD Review Andrew Kötting Gallivant DVD Review Andrew Kötting Gallivant DVD Review Andrew Kötting Gallivant DVD Review Andrew Kötting Gallivant DVD Review Andrew Kötting Gallivant Andrew Kötting's Gallivant BFI Video region 2- PAL DVD Review Andrew Kötting Gallivant DVD Review Andrew Kötting Gallivant DVD Review Andrew Kötting Gallivant DVD Review Andrew Kötting Gallivant DVD Review Andrew Kötting Gallivant DVD Review Andrew Kötting Gallivant DVD Review Andrew Kötting Gallivant DVD Review Andrew Kötting Gallivant DVD Review Andrew Kötting Gallivant DVD Review Andrew Kötting Gallivant DVD Review Andrew Kötting Gallivant DVD Review Andrew Kötting Gallivant DVD Review Andrew Kötting Gallivant DVD Review Andrew Kötting Gallivant DVD Review Andrew Kötting Gallivant Andrew Kötting's Gallivant BFI Video region 2- PAL DVD Review Andrew Kötting Gallivant DVD Review Andrew Kötting Gallivant DVD Review Andrew Kötting Gallivant DVD Review Andrew Kötting Gallivant DVD Review Andrew Kötting Gallivant DVD Review Andrew Kötting Gallivant DVD Review Andrew Kötting Gallivant DVD Review Andrew Kötting Gallivant DVD Review Andrew Kötting Gallivant DVD Review Andrew Kötting Gallivant DVD Review Andrew Kötting Gallivant DVD Review Andrew Kötting Gallivant DVD Review Andrew Kötting Gallivant DVD Review Andrew Kötting Gallivant DVD Review Andrew Kötting Gallivant Andrew Kötting's Gallivant BFI Video region 2- PAL DVD Review Andrew Kötting Gallivant DVD Review Andrew Kötting Gallivant DVD Review Andrew Kötting Gallivant DVD Review Andrew Kötting Gallivant DVD Review Andrew Kötting Gallivant DVD Review Andrew Kötting Gallivant DVD Review Andrew Kötting Gallivant DVD Review Andrew Kötting Gallivant DVD Review Andrew Kötting Gallivant DVD Review Andrew Kötting Gallivant DVD Review Andrew Kötting Gallivant DVD Review Andrew Kötting Gallivant DVD Review Andrew Kötting Gallivant DVD Review Andrew Kötting Gallivant DVD Review Andrew Kötting Gallivant Andrew Kötting's Gallivant BFI Video region 2- PAL DVD Review Andrew Kötting Gallivant DVD Review Andrew Kötting Gallivant DVD Review Andrew Kötting Gallivant DVD Review Andrew Kötting Gallivant DVD Review Andrew Kötting Gallivant DVD Review Andrew Kötting Gallivant DVD Review Andrew Kötting Gallivant DVD Review Andrew Kötting Gallivant DVD Review Andrew Kötting Gallivant DVD Review Andrew Kötting Gallivant DVD Review Andrew Kötting Gallivant DVD Review Andrew Kötting Gallivant DVD Review Andrew Kötting Gallivant DVD Review Andrew Kötting Gallivant DVD Review Andrew Kötting Gallivant Andrew Kötting's Gallivant BFI Video region 2- PAL DVD Review Andrew Kötting Gallivant DVD Review Andrew Kötting Gallivant DVD Review Andrew Kötting Gallivant DVD Review Andrew Kötting Gallivant DVD Review Andrew Kötting Gallivant DVD Review Andrew Kötting Gallivant DVD Review Andrew Kötting Gallivant DVD Review Andrew Kötting Gallivant DVD Review Andrew Kötting Gallivant DVD Review Andrew Kötting Gallivant DVD Review Andrew Kötting Gallivant DVD Review Andrew Kötting Gallivant DVD Review Andrew Kötting Gallivant DVD Review Andrew Kötting Gallivant DVD Review Andrew Kötting Gallivant Andrew Kötting's Gallivant BFI Video region 2- PAL DVD Review Andrew Kötting Gallivant DVD Review Andrew Kötting Gallivant DVD Review Andrew Kötting Gallivant DVD Review Andrew Kötting Gallivant DVD Review Andrew Kötting Gallivant DVD Review Andrew Kötting Gallivant DVD Review Andrew Kötting Gallivant DVD Review Andrew Kötting Gallivant DVD Review Andrew Kötting Gallivant DVD Review Andrew Kötting Gallivant DVD Review Andrew Kötting Gallivant DVD Review Andrew Kötting Gallivant DVD Review Andrew Kötting Gallivant DVD Review Andrew Kötting Gallivant DVD Review Andrew Kötting Gallivant