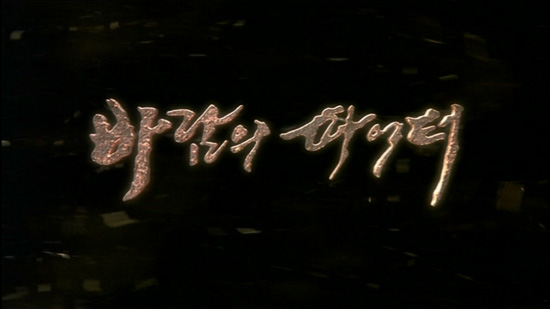 (aka "Fighter in the Wind" or "Baramui Fighter" )
directed by Yang Yoon-Ho
South Korea 2004
In 1948 Choi Baedal went to the top of Mt. Minobu, where his idol Miyamoto Musashi two centuries before also had secluded himself, and for the next 18 months would put himself thru the hardest training ever, to condition his body using trees and rocks, pushing himself beyond the limits of human strength and endurance. Returning to civilisation and under his new name, Masutatsu Oyama, he challenged every school in Japan and won, after which he would fight 52 bulls and then go to the US, where he would fight a total of 270 fights against their best fighters. As a result, he became known as the "toughest man in the world" and would subsequently create his school of Kyokushin karate.

"Fighter in the Wind" deals with the early days of Baedal's life, how he went to Japan to become a fighter pilot during WW2, how he was discriminated for being Korean, how he was a bully and how he finally decided to go to the mountains to train, and finally became a legend. It is not a factual account of this life, but a film version of the Manga by Bang Hak Ki. In reality, he began to study Shotokan karate during his military service, became a nidan at age 18 and was never the bully or the homeless beggar of the Manga, nor did he travel the country as a beggar to fight illegal death matches, but won the matches while attending the first Karate tournament in Japan after the end of WW2.

Despite not being true to life, "Fighter in the Wind" is an astonishing martial arts film. By displaying Baedal as an underdog to society, as a man without any goals except surviving against racial discrimination, against the yakuza and against GI-Joe bullies, his transition to Oyama becomes a fight for recognition and self-esteem.

The fight scenes are some of the best and most realistic to date. As Oyama believed in "one strike to win", the karate matches are not lengthy choreographed sequences, but technical and short displays of techniques. And as he fights every school, he is put to the test against not only karate, but also judo, ninjitsu and kendo. Contra to this are the early fight scenes, which are depicted as brawling. The best thing about these fights is however their display of pain. Despite being the toughest man in the world, and despite pain doesn't bother him, it does hurt when one is hit and the film always makes sure to show it.

But "Fighter in the Wind" has some serious flaws. It never allows itself to dwell upon the characters, and as such, the human drama is never explored. Likewise the transition from bully to the greatest fighter in the world (the Mt. Minobu sequence) is reduced to a climactic montage (ala "Rocky IV"), and is not really believable. Being an adaptation of a Manga, it simply moves ahead to fast at times. There are also several actions, which significance never are explained, as when he shaves his eyebrows. And finally the film uses some toe-curling awful music during its climatic scenes.

As a biopic it is disappointing and resembles the portrait of Oyama in the Sonny Chiba film "Karate Bullfighter", but all things aside, "Fighter in the Wind" is an amazing martial arts film, visually beautiful, with a great story and with some very impressive martial art sequences.

Poster
Theatrical Release: August 6, 2004
Reviews More Reviews DVD Reviews
DVD Review: Optimum Asia - Region 2 - PAL
Big thanks to Henrik Sylow for the Review!
DVD Box Cover

CLICK to order from:

Distribution

Optimum Asia

Region 2 - PAL

Runtime
2:01:12
Video

1.78:1 Aspect Ratio

16X9 enhanced
Average Bitrate: 5.49 mb/s
PAL 720x576 25.00 f/s

NOTE: The Vertical axis represents the bits transferred per second. The Horizontal is the time in minutes.

Bitrate

Audio
2.0 Dolby Digital Korean, 5.1 Dolby Digital Korean
Subtitles
English, None
Features
Release Information:
Studio: Optimum Asia

Aspect Ratio:
Widescreen anamorphic - 1.78:1

Edition Details:
• Action Diary of a Martial Arts Director (17:17 / 4:3)
• Interviews
• - Yang Yoon-Ho (9:42 / 4:3)
• - Yang Junggeun (7:48 / 4:3)
• - Aya Hirayama (10:28 / 4:3)
• - Masaya Kato (6:42 / 4:3)
• Music Video (3:31 / 4:3)
• Theatrical Trailer (2:36 / 4:3)

DVD Release Date: May 30, 2005
Keep Case

Chapters 16
Comments
Apparently a NTSC to PAL non progressive transfer (no PAL Speed-Up), displaying problems with combing and ghosting, which is sad, as the image is apart from this beautiful. No compression artifacts visible. While night scenes at times are a bit soft, the overall image is very sharp and colors are solid. The image is slightly cropped from its OAR of 1.85:1.

Where the Korean releases has an additional DTS track, this release only has the 2.0 and 5.1 Dolby Digital. But these are very good tracks, especially the 5.1 is very aggressive and has an impressive use of the surround.

The extras are the bare essentials. A very good behind the scenes documentary, some good interviews, a music video and the trailer. All with English subs.

Contra to this, the Korean release is a 2-disc SE with two audio commentaries, seven featurettes, a Q&A and detailed info about the karate in the film. However, these are in Korean and are not subtitled in English, so of little value to a non-Korean speaking audience.
---

DVD Menus
---
Screen Captures
Subtitle Sample
Captures resized to 800px from 1016px native resolution
DVD Box Cover

CLICK to order from:

Distribution

Optimum Asia

Region 2 - PAL