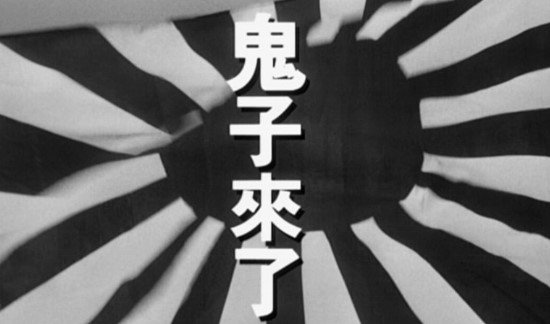 (aka 'Guizi lai le' or 'Devils on the Doorstep')
directed by Wen Jiang

China 2000
Winner of the Grand Jury Prize at the Cannes Film Festival, and banned in its native country, Jiang Wen's ravishingly photographed anti-war epic is set in 1945 in a Japanese-occupied rural Chinese village. Wen stars as Ma Dasan, a peasant, who, one night at gunpoint, is compelled to shelter two prisoners. One is a captured Japanese soldier who wants to be killed, the other his Chinese interpreter, who wants to stay alive. As the days turn into months, Dasan and his fellow villagers keep their unwanted guests hidden from the Japanese forces, while deciding whether or not to execute their captives. A plan to exchange the men for grain leads to the film's harrowing and devastating climax.

out of

Posters
Theatrical Release: May 12th, 2000 - Cannes Film Festival
Reviews More Reviews DVD Reviews
DVD Review: Home Vision - Region 1 - NTSC
DVD Box Cover

CLICK to order from:

Distribution
Home Vision Home Video - Region 1 - NTSC
Runtime
2:19:10
Video
1.78:1 Original Aspect Ratio
Average Bitrate: 6.68 mb/s
NTSC 720x480 29.97 f/s

NOTE: The Vertical axis represents the bits transferred per second. The Horizontal is the time in minutes.

Bitrate:

Audio
Mandarin + Japanese (Dolby Digital 2.0), Mandarin + Japanese (Dolby Digital 5.1)
Subtitles
English, None
Features

Release Information:
Studio: Home Vision Home Video

Aspect Ratio:
Original aspect Ratio 1.78:1

Edition Details:

• Steven Soderbergh (non-spoiler) introduction (3:58)
• Trailer (1:42)
• 6-page liner notes with Jiang Wen interview by Tony Rayns

DVD Release Date: April 19th, 2005
Keep Case
Chapters: 25
Comments:

This is the only 140 minute version of the film available anywhere. The Cannes version was later cut without the director's involvement.

There is a slim black border around this anamorphic image slightly interfering with total horizontal resolution. I guess that this was borderline being bumped up the Criterion Collection and gaining a coveted spine #. The film certainly merits it, and the image is not far behind. Excellent contrast, piercing blacks and dusted grays. It reverts to shocking color for the final sequence. The Soda-burger intro is really his admiration and respect for the film. The text interview in the liner notes is nothing short of diplomatic. Worthy of a commentary this film and transfer are top notch. A must have for those interested in Chinese cinema. It is a masterpiece. We give the DVD out of
---



DVD Menus

---
Subtitle Sample
Screen Captures
---
---
Recommended Reading
in Chinese Cinema (CLICK COVERS or TITLES for more information)
Check out more in "The Library"
DVD Box Cover

CLICK to order from:

Distribution
Home Vision Home Video - Region 1 - NTSC
---






Wen Jiang Devils on the Doorstep Home Vision - Region 1- NTSC Guizi lai le DVD Review Wen Jiang Devils on the Doorstep Guizi lai le DVD Review Wen Jiang Devils on the Doorstep Guizi lai le DVD Review Wen Jiang Devils on the Doorstep Guizi lai le DVD Review Wen Jiang Devils on the Doorstep Guizi lai le DVD Review Wen Jiang Devils on the Doorstep Guizi lai le DVD Review Wen Jiang Devils on the Doorstep Guizi lai le DVD Review Wen Jiang Devils on the Doorstep Guizi lai le DVD Review Wen Jiang Devils on the Doorstep Guizi lai le DVD Review Wen Jiang Devils on the Doorstep Guizi lai le DVD Review Wen Jiang Devils on the Doorstep Guizi lai le DVD Review Wen Jiang Devils on the Doorstep Guizi lai le DVD Review Wen Jiang Devils on the Doorstep Guizi lai le DVD Review Wen Jiang Devils on the Doorstep Guizi lai le DVD Review Wen Jiang Devils on the Doorstep Wen Jiang Devils on the Doorstep Home Vision - Region 1- NTSC Guizi lai le DVD Review Wen Jiang Devils on the Doorstep Guizi lai le DVD Review Wen Jiang Devils on the Doorstep Guizi lai le DVD Review Wen Jiang Devils on the Doorstep Guizi lai le DVD Review Wen Jiang Devils on the Doorstep Guizi lai le DVD Review Wen Jiang Devils on the Doorstep Guizi lai le DVD Review Wen Jiang Devils on the Doorstep Guizi lai le DVD Review Wen Jiang Devils on the Doorstep Guizi lai le DVD Review Wen Jiang Devils on the Doorstep Guizi lai le DVD Review Wen Jiang Devils on the Doorstep Guizi lai le DVD Review Wen Jiang Devils on the Doorstep Guizi lai le DVD Review Wen Jiang Devils on the Doorstep Guizi lai le DVD Review Wen Jiang Devils on the Doorstep Guizi lai le DVD Review Wen Jiang Devils on the Doorstep Guizi lai le DVD Review Wen Jiang Devils on the Doorstep Wen Jiang Devils on the Doorstep Home Vision - Region 1- NTSC Guizi lai le DVD Review Wen Jiang Devils on the Doorstep Guizi lai le DVD Review Wen Jiang Devils on the Doorstep Guizi lai le DVD Review Wen Jiang Devils on the Doorstep Guizi lai le DVD Review Wen Jiang Devils on the Doorstep Guizi lai le DVD Review Wen Jiang Devils on the Doorstep Guizi lai le DVD Review Wen Jiang Devils on the Doorstep Guizi lai le DVD Review Wen Jiang Devils on the Doorstep Guizi lai le DVD Review Wen Jiang Devils on the Doorstep Guizi lai le DVD Review Wen Jiang Devils on the Doorstep Guizi lai le DVD Review Wen Jiang Devils on the Doorstep Guizi lai le DVD Review Wen Jiang Devils on the Doorstep Guizi lai le DVD Review Wen Jiang Devils on the Doorstep Guizi lai le DVD Review Wen Jiang Devils on the Doorstep Guizi lai le DVD Review Wen Jiang Devils on the Doorstep Wen Jiang Devils on the Doorstep Home Vision - Region 1- NTSC Guizi lai le DVD Review Wen Jiang Devils on the Doorstep Guizi lai le DVD Review Wen Jiang Devils on the Doorstep Guizi lai le DVD Review Wen Jiang Devils on the Doorstep Guizi lai le DVD Review Wen Jiang Devils on the Doorstep Guizi lai le DVD Review Wen Jiang Devils on the Doorstep Guizi lai le DVD Review Wen Jiang Devils on the Doorstep Guizi lai le DVD Review Wen Jiang Devils on the Doorstep Guizi lai le DVD Review Wen Jiang Devils on the Doorstep Guizi lai le DVD Review Wen Jiang Devils on the Doorstep Guizi lai le DVD Review Wen Jiang Devils on the Doorstep Guizi lai le DVD Review Wen Jiang Devils on the Doorstep Guizi lai le DVD Review Wen Jiang Devils on the Doorstep Guizi lai le DVD Review Wen Jiang Devils on the Doorstep Guizi lai le DVD Review Wen Jiang Devils on the Doorstep Wen Jiang Devils on the Doorstep Home Vision - Region 1- NTSC Guizi lai le DVD Review Wen Jiang Devils on the Doorstep Guizi lai le DVD Review Wen Jiang Devils on the Doorstep Guizi lai le DVD Review Wen Jiang Devils on the Doorstep Guizi lai le DVD Review Wen Jiang Devils on the Doorstep Guizi lai le DVD Review Wen Jiang Devils on the Doorstep Guizi lai le DVD Review Wen Jiang Devils on the Doorstep Guizi lai le DVD Review Wen Jiang Devils on the Doorstep Guizi lai le DVD Review Wen Jiang Devils on the Doorstep Guizi lai le DVD Review Wen Jiang Devils on the Doorstep Guizi lai le DVD Review Wen Jiang Devils on the Doorstep Guizi lai le DVD Review Wen Jiang Devils on the Doorstep Guizi lai le DVD Review Wen Jiang Devils on the Doorstep Guizi lai le DVD Review Wen Jiang Devils on the Doorstep Guizi lai le DVD Review Wen Jiang Devils on the Doorstep Wen Jiang Devils on the Doorstep Home Vision - Region 1- NTSC Guizi lai le DVD Review Wen Jiang Devils on the Doorstep Guizi lai le DVD Review Wen Jiang Devils on the Doorstep Guizi lai le DVD Review Wen Jiang Devils on the Doorstep Guizi lai le DVD Review Wen Jiang Devils on the Doorstep Guizi lai le DVD Review Wen Jiang Devils on the Doorstep Guizi lai le DVD Review Wen Jiang Devils on the Doorstep Guizi lai le DVD Review Wen Jiang Devils on the Doorstep Guizi lai le DVD Review Wen Jiang Devils on the Doorstep Guizi lai le DVD Review Wen Jiang Devils on the Doorstep Guizi lai le DVD Review Wen Jiang Devils on the Doorstep Guizi lai le DVD Review Wen Jiang Devils on the Doorstep Guizi lai le DVD Review Wen Jiang Devils on the Doorstep Guizi lai le DVD Review Wen Jiang Devils on the Doorstep Guizi lai le DVD Review Wen Jiang Devils on the Doorstep Wen Jiang Devils on the Doorstep Home Vision - Region 1- NTSC Guizi lai le DVD Review Wen Jiang Devils on the Doorstep Guizi lai le DVD Review Wen Jiang Devils on the Doorstep Guizi lai le DVD Review Wen Jiang Devils on the Doorstep Guizi lai le DVD Review Wen Jiang Devils on the Doorstep Guizi lai le DVD Review Wen Jiang Devils on the Doorstep Guizi lai le DVD Review Wen Jiang Devils on the Doorstep Guizi lai le DVD Review Wen Jiang Devils on the Doorstep Guizi lai le DVD Review Wen Jiang Devils on the Doorstep Guizi lai le DVD Review Wen Jiang Devils on the Doorstep Guizi lai le DVD Review Wen Jiang Devils on the Doorstep Guizi lai le DVD Review Wen Jiang Devils on the Doorstep Guizi lai le DVD Review Wen Jiang Devils on the Doorstep Guizi lai le DVD Review Wen Jiang Devils on the Doorstep Guizi lai le DVD Review Wen Jiang Devils on the Doorstep