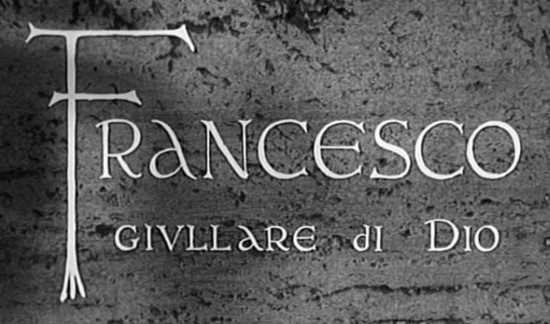 (aka 'Francis, God's Jester' or "The Flowers of St. Francis')
directed by Roberto Rossellini
Italy 19
50
In a series of simple and joyous vignettes, director Roberto Rossellini and co-writer Federico Fellini lovingly convey the universal teachings—of humility, compassion, faith, and sacrifice—of the People's Saint. Shot in a neorealist manner, with monks from the Nocere Inferiore monastery playing the roles of St. Francis and his disciples, The Flowers of St. Francis is a timeless and moving portrait of the search for spiritual enlightenment.
****
Roberto Rossellini and co-writer Federico Fellini lovingly render the very spirit of Franciscan teaching in this extraordinarily fresh and simple film which was unappreciated at the time of its release, but now regarded as one of his greatest. Shot in a neorealist manner with non-professional actors (including thirteen real Franciscan monks from the convent of Nocere Inferiore) it avoids the pious clichés of haloed movie saints with an economy of expression and a touching, human quality.

Inspired by I fioretti ("Little Flowers"), a collection of stories about St. Francis of Assisi and the Franciscan monks, Rossellini's Francesco giullare di Dio takes place in the early 13th century when violent conflicts between individual cities tore Italy apart. Pestilence and famine were widespread and the powerful abbeys became rife with corruption and abuses of power. Amidst this unrest, Giovanni Francesco Bernadine (Francis of Assisi) began to foster a community that challenged people to reclaim the humility and purity of the teachings of Christ.

Presented, like the book it is based on, as a tableau of episodes from the life of 'the people's saint', Francesco giullare di Dio offers a compelling vision of life that rejects materialism and violence. Thanks to Rossellini's film, Francesco and his little brothers will remain alive forever: making handicrafts, planting seeds, and building huts in their harmonious accord between Man and Nature.
Theatrical Release: December 14th, 1950
Reviews More Reviews DVD Reviews
DVD Comparison:
Eureka (Masters of Cinema # 10) - Region 2 - PAL vs. Criterion - Region 0 - NTSC
(Eureka - Masters of Cinema # 10 - Region 2 - PAL LEFT vs. Criterion Collection Spine 293 - Region 0 - NTSC RIGHT)
DVD Box Cover

Distribution

Eureka - Masters of Cinema # 10

Region 2 - PAL

Criterion Collection Spine # 293

Region 0 - NTSC

Runtime
1:23:08 (4% PAL speedup)
1:26:51
Video
1.33:1 Original Aspect Ratio
Average Bitrate: 7.47 mb/s
PAL 720x576 25.00 f/s
1.33:1 Original Aspect Ratio
Average Bitrate: 7.86 mb/s
NTSC 720x480 29.97 f/s

NOTE: The Vertical axis represents the bits transferred per second. The Horizontal is the time in minutes.

Bitrate: Eureka
Bitrate: Criterion
Audio
Italian (Dolby Digital 2.0)
Italian (Dolby Digital 2.0)
Subtitles
English, None
English, None
Features

Release Information:
Studio: Eureka Video

Aspect Ratio:
Original aspect Ratio 1.33:1

Edition Details:

• A written appreciation of the film by Martin Scorsese
• A video introduction by critic Maurizio Porro
• Original restored Italian chapter intertitles
• The non-Rossellini Giotto prologue added for the original US release
• The only remaining images from a deleted scene
• Restoration documentary with Enzo Verzini and restoration demonstration
• 32-page booklet with: a complete version history; an evaluation of the film's critical reception; a new essay on the life and history of 'San Francesco'; Martin Scorsese's specially written appreciation; a message about the film by Roberto Rossellini; rare colour promotional photographs; and a reprinted chapter from the Fioretti di San Francesco.

DVD Release Date: May 23rd, 2005
Transparent Keep Case
Chapters: 11

Release Information:
Studio: Criterion

Aspect Ratio:
Original aspect Ratio 1.33:1

Edition Details:

• Exclusive new video interviews, conducted in 2004, with Roberto Rossellini's daughter, actress Isabella Rossellini; film critic Father Virgilio Fantuzzi; and writer and film historian Adriano Apra

• The non-Rossellini Giotto prologue added for the original US release
• Liner notes essay by film scholar Peter Brunette

DVD Release Date: August 23rd, 2005
Keep Case
Chapters: 15
Comments:

I am a big supporter of both these camps and have positives to include about both releases. Criterion uses a very subtle process to bring out superior contrast and a sharper appearance in the images that they transfer to DVD. The drawbacks are that it can also bring out the damage (scratches, marks, etc.) as well, it can produce edge enhancements if over utilized, it seems to enhance contrast flickering and apparently is always necessary to crop the image to a small degree. Although this process has not been over used in this transfer, looking closely you can see that damage marks are more predominant in the Criterion release, it is cropped on all 4 edges compared to the Eureka, it does have a higher level of flickering... and it does appear sharper.

As both have very valuable and extensive extras features I can find no viable reason for recognizing one over the other. Personally I enjoyed the Eureka's supplements the best, but you may decide otherwise.

The subtitle translations are different. I thought the Eureka's may have been more accurate, but felt the Criterions flowed a shade smoother. I preferred the Eureka font size.

Both images are stupendous - both are progressive - the Criterion appear sharper, but the Eureka has less damage, less flickering and less cropping. I doubt any of the image differences would be deal breakers for a purchase though.

Our advice is to purchase the one that is easiest to buy in your geographical region. Big fans may want to have both (I do!)

***

Our original comments on the Eureka:

Eureka/Masters of Cinema should be very proud as this may be the best disc they have put out to date. It's an incredible, spotless restoration, pure progressive, looks even better than their Teshigahara DVDs. The extras include a 32-page booklet, video intro, Scorsese wrote a nice two-page piece about the film (especially for this booklet I understand) In total there are four essays in the booklet. Also included are shots from a deleted scene, a restoration demo, a short documentary about the restoration, and the Giotto prologue to the feature. The menus are animated and the subtitle translation is exceptionally well done. Bravo!
---



DVD Menus
(Eureka - Masters of Cinema # 10 - Region 2 - PAL LEFT vs. Criterion Collection Spine 293 - Region 0 - NTSC RIGHT)
---
Subtitle Sample (not exact frames)
(Eureka - Masters of Cinema # 10 - Region 2 - PAL TOP vs. Criterion Collection Spine 293 - Region 0 - NTSC BOTTOM)
---
(Eureka - Masters of Cinema # 10 - Region 2 - PAL TOP vs. Criterion Collection Spine 293 - Region 0 - NTSC BOTTOM)
---
Screen Captures
(Eureka - Masters of Cinema # 10 - Region 2 - PAL TOP vs. Criterion Collection Spine 293 - Region 0 - NTSC BOTTOM)
---
(Eureka - Masters of Cinema # 10 - Region 2 - PAL TOP vs. Criterion Collection Spine 293 - Region 0 - NTSC BOTTOM)
---
(Eureka - Masters of Cinema # 10 - Region 2 - PAL TOP vs. Criterion Collection Spine 293 - Region 0 - NTSC BOTTOM)
---
(Eureka - Masters of Cinema # 10 - Region 2 - PAL TOP vs. Criterion Collection Spine 293 - Region 0 - NTSC BOTTOM)
---
(Eureka - Masters of Cinema # 10 - Region 2 - PAL TOP vs. Criterion Collection Spine 293 - Region 0 - NTSC BOTTOM)
---
(Eureka - Masters of Cinema # 10 - Region 2 - PAL TOP vs. Criterion Collection Spine 293 - Region 0 - NTSC BOTTOM)
---
DVD Box Cover

Distribution

Eureka - Masters of Cinema # 10

Region 2 - PAL

Criterion Collection Spine # 293

Region 0 - NTSC






Roberto Rossellini's Francesco giullare di Dio - Eureka (Masters of Cinema) - Region 2- PAL - Roberto Rossellini Francesco giullare di Dio DVD Review Roberto Rossellini Francesco giullare di Dio DVD Review Roberto Rossellini Francesco giullare di Dio DVD Review Roberto Rossellini Francesco giullare di Dio DVD Review Roberto Rossellini Francesco giullare di Dio DVD Review Roberto Rossellini Francesco giullare di Dio DVD Review Roberto Rossellini Francesco giullare di Dio DVD Review Roberto Rossellini Francesco giullare di Dio DVD Review Roberto Rossellini Francesco giullare di Dio DVD Review Roberto Rossellini Francesco giullare di Dio DVD Review Roberto Rossellini Francesco giullare di Dio DVD Review Roberto Rossellini Francesco giullare di Dio DVD Review Roberto Rossellini Francesco giullare di Dio DVD Review Roberto Rossellini's Francesco giullare di Dio - Eureka (Masters of Cinema) - Region 2- PAL - Roberto Rossellini Francesco giullare di Dio DVD Review Roberto Rossellini Francesco giullare di Dio DVD Review Roberto Rossellini Francesco giullare di Dio DVD Review Roberto Rossellini Francesco giullare di Dio DVD Review Roberto Rossellini Francesco giullare di Dio DVD Review Roberto Rossellini Francesco giullare di Dio DVD Review Roberto Rossellini Francesco giullare di Dio DVD Review Roberto Rossellini Francesco giullare di Dio DVD Review Roberto Rossellini Francesco giullare di Dio DVD Review Roberto Rossellini Francesco giullare di Dio DVD Review Roberto Rossellini Francesco giullare di Dio DVD Review Roberto Rossellini Francesco giullare di Dio DVD Review Roberto Rossellini Francesco giullare di Dio DVD Review
Roberto Rossellini's Francesco giullare di Dio - Eureka (Masters of Cinema) - Region 2- PAL - Roberto Rossellini Francesco giullare di Dio DVD Review Roberto Rossellini Francesco giullare di Dio DVD Review Roberto Rossellini Francesco giullare di Dio DVD Review Roberto Rossellini Francesco giullare di Dio DVD Review Roberto Rossellini Francesco giullare di Dio DVD Review Roberto Rossellini Francesco giullare di Dio DVD Review Roberto Rossellini Francesco giullare di Dio DVD Review Roberto Rossellini Francesco giullare di Dio DVD Review Roberto Rossellini Francesco giullare di Dio DVD Review Roberto Rossellini Francesco giullare di Dio DVD Review Roberto Rossellini Francesco giullare di Dio DVD Review Roberto Rossellini Francesco giullare di Dio DVD Review Roberto Rossellini Francesco giullare di Dio DVD Review
Roberto Rossellini's Francesco giullare di Dio - Eureka (Masters of Cinema) - Region 2- PAL - Roberto Rossellini Francesco giullare di Dio DVD Review Roberto Rossellini Francesco giullare di Dio DVD Review Roberto Rossellini Francesco giullare di Dio DVD Review Roberto Rossellini Francesco giullare di Dio DVD Review Roberto Rossellini Francesco giullare di Dio DVD Review Roberto Rossellini Francesco giullare di Dio DVD Review Roberto Rossellini Francesco giullare di Dio DVD Review Roberto Rossellini Francesco giullare di Dio DVD Review Roberto Rossellini Francesco giullare di Dio DVD Review Roberto Rossellini Francesco giullare di Dio DVD Review Roberto Rossellini Francesco giullare di Dio DVD Review Roberto Rossellini Francesco giullare di Dio DVD Review Roberto Rossellini Francesco giullare di Dio DVD Review
Roberto Rossellini's Francesco giullare di Dio - Eureka (Masters of Cinema) - Region 2- PAL - Roberto Rossellini Francesco giullare di Dio DVD Review Roberto Rossellini Francesco giullare di Dio DVD Review Roberto Rossellini Francesco giullare di Dio DVD Review Roberto Rossellini Francesco giullare di Dio DVD Review Roberto Rossellini Francesco giullare di Dio DVD Review Roberto Rossellini Francesco giullare di Dio DVD Review Roberto Rossellini Francesco giullare di Dio DVD Review Roberto Rossellini Francesco giullare di Dio DVD Review Roberto Rossellini Francesco giullare di Dio DVD Review Roberto Rossellini Francesco giullare di Dio DVD Review Roberto Rossellini Francesco giullare di Dio DVD Review Roberto Rossellini Francesco giullare di Dio DVD Review Roberto Rossellini Francesco giullare di Dio DVD Review
Roberto Rossellini's Francesco giullare di Dio - Eureka (Masters of Cinema) - Region 2- PAL - Roberto Rossellini Francesco giullare di Dio DVD Review Roberto Rossellini Francesco giullare di Dio DVD Review Roberto Rossellini Francesco giullare di Dio DVD Review Roberto Rossellini Francesco giullare di Dio DVD Review Roberto Rossellini Francesco giullare di Dio DVD Review Roberto Rossellini Francesco giullare di Dio DVD Review Roberto Rossellini Francesco giullare di Dio DVD Review Roberto Rossellini Francesco giullare di Dio DVD Review Roberto Rossellini Francesco giullare di Dio DVD Review Roberto Rossellini Francesco giullare di Dio DVD Review Roberto Rossellini Francesco giullare di Dio DVD Review Roberto Rossellini Francesco giullare di Dio DVD Review Roberto Rossellini Francesco giullare di Dio DVD Review Roberto Rossellini's Francesco giullare di Dio - Eureka (Masters of Cinema) - Region 2- PAL - Roberto Rossellini Francesco giullare di Dio DVD Review Roberto Rossellini Francesco giullare di Dio DVD Review Roberto Rossellini Francesco giullare di Dio DVD Review Roberto Rossellini Francesco giullare di Dio DVD Review Roberto Rossellini Francesco giullare di Dio DVD Review Roberto Rossellini Francesco giullare di Dio DVD Review Roberto Rossellini Francesco giullare di Dio DVD Review Roberto Rossellini Francesco giullare di Dio DVD Review Roberto Rossellini Francesco giullare di Dio DVD Review Roberto Rossellini Francesco giullare di Dio DVD Review Roberto Rossellini Francesco giullare di Dio DVD Review Roberto Rossellini Francesco giullare di Dio DVD Review Roberto Rossellini Francesco giullare di Dio DVD Review Roberto Rossellini's Francesco giullare di Dio - Eureka (Masters of Cinema) - Region 2- PAL - Roberto Rossellini Francesco giullare di Dio DVD Review Roberto Rossellini Francesco giullare di Dio DVD Review Roberto Rossellini Francesco giullare di Dio DVD Review Roberto Rossellini Francesco giullare di Dio DVD Review Roberto Rossellini Francesco giullare di Dio DVD Review Roberto Rossellini Francesco giullare di Dio DVD Review Roberto Rossellini Francesco giullare di Dio DVD Review Roberto Rossellini Francesco giullare di Dio DVD Review Roberto Rossellini Francesco giullare di Dio DVD Review Roberto Rossellini Francesco giullare di Dio DVD Review Roberto Rossellini Francesco giullare di Dio DVD Review Roberto Rossellini Francesco giullare di Dio DVD Review Roberto Rossellini Francesco giullare di Dio DVD Review
Roberto Rossellini's Francesco giullare di Dio - Eureka (Masters of Cinema) - Region 2- PAL - Roberto Rossellini Francesco giullare di Dio DVD Review Roberto Rossellini Francesco giullare di Dio DVD Review Roberto Rossellini Francesco giullare di Dio DVD Review Roberto Rossellini Francesco giullare di Dio DVD Review Roberto Rossellini Francesco giullare di Dio DVD Review Roberto Rossellini Francesco giullare di Dio DVD Review Roberto Rossellini Francesco giullare di Dio DVD Review Roberto Rossellini Francesco giullare di Dio DVD Review Roberto Rossellini Francesco giullare di Dio DVD Review Roberto Rossellini Francesco giullare di Dio DVD Review Roberto Rossellini Francesco giullare di Dio DVD Review Roberto Rossellini Francesco giullare di Dio DVD Review Roberto Rossellini Francesco giullare di Dio DVD Review
Roberto Rossellini's Francesco giullare di Dio - Eureka (Masters of Cinema) - Region 2- PAL - Roberto Rossellini Francesco giullare di Dio DVD Review Roberto Rossellini Francesco giullare di Dio DVD Review Roberto Rossellini Francesco giullare di Dio DVD Review Roberto Rossellini Francesco giullare di Dio DVD Review Roberto Rossellini Francesco giullare di Dio DVD Review Roberto Rossellini Francesco giullare di Dio DVD Review Roberto Rossellini Francesco giullare di Dio DVD Review Roberto Rossellini Francesco giullare di Dio DVD Review Roberto Rossellini Francesco giullare di Dio DVD Review Roberto Rossellini Francesco giullare di Dio DVD Review Roberto Rossellini Francesco giullare di Dio DVD Review Roberto Rossellini Francesco giullare di Dio DVD Review Roberto Rossellini Francesco giullare di Dio DVD Review
Roberto Rossellini's Francesco giullare di Dio - Eureka (Masters of Cinema) - Region 2- PAL - Roberto Rossellini Francesco giullare di Dio DVD Review Roberto Rossellini Francesco giullare di Dio DVD Review Roberto Rossellini Francesco giullare di Dio DVD Review Roberto Rossellini Francesco giullare di Dio DVD Review Roberto Rossellini Francesco giullare di Dio DVD Review Roberto Rossellini Francesco giullare di Dio DVD Review Roberto Rossellini Francesco giullare di Dio DVD Review Roberto Rossellini Francesco giullare di Dio DVD Review Roberto Rossellini Francesco giullare di Dio DVD Review Roberto Rossellini Francesco giullare di Dio DVD Review Roberto Rossellini Francesco giullare di Dio DVD Review Roberto Rossellini Francesco giullare di Dio DVD Review Roberto Rossellini Francesco giullare di Dio DVD Review
Roberto Rossellini's Francesco giullare di Dio - Eureka (Masters of Cinema) - Region 2- PAL - Roberto Rossellini Francesco giullare di Dio DVD Review Roberto Rossellini Francesco giullare di Dio DVD Review Roberto Rossellini Francesco giullare di Dio DVD Review Roberto Rossellini Francesco giullare di Dio DVD Review Roberto Rossellini Francesco giullare di Dio DVD Review Roberto Rossellini Francesco giullare di Dio DVD Review Roberto Rossellini Francesco giullare di Dio DVD Review Roberto Rossellini Francesco giullare di Dio DVD Review Roberto Rossellini Francesco giullare di Dio DVD Review Roberto Rossellini Francesco giullare di Dio DVD Review Roberto Rossellini Francesco giullare di Dio DVD Review Roberto Rossellini Francesco giullare di Dio DVD Review Roberto Rossellini Francesco giullare di Dio DVD Review