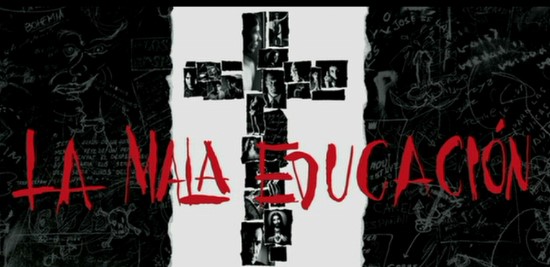 (aka 'Bad Education" or "Las Visitas')
directed by Pedro Almodóvar
Spain 2004
From the Saul Bass-inspired opening credit sequence of peeling, layered billboard posters, Almodóvar evokes the densely layered cinema of Alfred Hitchchock to create a reverent, yet continuously inventive, exquisitely realized, and brilliantly modulated comic melodrama in Bad Education. Ostensibly a story about a filmmaker (Fele Martinez) suffering from a creative block (who, as the film begins has resorted to pinching potential ideas from salacious tabloid news articles) who is visited by a former schoolmate and choirboy - now a struggling actor and occasional hustler who now goes by the stage name Angel (Gael García Bernal) (and whose only experience is from an obscure, third rate acting troupe called The Bumblebees) - with a disturbingly sensational, semi-autobiographical story of his abuse in the hands of the schoolmaster Father Manolo (Daniel Giménez-Cacho), the film soon evolves into a deeply entangled tale of deception, closely guarded secrets, dubious allegiances, inscrutable motivation, and revenge. Richly (and ingeniously) told in intertwining realities of flashbacks, present day, and filmed re-enactments of Ignacio's deeply troubled life, the film achieves a delicate balance of tension, mystery, deception, and ambiguity (Zahara's introduction is through her performance of the song, Quizás, Quizás, Quizás). Recalling the decadence, creative process, and ambiguous and confused sexuality of Law of Desire, the film features Almodóvar's quintessentially bold, but elegant visual refinement, lush construction, tongue-in-cheek double entendres, surreal humor, and complex pulp narrative that have come to define his exhilarating, idiosyncratic cinema.
Excerpt from Acqarello's comments at Strictly Film School located HERE
Posters
Theatrical Release: March 19th, 2004
Reviews More Reviews DVD Reviews
DVD Review: Columbia Tri-Star / Sony Pictures Classics - Region 1 - NTSC
DVD Box Cover

CLICK to order from:

Buyers beware...
We've just learned that the R-rated DVD of "Bad Education" is not cut, but visibly censored.

Distribution
Columbia Tri-Star Home Video - Region 1 - NTSC
Runtime
1:45:32
Video
2.35:1 Original Aspect Ratio
Average Bitrate: 5.81 mb/s
NTSC 720x480 29.97 f/s

NOTE: The Vertical axis represents the bits transferred per second. The Horizontal is the time in minutes.

Bitrate:

Audio
Spanish (Dolby Digital 5.1)
Subtitles
English, None
Features

Release Information:
Studio: Columbia Tri-Star Home Video

Aspect Ratio:
Original aspect Ratio 2.35:1

Edition Details:

• Audio Commentary with Pedro Almodóvar
• Deleted Scenes
• Featurettes
• Photo gallery
• Previews

DVD Release Date: April 12th, 2005
Keep Case
Chapters: 28
Comments:

I was sent the Un-cut NC-17 version as opposed to the R-rated version.

(The film was released in America as NC-17... The R-rating version is a cheapie edit of sort, strictly made for the video release to appease rental/retail stores (ex. Blockbuster Video) who refuse to carry NC-17 titles. A similar R-rated edition for video release took place with Bertolucci's "The Dreamers," a couple of Miike titles, and Breillat's "Romance." This is essentially the distributor trying to make a buck by seeing their movie makes it onto Blockbuster Video shelves. - Thanks Adam!)

I am very happy with the image. Ecstatic actually. Brilliant colors and sharp as a tack. Commentary from Almodóvar is an eye opener. This is a top notch DVD and we hope to post soon the information on what is missing between the two editions.

NOTE: Buyers beware...
We've just learned that the R-rated DVD of "Bad Education" is not cut, but visibly censored.
---



DVD Menus

---
Subtitle Sample
Screen Captures